Do you need to make a quilt quickly? One way to shorten the quilting process is to use pre-cut fabrics. A Jelly Roll is a pre-cut collection of quilting fabric that has been cut into strips that measure 2.5" by the width of fabric (approximately 40″ – 42"). Jelly Rolls are the perfect way to get a sampling of all the prints in a fabric line or collection. They often feature 40 strips of fabric wrapped tightly together, though the overall number varies per company.
Do you have a Jelly Roll but aren't sure how to use it? Here are 3 Jelly Roll quilting patterns you'll love! (Want some jelly rolls? Check out our selection!)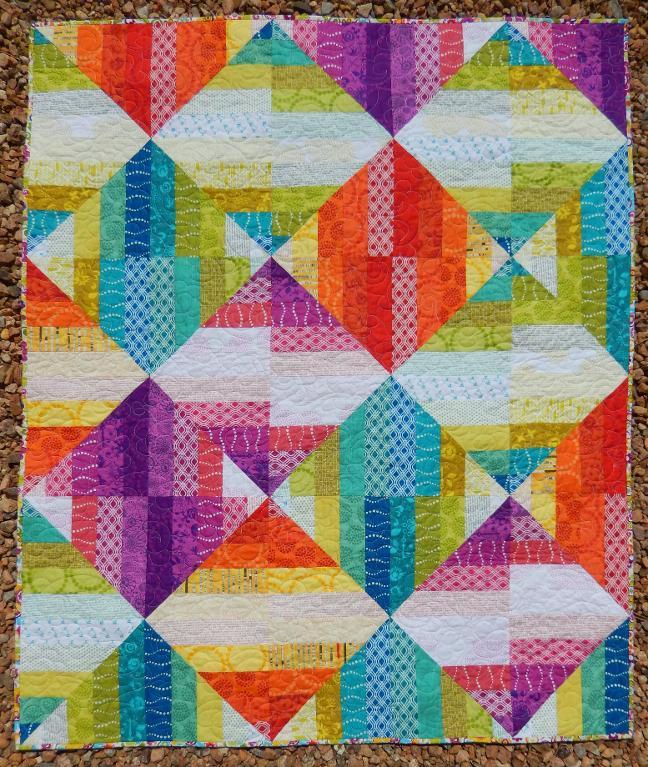 Photo via Quilting Mod
1. Sorbet Quilt
Did you know that Jelly Rolls for quilting come in tons of colors combinations? Let the colors steal the spotlight when you make the Sorbet quilt. It is a fast and easy project that will fit wonderfully in a contemporary home.
Photo via suzy6281
2. Summer Jewels
Are you new to quilting? The Summer Jewels quilt is the perfect project to begin on. Detailed instructions are included to help a novice comfortably complete a first quilt. The finished project is a small lap quilt that measures 34" by 39", so new quilters will feel confident tackling this pattern, and more advanced quilters will have fun stitching this up super quickly.

Photo via suzy6281
3. Windmills at Night
Here's one last freebie! Create this eye-catching quilt with ease using a Jelly Roll. Trust us, it looks a lot harder than it is! The finished throw measures 40" by 52".
You might also enjoy our roundup of eight easy jelly roll quilt patterns.