Keep the little ones in your life cozy with these FREE children's pajama patterns! Most of these are beginner or intermediate, and can easily be modified to fit all different ages. Stitch them up in warm flannels for winter, or lighter knits for wear during the rest of the year. 
Photo via Audrey x Diane
1. Perfect PJ Pants
If you have lots of kids, this pattern is perfect for you. The pattern is available in sizes 6 months to 8 years, so you can make matching pants for lots of different ages. Make these pants in an adorable flannel for lots of warmth or a cotton woven for breathability. This pattern is beginner-friendly, so it's a perfect children's pajama pattern for newbie sewers, or for more experienced sewers looking for a quick-to-stitch project.
Photo via Nap-Time Creations
2. One-Hour PJs
I think knit pajamas are so comfortable, so I like to let my kids enjoy them too. These PJs can be made from an adult tee which makes them really quick to make. It comes in sizes 2T-4. I would rate this as an intermediate sewing pattern mostly because knits are a little tricky without some sewing experience. 
Photo via see kate sew
3. Boys Pajama Pants
This pattern was originally made for a boy, but it's a great unisex pattern. I love that it's a cuff instead of a hem since cuffs are so quick to sew. This is a beginning sewing pattern that can be made with flannel or other woven cottons. It comes in size 5.
Photo via DIY Crush
4. Knit Pajamas Sewing Pattern
One of the few children's pajama patterns that comes in a larger size, size 9, this is a great pattern for older kids. Imagine the many pretty patterned knits that can be used! It's a unisex pattern and an intermediate level since it's made for knit fabrics.
Photo via Made by Marzipan
5. Pajama Pants
Here is another beginner-friendly children's pajama pattern that is available in many sizes. It comes in sizes 6 months to 7 years. Use flannel or woven cotton for these pants. It's much easier just making pants for your kids then full sets if you'd like an easier project or you have multiple kids.
Photo via ShwinandShwin
6. Pajama Top and Bottom
A classic pajama style for both boys and girls. It only comes in one size, size 4, but could be lengthened to fit taller kids. The pattern recommends flannel or woven cotton, but it's an intermediate pattern because theres a collar, facing, and button and buttonholes. A confident beginner would be able to make this with extra time and concentration.  
Photo via Stacy Byrne
7. Contrast Tank Set
If you live somewhere warm or your kids run hot-blooded, then these are the pajamas for you. The bright colors are so fun. The pattern comes in sizes 3-4. This is an intermediate pattern since you'd be sewing with knits.
Photo via mellysews
8. Boxer Pajama Shorts
Some of you have older kids, so you can't leave them out. This pattern is drafted in a women's small, which can fit most teens. Lengthen the shorts for boys to make them more masculine, or lengthen them to the floor for pants. This is a beginner pattern since woven fabric is recommended. Flannel will be warm and cotton wovens will be balmy.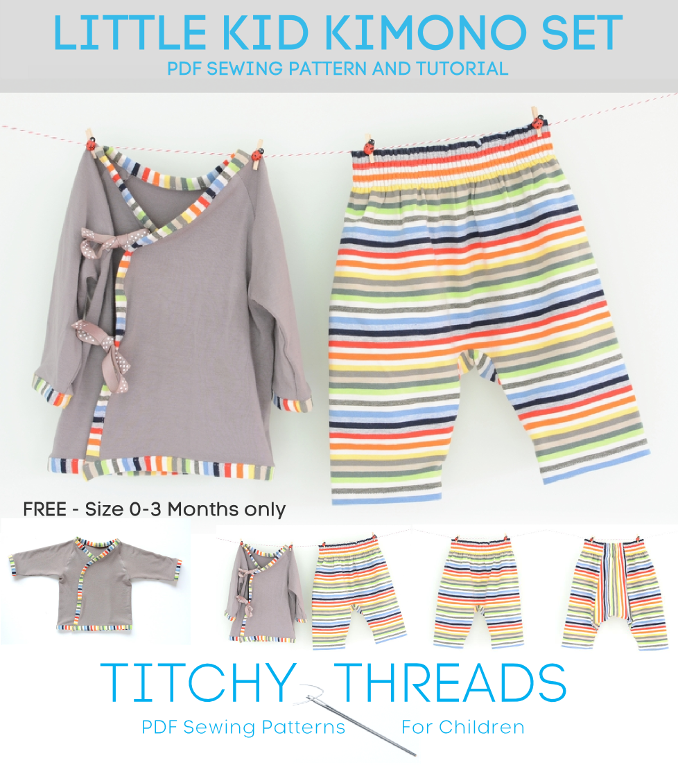 Photo via Laura TT
9. Baby Kimono Set
Don't forget the babies! This pattern comes in size 0-3 mos so it's perfect for the littlest ones. It is such an adorable baby pajama set, and I love these because they'll make diaper changes so easy. The pattern is for knit fabric, so it's an intermediate level pattern.
Learn how to sew pajama pants!
Create a comfy, cozy pair of pajama pants while learning garment sewing basics in 7 easy-to-follow, online video lessons you can watch at your own pace.Enroll Now »