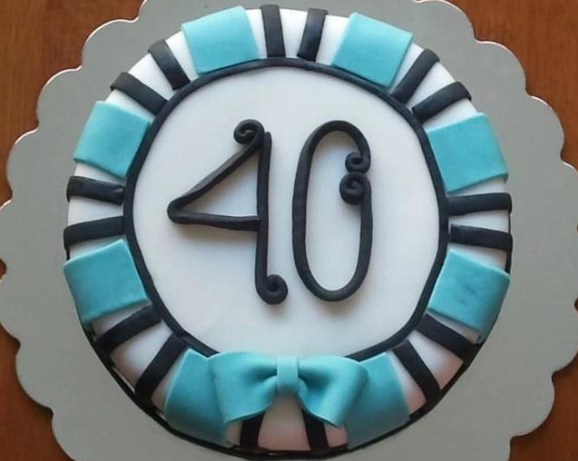 Photo via Bluprint member Bingle
They say that age is just a number. But when it comes to 40, it's a fabulous, festive, and fantastic number, and most certainly worthy of an extraordinary cake! Here's a collection of sweet ideas, ranging from simple and classic to livin' large and lavish, for ringing in this milestone birthday with a cake just as special and wonderful as the celebrant.
Keep it Classic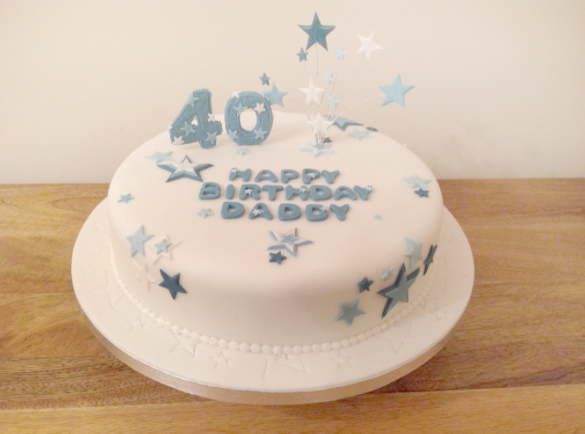 Photo via Bluprint member Kims Cakes
Sometimes the sweetest gestures are the simplest, so you may want to consider a very simple, but classic, birthday cake. Start with the celebrant's favorite flavor, be it a classic yellow cake with fudge frosting or a delicious red velvet or even just a festive vanilla-vanilla variety. Whether you're icing with buttercream or topping with rolled fondant, keep the decorations relatively simple–this will keep the look very classic yet be sure to please a crowd! Of course, whether or not you affix 40 birthday candles is up to you!
Lavish and Festive
For some, a milestone birthday calls for a lavishly decorated cake. Here are a few examples from Bluprint members:

Photo via Bluprint member Lingin
This 40th Fiesta cake is absolutely fabulous! Featuring fondant frills (part of this Bluprint class) tinted in bright, citrus tones, it instantly creates a festive feel and would pair perfectly with birthday margaritas!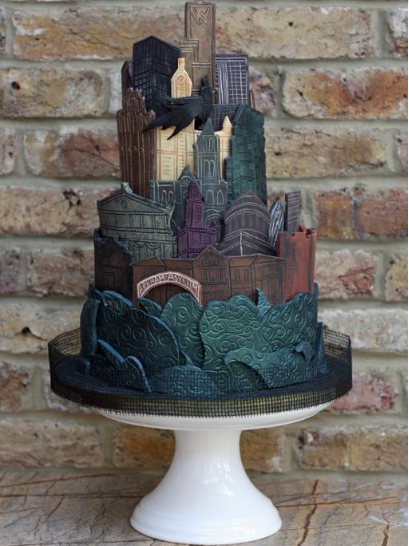 Photo via Bluprint member Bite Me Bakery
This guy-friendly Batman-inspired Gotham Cityscape cake would make a stunning centerpiece at a 40th birthday celebration. Starting with an iced three-tier cake, it's decorated modeling chocolate that makes up the eye-catching cityscape which makes this cake shine. If you'd like to create a similar cake, check out Lauren Kitchens' Bluprint class Intro to Modeling Chocolate Cityscape Cakes.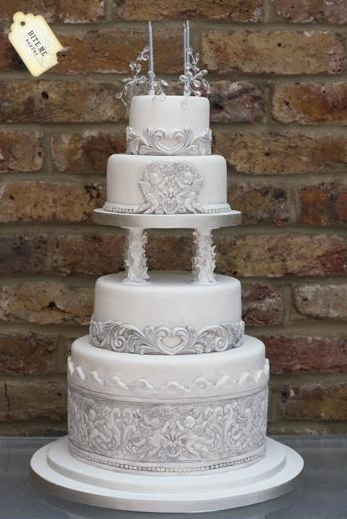 Photo via Bluprint member Bite Me Bakery
This cake was actually commissioned as a 40th birthday cake for a real-life baroness! Luckily, one need not be royalty to enjoy this masterpiece of a cake–it just takes some time and effort and a whole lot of sugar! This gorgeous cake, which could double as a centerpiece or even sculptural piece of art, was created using Marvelous Molds, and the "aged" look was attained with a mixture of Edible Art Dove Grey dust and Bridal White Satin dust mixed together with vodka to create a paint. It may have been made for a baroness, but any recipient would certainly feel like the queen!
40 and Fab!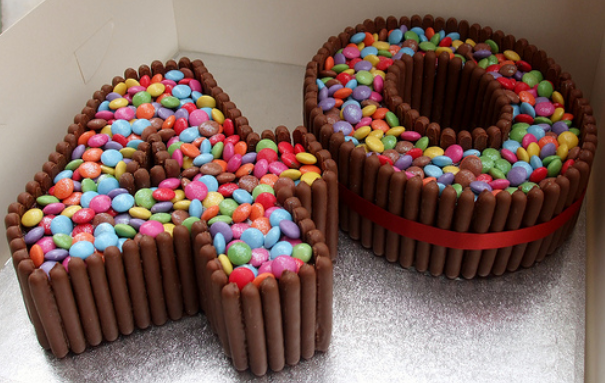 Photo via Pink Strawberry Cake Company
40 is nothing to be scared about–it's cause for celebration! Shout it out from the rooftops with cakes shaped like the big 4-0! The cakes can be the same flavor, or each one could be different, and decorations of just about any sort can be added. In the case of the cake pictured above, chocolate covered candies line the sides of cakes garnished with a rainbow assortment of candies! This is a fantastic way not only to celebrate a big birthday, but to tailor the cakes to the celebrant's flavor and visual liking.
For those in denial…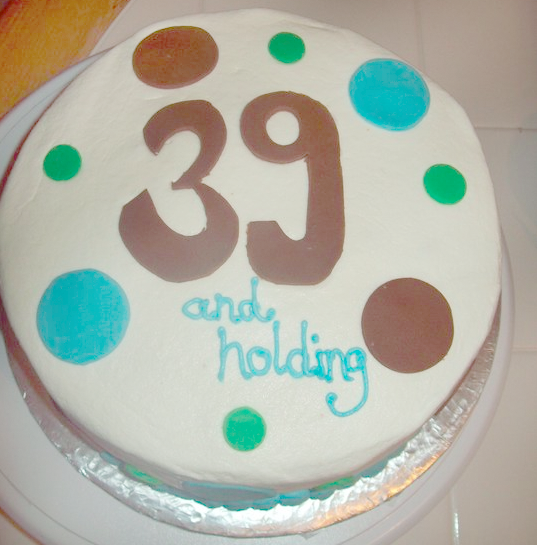 Photo via BB Cakes
Of course, if you know someone who is not turning 40 but rather 39–again–make some loving fun by being a bit cheeky with the cake. "39 and Holding…" or "Happy 39th Birthday…again!" are funny yet sweet. But keep the recipient's sense of humor in mind, because this certainly isn't for everyone!
Regardless of the number, a birthday is always a fantastic occasion to eat something sweet. So why not celebrate turning 40 with a delectable and beautiful treat?
You might also enjoy first birthday cakes and kids' birthday cakes.