Bring color and fragrance to your home by forcing some spring bulbs inside! It's actually quite easy to trick your bulbs into thinking it's spring. For this fun wintertime gardening project, all you'll need are a few rocks, a pot, some water, and of coursem some of these bulbs.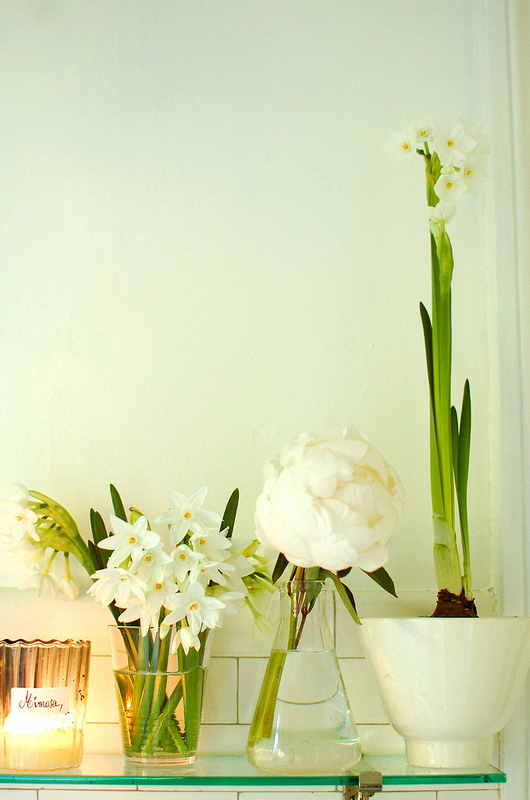 1. Paperwhites
Perfect for the holidays, narcissus, also known as paperwhites, have a delicious fragrance and will add a gorgeous, festive touch to your home. The bulbs take about four to six weeks until they reach full bloom.
To plant, place the bulbs in a flower pot filled with soil, stones or rocks. Cover the bulb just 1/4 of the bottom of the bulb. Keep it moist but not soggy. It should start growing within a week or two and blooming within six weeks.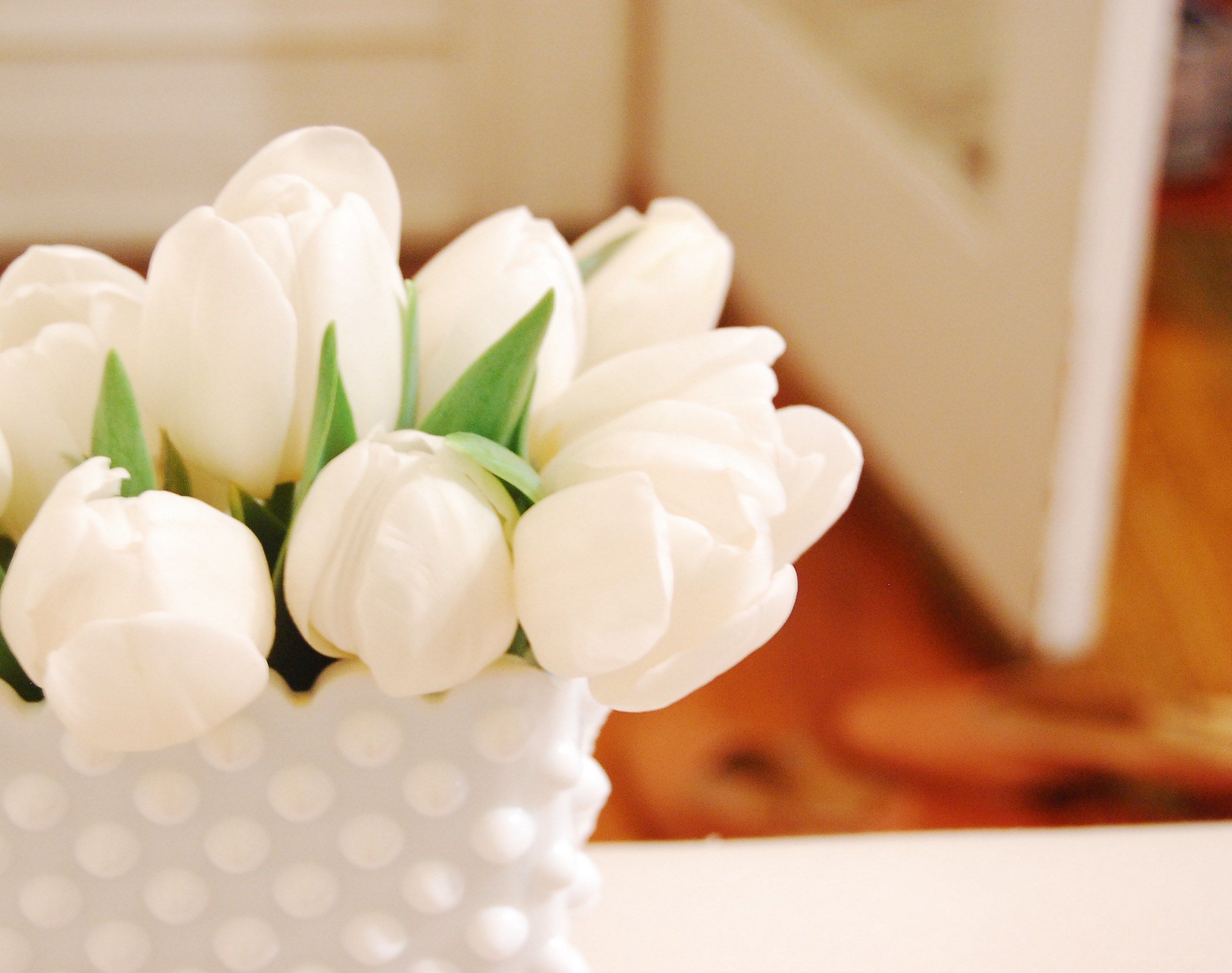 2. Tulips
Plant tulips in wide pots, in groups of six to eight plants for bigger impact. Plant in soil or with large rocks, and keep moist. Tulips take about 10 weeks to bloom. You can plant them starting in the fall through February. It's a great idea to stagger the planting so you can enjoy tulips, all winter long!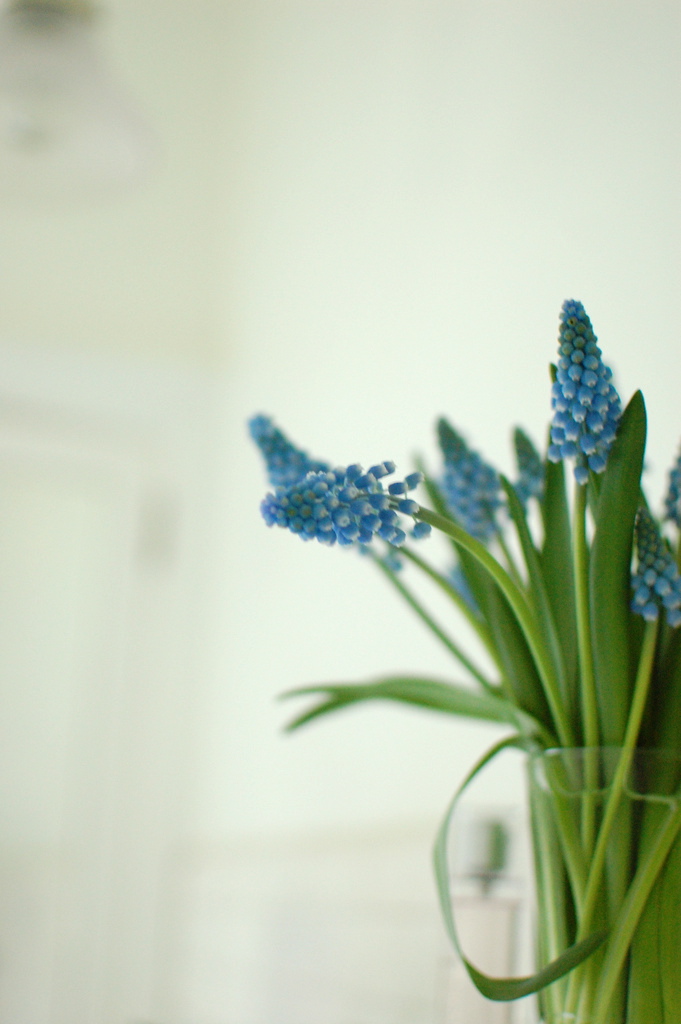 3. Muscari
I plant these sweet blue flowers every January. They look wonderful in a kitchen or bathroom and bring the loveliest fragrance inside.
Plant the small bulbs close together, but not touching. Muscari, like a few other bulbs, need to be chilled. After planting, move to a cool basement or garage for a few weeks. Once you see the bulbs sprout, gradually move to a bright, sunny area. The whole process takes six to ten weeks.
4. Mini daffodils
These adorable mini daffodils, also known as tete-a-tete daffodils, will add a bright, cheery mood to any winter home! These also need to be kept cool for several weeks before moving to a warmer room. It takes about ten weeks total.
Mini daffodils need to be in a cool place for 12 weeks. Once you see the bulbs start to grow, and the green stem peeking out from the bulb, move to a warm, bright place. You should see flowers within 3-4 weeks.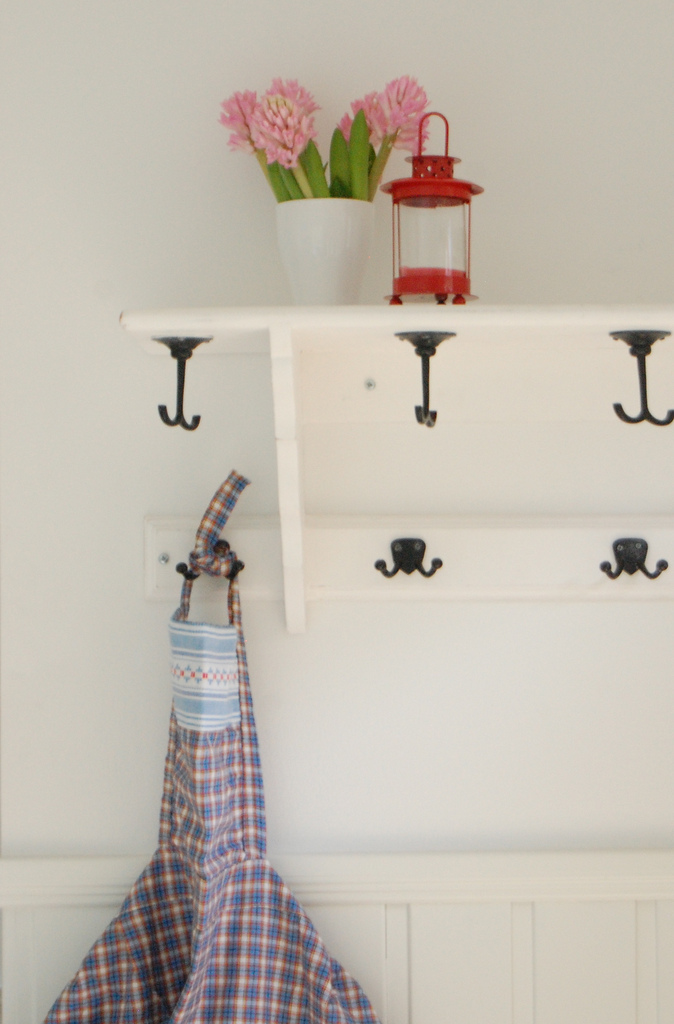 5. Hyacinth
Did you know hyacinths can grow in glasses with water — no stones or soil needed (though it doesn't hurt). Just make sure the bulb isn't completely submerged. It just needs a bit of water along the bottom for the roots to sprout. Keep them in a cool place for several weeks, once you notice roots growing, move to a sunnier, warmer location. Bulbs need up to 15 weeks in a dark cool area, and after that will take three to four weeks to bloom. Hyacinths are incredibly fragrant and make gorgeous gifts for the holiday season or for Valentine's Day.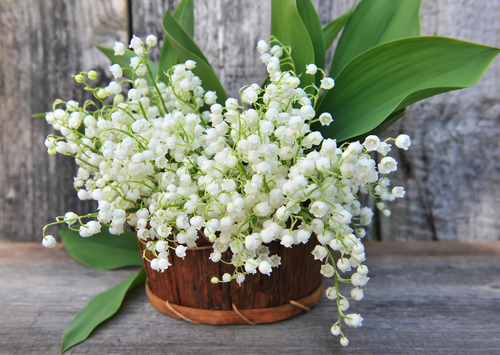 6. Lily of the Valley
Technically, Lily of the Valley bulbs are called pips. Soak the pips overnight before planting. Plant in moist soil, leave in a cool area with indirect light. They should bloom in about three weeks! Plant them throughout the winter for indoor fragrance! You can even re-plant them outside afterward for bloom the following spring or so.
Success With Container Gardening
Gain confidence with container gardening for beautiful results.Get My FREE Guide »