Fondant ruffles and frills are one of those wonderfully delicate techniques that just seem to grow more and more popular every singe year. We love the romantic and sweet look they add to elegant designs. Plus, we always find that adding a little bit of texture to a cake evokes a fabulously decadent feel, which makes fondant frills perfect for show-stopping wedding cakes! Read on to find five instantly inspiring frilled cakes that'll get you designing your next cake in no time!
Here's our top 5 fondant frill and ruffle cakes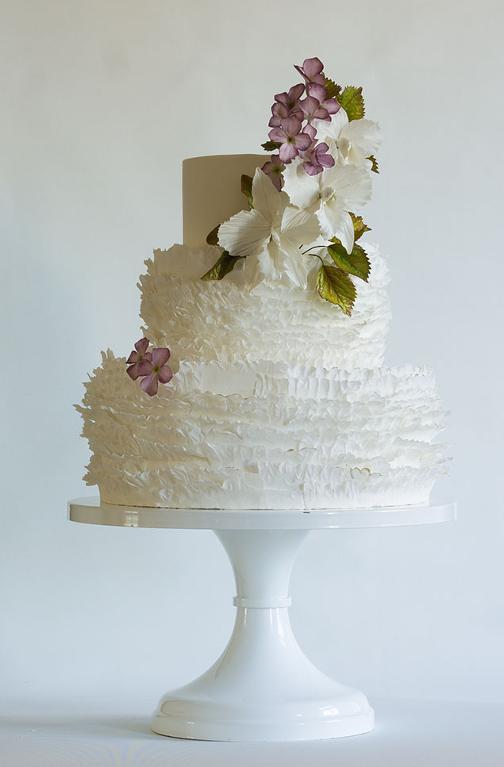 Photo via Craftsy member ModernLovers
Frilled cake
This cake uses two ruffle tiers against a single, plain tier and some sweet sugar blossoms to help create a wonderfully fresh sense of drama; proof that sometimes you don't need lots of complex techniques to make an impact! The design is paired wonderfully against a lovely subtle color palette of white, touches of gold, green and purple. If you would like your fondant frills to be the main focus of your design, our advice is to be strict with your color palette and other techniques, keeping them as simple as possible!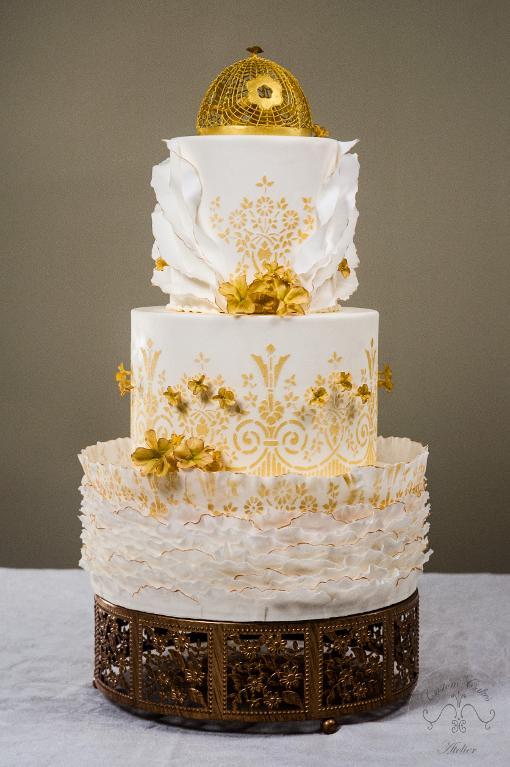 Photo via Craftsy member Leyda Vakarelov
Gold and ivory frill cake
There are some incredible impressive ideas for utilizing ruffles in different ways on this cake design alone! We love the idea of hand painting a repeat design onto a finished frill as well as adding ruffled fondant diagonally up the sides of a tier for a playful effect! Why not play with different angles or arrange your frills in smaller sections to mimic fans or ruffled cuffs?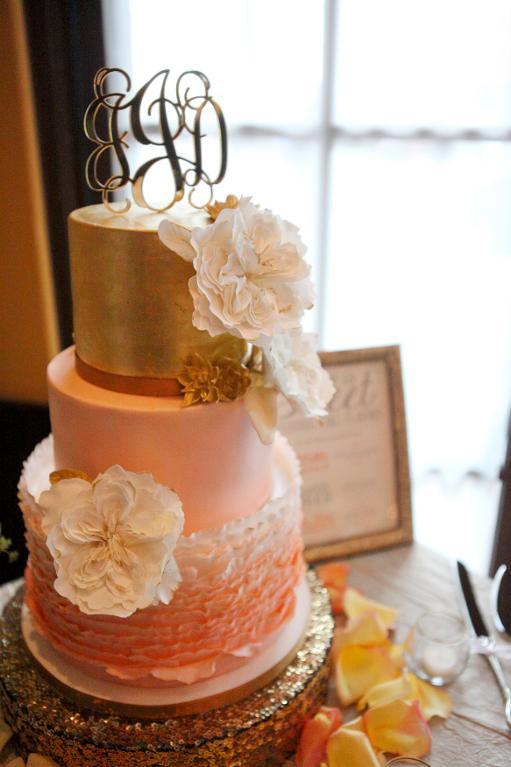 Photo via Craftsy member angsaban
Peach and gold ruffle cake
Peaches, ivories and glistening golds work so beautifully together and this ruffled fancy is definitely no exception. Combining romantic ruffles with metallics, sleek tiers and typographic focused monograms helps create a luxurious modern design. Why not think of edible sequin bedecked tiers, extra large blooms or touches of Rococo moldings for a fabulous antique twist!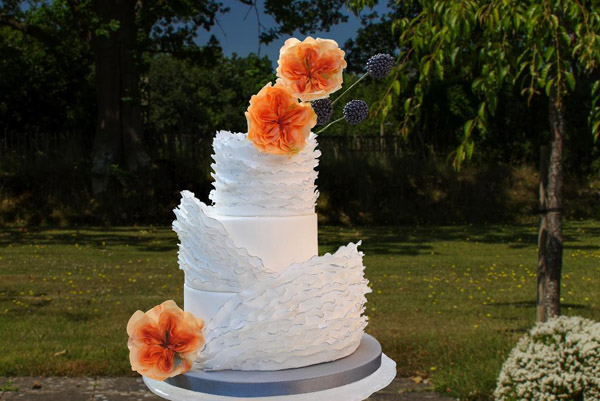 Photo via Craftsy member elaine.rhule
Frilled wedding cake
This cake really illustrates just what an amazing yet simple effect can be achieved just by working those fondant ruffles in a different way. We love how the voluminous angled frills remind us of elegant swans and their bright white feathers. Adding the quirky burnt orange flowers with gum paste blackberries just adds to this design's playful look!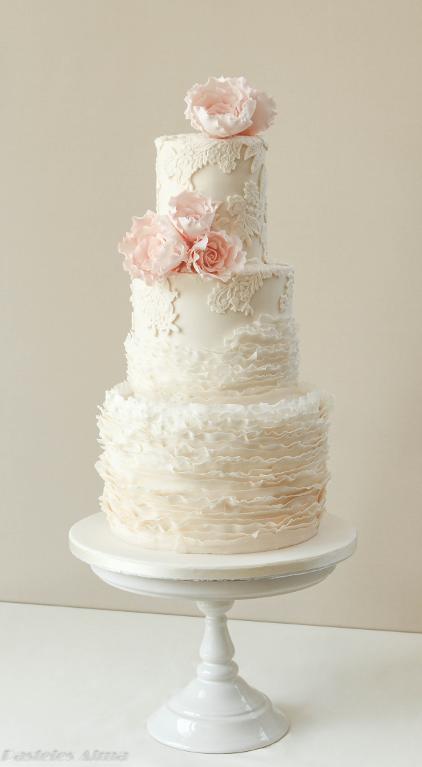 Photo via Craftsy member uta.seile1270115
Frills and roses cake
This wedding cake design incorporates vintage, romance and modern styles perfectly together. We love the on-trend deep tiers covered with delicate fondant frills and detail lace pieces. The blush pink sugar roses add just the right amount of color too.
One of the best things about creating ruffle cakes is that you can easily play with thicker or thinner rolled fondant pieces, adding color via hand painting or brushing blossom tints or adding texture with scribing tools or embossing mats to create so many inventive designs and ideas. Why not lightly press lace designs into your ruffled fondant before attaching to your cake and tweaking the ruffles back to life for a sweet look?
Don't miss out! Learn couture cake artist Maggie Austin's signature frill technique, make elegant cabbage roses and get simple tricks for cake display with the online cake decorating class Fondant Frills.
Sign me up! >>
What do you think of the fondant ruffled cake look?