Beautiful, quirky filler flowers or fondant leaves can add a much-needed finishing touch in a sugar flower spray. But you shouldn't need to invest in pricey silicone veiners to create stunning leaves — and you don't have to.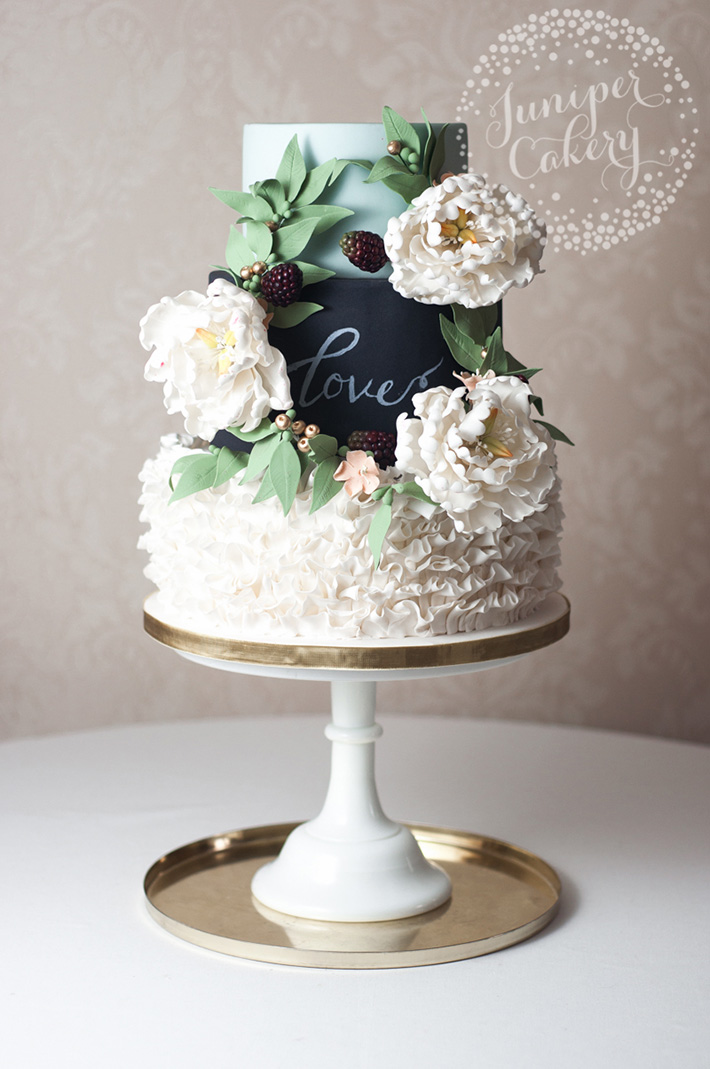 Growing an impressive collection of silicone veiners to add natural texture to petals and leaves can get pretty pricey. As with everything in cake decorating, there's almost always a clever money-saving way around this!
First, we'll dive into the many ways to create fondant leaves with simple tools. Then, we'll demonstrate the money-saving technique with a simple tutorial for easy seeded eucalyptus leaves. We love finding fabulous new berries, foliage and seeds to add to our wedding cake designs. Seeded eucalyptus plants are quickly growing (pun fully intended) in popularity as filler pieces for bridal bouquets, which makes them the perfect addition to wedding cakes, as well.
3 ways to create fondant leaves
First thing's first: let's talk about the difference between silicone veiners, veining tools and veining boards. Each of these handy tools has a different effect on your sugar work. For beginners or anyone new to wiring work, it can be confusing reading about these materials without knowing what they are. This quick introduction to veining tools will clear it all up.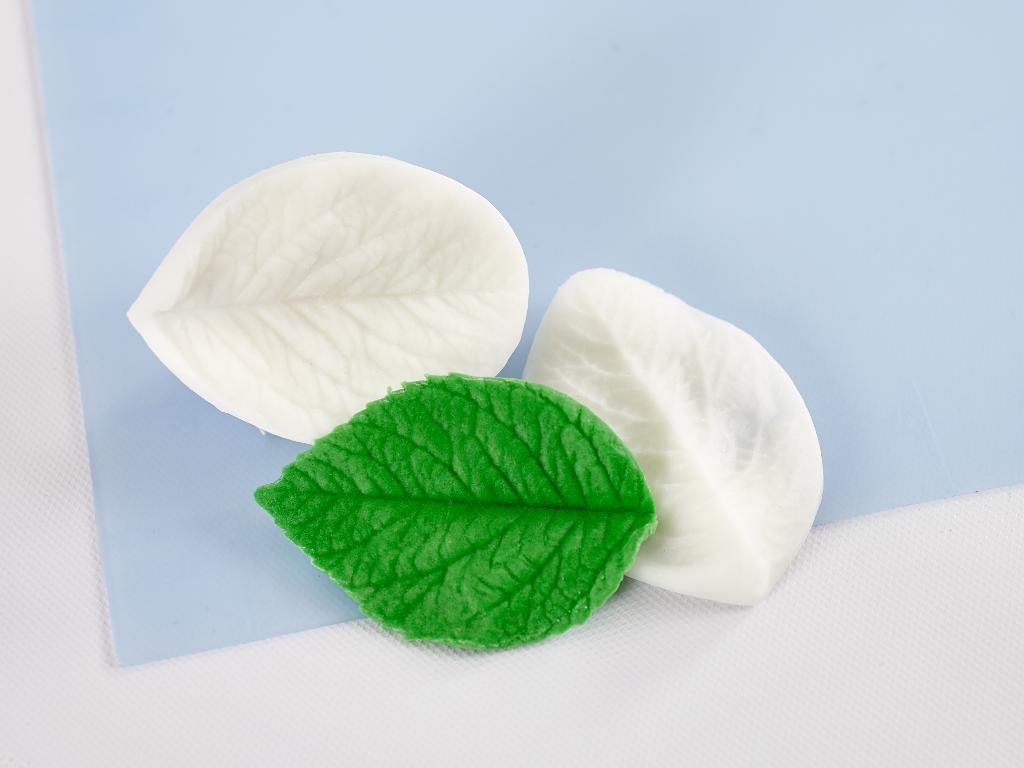 Petal Crafts All Purpose Leaf Sugar Flower Veiner
Silicone veiners
These flexible silicone pieces are a little like the fondant molds you'd use to make pretty decorative work. They're generally a little more flexible than molds, though flat with a light textured surface. Silicone veiners add light texture to petals and leaves depending on the specific veiner. You can buy these as a single piece (to vein one side of the leaf or petal) or as a two-piece set that you fold over and make an impression on both sides. They can be a little on the pricey side depending on what style you need.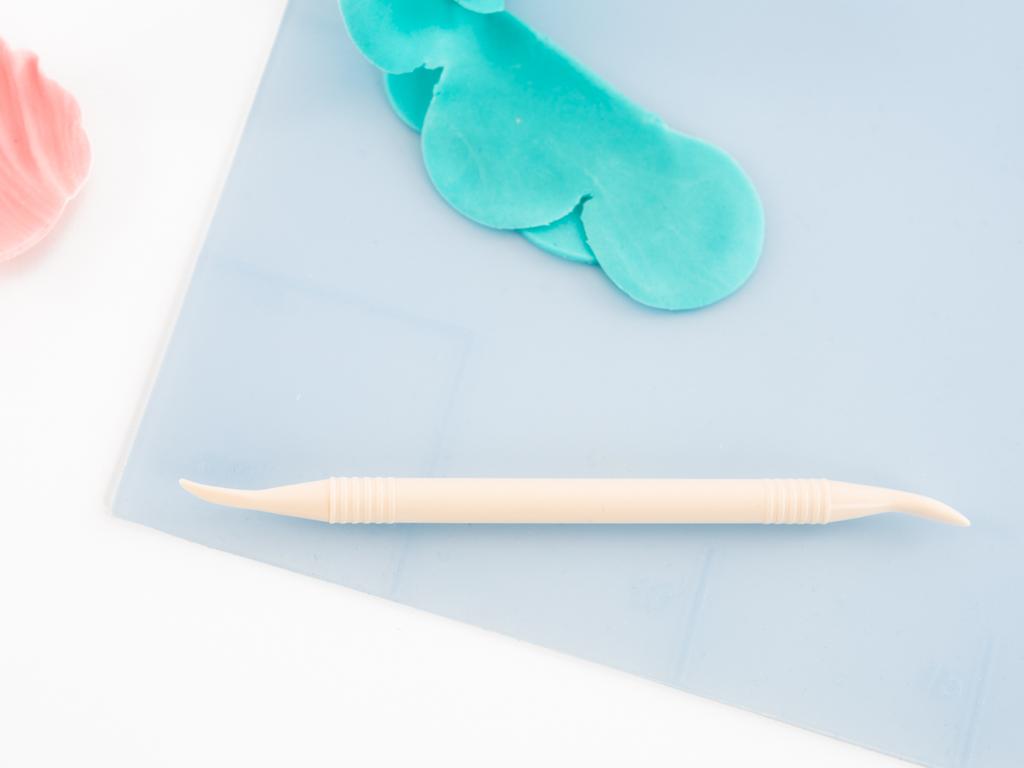 FMM Flute & Vein Tool
Veining tools
A veining tool is a fondant modeling tool (much like a sculpting tool) with a curved and tapered end in two different styles or even sizes at both ends. You can use this tool to etch texture into fondant leaves or even petals, press detailing into gum paste toppers or even add a quilted/tufted look to your fondant covered cake boards!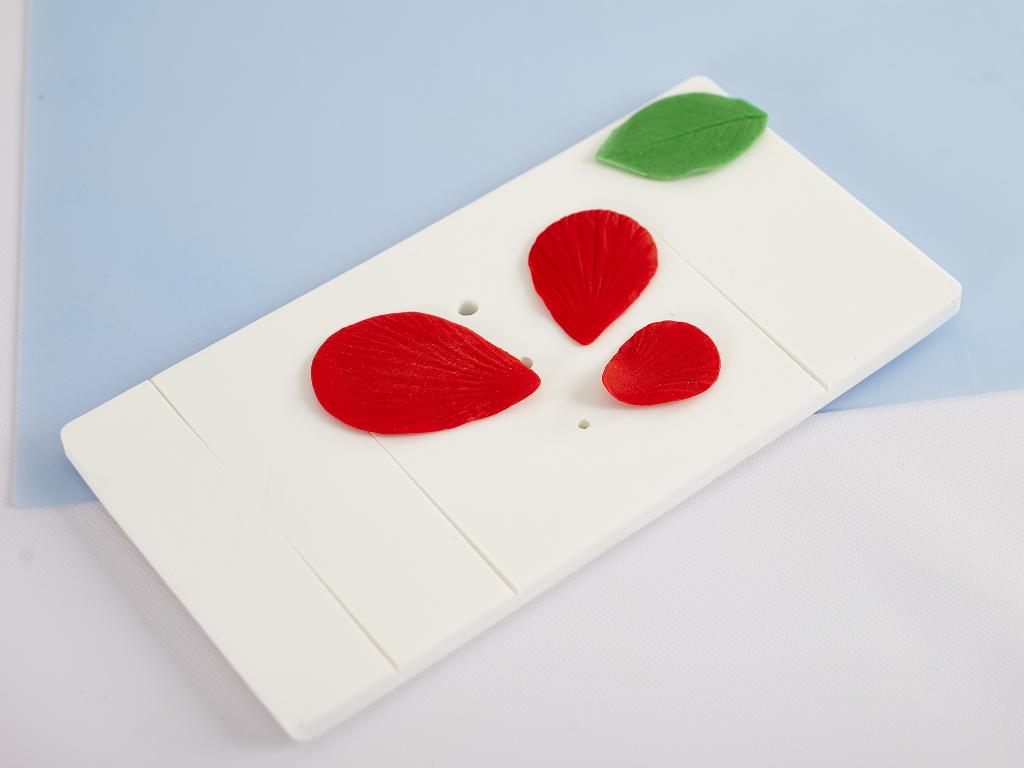 Petal Crafts Gum Paste Modeling Board
Veiner board
When it comes to making wired flowers and foliage, a veiner board is a pretty essential tool! It's a rectangular board that has various straight grooves running in from its edges. These grooves help create a "vein" down the back of your work where you can then insert florist wire.
If you're a beginner, don't just roll out thick fondant and insert a wire into your work — invest in a good veiner board so that you can make wired florals with delicate, elegant edges!
How to create easy seeded eucalyptus leaves! Materials needed:

Pale green–tinted fondant with added Tylo powder (approx. 1 teaspoon per 250g of fondant)
Long, slim leaf cutter
Petal and leaf modeling/veining board
24g florist wire
Veining tool
Ball tool
Small bone tool
Flower former
Cornstarch
Edible glue

Step 1:
With the veiner groove of a petal/leaf board down the center of your work, roll out your Tylo-added fondant in a thin layer. A good guide is to check if you can just about read dark text through the fondant once rolled out. Keep a glossy magazine nearby so you can hold your fondant close to check.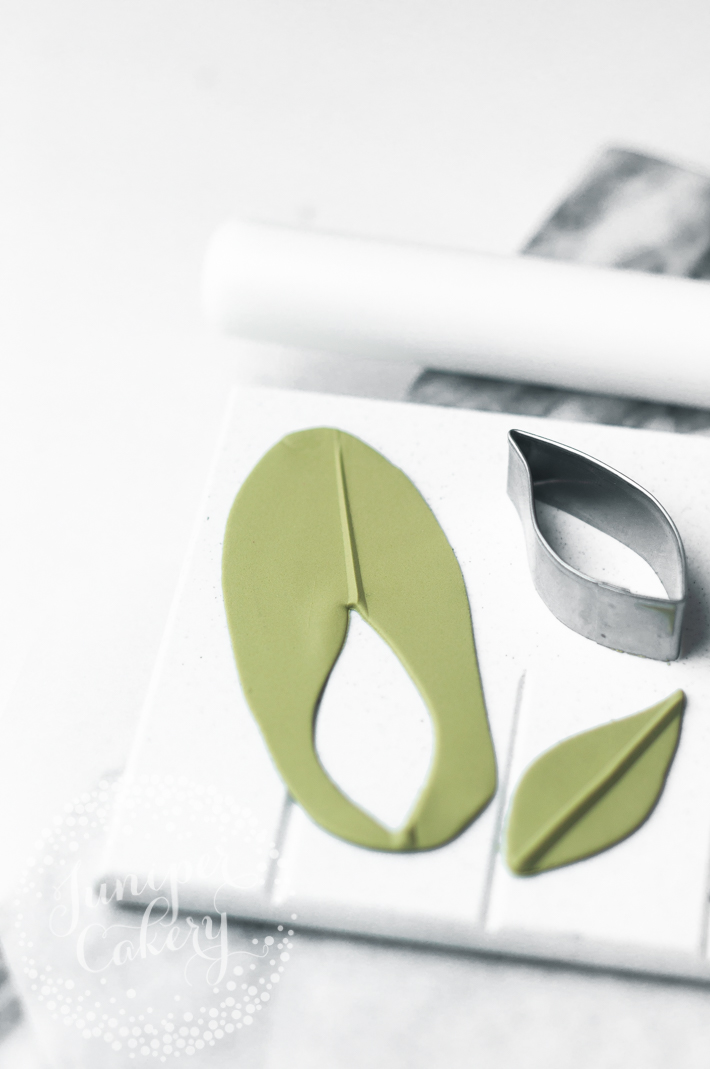 Step 2:
With your long, slim leaf cutter, cut out your eucalyptus leaf. Remember that the veining groove should be right down the middle of the back.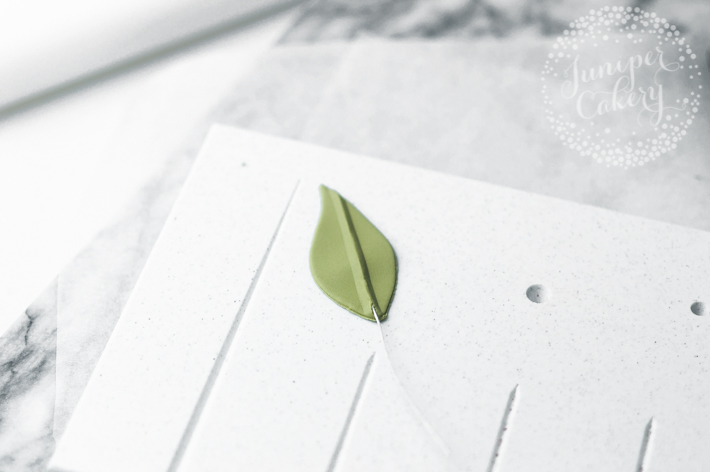 Step 3:
Cut your florist wire down to size. We often split a 12″ wire down into four 3″ pieces. Dip one end of the wire into edible glue and carefully insert the wire up through the veined groove in the back of your leaf.
Step 4:
Lightly thin the edges of the leaf with a ball tool. If you press down too hard ,you could over-ruffle the edge or even pull and break it.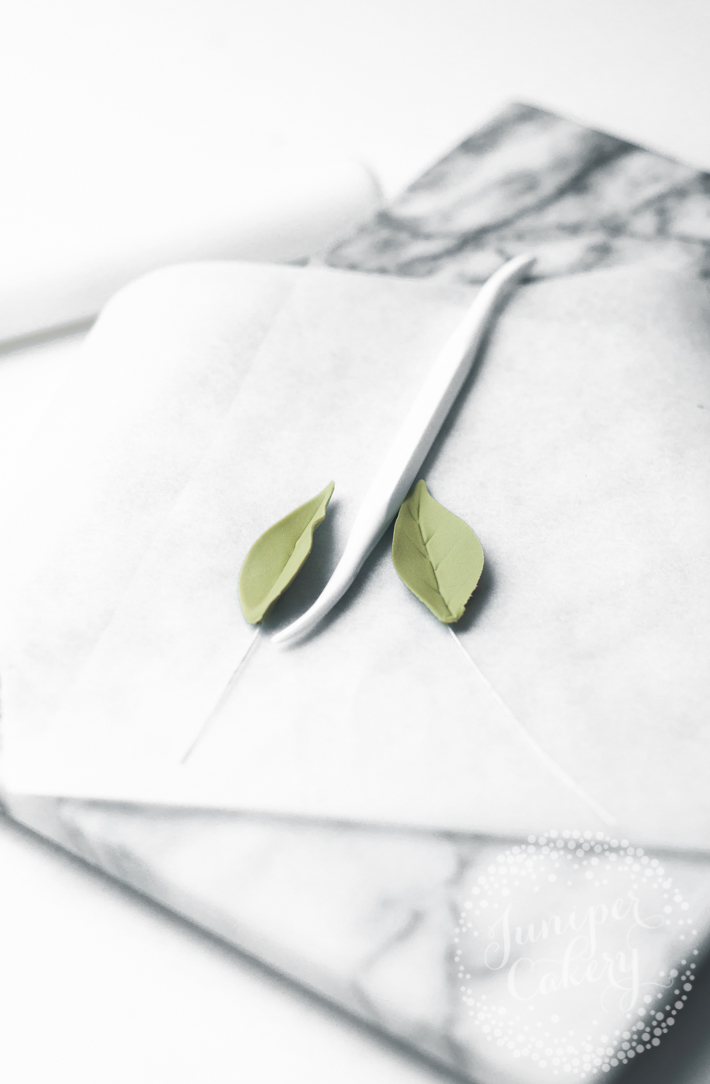 Step 5:
To add veining detail to your leaf, use your veining tool and etch a line down the center. Soften this by gently running a ball tool down the line. You can also add outer vein textures with your veining tool.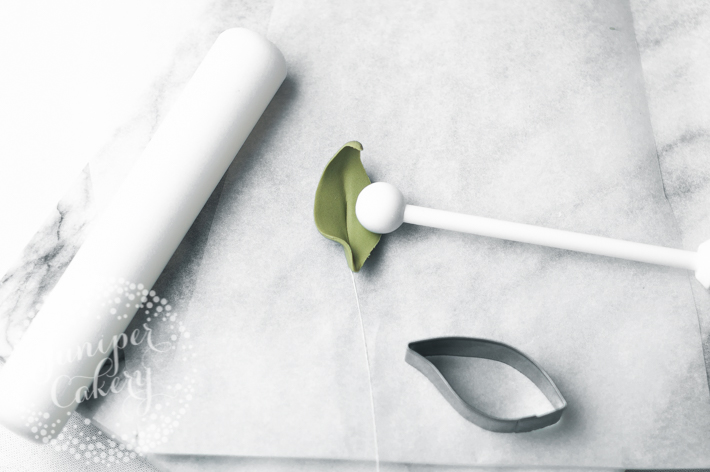 Top tip alert! Don't like the veining look? After a smoother, more understated look? Add a little shape and subtle texture to your leaves by curling them slightly with a ball tool. To curl the finer tips of the leaf inward, drag your ball tool from the tapered end and slowly toward the base of the leaf.
Step 6:
Leave the leaf on a good flower former to set into fluid shapes. Repeat steps 1–6 on more leaves.
Step 7: 
To make the small bundle of tapered eucalyptus seeds, shape a small ball of fondant the same color as the leave into a teardrop shape.
Step 8:
Dip one end of a piece of floral wire into edible glue and insert it halfway into the seed and leave to set. Repeat steps 7 and 8 to make more seeds.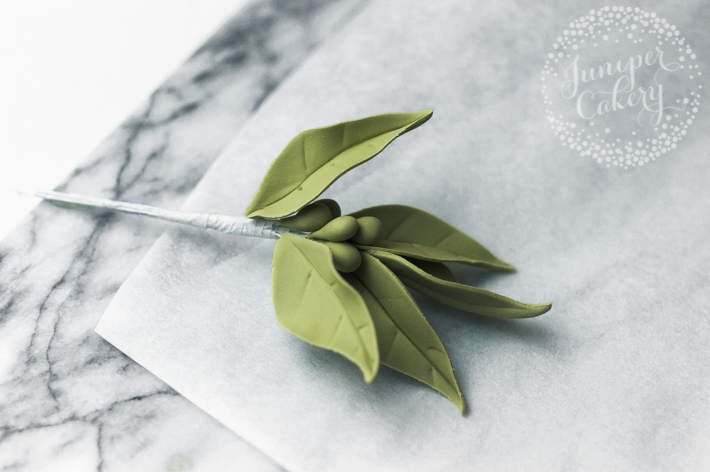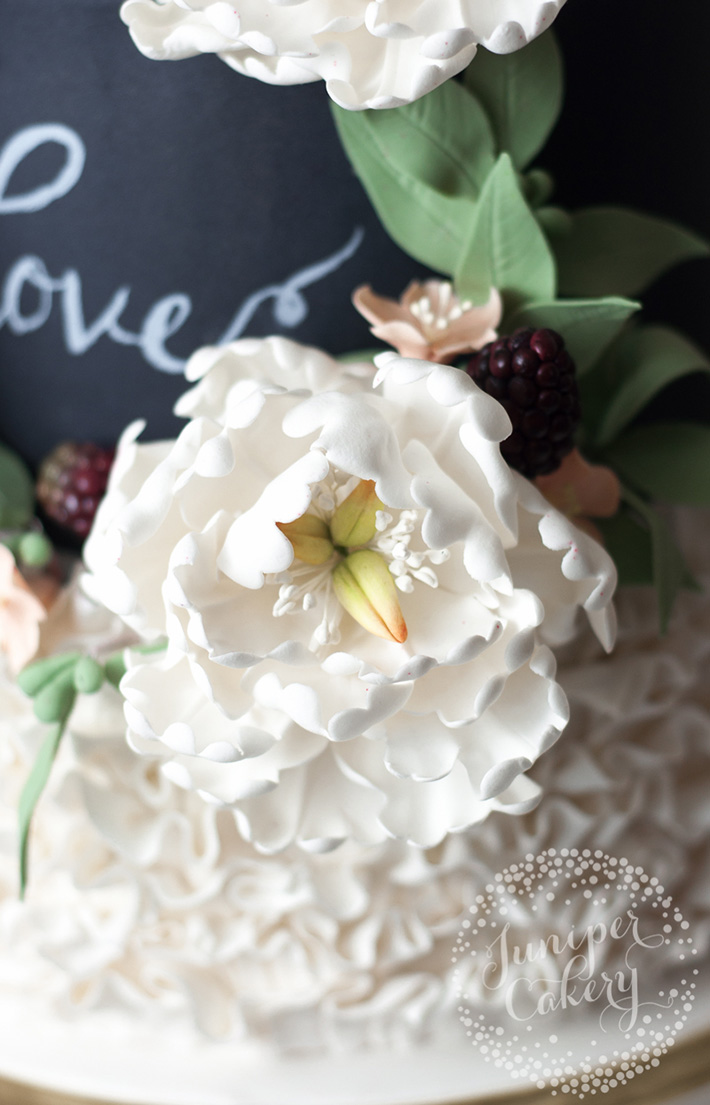 Make Sugar Flowers That Look Real!
Practice your sugar flower skills in this online Craftsy class, where you'll learn to make four types of classic roses, create buds and leaves, add special effects to your flowers and arrange them on a cake. Enroll Now »