With the many fondant tutorials I've worked on and provided throughout the years, I often receive recurring messages with overall questions regarding making cupcake toppers.
In a previous post, Top Tips for Making Cupcake Toppers, I went over the process of deciding on your theme/designs, the mediums available and choosing the methods to suit your skill level. But you may still feel some uncertainty and apprehension to execute all the steps.
Find the answers to five frequently asked questions to give you the confidence to make fondant cupcake toppers with expert precision!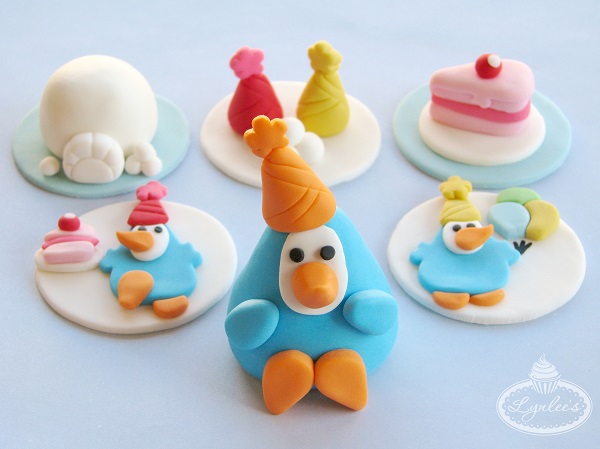 1. What is the different between fondant and gum paste?
Once you've made the decision to make your toppers out of fondant or gum paste, the question is: What's the difference between the two? Fondant is a sugary dough that can be very pliable, but because of that, can take longer to dry and risks your design losing its shape, especially if it's a three-dimensional figure. Gum paste, on the other hand, dries faster and harder, so it makes it an ideal medium for larger figures, florals or bows, since it can be rolled out very thinly and hold the delicate shapes well. Since the drying time is reduced, you may need to work with your gum paste quicker than you would with fondant.
As an example, this Cool Igloo topper collection inspired by graphics by Bird's Party shows a set made with a combination of both fondant and gum paste. The flat penguin toppers, along with the smaller 3d designs were all created with fondant, while the larger penguin figure was molded out of gum paste to ensure it held its shape without drooping. The Igloo party styled by Creative Juice shows how each topper is displayed.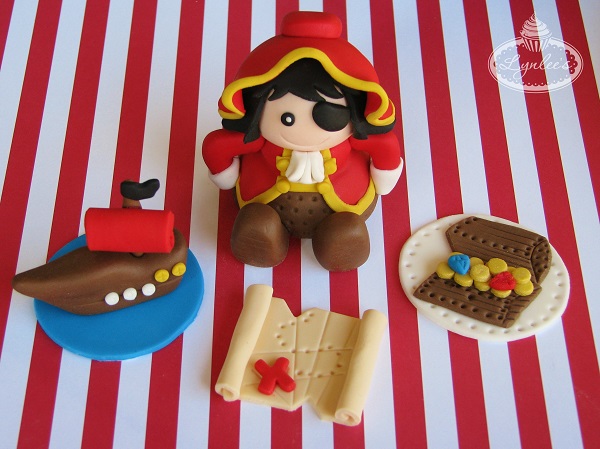 2. Should I make my toppers 3-D or flat?
Can you? Absolutely! Should you? Well, that's totally up to you! Now that you know the difference between fondant and gum paste, you have a better insight into what medium to utilize to make your toppers. Some other factors you should keep in mind when making your decision include your final presentation (i.e. Are you utilizing a tiered stand and is there enough room to display the cupcake, icing and topper?), your icing (i.e. color, consistency, toppings, etc.) and the weight of your topper (i.e. Will your 3-D topper be so heavy that it simply sinks through your icing?).
This pirate topper collection illustrates a variety of options, from a full figure, to a smaller 3-D pirate ship atop a fondant disc, to a flat treasure chest attached to a fondant disc and single-piece map. As you can see, you can mix and match the methods and designs, with the understanding that they can rest in differently on your cupcakes, as shown in the Pirate Party details.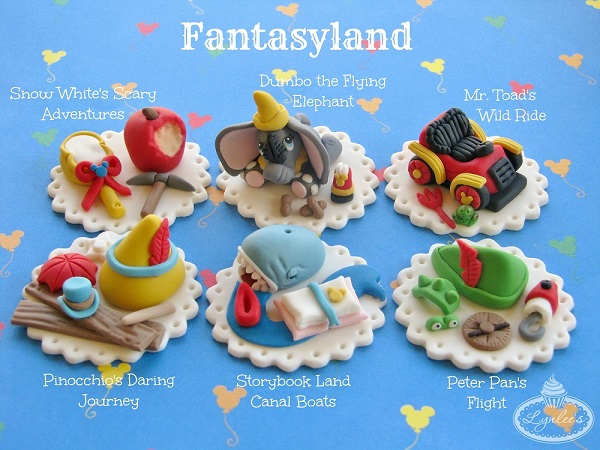 3. To disc or not to disc?
Speaking of the little fondant discs, I receive many questions on whether they should be utilized when making toppers for cupcakes. Again, it all depends on your design, what you envision the finished product to look like and what type of toppers you are looking to make. When creating flat designs, these little discs provide a surface to attach and keep several pieces together. They can also offer uniformity in a collection, such as in this Fantasyland set. A variety of small, 3-D designs are grouped on each fondant disc and though the colors vary considerably, the constant white background ties the set together. See them styled on the cupcakes from the Vintage Disneyland party by Million Dollar $mile Celebrations.
And by the way, the circular shape fits perfectly on a cupcke, but remember that they don't have to be round! Be creative!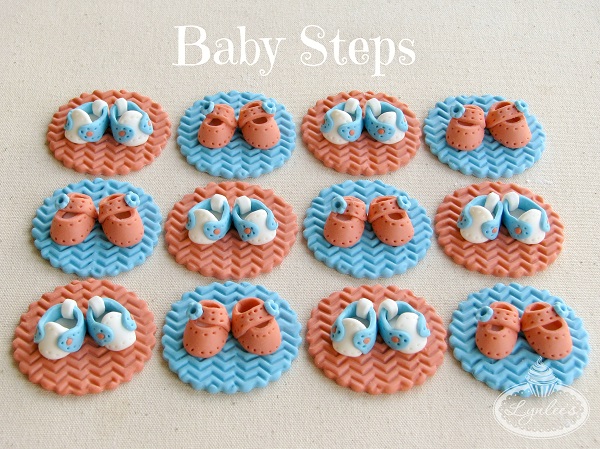 Another benefit to utilizing the bottom fondant discs is the opportunity to add dimension and patterns to your designs with a variety of texturing techniques, as well as a variety of color combinations, such as this set of baby shower fondant toppers.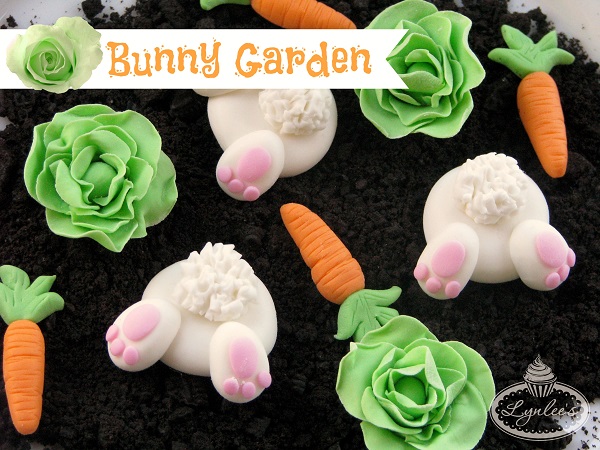 One reason you would not want to use the bottom fondant disc is exemplified in this Bunny Garden collection where the designs have a much better effect when placed directly on the icing or additional ingredients. In this case, the icing is covered with crushed cookies to resemble dirt.
You can also cover the entire surface of your cupcake with fondant, then attach your toppers over it. If choosing this method, you either need to attach the fondant to your cupcake right away or if you would rather work in advance, allow your fondant to dry on a spherical shaped foam with a similar shape as the cupcake surface so that it will fit properly at a later time.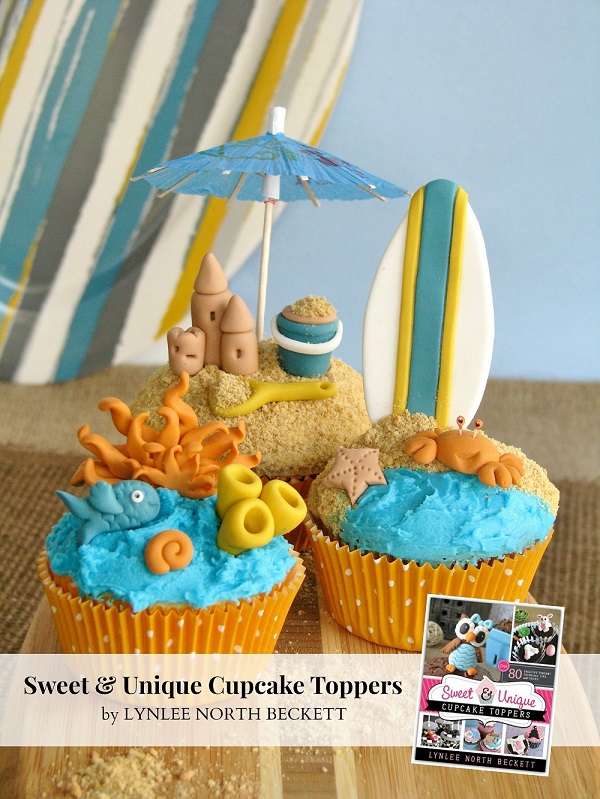 4. How long do the toppers take to dry and where should I store them?
There is no definitive answer as to how long it takes for a topper to dry. In general, depending on how thick your topper is, drying time can take 2-3 days, but your environment and weather can play a huge part in determining the timing. If you are in a more humid area, the moisture will lengthen your drying time. Also, flat toppers will dry a lot quicker since most of its surface is exposed to the open air, while three-dimensional figures will take longer because of their thickness. If gum paste is utilized, it can also cut down on the drying time. You also need to think about just how hard you need your fondant/gum paste to be for your particular project. For the most part, I want my toppers to be fairly hard to ensure they hold their shape, such as the coral and surfboard toppers in this Surf's Up collection.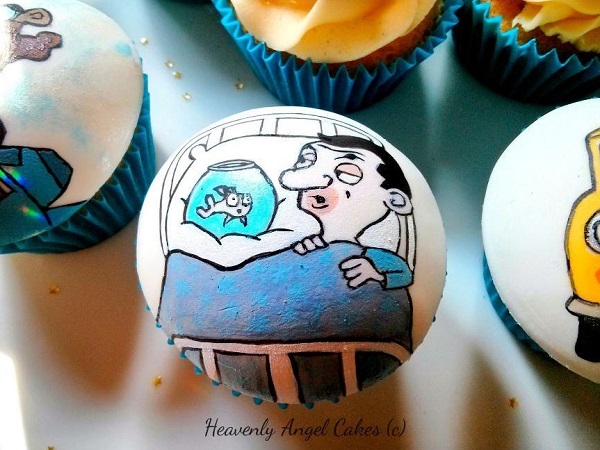 Photo via Bluprint member claire2005
While your toppers dry, where and how you store them will play a part in how quickly they harden. For cupcake decorations, I usually allow them to dry on a flat baking sheet, either lined with parchment paper or powdered sugar to ensure the bottom dries uniformly. I will often apply additional powdered sugar to the bottom as they are drying to replace what has been absorbed. Keeping them in a cool, dry place, away from sunlight (to avoid discoloration), is also key. If you are planning to paint or draw on your fondant, such as this fabulous Mr. Bean cupcake by Bluprint member claire2005, you should allow it to dry at least a day to avoid tearing or damage to the fondant.
If you are working ahead of time on your fondant topper pieces, but still want them to remain a bit soft and malleable, you can store them in an airtight container and remove them when you are ready to work with them. As contributor Lesley from The Royal Bakery explains in her post regarding using fondant molds, you can also put fondant into the freezer and once you remove it and it is thawed, you can work with them again, but do not touch it for 10-30 minutes as they will be wet and the condensation can ruin them.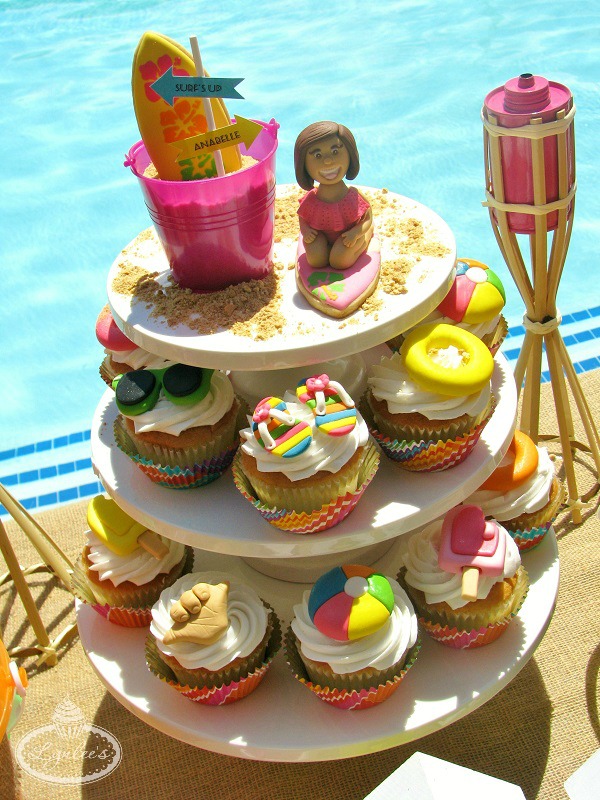 5. How far in advance should I decorate my cupcakes with the toppers?
I receive this question quite a bit and my recommendation is always to wait as long as possible, especially if you are placing the fondant directly on the iced cupcakes! Of course, just as many of the answers above have shown, there are many factors that can play into this decision (i.e. weather, setting, delivery time, icing consistency, etc.). But my main reasoning rests with the fact that as soon as the fondant touches the icing, it begins to absorb its moisture and, in turn, begins to soften. How quickly it softens will depend on various external circumstances, but why risk it?
These Endless Summer fondant toppers were made for a pool party, taking place in the sun in the 108 summer heat! To account for all the elements, the cupcakes were frozen until ready to be served, when the toppers were finally placed over the icing.
How to Make Fabulous Fondant Toppers