Are you frightened by the idea of sculpting fondant figures? Well, fear no more. Here's an amazingly simple way to make highly adorable cupcake cartoon characters out of fondant.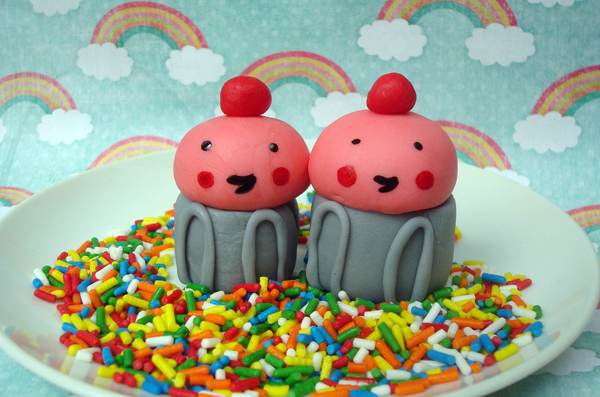 Photos via CakeSpy
This is a fantastic way to get used to handling fondant and gain confidence in sculpting figurines by hand. The process is quick and the results are positively coo-worthy. You might just find yourself inspired to create an entire cupcake army to decorate your next cake.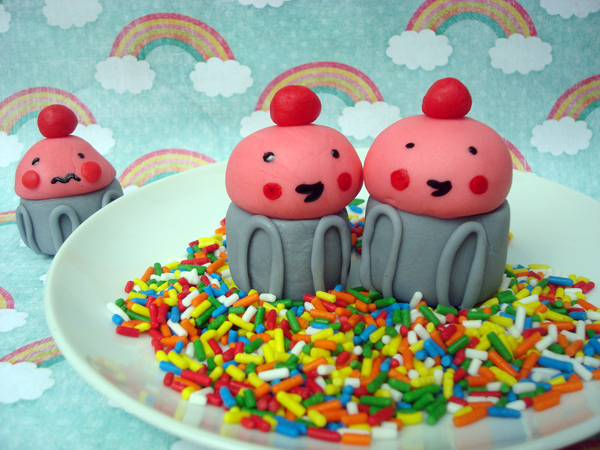 Once you've created a cupcake in fondant, you can do anything! Continue your education on sculpting fondant figurines with Bluprint classes Cake Topper Techniques: Fondant Animals and Cake Topper Techniques: Figure Modeling.
How to make fondant cupcake characters
Supplies:
12 ounces fondant, untinted (purchased or homemade fondant. For a great place to start, take a look at this marshmallow fondant recipe)
3 small bowls
Red and black gel food coloring (used in this tutorial: AmeriColor "Super Red" and "Super Black")
2 pairs of food-safe rubber gloves
Plastic wrap
Parchment paper
A small, fine-point paint brush that's never been used for paint
Sugar water or royal icing (for "glue")
Directions:
Step 1:
Divide your fondant. First, take that 12-ounce hunk of fondant and divide it in half. Place each in a separate bowl.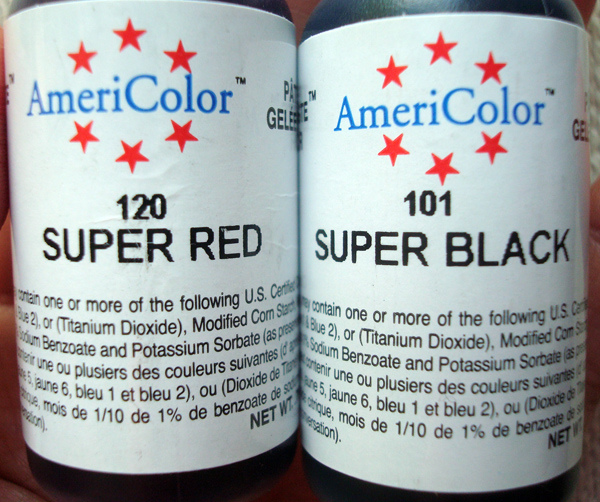 Step 2:
Tint your fondant. Put on one pair of the rubber gloves, and add 1-2 drops of red food coloring gel to the first piece of fondant. Knead with your hands. It will look stripy and uneven at first. The color will incorporate. You are going for a vibrant pink here.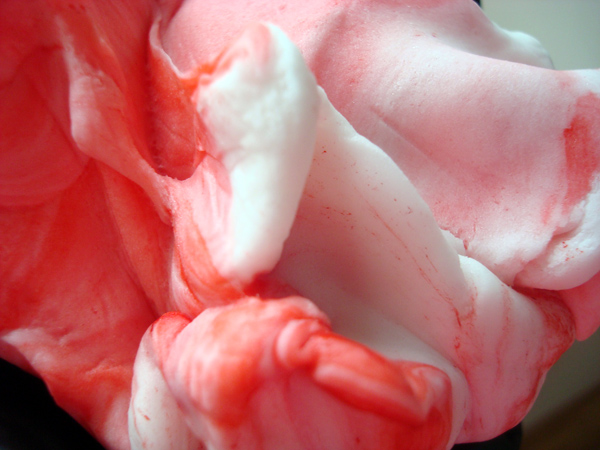 Step 3:
Once it's incorporated, pinch off a piece of the pink fondant. Add another drop of red coloring gel to this small piece and knead until it becomes a vibrant red. Place both the pink and red balls of fondant in separate bowls. Cover with plastic wrap. To the third piece of fondant, add 1 drop of black food coloring. Put on the second pair of gloves and knead until incorporated. Add another drop if you'd like a deeper color.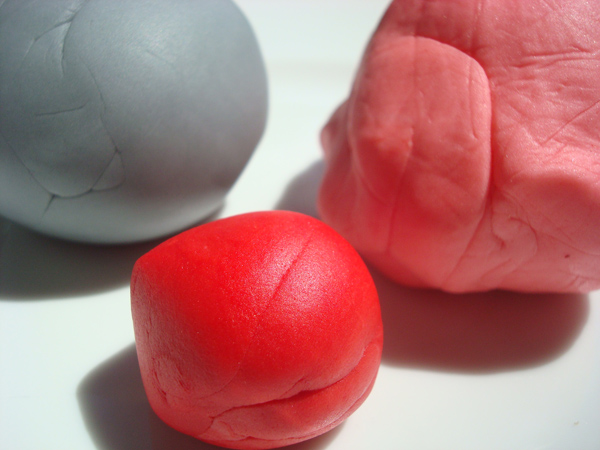 Step 4:
Shape the bottoms of the figurines. Roll the gray colored fondant into a log about 6″ long. Now, slice off the uneven ends (but reserve them for later). Slice the log into six even pieces. Then, finesse each piece, rolling it gently to even out any irregularities. Apply slightly more pressure to one end than the other, so you have a short cylinder that slightly tapers. Line up these pieces in a row, with the tapered (smaller) part facing down.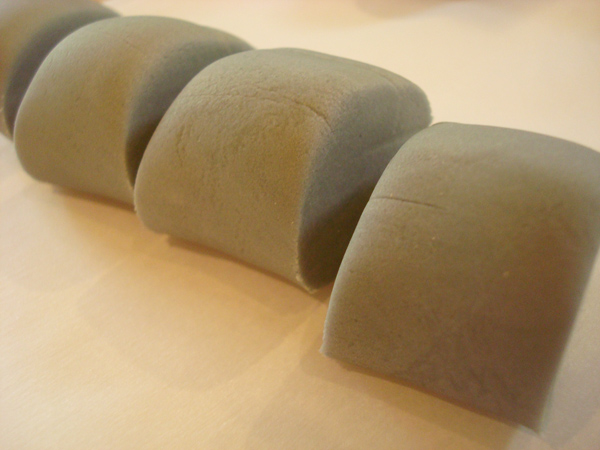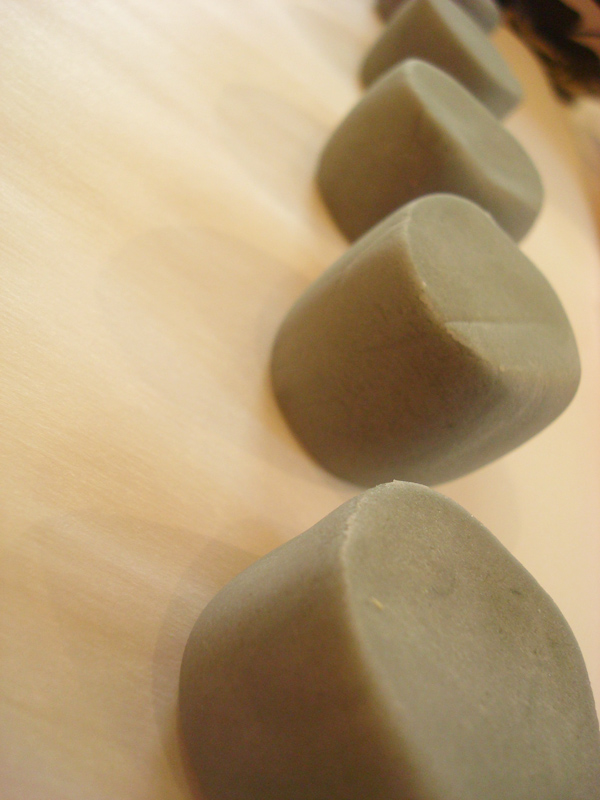 Optional: If you'd like to create a dimensional cupcake wrapper stripe effect, use the reserved small pieces of gray fondant to roll into small, very slender logs about 2″ long. Drape them in skinny arcs along the sides of the "cupcake wrapper." Or, you can paint in this detail later.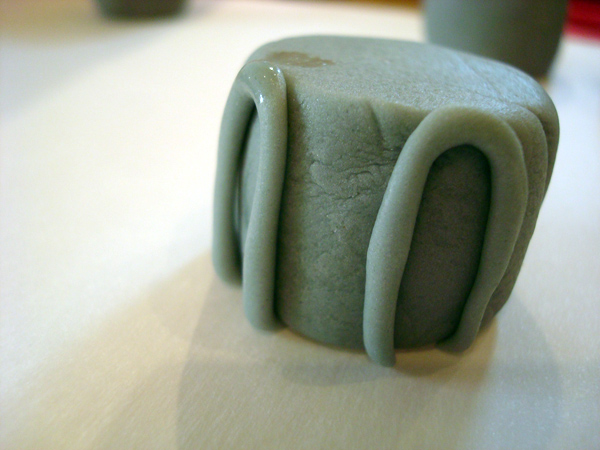 Step 5:
Shape the tops of the figurines. Grab that pink fondant, and divide it into six even pieces. Roll each of the pieces into a seamless ball, and then flatten one end of it. This will form a little dome. Place these domes on top of the gray cupcake wrapper pieces. Use sugar water or royal icing as glue if desired. The pieces should lie fairly flush against the gray bottoms. If not, flatten the pink top slightly more so that it spreads to the edge of the gray bottom piece.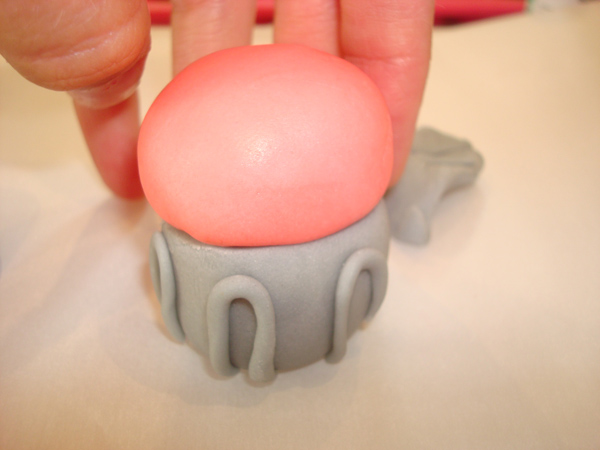 Step 6:
Form the cherries for the top of your cupcakes. Divide the red fondant into six pieces, and roll each piece into a small, seamless ball. If they are larger than you'd like, simply remove some of the fondant and re-roll. Adhere these cherries to the tops of the cupcake icing domes using your icing glue.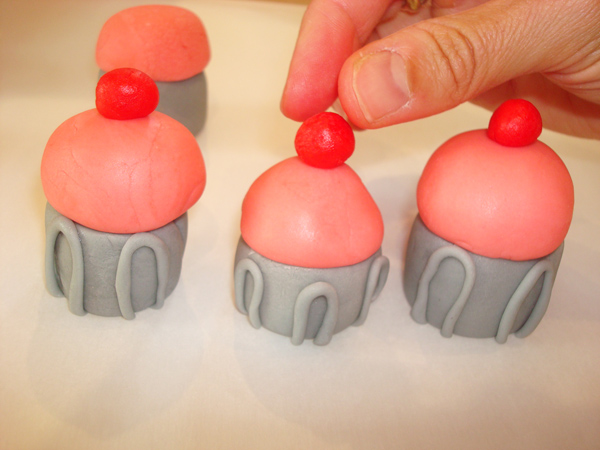 Step 7:
Get ready to draw some cute faces. On top of a piece of parchment paper, place 1-2 dots each of red and black food coloring gel. Do NOT use liquid food coloring for this part, as it will bleed.
Do a "test run" using any remaining scraps of fondant you might have. Draw a few dots and let them sit for about 10 minutes. If they bleed, you'll want to let your fondant figurines dry for a few hours before proceeding. Let them dry for several hours or overnight. This will ensure that the fondant will be dry enough so that it won't bleed when you paint or draw faces on top.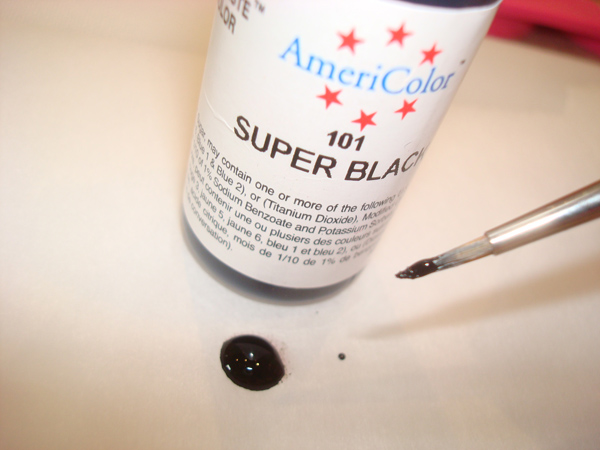 When you're sure that your fondant is ready, proceed by dipping your (dry) brush in the black gel. On the prettiest (most seamless and smooth) side of your figurine, draw two little black circles on the upper quadrant of the pink dome. These will be the eyes. Below them, draw a mouth — you can do a squiggly line for a worried face, a smile, or a smile with a little second line (see below) added under it to make it seem like the cupcake is talking. You could add a frown, but are cupcakes really a "frowny" food?
Repeat with the remaining cupcakes, drawing faces on all of them. If you want to add those lines along the cupcake liners with your "paint," do it now. Then, wash your brush carefully, and completely dry it.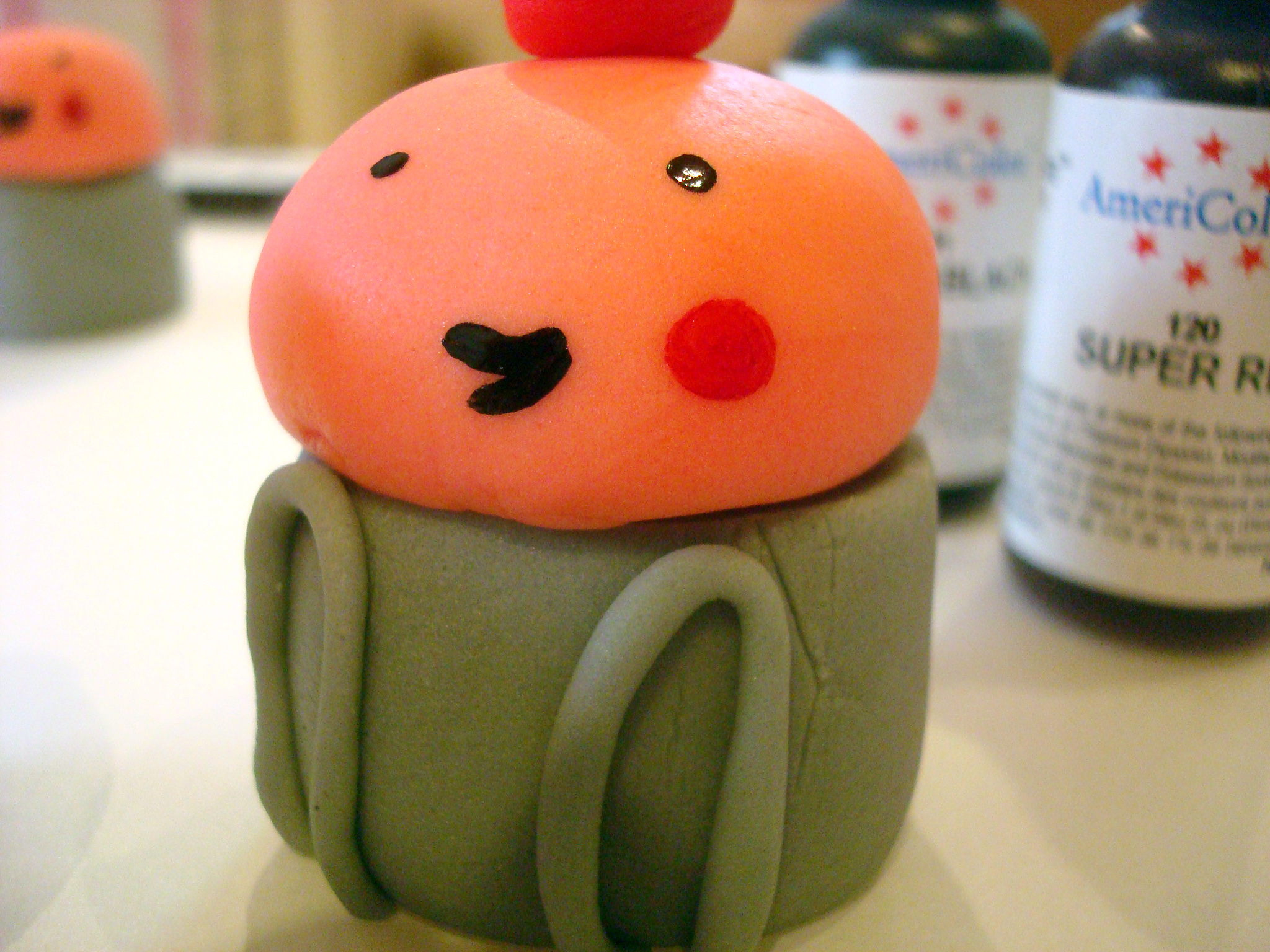 Step 8:
Now, dip your dry brush into the red dye. On either side of the characters' mouths, draw a small circle — these will be blushing cheeks. No, this is not necessary, but it is awfully cute.
Let the figurines set until the faces have dried. Now, you've got adorable fondant decorations that will be at home on any type of cake, be it a sculpted masterpiece or a prettily piped buttercream wonder. Just saying' — they'd look awfully cute on a cake with a unicorn theme, too.
Come back to the Bluprint Blog tomorrow for a more fun with fondant! We'll be sharing a simple fondant rose tutorial.
These cupcakes take the cake! What color other than pink do you think would look cute on these cupcakes?