If you are lucky enough to have quilting running through your family history, you probably already cherish the handmade pieces that are passed down from one generation to the next.
But imagine if you ran across a folk art quilt made more than 150 years ago? When you are able to see and appreciate folk art quilts in their historical context, and read some of the tales of the people who made them, the storytelling blocks and imagery come to life!
Studying these folk art quilts may inspire you to replicate a particular block or create a quilt of your own in the same style.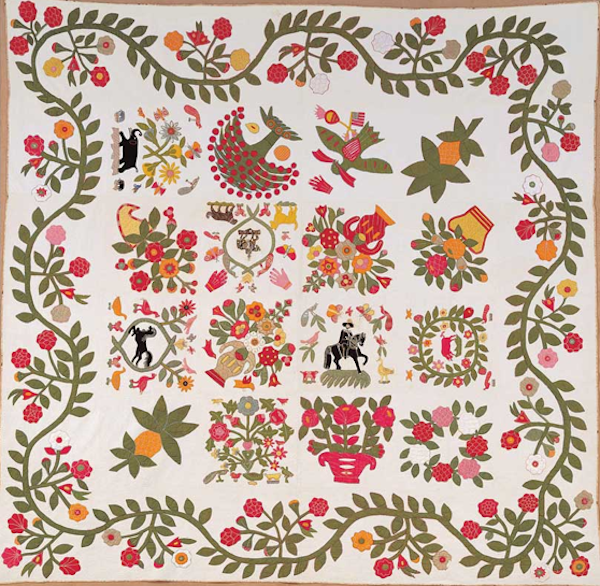 New York City's American Folk Art Museum offers a vast collection of quilts and coverlets made in the folk art style. One example from this collection is the Reiter Family Album Quilt, seen above. This folk art quilt is classified as a mourning quilt made to help memorialize a loved one. A mother and daughter collaborated on this piece after they each lost a child in 1891.
Other folk art and quilt museums across the US showcase folk quilts, offering a picture into the American past through quilting.
If you study folk art quilts, you'll notice many versions that have this storytelling aspect to them; the blocks are similar to a photo album of memories and experiences.
The strong heritage of historical folk art quilts has led contemporary quilters to make their own pieces in the same style. You'll notice traditional patchwork quilt blocks, as well as a beautiful block in the center that resembles the delicate needle-turn appliqué seen below in the Baltimore Album Quilt.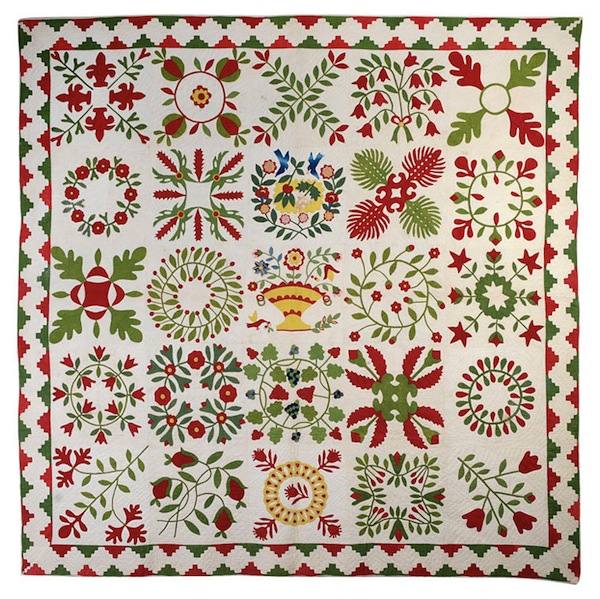 Collectors of folk art quilts will swoon over pieces like this Baltimore Album Quilt, made in the 1850s and now available for purchase. Records show that this quilt was made by a widowed dressmaker, and it's constructed from traditional blocks as well as original designs. Historians still aren't sure whether these quilts were made by a single quilter or a group of friends.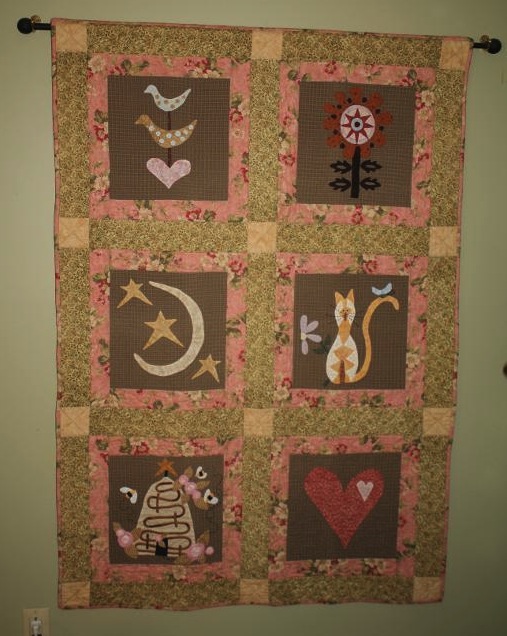 Craftsy member Cindyjk made this Appliqué Sampler quilt in the folk art style, from a block-of-the-month pattern found in a quilting magazine. After appliquéing the blocks by hand, she machine quilted the blocks together to finish the adorable wall hanging. Contemporary folk art quilt blocks like these are bringing back the history of pictorial quilts to a new generation of quilters.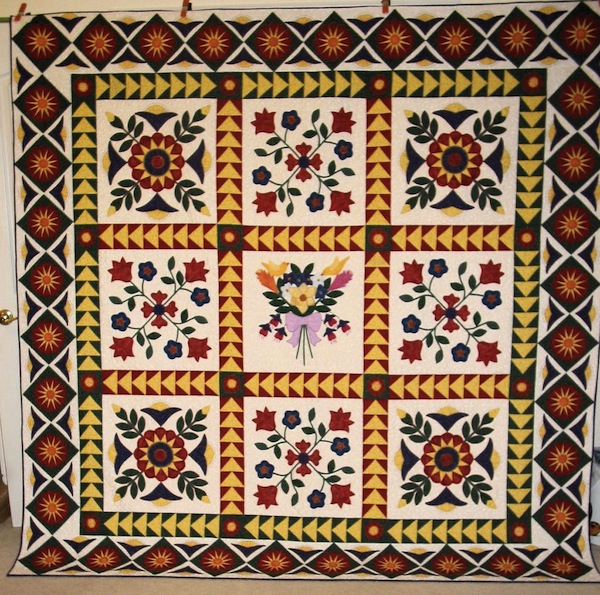 This Flower Appliqué quilt by Craftsy member Quilteve is an intricate ode to folk art quilts. She designed the pattern using quilting software and then appliquéd the blocks by hand, outlining each of the motifs with embroidery stitches. Although she says it was a time-consuming project, it's one that she can be proud of, as it will continue to tell a story for years to come.
With the time that goes into making folk art quilts, it's a great excuse to brush up on your techniques. Craftsy instructor Wendy Butler Berns is an expert at turning photos and illustrations into quilts. Her class Pictorial Quilting Techniques will teach you how to make your own folk art quilts as you turn pictures into narrative quilt blocks.
If you could tell any story with your quilt blocks, who or what would you include?