Have you heard about the Flying Geese block? It's a simple yet versatile block that can be used in a variety of quilt blocks and settings.
Basically, a Flying Geese Block is a rectangular shape featuring a 90-degree triangle sewn at each of its two ends.
This creates a peak at its midpoint. This block is generally constructed with finished measurements so that it is twice as wide as it is tall.
Here we'll discuss the components of this block and delve into the many ways you can enhance your quilting with it.
Let's dive into some Flying Geese inspiration!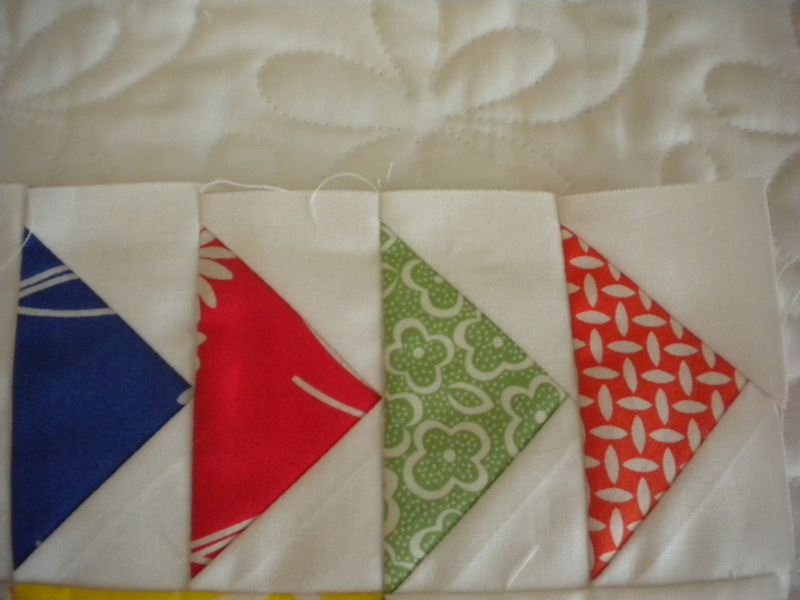 Flying Geese set in a row.
There are many ways to make the Flying Geese block.
While there are specialty rulers such as the Fit to Be Geese ruler by Monique Dillard, there are also simple piecing methods that yield accurate results.
One common piecing method is to use a large center triangle along with two smaller corner triangles.
The triangles are generally cut from squares, however, templates may be used in some specific patterns.
To try this method yourself, first, sew a small corner triangle to the center triangle, right sides together. Then, press out toward the smaller triangle. Finally, sew and press the other corner triangle to the center unit, again pressing out toward the smaller triangle.
Another common method used to construct Flying Geese blocks is to use a rectangle the size of the unfinished block and sew smaller squares to each side along the diagonal, creating triangle corners.
To do this, begin by drawing a line on the wrong side of each square. Sew one square, right sides together to the rectangle along the diagonal line. Trim the seam allowance to 1/4″ and press out. Repeat on the other side.
Regardless of the method used, there are a lot of different options for setting your Flying Geese blocks.
Flying Geese are terrific in straight settings — horizontally or vertically set. Because these blocks look fantastic in such a simple setting, they are an ideal choice for sashings and quilt borders. Flying Geese blocks also make perfect choices for row quilts.
Blocks created with a few different Flying Geese block sections can be turned in different directions for interest. The quilt below, Summer Day, by Miss Rosie's Quilt Company, illustrates this.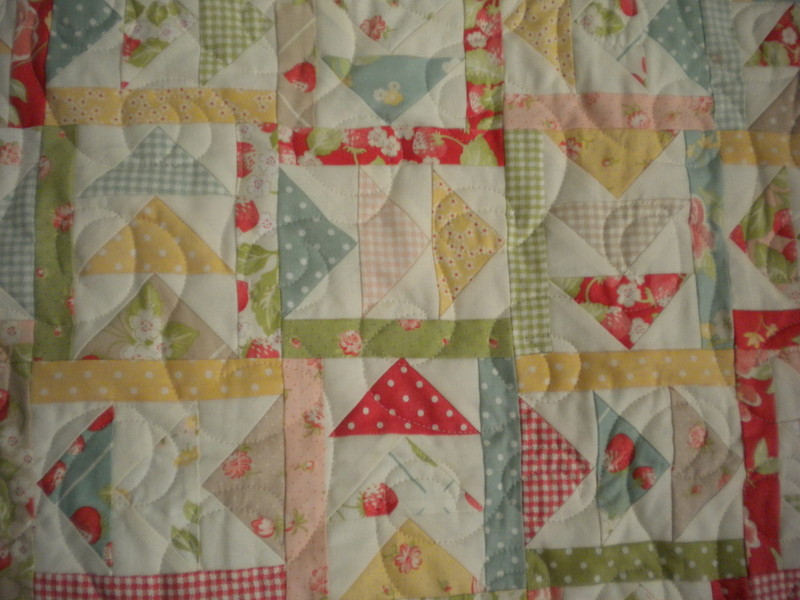 Another common setting is the use of eight Flying Geese blocks sewn together in groups of two. Each section is rotated 90 degrees and the four sections are used to create one block.
"Return of the Swallows" Flying Geese block.
For interest, Flying Geese blocks of different sizes can be combined in the same quilt, giving a modern appeal to the design.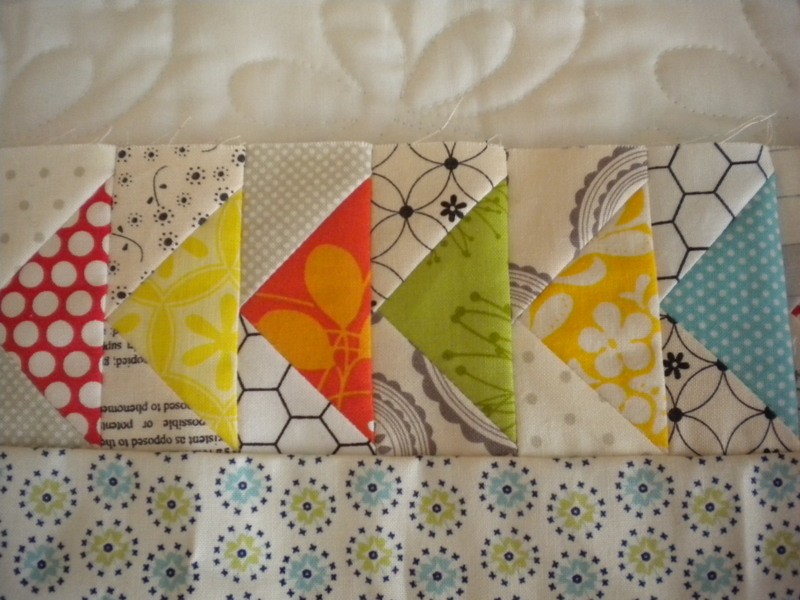 Scrappy Flying Geese blocks with "low volume" corner triangles.
Ready to test out this block yourself?
Begin with the Modern Flying Geese Quilt Pattern by Red Pepper Quilts or the paper pieced NY Beauty Circle of Flying Geese Quilt Pattern.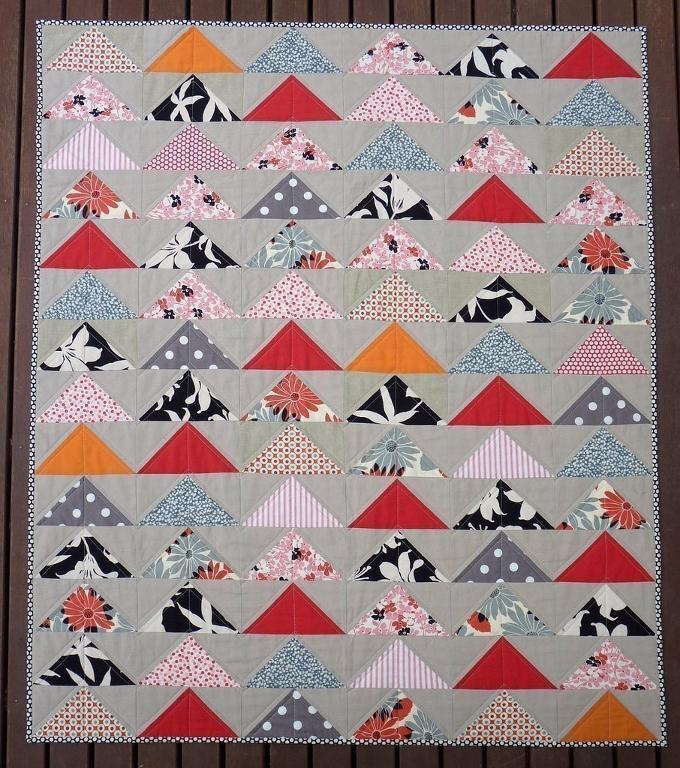 Modern Flying Geese Quilt by Rita of Red Pepper Quilts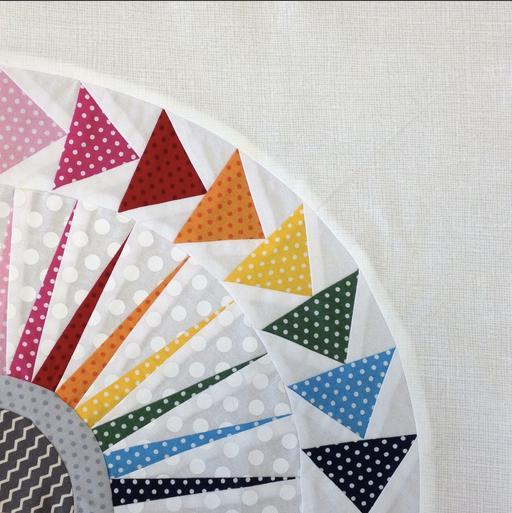 New York Beauty Circle of Flying Geese Quilt by Janice Ryan
Other Flying Geese quilt block patterns available on Bluprint are the Wandering Geese modern quilt design, the Which Way Is Up Flying Geese block quilt, and a fun tote made using this block, The Charming Geese Bag.
Come back to the Bluprint Blog tomorrow for tips on how to creatively display your quilts.
Which flying geese block pattern will you make first?