Fresh flowers are flourishing in cake decorating and design trends, from succulent lush blooms in vibrant, bold colors to pale and pretty romantic blooms. The rose is still the most popular choice. But peonies, ranunculus and country flowers (or foraged flowers) are showing up on the latest cakes. This trend's rustic and natural feel fits perfectly with the popular woodland and rustic chic weddings that have cropped up over the last few years.
Let's take a look at 9 beautiful examples of flower-topped cakes!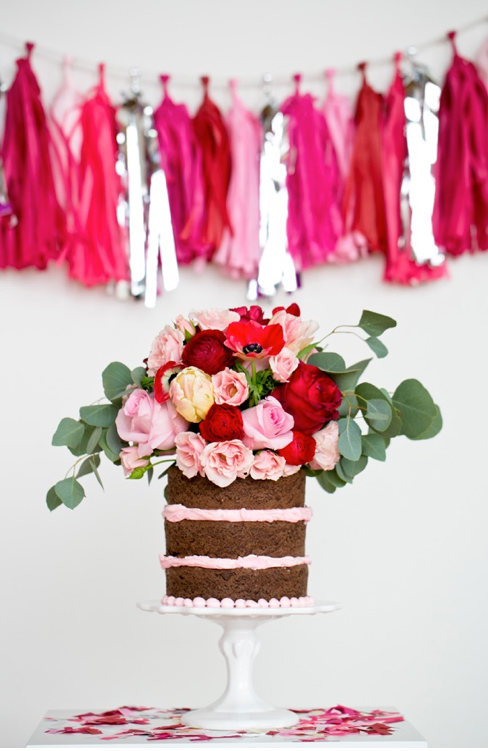 Photo by Kelly Braman via Hey Gorgeous Events; cake by A Piece O' Cake
Bright and beautiful bouquet-topped cake:
Hordes of gorgeous blooms tucked together into an eye catching red and pink sweetheart colored centerpiece bouquet make this naked cake sing!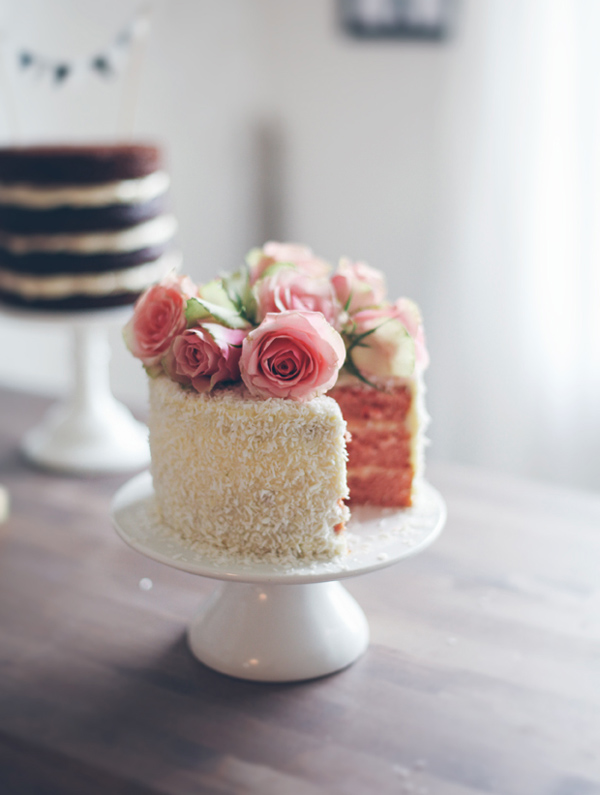 Photo via Call Me Cupcake
Pink rose topped coconut layer cake:
Simple but beautiful pink roses bundled rustically on top of a shredded coconut cake gives this confection a romantic appeal. I especially like how the pink roses match the blush cake layers.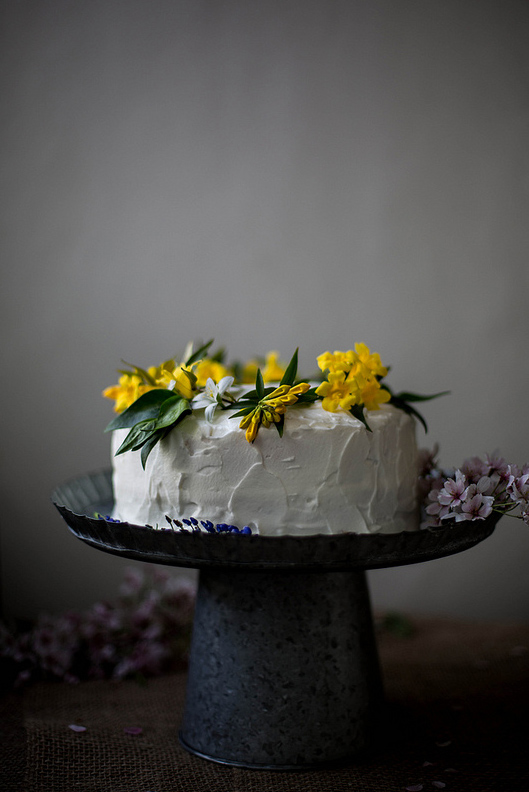 Photo via Beth Kirby/Local Milk
Rustic foraged flowers Tres Leches cake:
I like how this cake looks as though the flowers were freshly collected that morning from a country walk. Remember to check first to ensure the flowers you use to top your cake are nontoxic. You want unsprayed flowers. The best bet might be from your own garden, or ask your local florist for unsprayed blooms. Not only does this cake look beautiful but the recipe sounds divine; visit Local Milk to check it out.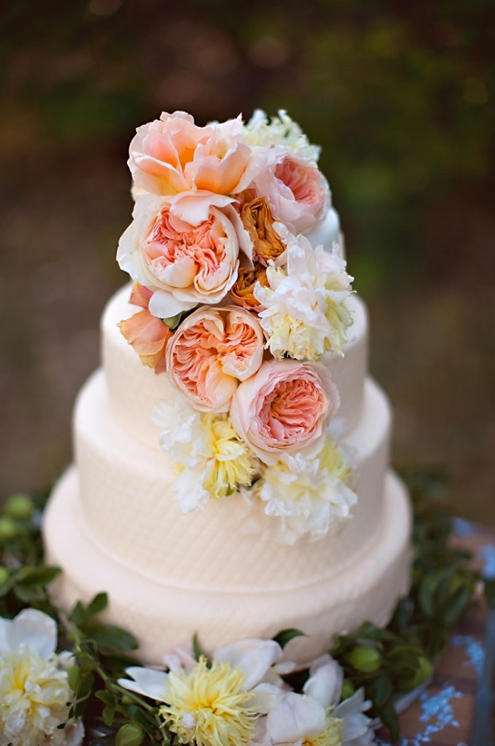 Photo by Tonya Joy Photography via Ruffled; cake by Rebecca Williamson.
Vintage floral romantic cake:
The heirloom old world romantic peach roses on this cake are so beautiful I'd want to keep them forever. I love the subtle quilting pattern on the fondant cake and the gentle color palette.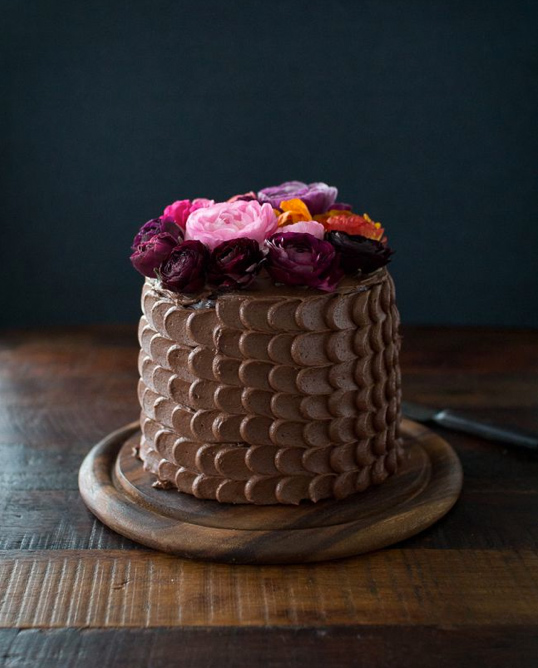 Photo via the Flourishing Foodie
Chocolate buttercream iced lush floral cake:
This cake features darker chocolate buttercream, which provides a lovely contrast with the rich, dark blooms. The dark burgundy peonies and the larger pink bloom are beautiful finishing touches.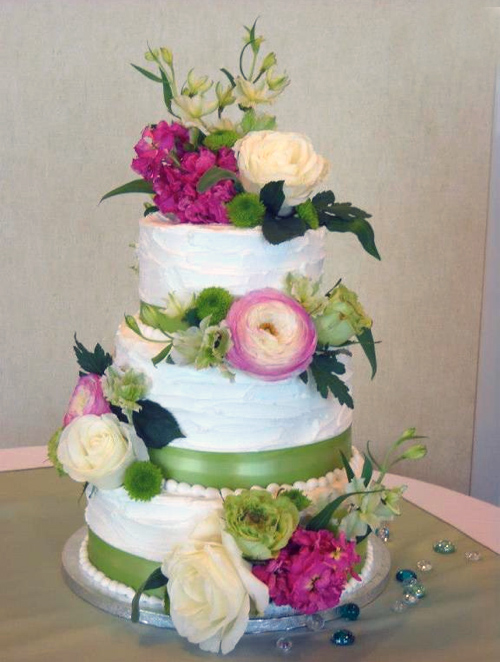 Photo via Bluprint member DBL Laura
Fresh flower wedding cake:
Bluprint member DBL Laura created this buttercream-iced three-tiered cake with fresh flowers of all types including roses and mums.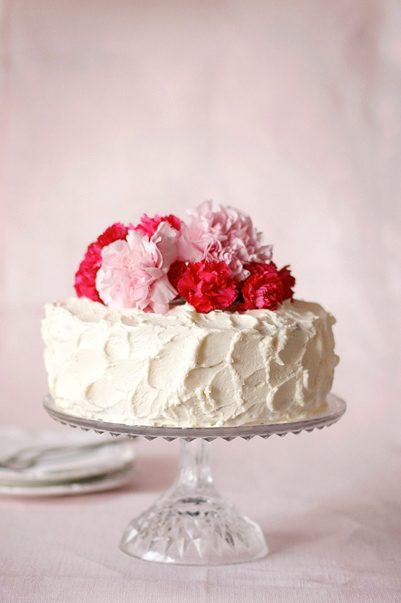 Photo via Call Me Cupcake
Ruffly carnation topped buttercream cake:
I've always felt that carnations get a bad reputation for being a low-cost flower. Yes, they aren't as pricey as their ritzier pals, the rose, but they are beautiful in their own right and last twice as long. I love the simple placement of romance-colored carnations on top of this rustically iced cake.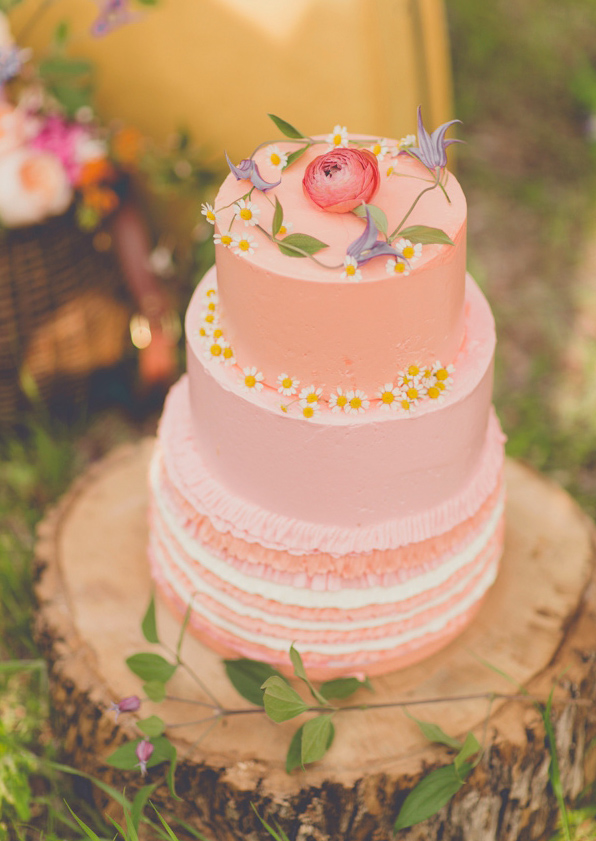 Photo via N Barrett Photography; cake by Cake Walk Bake Shop.
Ruffle tiered rustic romance cake:
This perfectly pretty cake features a buttercream ruffled bottom tier, which reminds me of a vintage petticoat. The strawberry pink icing shade is simple and sweet. The simple tiny daisies, crown of stems and central ranunculus flower and superb finishing details.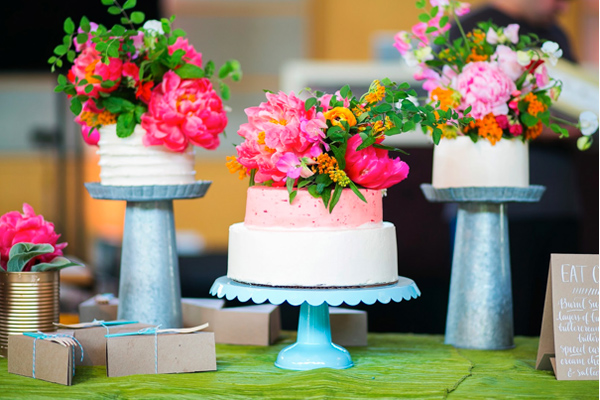 Photo via Cake Walk Home
Trio of floral bouquet topped cakes:
These three simple buttercream iced cakes sure got the royal treatment! They are brilliantly crowned with brightly lush fresh floral bouquets.
Would you like to make your own edible and gorgeously realistic gum paste flowers? Be sure to check out all of our beautiful Bluprint sugar flower crafting classes here!
Come back to the Bluprint blog tomorrow for a tutorial on how to sculpt cakes with Rice Krispies!
Have you worked with fresh florals in your cake designs or received this as a request from any brides?