Adding and arranging gorgeous sugar florals to a cake can seem a little daunting. If you've just spent days expertly creating beautiful gum paste blossoms and flowers you're going to want to show them off right?
Well, arranging them perfectly is the best way to help them get the attention they rightly deserve! In this handy tutorial we're going to show you how to create a lovely crescent-shaped floral cake topper.
How to make a floral cake topper blooming with beauty!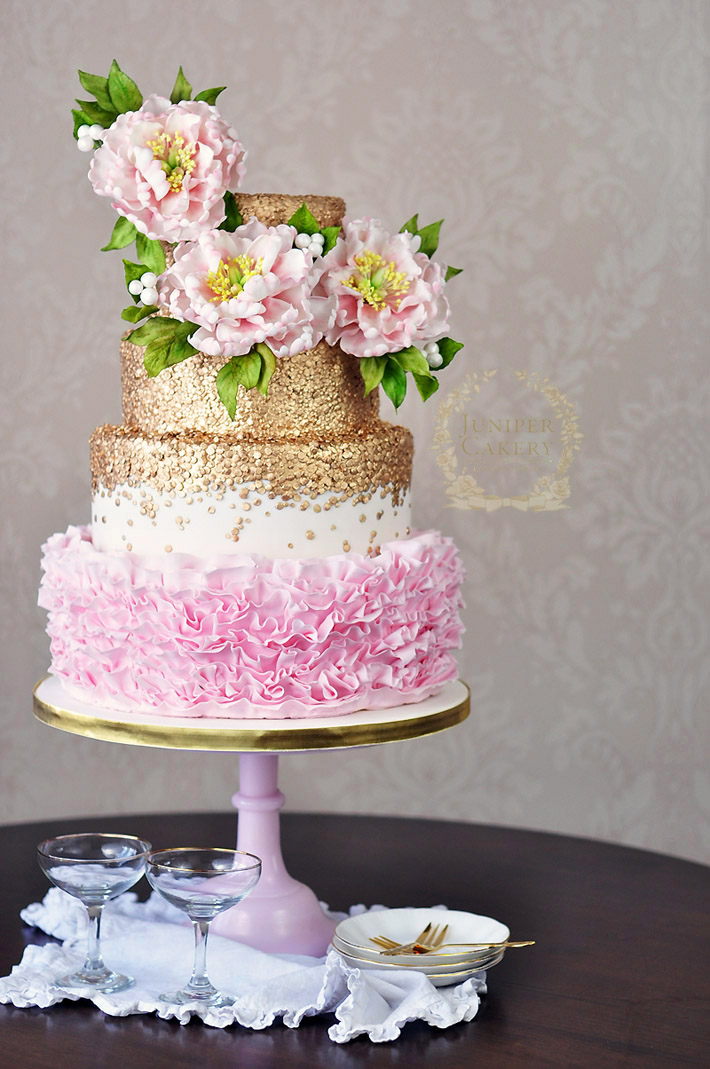 All photos via Juniper Cakery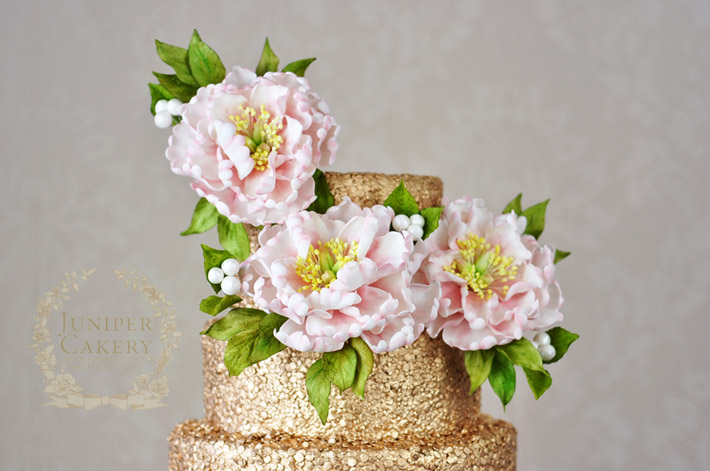 Materials needed:
Large wired focal sugar flowers (e.g., roses, peonies, ranunculus, juliet roses, large gerberas etc)
Smaller wired filler flowers or berries (e.g., hypercium berries, blackberries, damson blossoms, hydrangeas)
A mix of wired greenery (e.g., leaves that match both focal and filler flowers as well as eucalyptus or privet leaves)
Posy picks in medium and small sizes
Floral tape
Royal icing or white chocolate
Small vases or cups that feature a small opening or neck and wide base (we use small retro-style milk bottles)
Cutting pliers
Long nose pliers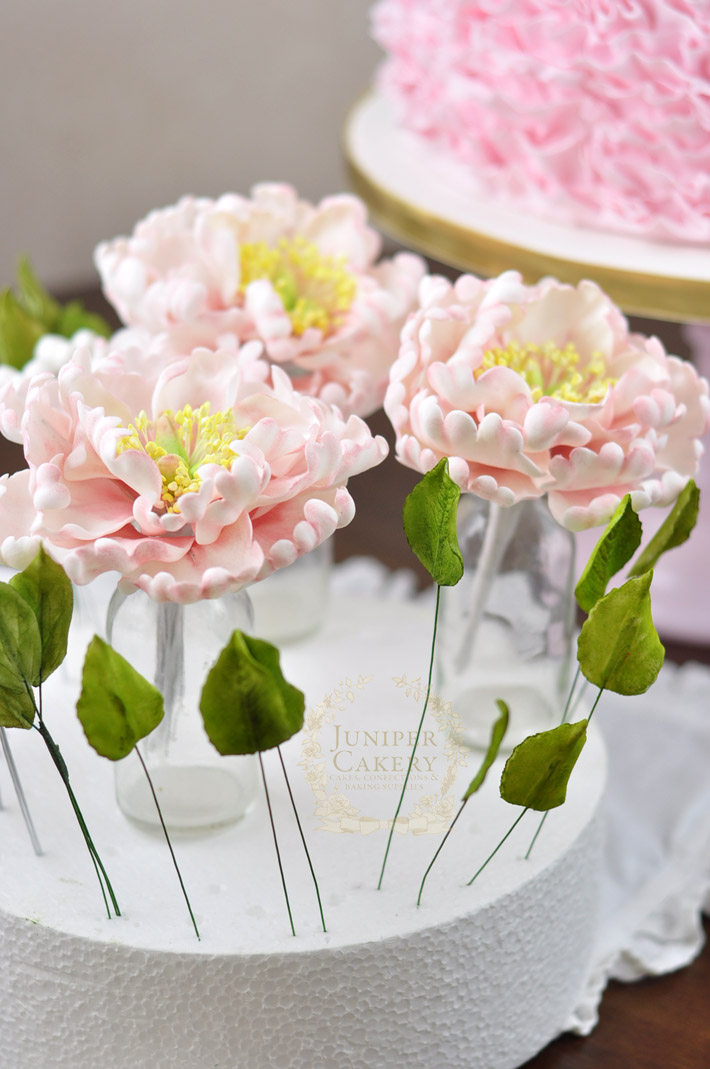 Step 1:
To begin preparing our crescent floral arrangement we first create three main bundles each containing a focal flower surrounded with a few of the leaves, berries and filler flowers. Once these are taped and ready we then push them into medium-sized posy picks filled with either royal icing or white chocolate.
Where we live it's illegal to insert floral wire or even floral tape into a cake (due to allergies involving nickel and latex) so we always use posy picks or floral picks.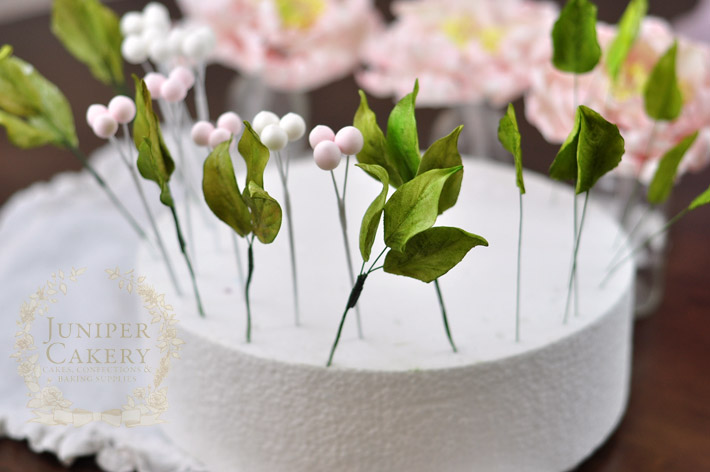 Step 2:
Next create smaller bundles of filler flowers, berries and leaves the same way as in step 1. When you're happy with the arrangement tape them together and seal them into small-sized posy picks. A good number of small filler arrangements for a crescent shape is probably around 5-7. It's also good to have a few extra loose pieces of wired leaves, berries and flowers left so that you can make more if necessary. To give a crescent-shaped arrangement a great sense of drama and movement try to keep a few longer stems or branches of leaves free as well as some sugar berries and blossoms.
Top tip alert!
Three is a magic number as they say so always try work with arranging flowers utilizing this compositional number. If you're working with more flowers try to work to odd numbers like 5, or 7 etc. Using odd numbers helps add interest as well as makes the viewer's eyes wander around the design!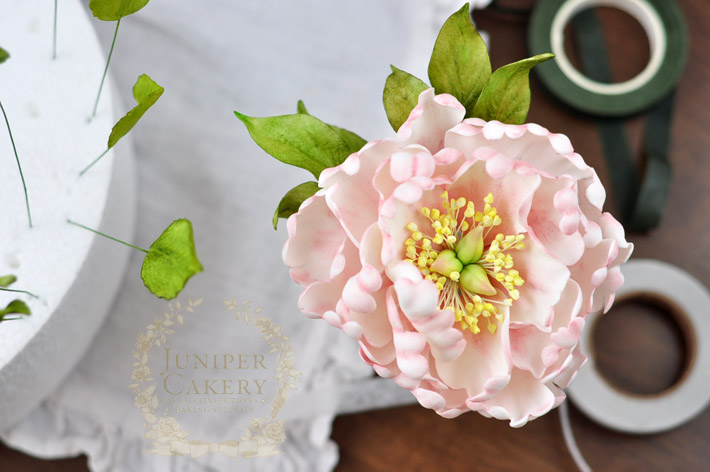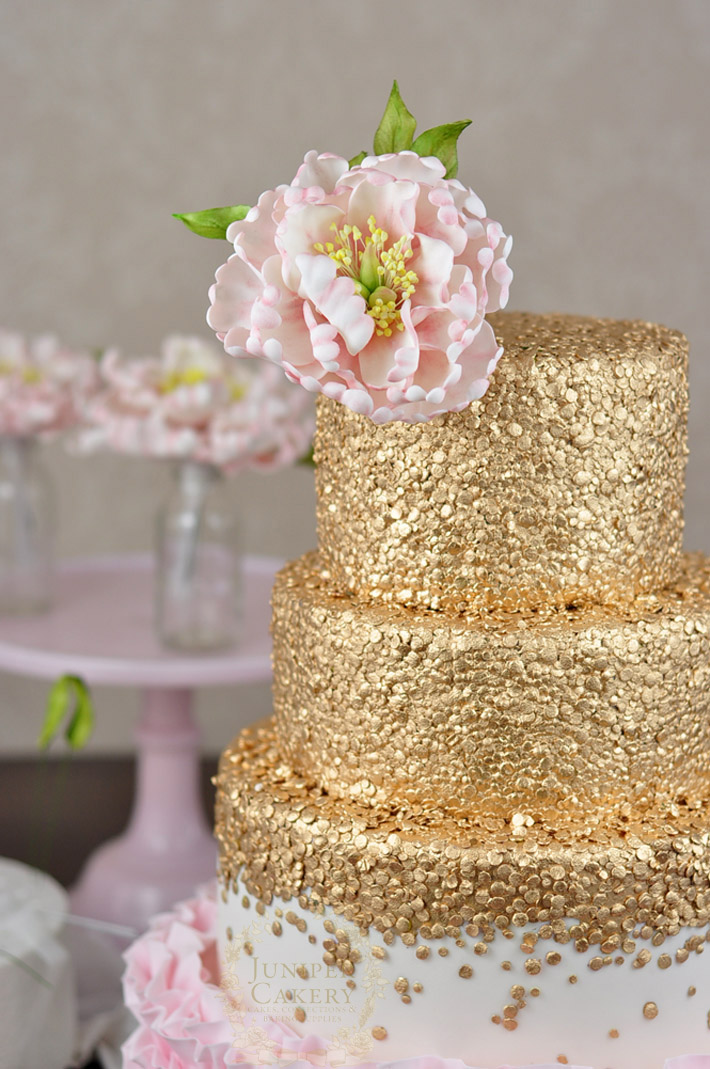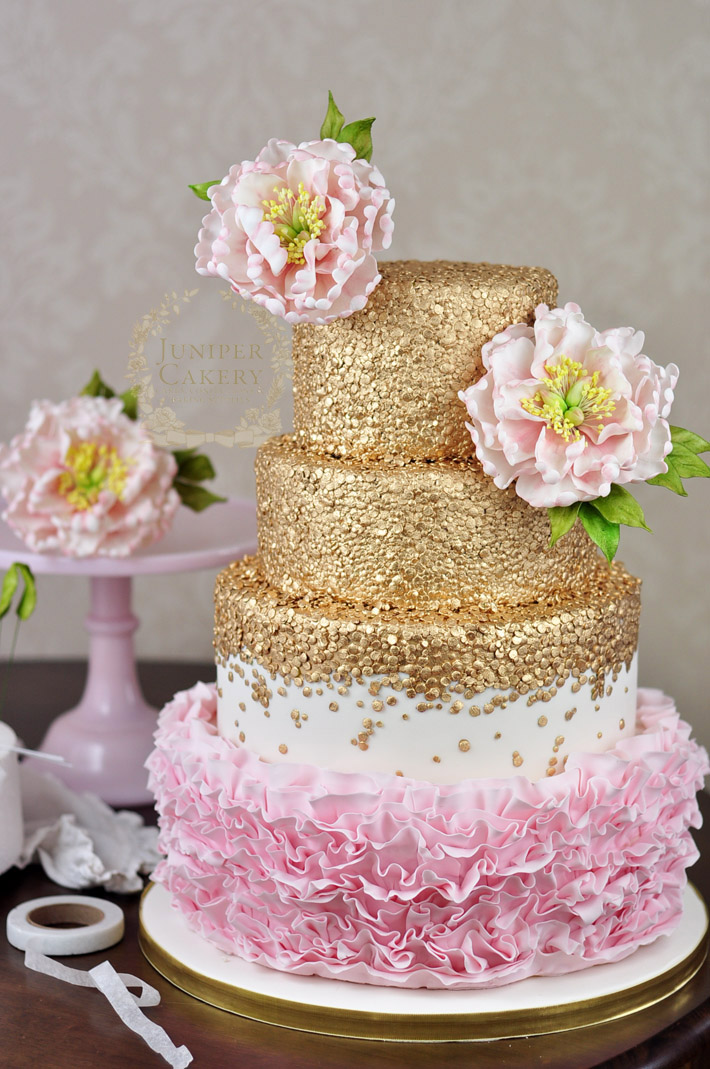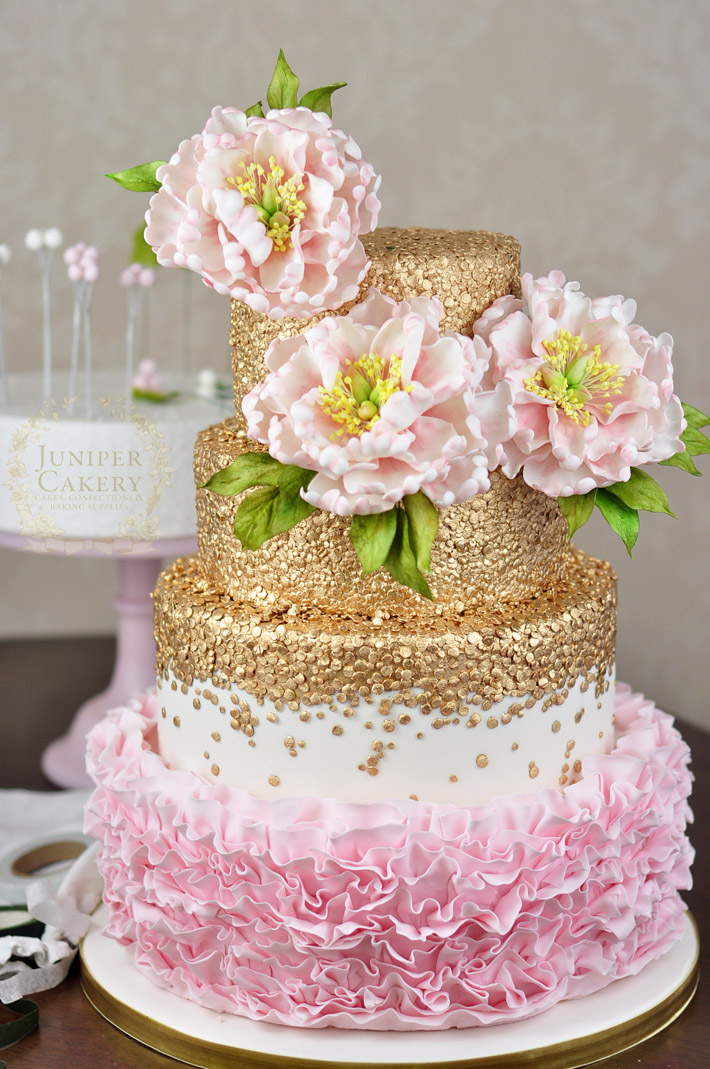 Step 3:
Now it's time to place them on your cake. For this design we're concentrating on the front of the cake slightly above the middle tier. We begin by using long-nose pliers to gently push one of our focal flower bundles into the top.
Then we add another flower lower down yet to the side and the final focal peony is inserted between the two. Gently tease any wired filled pieces in your bundles outward to cover any gaps.
Top tip alert!
It helps to have an extra pair of hands on call as you'll need to step back and assess the arrangement before you even think of plunging it into the cake. Take photographs quickly if you're not too sure. You can also sit down and spend some time looking at the composition.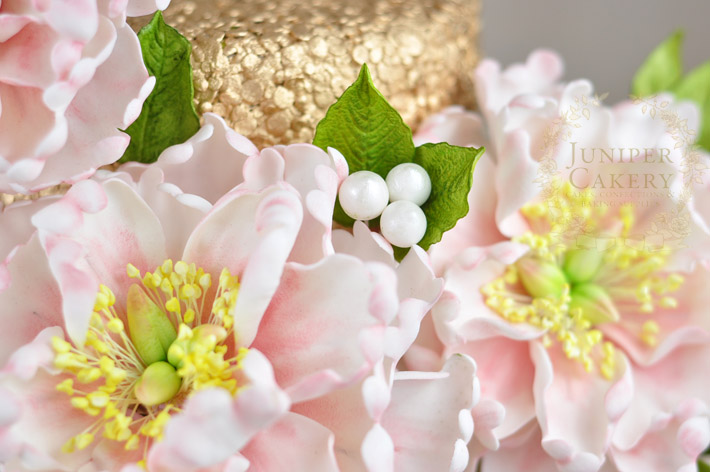 Step 4:
Fill any areas around your focal flowers with the smaller filler bundles remembering to keep working in a half circle or crescent shape following the placement of the focal flowers. Again tease some to fill out gaps and cover up any wire. You also want to tweak and move some of the filler pieces to cover where your posy pick has been inserted too.
Step 5:
Now take any extra leaves and add them to fill out any odd gaps or to extend your arrangement outward.
Top tip alert!
Always play it safe a make extra sugar flowers, leaves or berries! Accidents and mishaps can happen and you don't want to get caught out if a petal snaps off or some leaves get dented! You should also aim to have a few extra pieces just incase you're left with some odd gaps, spaces or shapes.
Voila! You should now be left with one show stopping floral cake topper that is bound to take the limelight at any wedding or party. Creating sugar flower arrangements is a lengthy process and demands a fair amount of patience, but we're sure you'll agree that it's worth it!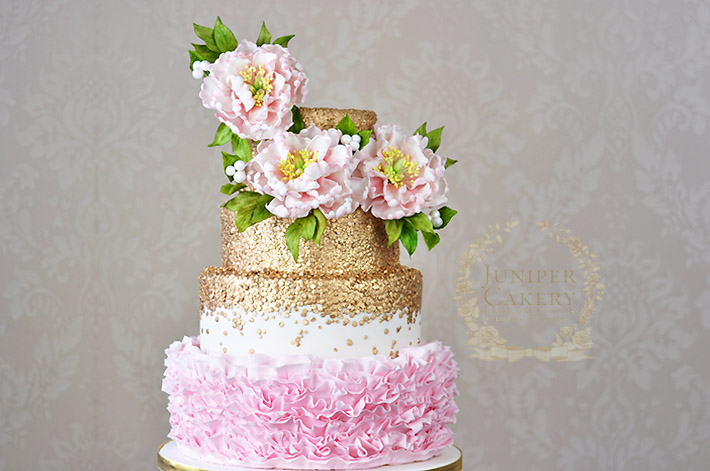 Top tip alert!
Always step back from your work every so often. Working so close up to a cake design means that you'll only really see your perspective as a decorator. Instead, step away from the cake about 2 yards and have a good critical look. We've even gone into another room in our studio to walk back in on the cake and see what our initial reaction is!
Transform sugar flowers into exquisite arrangements.
Create simply chic looks, elegant cascades, timeless separators, sweet pomanders & much more! Enroll Here Now »