The Flemish art movement developed throughout the late 14th century until the 17th century in Flanders, the northern portion of what we know today as Belgium, and adjacent parts of France and the Netherlands. This was home to some of the leading painters in Europe that, not only influenced, but set the ground work for future masters all throughout Northern Europe.
Let's dive in and learn about the Flemish masters: an intriguing and, arguably, rather obscure movement.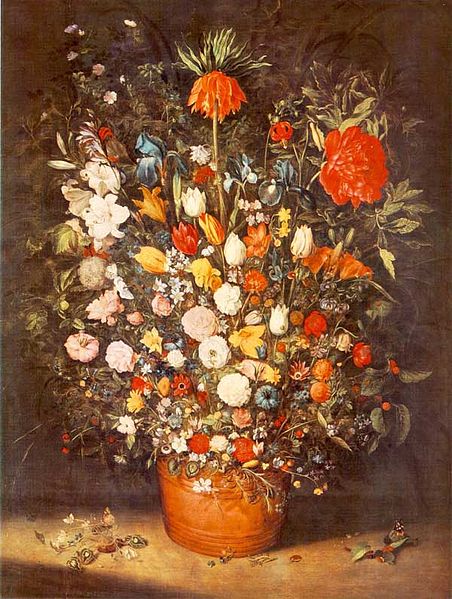 "Bouquet" 1603 by Jan Brueghel the Elder (son of Pieter Bruegel the Elder) via Wikimedia Commons.

Flemish art presented two main periods of grand significance for artistic development during which they influenced artists around the European continent. Both of these periods were powerfully defined by the socio-economic and political situations of the time. The Flemish movement began during the reign of the Dukes of Burgundy with prosperity and peace, a time that later transitioned into arduous civil wars and religious crises.
Flemish art during the 15th century
The first period of Flemish art is identifiable right after the Middle Ages. During this time, some of the most renowned Dutch painting masters were Jan van Eyck and Melchior Broederlam, among a few others.
During this period, as well as during the one to follow, the subjects represented on Flemish panels revolved around religion. But, the most important development by Flemish and Netherlandish artists during the early 15th century was the invention of oil painting as we practice it today.
Melchior Broederlam contributed a very significant piece of art to this movement, the "Dijon Altarpiece." In fact, this masterpiece was so influential that it defined the movement and paved the way for the shift from book illumination to panel painting, which is exactly what Flemish painting consists of. In this manner, Christian art was no longer done in a small, palm-sized scale to fit into books, but instead, it began to take larger scales.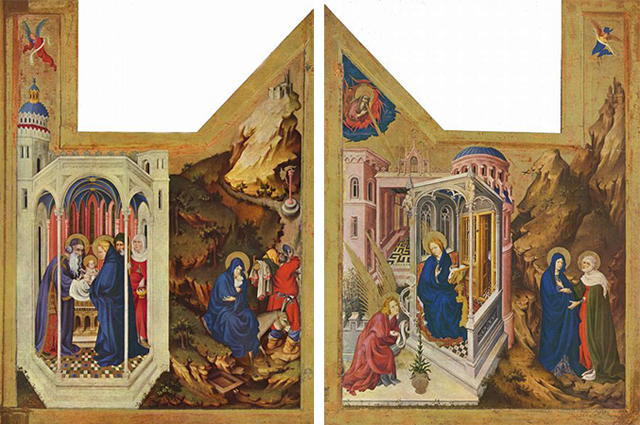 "Dijon Altarpiece" 1393–1399 by Melchior Broederlam via Wikimedia Commons.
Yet another change brought on by Flemish artists was the pictorially realistic nature of the artwork they were creating. During this time, artists from France, Italy, and Germany began to take notice of the revolutionary artistic changes taking place in the region.
Another renowned artist from this epoch was Jan Van Eyck. Notable characteristics of Van Eyck's body of work are vibrancy and brilliance of color, textured surfaces, and a clear artistic vision, along with some magnificent technical skills.
In 1425, the Duke of Burgundy, Phillip the Good, employed van Eyck as court painter. He was highly regarded by the Duke and worked for him, receiving an annual salary, until his death in 1441. One of Van Eyck's most famous paintings is "The Arnolfini Portrait," which was completed in 1434, as pictured below. It is known for its remarkable detail, the unusual application of perspective and the representation of a reflective mirror.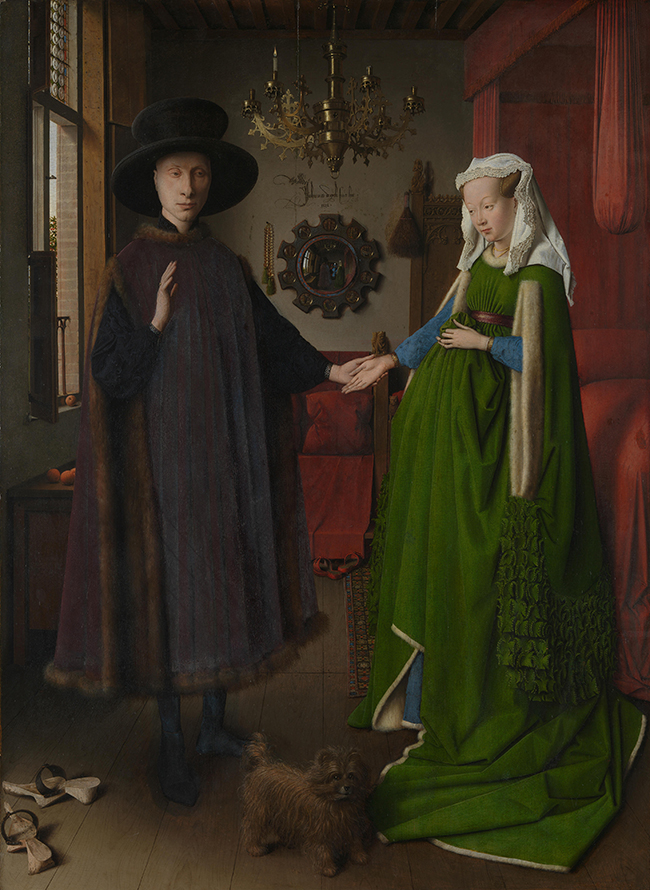 "The Arnolfini Portrait" 1434 by Jan Van Eyck (National Gallery, London) via Wikimedia Commons
In the following close-ups of "The Arnolfini Portrait," you can fully appreciate the depth of Van Eyck's artistic talent and majestic use of color to capture both light and astounding detail.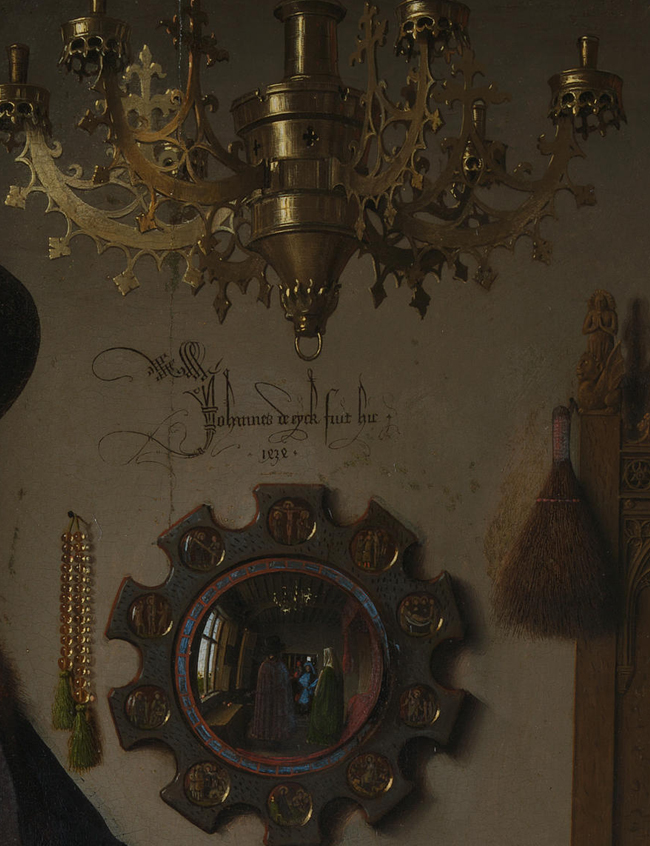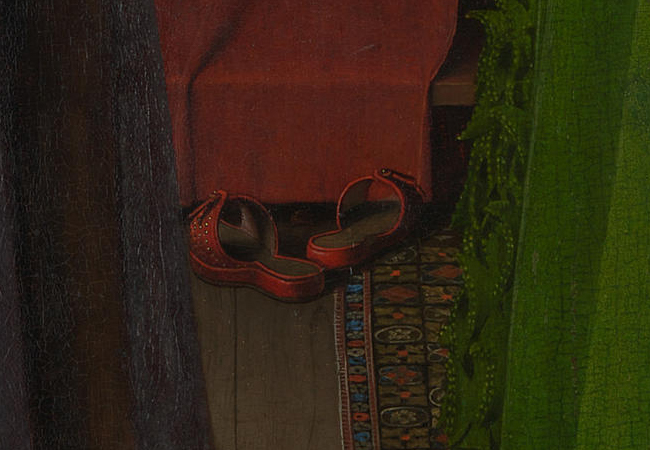 Close-ups of  "The Arnolfini Portrait" via Wikimedia Commons.
This might be a very significant painting in his body of work but, his most accomplished work hands down was created alongside his brother Hubert: the "Ghent Altarpiece" of 1432.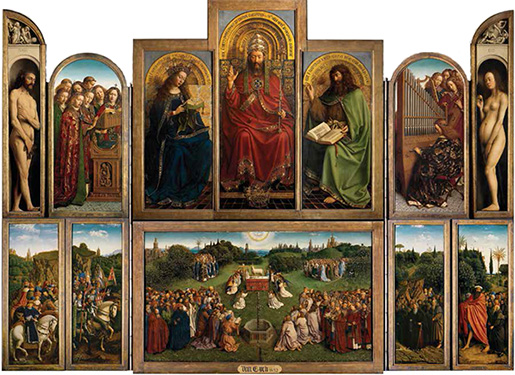 The Ghent Altarpiece (open altarpiece). By Hubert and Jan van Eyck, 1432. Saint Bavo Cathedral. © Lukas – Art in Flanders via Getty.edu
Once Flemish art was inserted into the Western artistic field and gained an audience, people were astounded by the unbelievable technical skills, vibrancy, and precision demonstrated by the Flemish artists.
There are many reasons why early Flemish and Dutch paintings have a fascinating appeal for many people and art historians. One of them is their remarkable ability to withstand the test of time, especially when compared to other works of art hundreds and hundreds of years younger. Another being their renowned vibrant glow depth and intensity of color, despite a limited palette. They hold an air of longevity that is rarely surpassed by more recent works of art.
Flemish art during the 16th century
The second Flemish period occurred during the pinnacle of baroque. The 16th century in Flanders proved to be a very strenuous and turbulent time, taking a toll on the artistic development and limiting a number of artists that were able to emerge. One of the great masters to come from this epoch was Pieter Bruegel the Elder. His artwork strongly depicted the desperation and brutality of the period. He commanded the shift from painting opulence and luxury to spotlight peasant life and the everyday struggles in a very powerful way.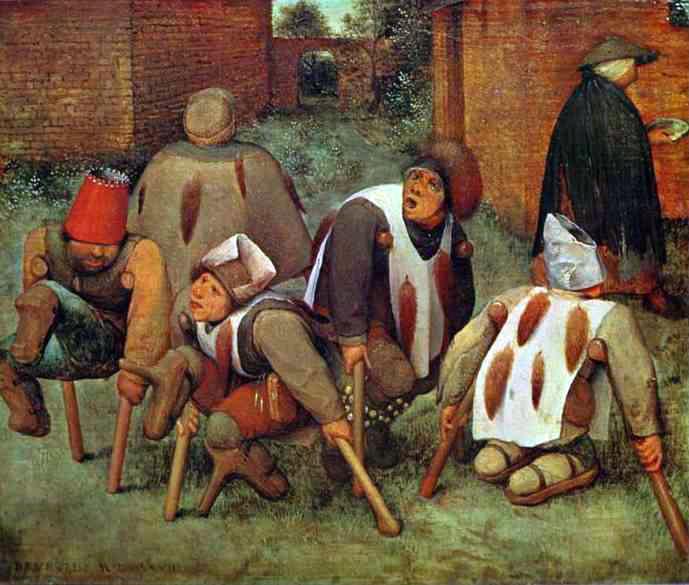 "The Beggars" 1568 by Pieter Bruegel. Louvre, Paris. Image via Wikimedia Commons. 
During later centuries – the 19th and 20th to be more precise – art historians speculated plenty about Flemish painting techniques and tried to figure out how the painters from the first Flemish period worked and applied their artistic talents. The information on Flemish painting techniques gathered was based almost exclusively on speculation because there are almost no records or documentation by the artists themselves revealing the way they painted. This is why I referred to this artistic movement as somewhat obscure. There was little information readily available about how the masters had painted their works of art just by looking at the painting.
Nowadays, however, our knowledge of their artistic techniques and methods is more abundant and better-founded thanks to modern advances in technology. New technical analysis has helped art historians obtain more information than ever before.
[box type="shadow"]
You can learn to recreate these timeless and masterful techniques in your own works with the Bluprint class Flemish Master Painting Techniques.
[/box]
What period of art has been the most influential in your own painting?