They're pretty in pink. They're feathery. No, we're not talking about a pink feather boa or maribou slippers. We're talking about your next cake decorating project: a flamingo cake! Fun, festive, and seriously smile-inducing, these cakes are perfect for a variety of different occasions, from a fun birthday party to even wedding or anniversaries!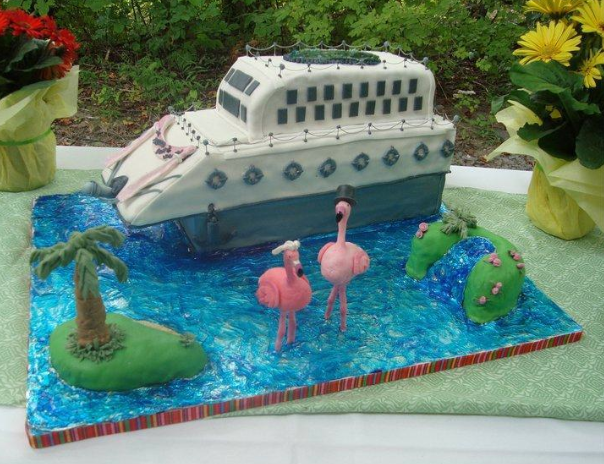 Photo via Bluprint member Cakes by Jessica
Flamingo cruise:
A scenic cruise setting makes for what might be the most fun flamingo cake ever made! According to the baker, the cake was made by stacking layers which were cut to the desired shape and then covered with fondant; additional detailing was made using fondant, including the palm trees and adorable flamingos. Oh, and that sparkling water? Created from piping gel tinted blue. Brilliant!

Photo via Kooky Culinary
Buttercream flamingos:
Tasty and sweet! This tropical confection is composed of pink butter cake sandwiched with chocolate ganache, then covered in green buttercream for grass and blue buttercream for a little pond. The flamingos and palm trees garnishing the sides of the cake were fashioned from gum paste; the fancy flamingos on top of the cake are made from rice krispies treats wrapped in marshmallow fondant. Oh, and those signature spindly bird-legs? Made from lollipop sticks!

Photo via Why Not Cake
Very pink flamingo cake:
Why settle for pink when you could go for pinker or pinkest, all in one cake? This bright cake features contrasting shades of pink on every aspect of the cake. Both tiers are wrapped with pink fondant, and each is bordered with a pink bead pattern. Each layer is encircled by rows of cutout flamingo shapes (yep, also pink). A subtle gradient takes the pink from dark to light as the eye is drawn up to a hot pink flamingo topper, which nicely balances out the dark and light tones on the cake.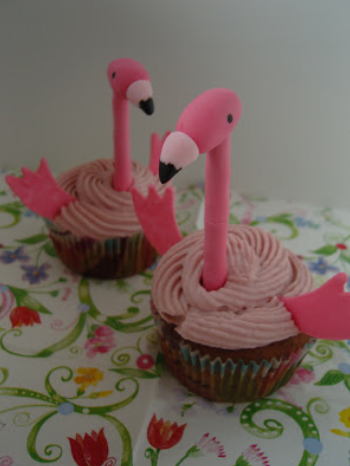 Photo via Ninas Kleiner Food Blog
Flamingo cupcakes:
Just looking at these pink flamingo cupcakes, with wings happily outstretched, makes you want to smile! With a beautiful swirl of buttercream acting as the birds' bodies, the wings, necks, and beaks are a combination of candy melts, fondant, and royal icing. These little cupcakes emanate sweetness and happiness!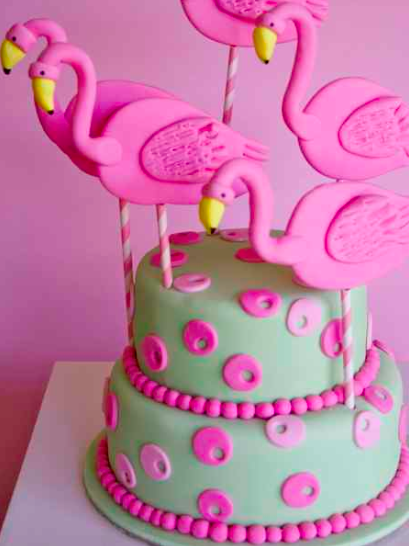 Photo via The Inspired Occasion
Party flamingo cake:
One things for sure: this cake is ready to party! With a fetching mint green backdrop, this cake comes to vibrant life with the addition of a sugary pink beaded border, mod pink polka dots, and of course, hand-assembled flamingo shapes adhered with pretty pink and white striped straws!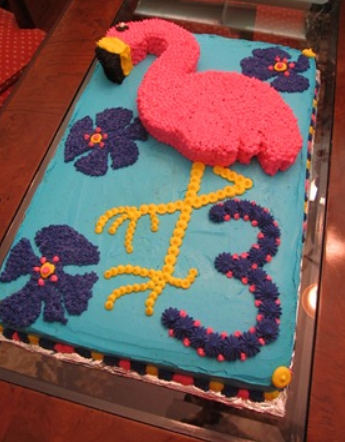 Photo via The Extraordinary Ordinary
Textural flamingo cake:
This confection starts with a sheet cake but gets more elaborate with a custom shaped cut of cake on top, which is then piped all over with pink buttercream to make it look like a flamingo. Piping also forms its slender legs, as well as a flower and a number "3", the lucky recipient's age.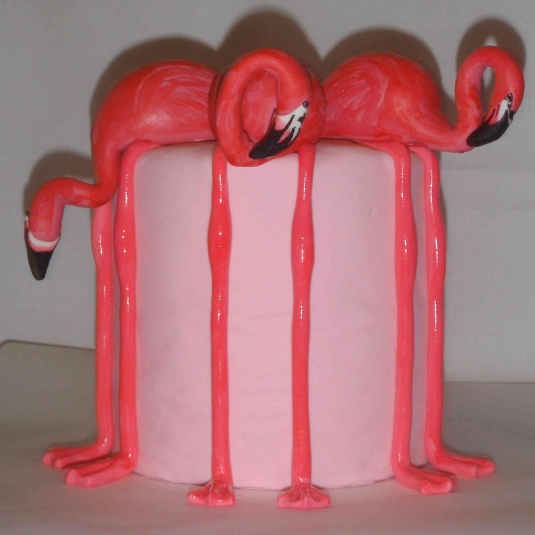 Photo via Threadcakes
T-shirt inspired flamingo cake:
This cake took its inspiration from a t-shirt design! This homemade four-layer cake was topped with pink fondant and topped with flamingos made from gum paste, painted with gel food coloring diluted with vodka. With long legs draped over the cake, the effect is whimsical and eye-catching!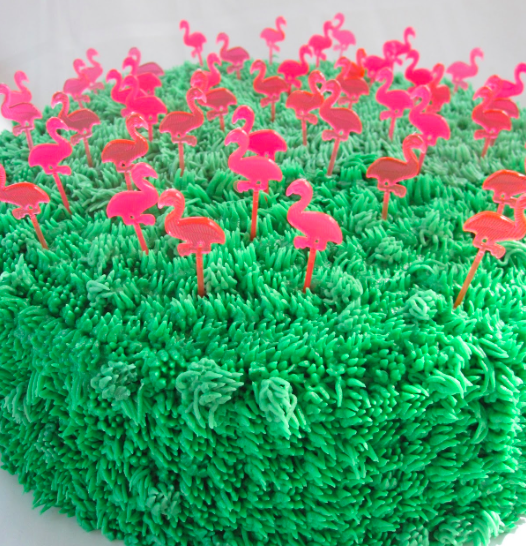 Photo via Annemariebakeshop.com
Grassy flamingo scene:
Of course, if fashioning flamingos out of fondant isn't your style, you can still create a fun cake design with ease. On this inspiring cake, green buttercream is piped all over using a multi-use tip to form a grassy texture; on the top, a multitude of flamingo picks have been inserted for a decorating result that is like lawn ornaments gone adorably wild!
It's pretty clear that when it comes to cake, flamingos have progressed beyond kitschy lawn ornament to delicious and inspiring works of sweet art! So why not think pink when it's time for your next party?