If you live in a place where the summers are scorching hot, you probably don't want to think about wool right now. But slowly, as craft stores bring out their fall and holiday decor, wool is making its usual comeback, and now is the perfect time to get a head start on your winter knitting.
Why not make something different with your wool this year? Grab some wool and brainstorm new ways you can use it in your knitting this winter. When those cold winds start blowing again, you'll be more than prepared.
These patterns and techniques will get you started. The rest is up to you!

Photo via FrenchPressKnits
Felting
Felting can give your knits a whole new look. Felting is the process of agitating wool so the fibers begin to stick together, both shrinking the piece and creating an entirely new look. Sure, your beautiful stitch definition will disappear with felting, but you won't mind after you see the results.
Felting isn't rocket science. You just need some hot water and basic felting knowledge to make it happen. The process of felting transforms wool into a material that's even warmer and cozier than your usual knits, making it great for winter accessories like the French Press Felted Slipper Pattern seen above.

Photo via Dawn Brocco
Destash with mittens and gloves
If you're already a wool lover, you probably have a lot of wool scraps in your stash. What better way to use up scraps (and save money while you're at it) than knitting gloves and mittens? If you already have plenty of gloves for yourself, knit up a few pairs as gifts. These Houndstooth Mittens are ideal for warmth and stash-busting.
If you need more mitten and glove inspiration, Marly Bird can give you plenty in her Bluprint class Mittens and Gloves Galore.

Photo via LadyShipDesigns
Wool for home decor
Cuddle up to wool all winter long when you use it around your house as decor. This Tree of Life Pillow Cover can be knitted and slipped right over an existing pillow. Just remove and store it when spring rolls around again!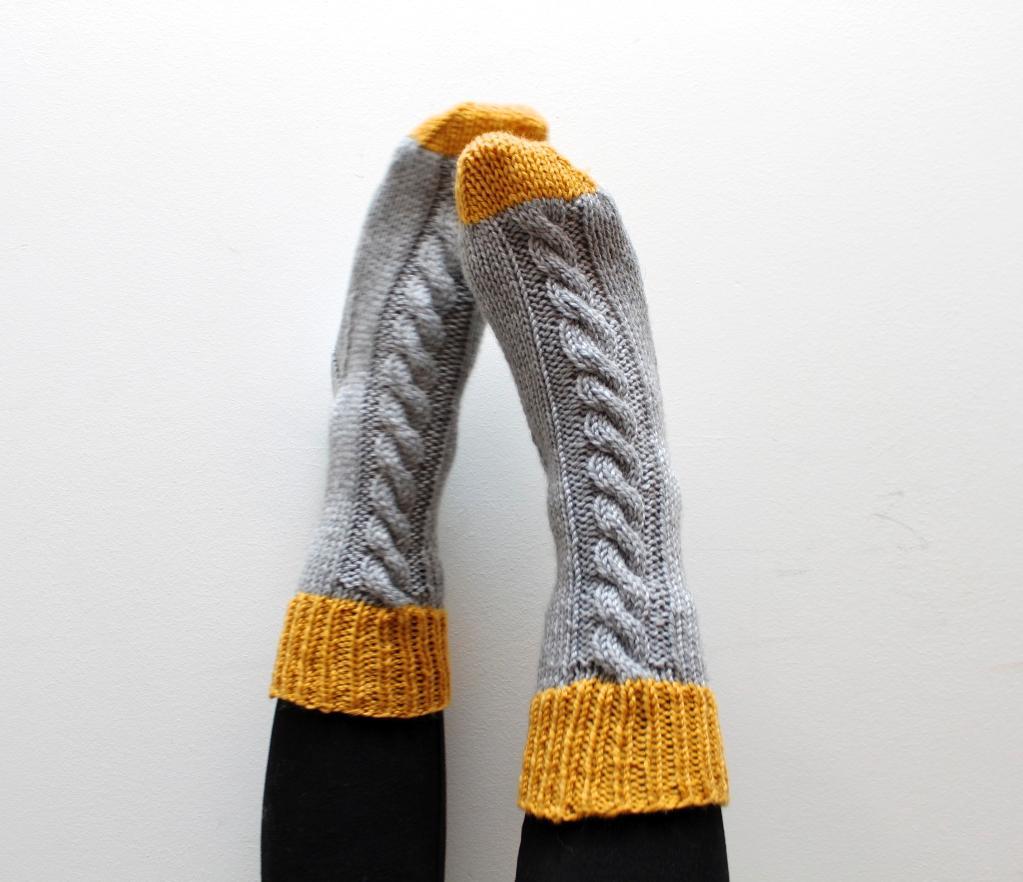 Photo via Yiskah Knits
Wool for cozy toes
Temperatures are unbelievably hot right now, but when the bitter cold comes again, you'll be ready with your arsenal of wool socks. Few yarns are as warm as wool for keeping the frostbite from your toes. I love these Colour-Block Slipper Socks because you can knit them for men or women, plus you can add just a little touch of your favorite color.
If you don't have experience with knitting socks, Bluprint can help! Let Donna Druchunas give you a hand in her Knit Original Cuff-Down Socks class, or you can perfect your socks skills with Donna's Knit Sock Workshop.

Photo via Bluprint member Mary Jane Mucklestone
Try Fair Isle
Traditionally, Fair Isle is knitted with Shetland wool from — you guessed it — the Shetland Islands. Fair Isle is one of the most famous stranded color work techniques. These colorful designs require quite a bit of skill, so it's a great technique if you're looking for a more challenging wool project.
Intimidated by Fair Isle? Get plenty of help in the Fair Isle Vest class with Mary Jane Mucklestone. When you're finished, you'll have your own gorgeous Fair Isle vest, just like Mary Jane's.
Come back to the Bluprint Blog tomorrow for a fun look at knitting with a round loom!
What's your favorite wool technique or pattern? What time of year do you usually start knitting with wool?