It's the middle of the week, and you've got a deadline coming up — a quilting deadline! What can you do when you've already promised to make a quilt for a special occasion, and that date is approaching all too quickly?
Savvy quilters can whip up fast quilts with time-saving methods like using pre-cuts, designing with large blocks, and incorporating negative space. By saving time with your quilt top, you'll speed up the process and prove that it's possible to make a quilted gift in a weekend.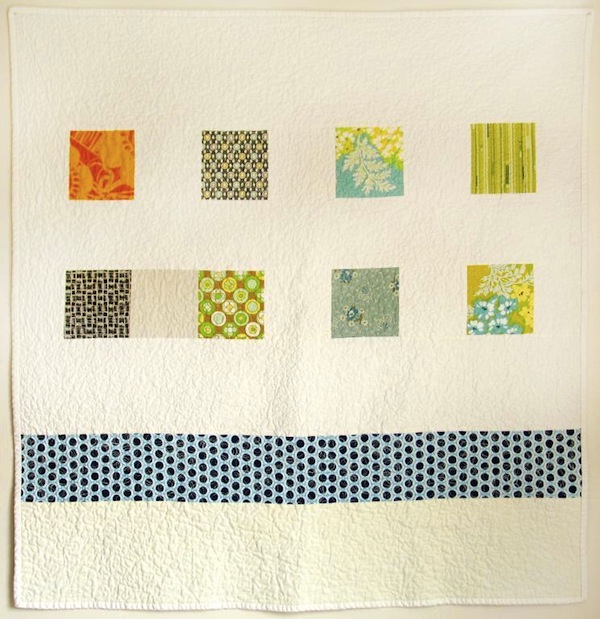 The FREE Simple Charm Quilt pattern designed by Bluprint instructor Yahaira Ferreira is one of those fast quilts you can whip up in a weekend. If you have a few pre-cut charm squares, this beginner-friendly pattern comes together in no time at all. Using negative space in quilts to border each of the printed squares and the long stripe is a modern quilting technique, which also makes it very fast to piece. The quilt pattern comes with a free PDF download and it just may become your new go-to design for fast quilts!
Get the FREE Simple Charm Quilt pattern here.
The Simple Stripes Quilt by Amy of Diary of a Quilter is an fast quilt pattern to whip up in a weekend. This pattern is easy to adapt to a larger-size quilt, or you can stick with the super-fast baby quilt made with 16 blocks. This pattern uses the stack and whack method of cutting, which means you can save time by slicing through many layers of fabric at once to create equal-size fabric strips. Just make sure you are using a sharp rotary cutter blade to make this quilt even faster to cut.
Using a fast quilting technique like chain piecing can help you save time when putting together a beautiful quilt like this Lap of Luxe pattern from Quilt Dad for Art Gallery Fabrics. The free PDF pattern for this quilt will help guide you through cutting directions and piecing instructions for these simple blocks, which go together quickly. This quick quilt is great for showcasing large prints.
How can you put together a beautiful quilt that really maximizes your fabric? The Giant Vintage Star Quilt by Jeni Baker is one of those fast quilts that you just have to love, because it takes advantage of supersize blocks (17.5" square). Just make 16 blocks of coordinating fat quarters and you'll have a nice lap quilt that you can easily put together in a weekend.
What happens when your daughter goes to college and requests a handmade quilt and also a matching quilt for her roommate?
Bluprint member Wholey solved this problem by using pre-cuts and a simple quilt pattern with uniform blocks. She made these matching Roommate Quilts with pre-cut 10" squares.