How do you like to eat your fish? Barbecued, smoked, battered and deep fried with a side of french fries and a good helping of tartar sauce? Well, how about with a side of buttercream? Check out these party-worthy fish-themed cakes and get inspired for your next cake design!
From sculpted three-dimensional cakes to a fish cupcakes cake to mini-fish cake pops, here's a roundup featuring a little something for everyone's fishy fancy. Time to cast your line and dive into this collection of fish-themed cakes, great for ocean and beach parties or for a fish-loving birthday guy or gal.

Photo via Fancy Cakes by Rachel
Fondant Fishy with Spiky Red Fins Cake: Carved and covered in fondant, this lustre-dusted fish cake sits atop fondant "water," nestled in-between green fondant strips of seaweed and red shells. The spiked fins and tail are a nice touch and really bring it to life.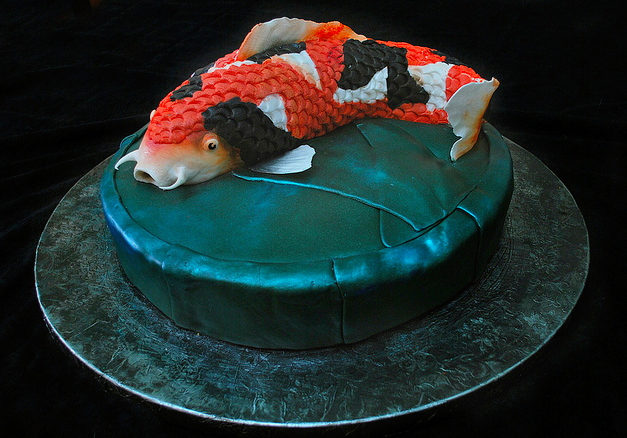 Photo via Kathy-Cakes
Koi Fish Cake: A moody themed fish cake, this Japanese koi sits atop a shiny emerald green lustre-dusted fondant cake. The fish itself is also sculpted from cake and covered with fondant and the "scales" were made by using a popsicle stick! The fins, face and whiskers are made from gum paste.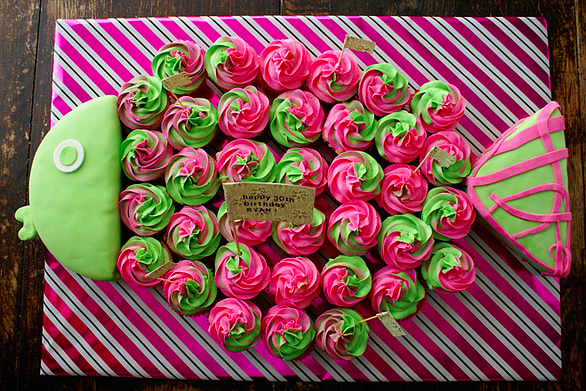 Photo via Coco Cake
Fish Cupcakes Cake: Let's not forget cupcakes can make a great "fish" body! The head and tail are made from vanilla cake, iced with buttercream, and then covered in fondant. The "lips" are fondant and stay in place via wooden skewers. The cupcakes are iced with lovely a two-tone buttercream swirl.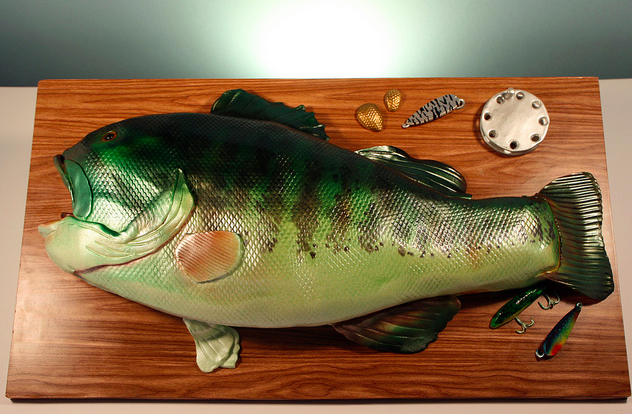 Photo via Mark
Incredible Green Bass Fish Cake: This awesome "freshly caught" sea bass is an airbrushed groom's cake decorated in fondant with gum paste accents. Inside its scales is a delectable marble cake with chocolate buttercream.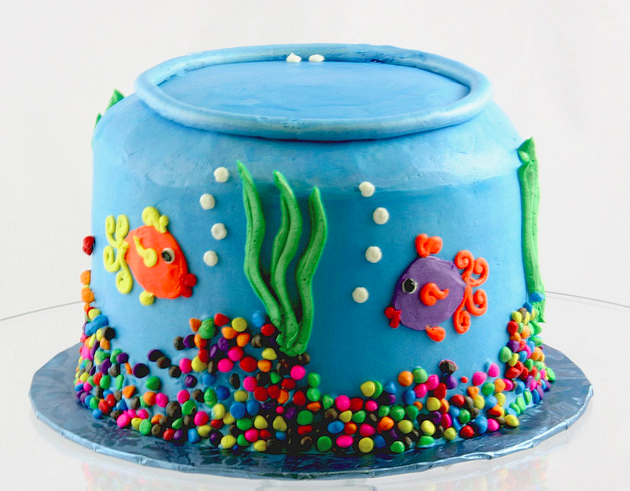 Photo via Caroline's Cakes
Aquarium Cake: This buttercream iced aquarium themed cake is sweet and simple. I love the rainbow candy used to simulate coral and sand. The fish and details are all iced on, so no fondant required!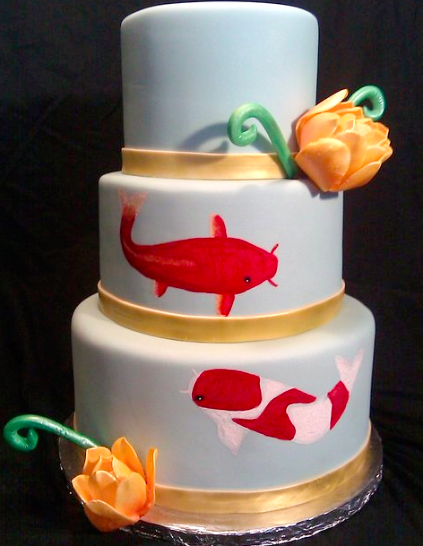 Photo via Sweet Dandelion Cakes
Hand-painted Koi Wedding Cake: This three tiered fondant covered wedding fish-themed cake features beautiful, yet simple, handpainted koi fish. Plus, accents of gold fondant flowers round out the look.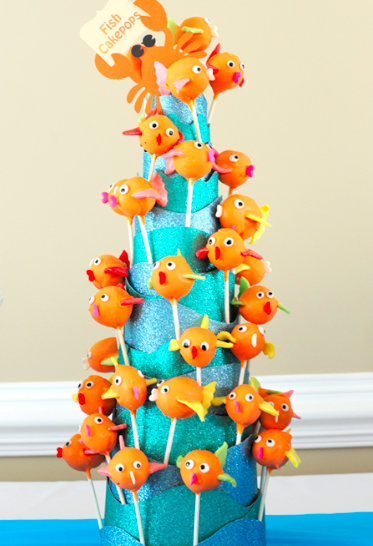 Photo via Leafy Tree Tops
Fish Cake Pops: This is such a great idea for an underwater themed birthday party! I especially like the amazing sparkly wave tower where the orange fish pops are hanging out. This is a great display idea, among a table of other underwater themed sweets.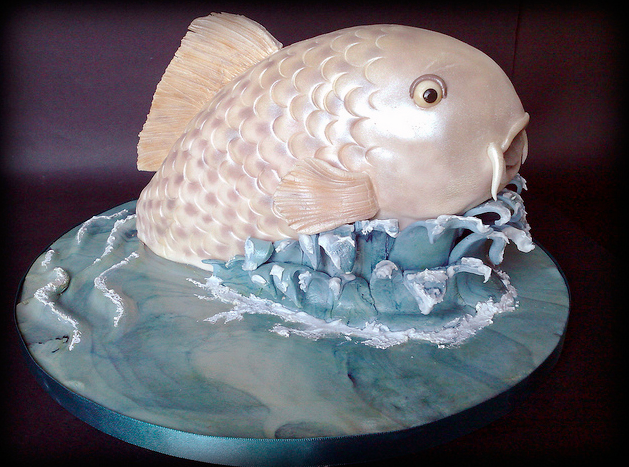 Photo via Small Things Iced
Marbled Water Fish Cake: The look on this cake-sculpted fondant covered fish's face is saying "Get me outta here!" as he glides up on a marbled fondant wave with white icing accents. Spending time detailing your cake board can really pay off.
Which of these cakes would you like to attempt: a three-dimensional version, a fish cake topper, or the handpainted koi fish on a simple fondant cake? To create your fish cake, you might enjoy learning from an online sculpting class from Bluprint such as Basic Cake Sculpting with Catherine Ruehle. Come back to the Bluprint blog tomorrow for a beautiful collection of sailboat cakes!