A baby's first birthday is a cause for celebration, and that means you're going to need a fantastic cake! From simple but sweet to over-the-top and elaborate, here are some first birthday cakes to inspire you to create a masterpiece for this milestone event. Guaranteed to please babies and adults alike!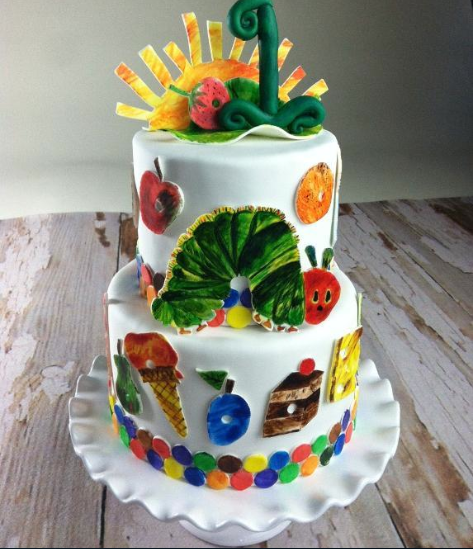 Photo via Bluprint member SweetandSwanky
The Very Hungry Caterpillar Cake: Fans of children's book superstar Eric Carle will recognize these characters and images right away. For this storybook-inspired sweet, Bluprint member SweetandSwanky first covered the cake with rolled fondant, and then hand-painted gum paste shapes to mimic the book illustration's free-flowing, painterly look. Although such an effect "took forever", clearly the end result is the stuff of memories!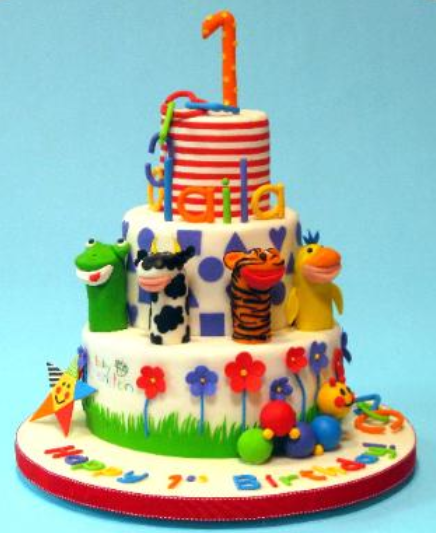 Photo via Dahlia's Custom Cakes
Baby Einstein Cake: The bright colors and characters from the popular Baby Einstein series is bound to hold a baby in its thrall! This beautiful three tiered cake is decorated all over with fondant shapes and cutouts for a stunning and festive end result.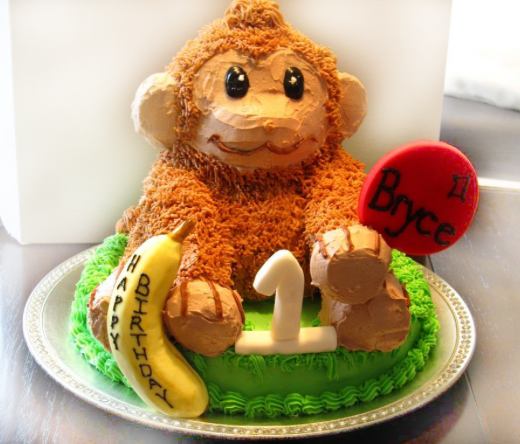 Photo via Bluprint member paulalamarre
Monkey Cake: Mischievous monkeys make for marvelous birthday cakes! Inspired by a beloved stuffed animal, this cake began by using a teddy bear shaped baking pan and then adding and amending to make the shape into a monkey! The finishing decoration is a testament to the power of piping–the monkey's "fur" is actually piped buttercream frosting through a multi-opening tip.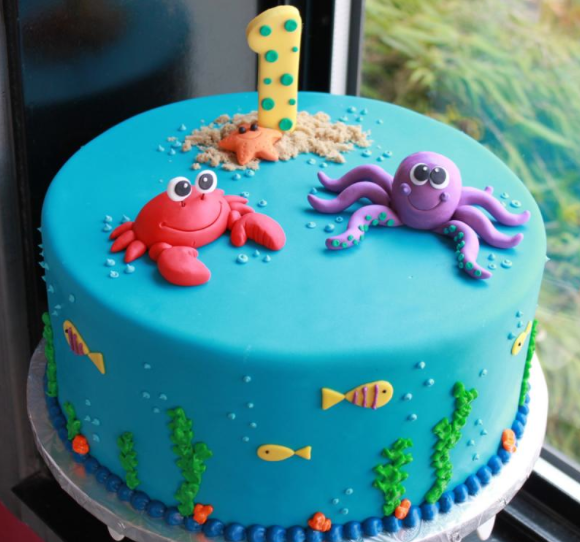 Photo via Whipped Bake Shop
Under the Sea Cake: Though this cake would be appropriate and delightful for eaters of any age, the bright colors and simple shapes make it a beautiful cake to serve for a baby's party! This gorgeous cake is first topped with rolled fondant in a pleasing shade of teal, and then decorated with fondant sea creatures and delicately piped bubbles, seaweed, and blue "pearls" along the edge.

Photo via Bluprint member KimsCakes
Pink Elephant Cake: This cake is pretty in pink! Made by a Bluprint member inspired by an advanced fondant techniques class, this festive number is made using two chocolate orange sponge cakes which are topped with fondant and adorned using petal paste and elephant patchwork cutters for the elephants on the lower portion.

Photo via Worth Pinning
Train Cake: Should you choo-choo-choose to have a train theme for your party, this cake makes for a clever and very cute centerpiece! Featuring a buttercream blue sky and piped green frosting for grass, a train made of decorated cookies spirals along a track made of mini fondant slabs.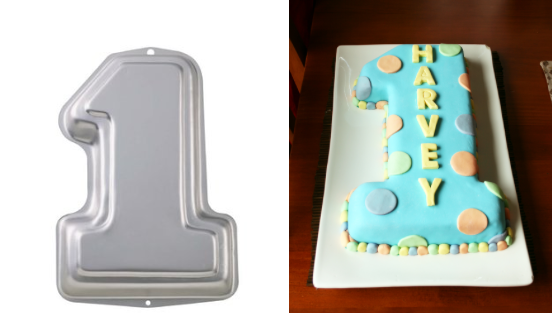 Photo of finished cake via WallFry
Number One Cake: An easy option for a first birthday is to bake your cake using a pan shaped like a numerical "1". For one thing, this gets the point of the celebration across from the get-go. Second, the decorating options are endless! You could keep it simple by piping a colorful buttercream border around the edges, or you could make it a bit more ornate by covering the cake with rolled fondant and garnishing with the letters of the celebrant's name, as in the photo shown above. Covering the cake with piped buttercream flowers or even frosting it with colorful stripes would make for a simple but sweet cake centerpiece as well!
For help with sculpting a beautiful first birthday cake, check out the online Bluprint class Advanced Cake Sculpting. You might also enjoy seeing sculpted cat cakes and dog cakes! Be sure to come back to the Bluprint blog to discover more kid's birthday cakes on Thursday.