You've probably heard of arm knitting or knitting with your fingers — but what about crochet? Turns out you can indeed crochet with your fingers instead of a hook!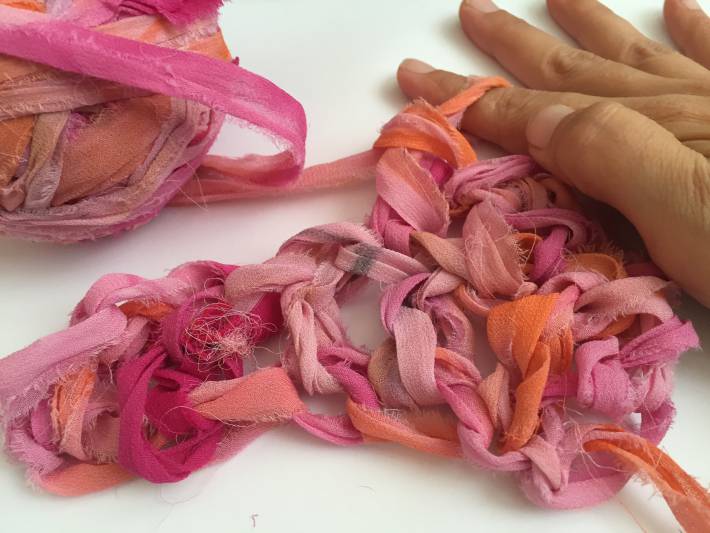 Tutorial photos by Kathryn Vercillo
What exactly is finger crochet?
When finger crocheting, you'll swap your hook for your finger. Other than that, it's essentially the same as regular crochet, and you can work traditional crochet patterns in finger crochet.
That said, there are some limitations of what your fingers can do, so I've provided some guidelines as you first begin to work finger crochet.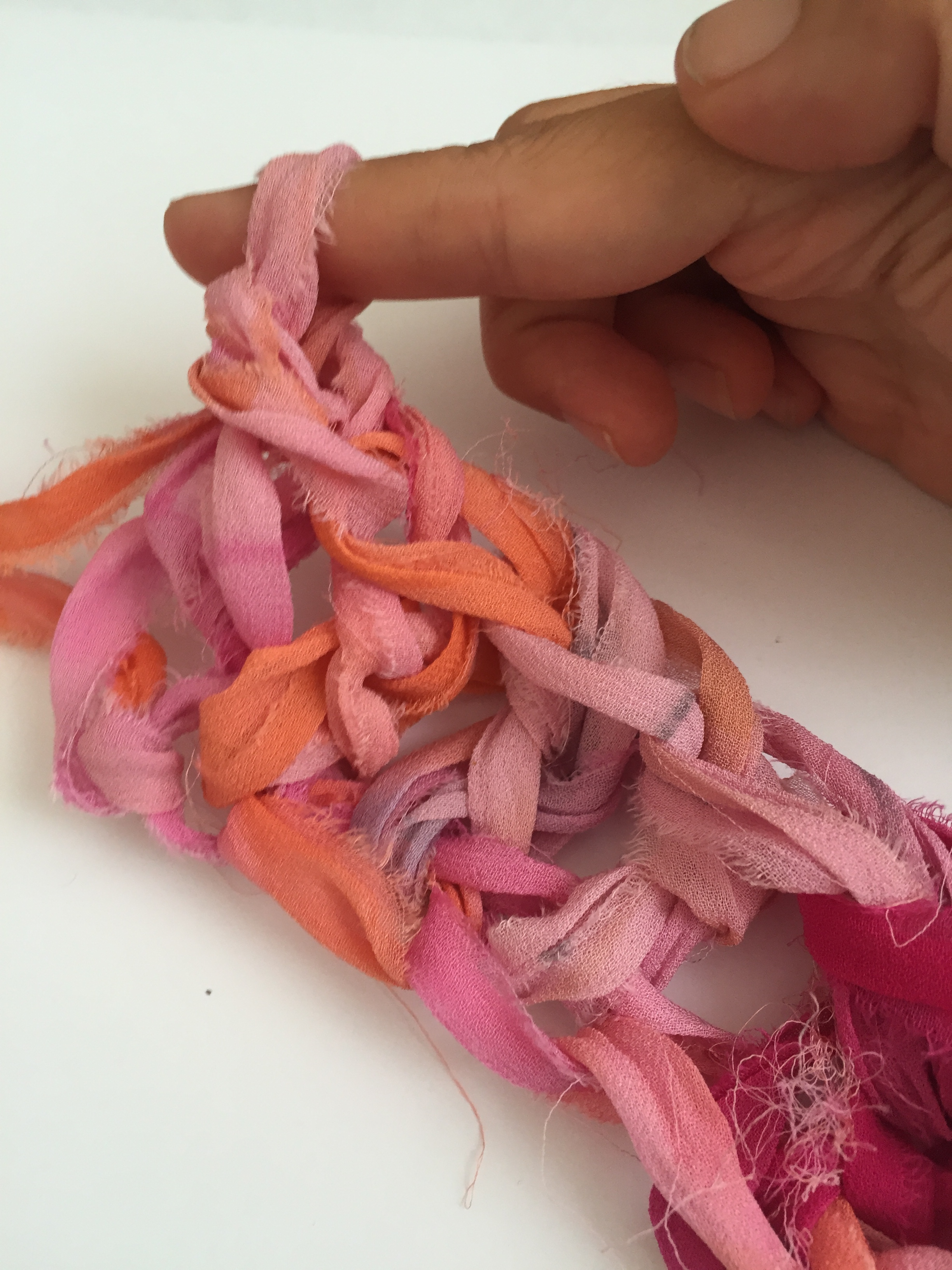 This tutorial shows you how to finger crochet a chain stitch and double crochet stitches. This gives you a solid foundation for learning other basic crochet stitches. The tutorial also covers some tips to help you master this technique.
Note: The tutorial assumes that you already know how to work basic crochet stitches and shows how to adjust for using fingers instead of hooks. If you are brand new to crochet, you will need to first learn the basic crochet stitches. Our free guide is a great starting point!
How to finger crochet the chain stitch
The basic technique for chain stitching is the same, but instead of using a hook, you'll use your thumb and forefinger to pinch the yarn and bring it through to create your chain stitches. Follow along with this step-by-step tutorial to make your finger crochet chain.
Step 1: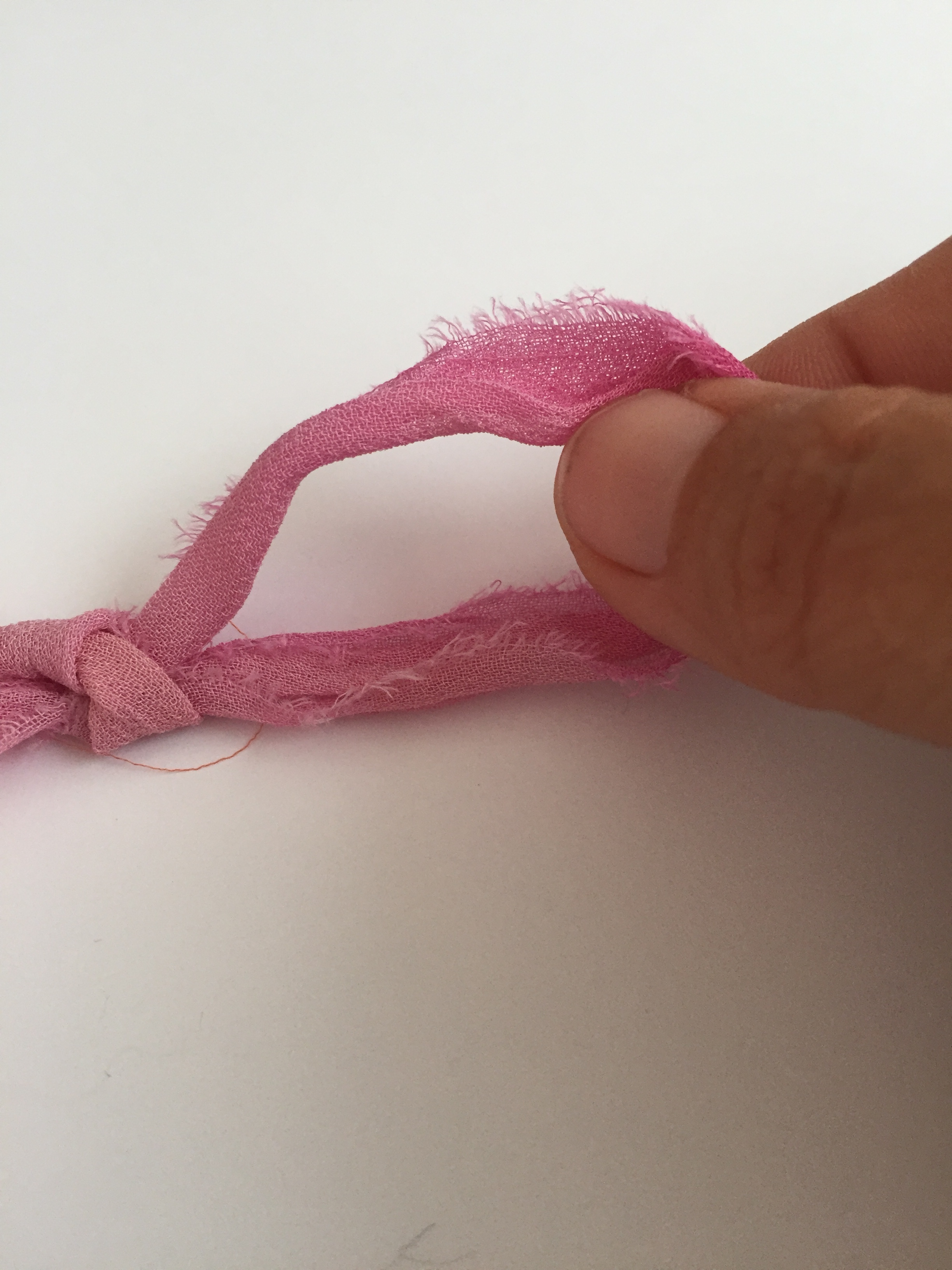 Make a slip knot the way that you always do to begin a crochet project.
Step 2: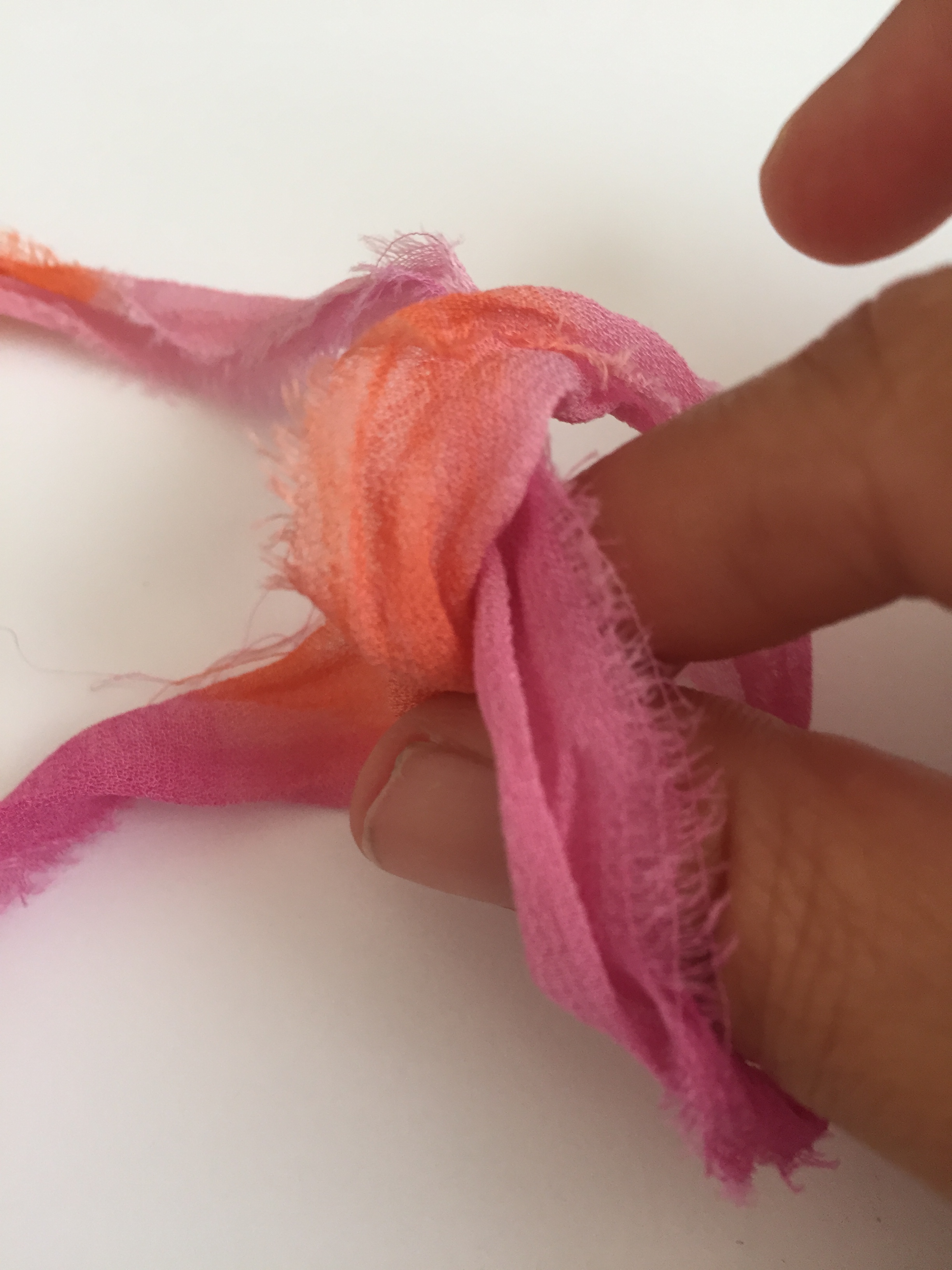 Reach your thumb and forefinger through the slip knot to pinch the working yarn and bring it through.
Step 3: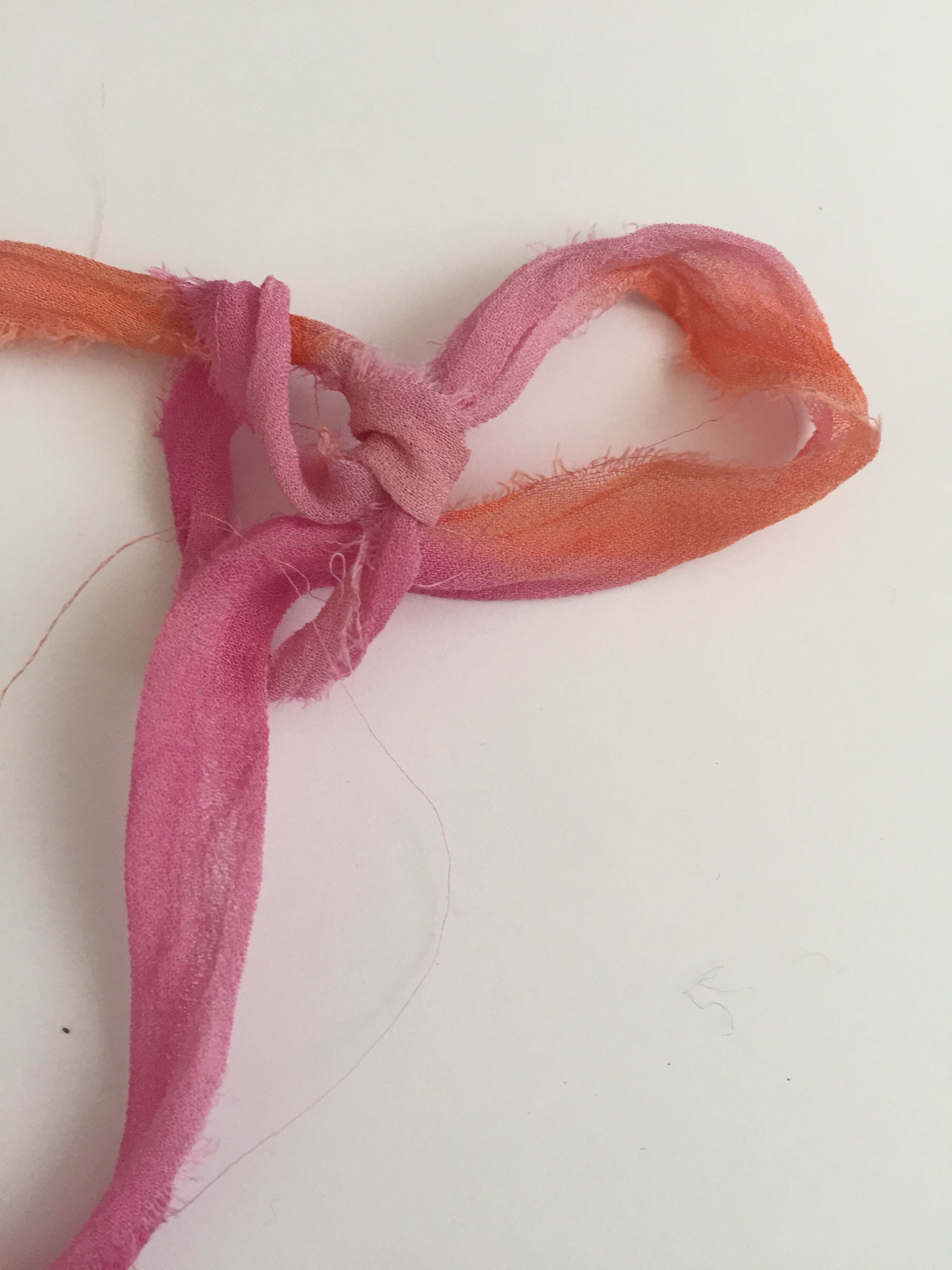 Pull the yarn through to create your first chain stitch.
Step 4: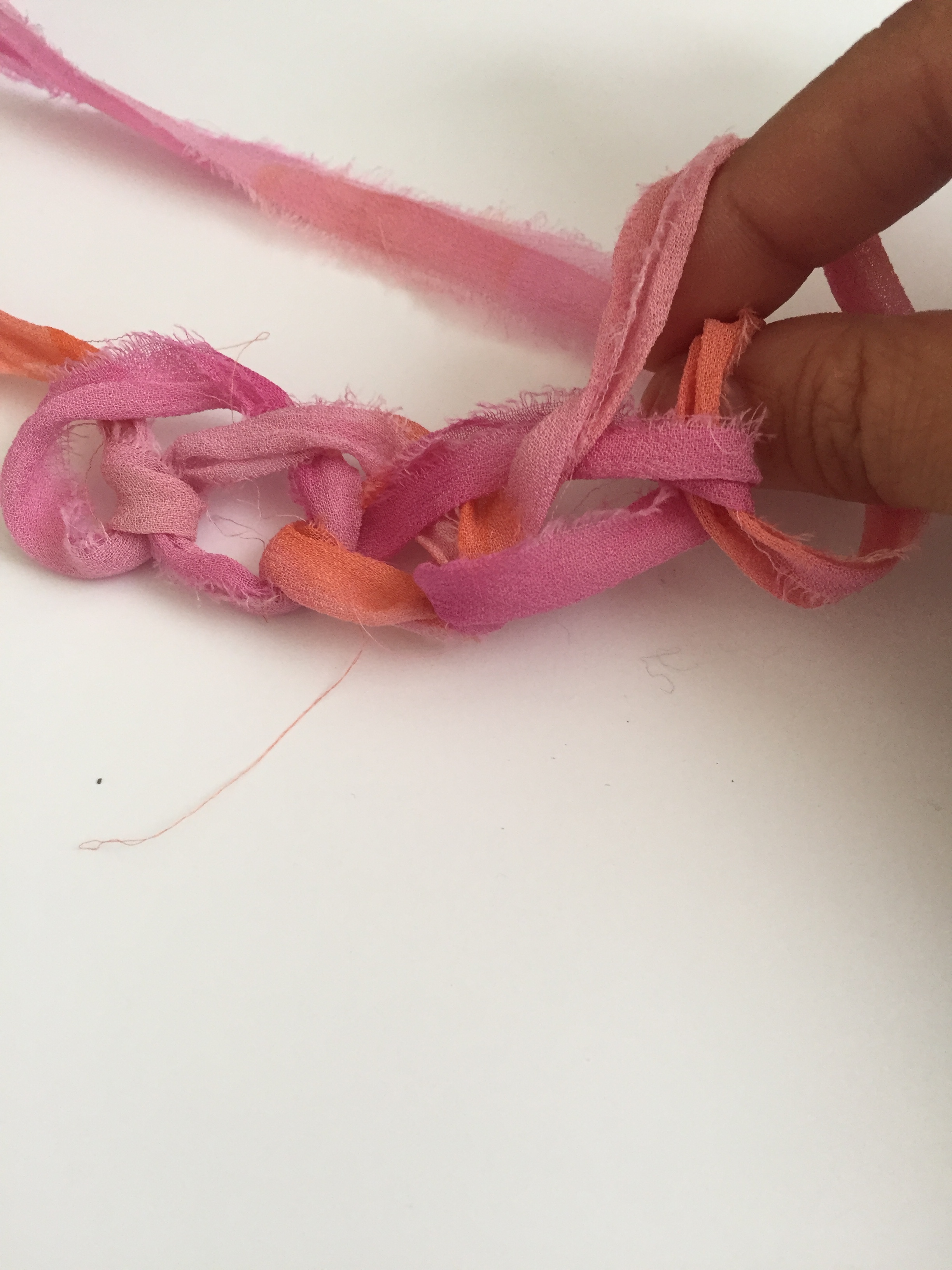 Continue pulling the yarn through in the same manner, creating additional chain stitches until your foundation chain is as long as you want it to be.
How to finger crochet double crochet stitches
Double crochet is a great stitch to practice because it provides all of the steps that you would use in any basic crochet stitch. This tutorial is worked in rows, but the same techniques could be used to work finger crochet in the round.
Step 1: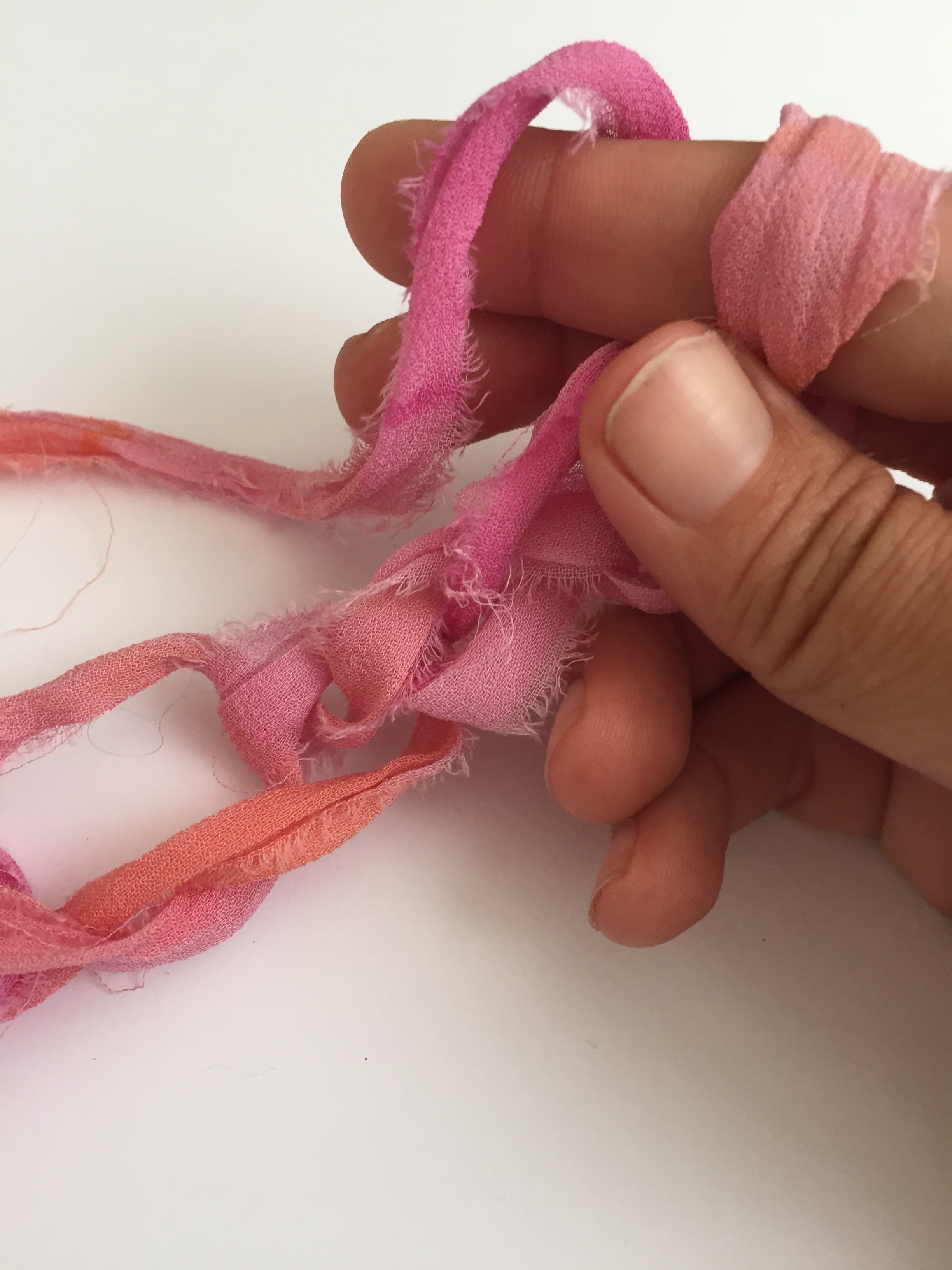 Insert your index finger into the final chain stitch, where you would typically have your crochet hook. Yarn over your finger in the same way you'd yarn over your hook.
Step 2: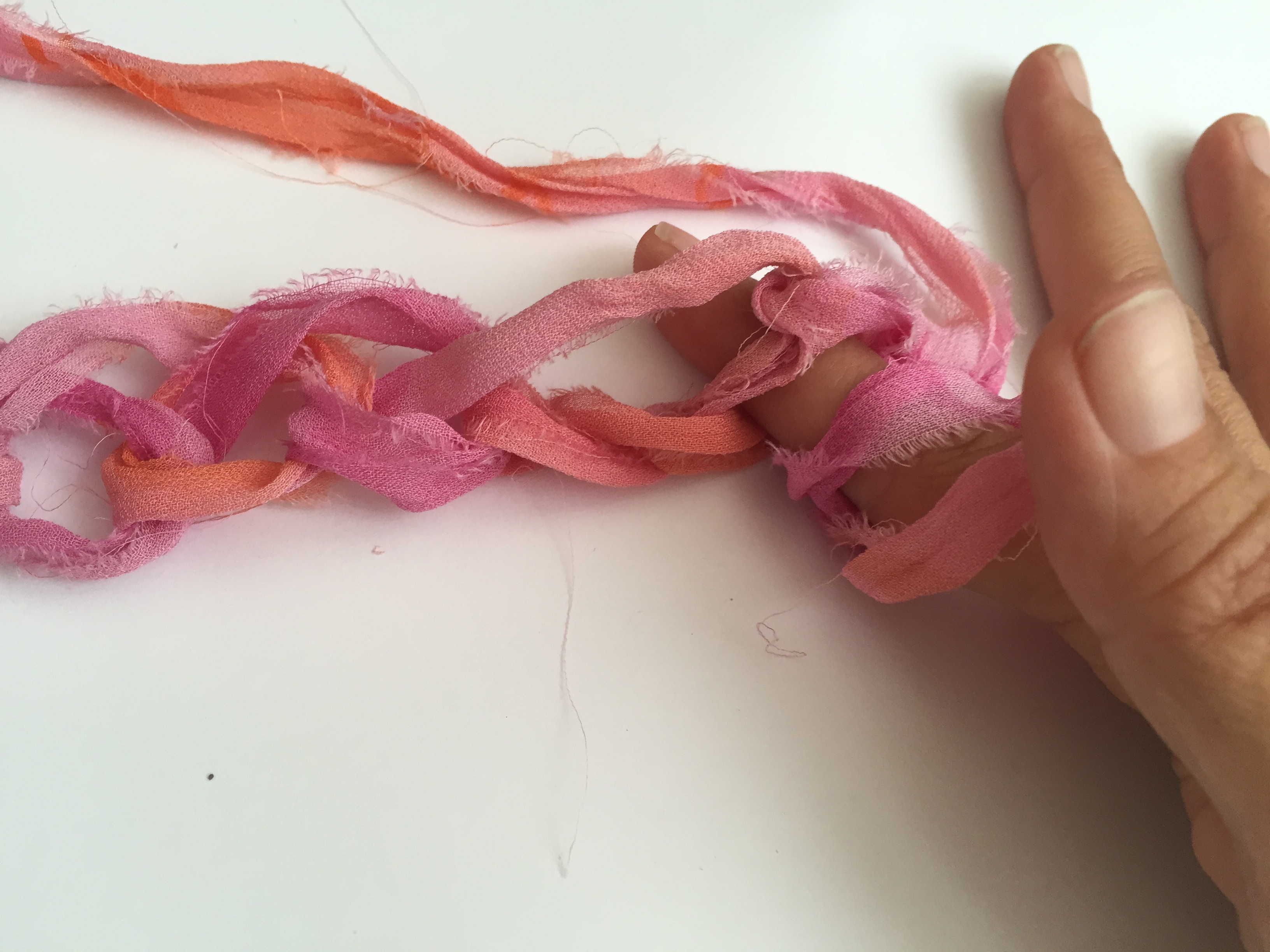 Insert your finger into the chain stitch where you want to make your stitch. The, follow the standard steps for a double crochet as normal: Yarn over, pull up a loop, yarn over, pull the yarn through first two loops on finger, yarn over, pull through the final two loops on your finger.
Step 3: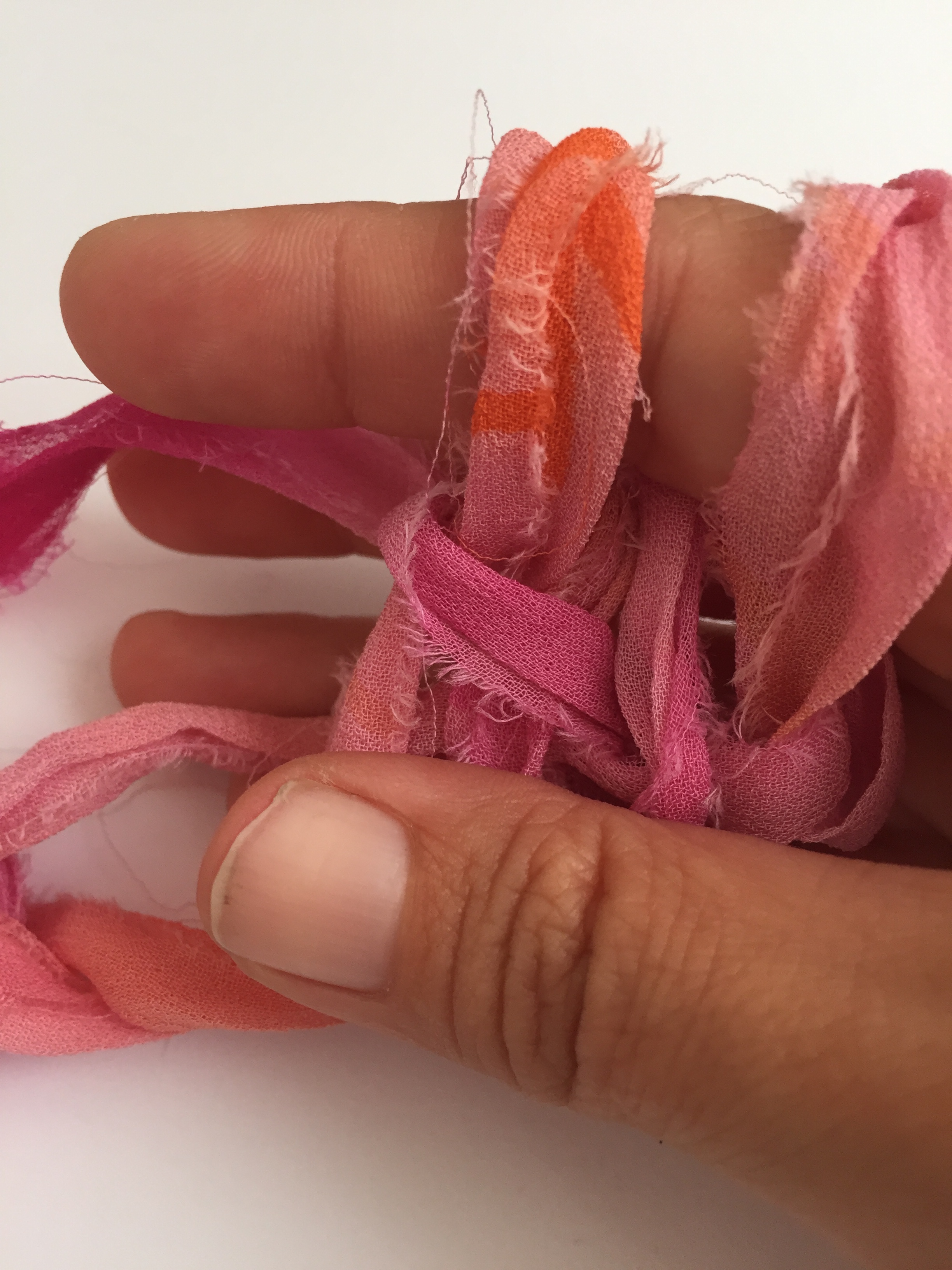 Continue this same stitch to the end of your row.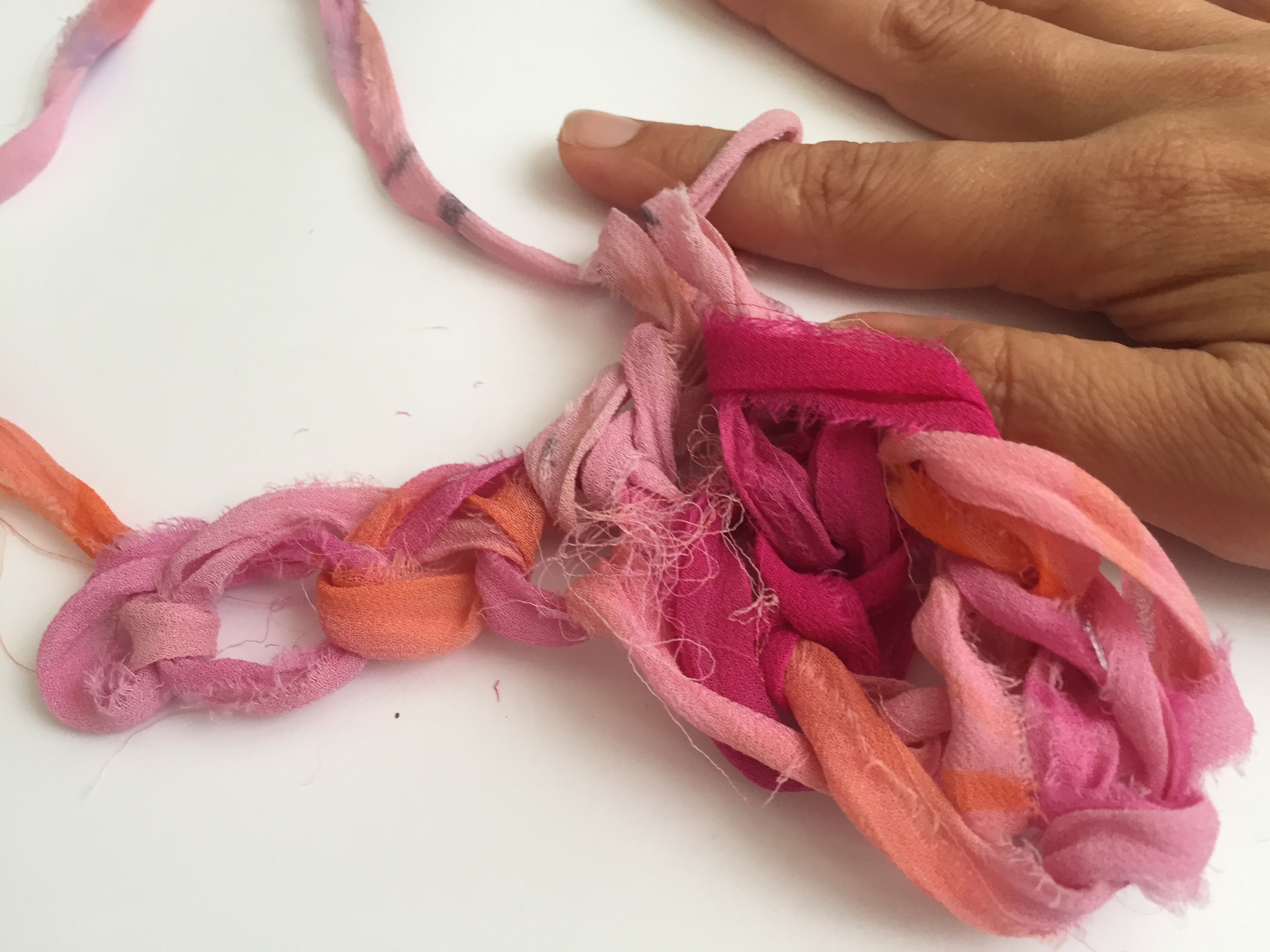 There you have it! You can practice this technique until you get the hang of it; then, you can try other basic stitches.
Finger crochet is fun, but there are some limitations to keep in mind.
You can only use basic crochet stitches.
Complex stitches — such as post stitches or bobbles — are tough even with a hook, so of course they're even more difficult in finger crochet. Look for crochet patterns that use only basic crochet stitches.
Your finger can only hold so many loops.
Your finger isn't as long as a crochet hook, which means you simply can't hold as many loops on your finger. Because of this, treble crochet stitches (as well as aforementioned complex stitches) that require many loops will be tricky to finger crochet.
Your yarn selection is limited.
You can theoretically crochet with your fingers using any type of yarn, but the thinner the yarn, the more fiddly it will be. Finger crochet works best with bulky yarn including roving, fabric yarn, T-shirt yarn and double-stranded worsted weight yarn.
You have to pick patterns that use a large hook.
This goes hand-in-hand with hook type: Crochet patterns calling for small hook sizes may be difficult to replicate with finger crochet. Look for crochet patterns that use crochet hooks sized J, K or higher.
Getting gauge is difficult.
As you practice, you'll get better at maintaining tension across the entire project. But while you learn, it's difficult to get an exact gauge using finger crochet. Pick projects where gauge isn't so important. 
5 quick finger crochet patterns to try
The following five crochet patterns are not all written specifically for finger crochet, but they do all work well as patterns for beginners using this technique.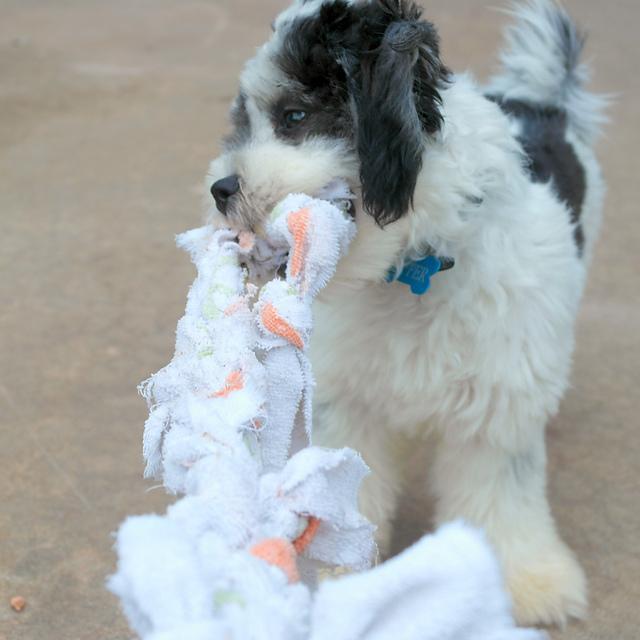 Photo via AbigailGonzalez
1. Pepper's Rag Rope
This free dog toy pattern is written specifically for finger crochet — it even includes information about how to work the technique. The quick project can be made from recycled rags, towels or T-shirts. Make a bunch of these to practice the finger crochet technique. Your pup won't get sick of them!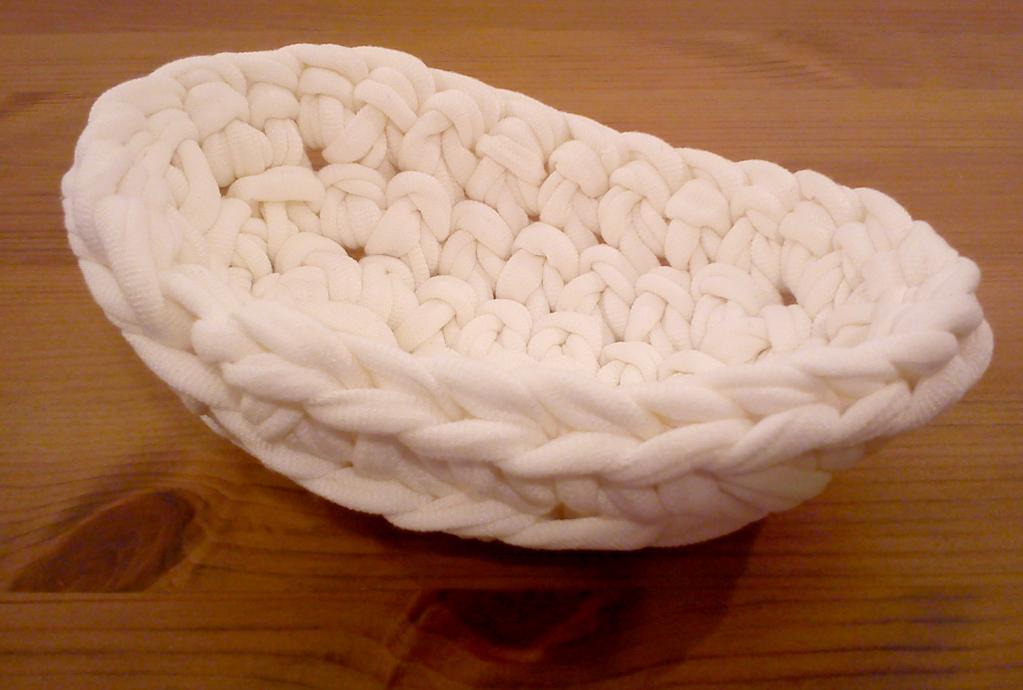 Photo via Kismomo
2. Crochet Soap Holder
This T-shirt yarn crochet pattern is a bulky, simple crochet project where gauge doesn't matter, making it a perfect choice for practicing your finger crochet.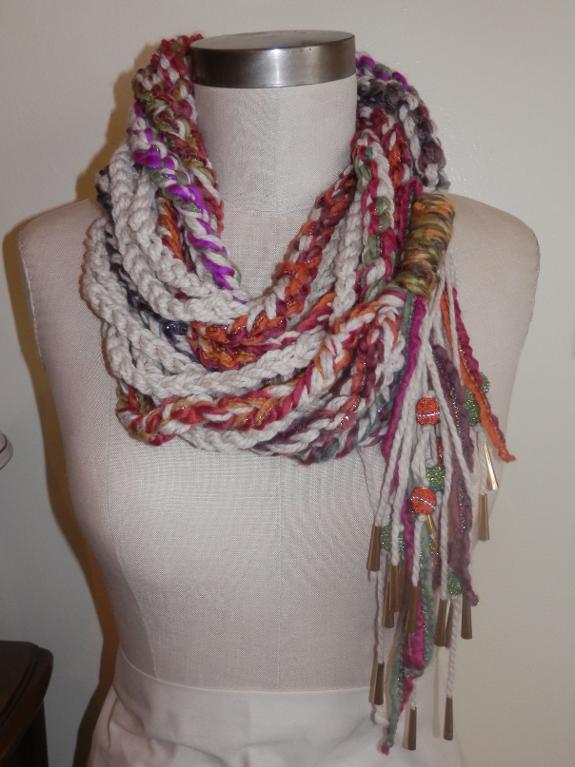 Photo via Mystic Bazaar
3. Yarn Chain Scarf
Made up entirely of chain stitches and with any type of yarn, this bohemian scarf is quick to whip up. Find what works best for your finger crochet practice and work lots of chains to create this pretty accessory.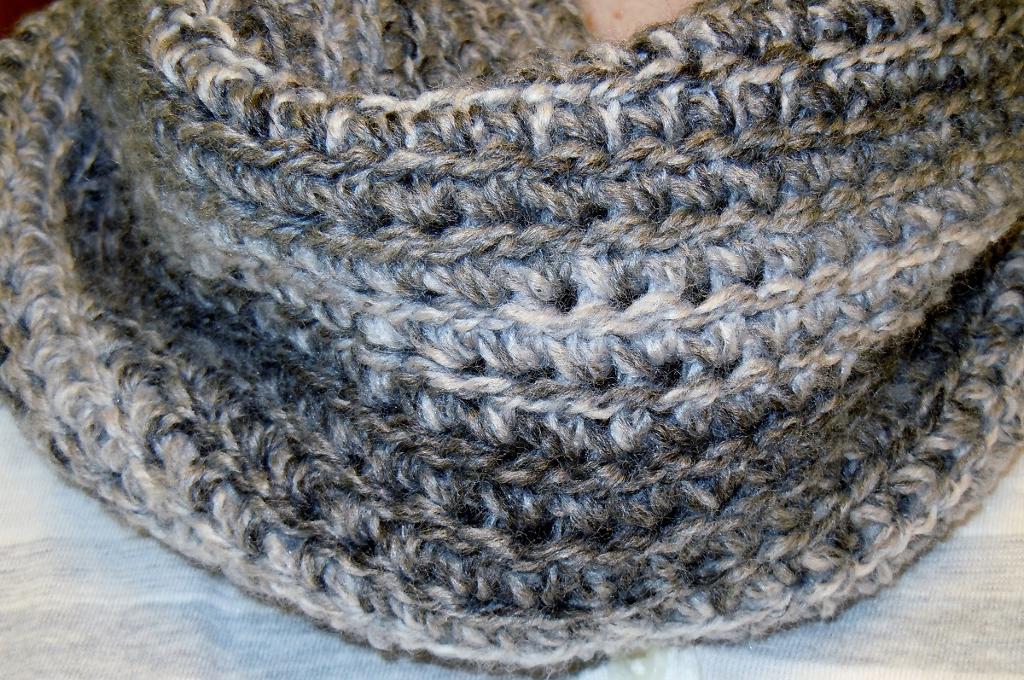 Photo via Craft Drawer
4. Easy to Crochet Infinity Scarf
This simple cowl consists of repeated rounds of half double crochet stitches, which should be easy to work in finger crochet with r a bulky weight yarn. Gauge is only moderately important, so you don't have to worry much about tension.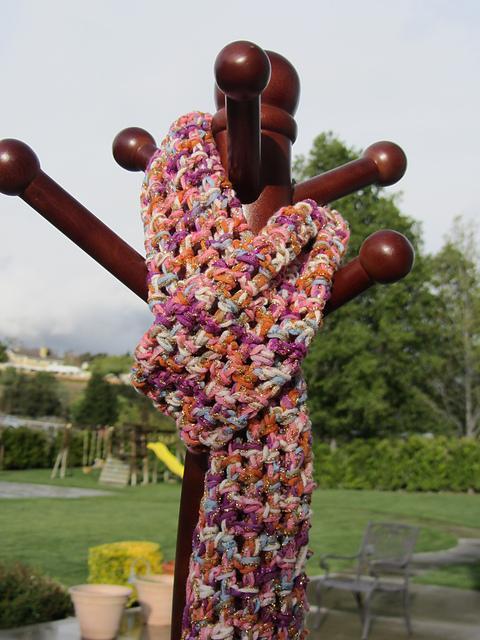 Photo via Kalpna Kapoor
5. Easy Crochet Scarf
This bulky crochet scarf pattern is worked entirely in double crochet stitches (with a classic foundation chain). You should already have the skills that you need to complete this crochet pattern without any hooks!