The highly anticipated animated film Finding Dory recently dived into theaters — and made a splash, of course! The movie's lovable characters just keep swimming into viewers' hearts, making it an incredibly popular theme for desserts from cakes and cupcakes to cookies and more!
Navigate the sweet seas with these Finding Dory cakes and treats that are guaranteed to never be forgotten!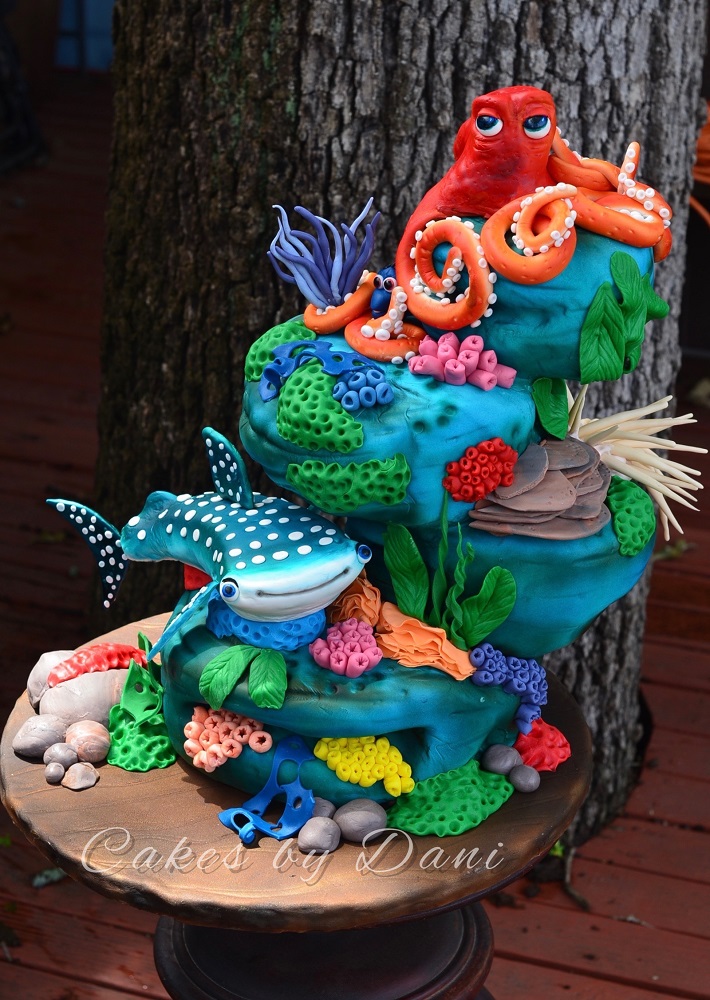 Photo via Cakes by Dani
Finding Dory character cake
This stunning Finding Dory cake by Cakes by Dani perfectly depicts life under the sea with several characters from the film. The cake's internal structure allowed it to be built upon several off-center tiers to be carved into marine rocks. Dani then decorated the layers with colorful coral and sea life, then finished it off with perfectly hand-molded creatures, including the whale shark, octopus (septopus!) and Dory herself peeking out. The use of airbrushing created incredible shading and depth to finish off this magnificent cake!
Find techniques for building structures and support systems to take your cakes to the next level in Richard Ruskell's Topsy-Turvy Cake Construction. Then add more details and marvelous effects in Get Started Airbrushing with Dawn Butler.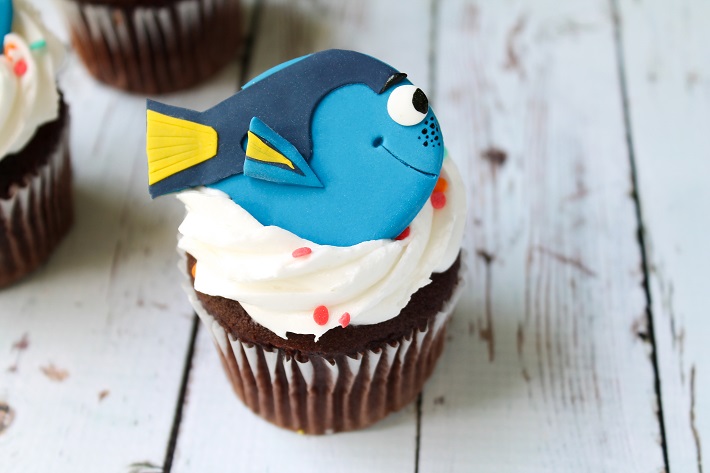 Photo via Renee Conner Cake Design
Finding Dory cupcake topper
If you're partial to miniature treats, why not top your cupcakes with little forgetful fish toppers? Renee from Renee Conner Cake Design created this absolutely adorable fondant topper resembling Dory to easily decorate cupcakes, perfect for viewing parties or birthday parties. You can follow the step-by-step instructions in her video tutorial to create your own school of sweet blue tang fish!
Learn more tips for making fondant cupcake toppers, along with time-saving techniques, in the Bluprint course Birthday Cupcakes in a Snap with yours truly!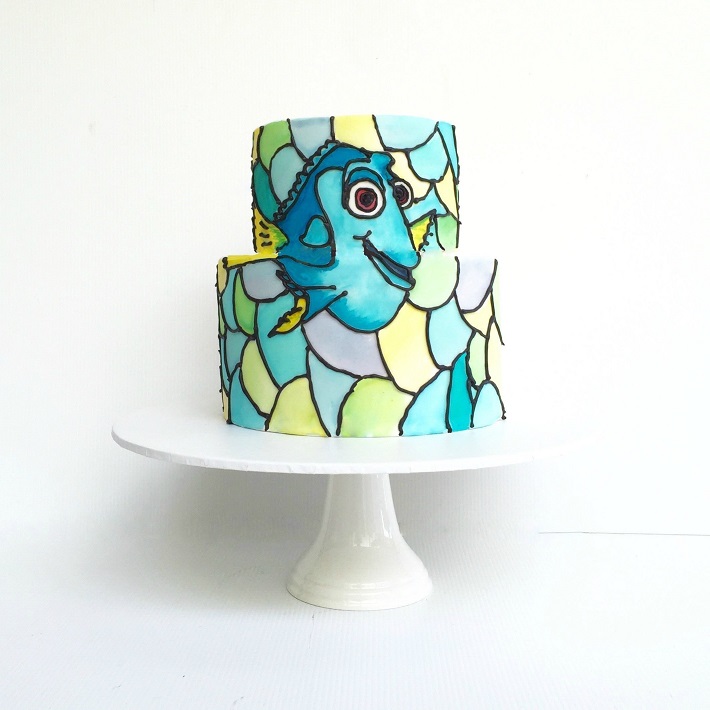 Photo via Creative Cakes by Sharon
Finding Dory stained glass cake
Sharon of Creative Cakes by Sharon did a brilliant job with this beautiful Finding Dory cake by giving it a splendid stained glass background. The designs were transferred and piped onto the two-tiered cake, then hand-painted to achieve the stained glass effect with colors representative of the ocean. See the full video tutorial to follow along in the decorating process!
Learn more in-depth techniques for transferring designs, hand-drawing and painting in Myton Ouano's Simple Techniques for Artistic Cakes and find additional tips to re-create various stained glass effects in the course Decorating in Three Dimensions with Maggie Austin.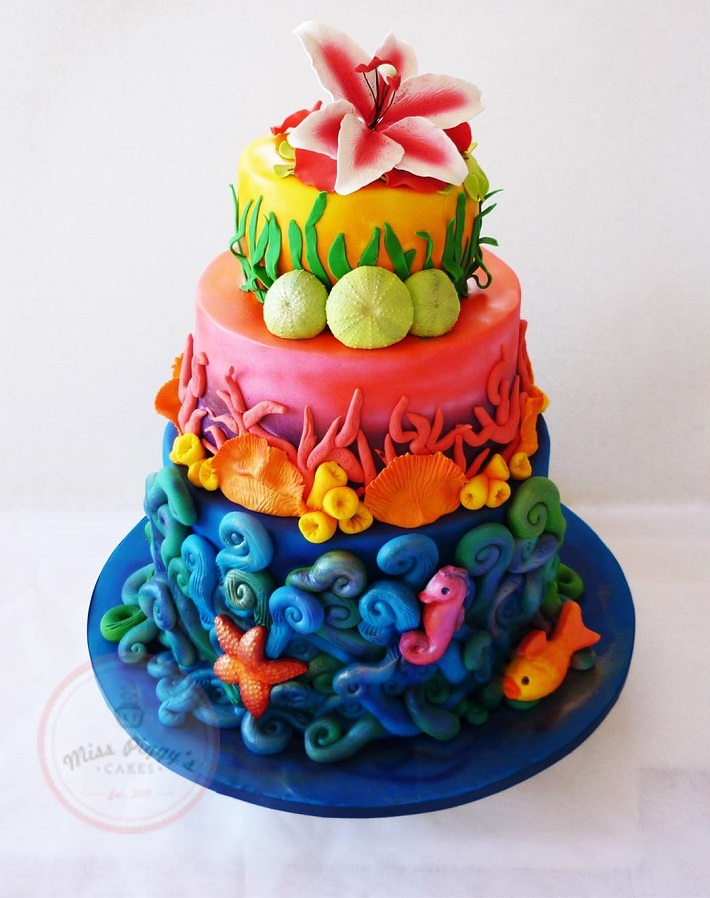 Photo via Bluprint member CruiZee
Caribbean fanta-sea cake
This beautiful and vibrant fanta-sea cake by Bluprint member CruiZee is the perfect alternative to utilizing the actual characters from the film. Transport everyone under the sea by incorporating recognizable marine creatures and elements, such as waves, seaweed and coral. Use molds to create animals and urchins, and make use of decorating tools to add extra texture and details. Airbrushing and luster dust give this three-tier cake extra vivacity and sheen!
Learn additional techniques for molds, impression mats and cutters to decorate your cakes and create embellishments in the Bluprint course Better Cakes in 29 Tools with Loren Ebert.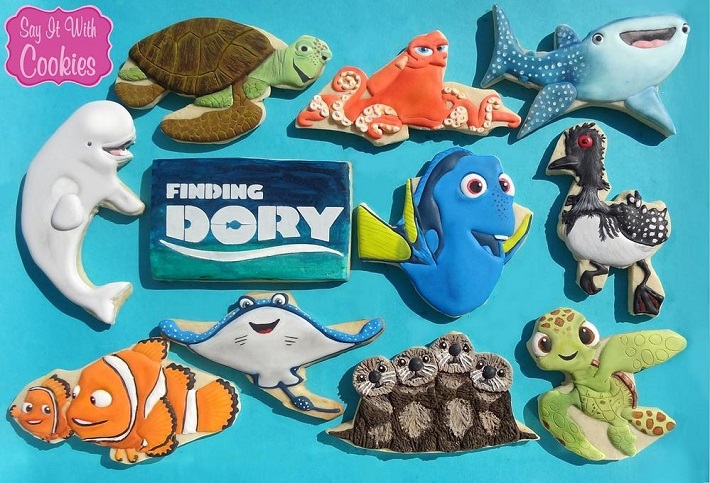 Photo via Say It With Cookies
Finding Dory cookies
Instead of molding characters out of fondant or gum paste, create them out of cookies like Kim of Say It With Cookies did! This absolutely incredible set of Finding Dory cookies is decorated with royal icing, paired with a variety of techniques to achieve the amazing details, including layering, texturing and hand-painting. Get creative and utilize cookie decorations to embellish your cakes, too!
Learn the basics of decorating cookies with royal icing with our FREE downloadable guide, where you'll learn how to mix and use royal icing perfectly every time.
Disclaimer: The cake and cupcake designs featured in this post are for inspirational purposes only. Bluprint.com does not condone the purchase or sale of any design that could potentially infringe on any protected design or copyright.