Warmer weather calls for entertaining and grilling outdoors! I've got the perfect Asian BBQ recipe you're sure to love. This BBQ recipe is inspired by my upbringing. It's one of  the staple foods at all Filipino gatherings: the beloved chicken or pork barbecue grilled skewers. This unique mix of flavors is sure to leave you craving for more!
Ginger ale and banana ketchup — what?!
These two unusual ingredients make a world of difference in this barbecue recipe.
Have you ever heard of banana ketchup?
This is a key ingredient to this recipe. It's a sauce that looks just like ketchup, but it's made from bananas. In fact, it can be used in place of ketchup as a condiment or dip!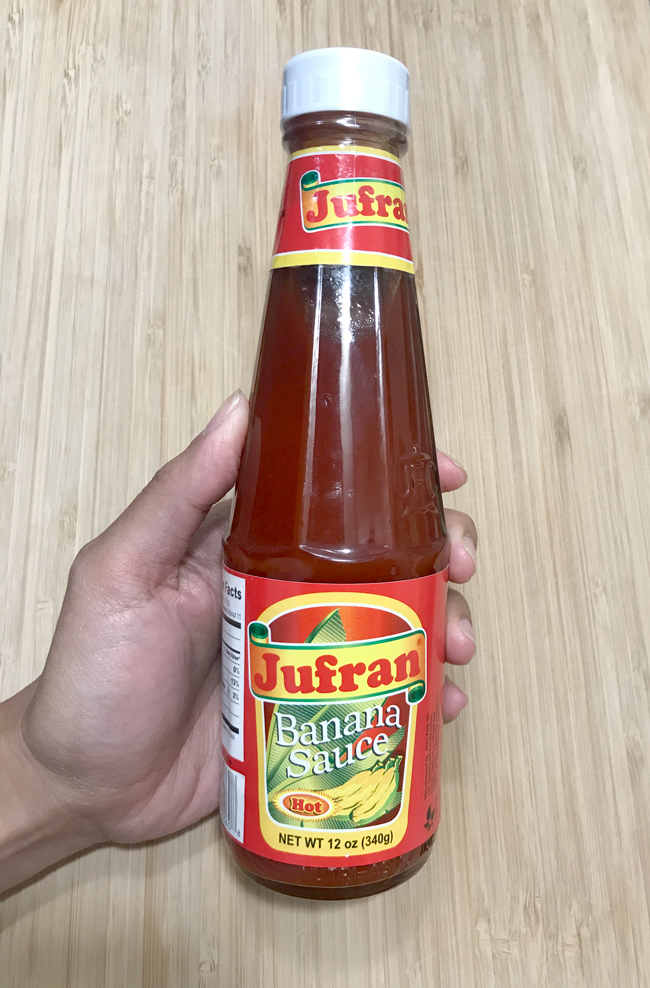 Banana ketchup is available at Asian food stores — you might be able to find it in at the Asian foods section at grocer. It's usually labeled as "banana sauce," but if you're in the know, banana ketchup is the correct term. Also, pay close attention to the label: The ketchup comes in regular and hot.
If you can't find banana ketchup, you can also use classic tomato ketchup (but trust me, you'll be missing out). Either way you make it, this marinade is seriously delicious!
Another unusual ingredient in our barbecue marinade is ginger ale.
The carbonation offers a tenderizing effect, while the soda's sweetness and a hint of ginger adds to the flavor profile.
This marinade works well with pork or chicken. Both are traditionally used for this dish. If you decide to do both, make sure the meats are marinated in separate containers, for about 12 hours.
Filipino BBQ skewers recipe
Makes about two dozen 10″ skewers
3 pounds chicken thighs or pork shoulder or belly

½ cup brown sugar

4-6 cloves minced garlic

1 teaspoon sesame seeds

1 teaspoon salt

1 teaspoon pepper

½ cup banana ketchup (or regular ketchup)

½ cup soy sauce

Juice of 2 lemons (about ¼ cup)

1 cup (8 ounces) ginger ale or lemon-lime soda

1 tablespoon Sriracha hot sauce (optional)

Chopped chives (optional)
Step 1:
Prepare the meat. This recipe is suitable for both chicken and pork. Please do not mix the two meats together if making both. Place each meat in a separate container to marinate.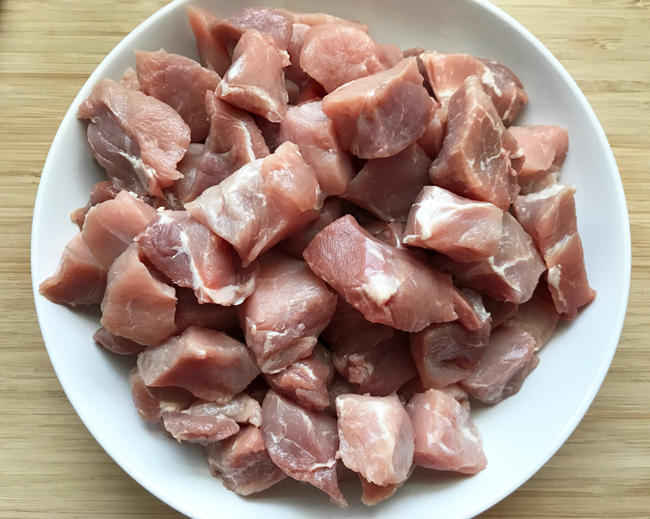 If using chicken, trim the fat, remove the skin and cut it into 1″ pieces. If using pork, cube the pork or buy it cubed already. Cut the pieces in relatively similar thickness so it cooks evenly throughout. Set aside.
Step 2:
You'll need a large glass, ceramic, porcelain or plastic bowl — it's important to use a non-reactive container since this is a salty and acidic marinade. Stainless steel is non-reactive as well, but if you're not sure whether your metal bowl is stainless steel, play it safe and use a different bowl.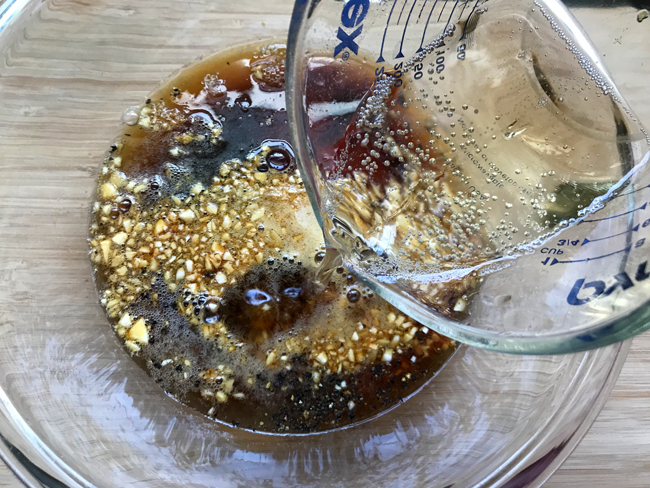 Mix the brown sugar, garlic, sesame seeds, salt, pepper and banana ketchup in the bowl. Add Sriracha hot sauce for a spicy kick! Follow with the soy sauce and lemon juice, then whisk to combine. Finally, pour ginger ale into the bowl and stir. 
Step 3: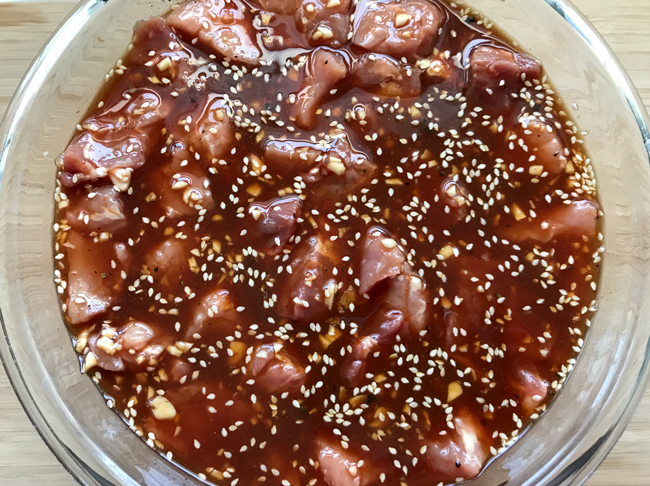 Place the meat into the bowl of marinade. Cover with plastic wrap and refrigerate for at least six hours, but definitely preferably overnight.
Step 4:
Soak bamboo skewers in water for about 20 minutes — this ensures the sticks don't burn over the open fire.
Step 5:
Skewer the meat over ¾ of the stick. Reserve the marinade.
Step 6: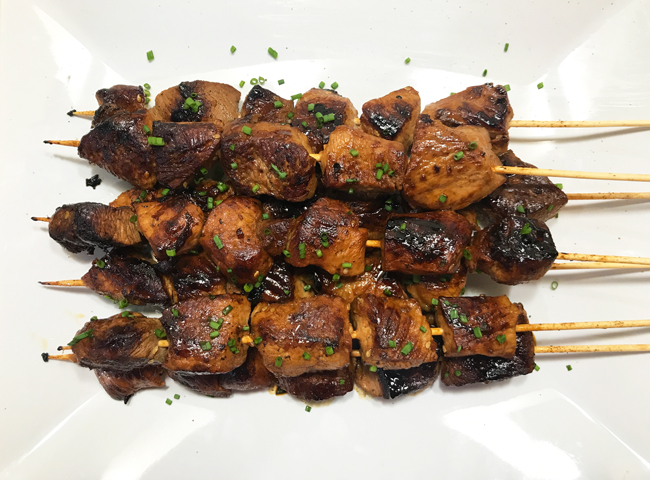 Place the skewers on a hot grill and use the remaining marinade to baste it frequently as it cooks. Grill until done. Garnish with chopped chives and more sesame seeds. Serve immediately.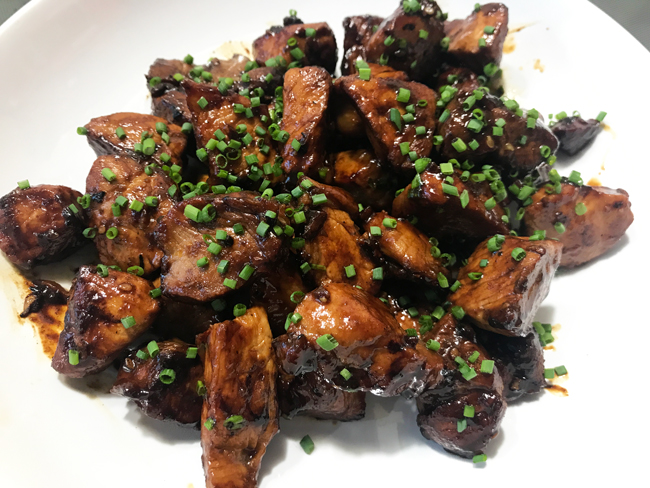 If it's not grilling season, don't worry: Cook the meat over the stove in a grill pan sans-skewers. It turns out just as tasty!