Do you dress your dog? Meet Sara Sach of Posh Pooch's Pattern Store. She's been crocheting for many years for her furbabies: two adorable Chihuahas. With over 50 pooch patterns available in her Bluprint store, from a cupcake dog hat to a hearts in a row dog sweater, Sara's designs have delighted folks (and their pets) from all over the world. Learn more about Sara's popular patterns which might be perfect for your pups, and her success with running a Bluprint pattern shop.
What inspired you to create your first doggy designs?
I was inspired to begin making and designing dog hat and sweater patterns by my two Chihuahuas: Maximo and Rosie Bell. They are the two dogs in almost all of my pictures, modeling the things I design.

Tell us about your models! How many pups do you have and what are their names?
I got Maximo when he was about nine months old from a dog rescue. We got Rosie at two months, to keep Maximo company. Now they are inseparable. Both have been trained to model the items I make, and get paid in good cookies. They love to model. All I have to do is say "Let's model" and they get quite excited.
How do you select which dog models which outfit?
I don't really select which model I'll use for an outfit. I take lots and lots of pictures of both of them and choose the photos that I like best. Though, Rosie does do all the girly stuff.
Do they all enjoy wearing your adorable creations?
Both my dogs are so used to being dressed, that they do not think anything of it. Chihuahuas are naturally cold, so they even like the light weight sweaters in summer.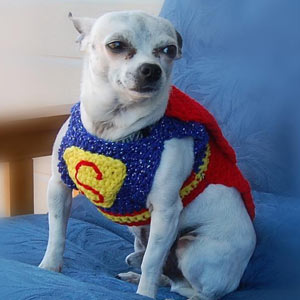 What are some of your most popular designs right now?
Right now my most popular designs are the "Lucy Dress", "Halter Dog Dress with Flirty Skirt" and The "Super Boy Dog Sweater." Plus the "Striped Earflap Dog Hats"( all 3 sizes) are my #1 selling patterns.
What brought you to Bluprint's pattern platform?
My daughter told me about Bluprint when you began letting designers offer their patterns for sale. It is very easy to use for the seller and the buyer.
Have you seen success with Bluprint?
I have had success with Bluprint. I write and design dog patterns because I love it, so getting a money for them is a bonus that helps me pay for the care of my dogs, as well as supplies.
What advice do you have for other pattern sellers?
The most important thing is to be original. There are a lot of similar looking patterns out there. Try to find your niche and stick with it. And the second thing is use clear pictures and lots of them. People want to see, as well as read the pattern.
Are you working on any new patterns?
I am always working on new patterns; I have a very long list of ideas. Sometimes I think my brain is so full of dog crochet pattern designs that I could crochet in my sleep!
Anything in the works for our feline friends?
I haven't targeted my designs for cats, but I have made a lot of items for cats. All my patterns can easily be made for cats. I have even created some for bunnies, as well as a miniature horse and a llama.
Be sure to check out all of the fun patterns in Sara's store Posh Pooch.