Need to finish a crochet project — fast? Sure, you can try our tips for crocheting faster, but you'll set yourself up for speedy success by picking a pattern that you can finish in a flash. Here are the things that you should look for when you need a quick-to-stitch crochet pattern.
1. Start by picking the right yarn.
First and foremost, look for a fast crochet project that uses the right yarn. Consider the weight of the yarn, your familiarity with it, the color and the fiber.
Choose a bulky yarn
As a general rule, projects made with thin yarn take longer to crochet than projects made with thicker yarn. Just think about it: If you want to crochet a 4″ square, you're going to need a lot more stitches in a thin yarn than you would in a thick yarn.
That said, if you've never worked with super bulky yarn before, it might take you a little time to get comfortable.
Consider multi-stranding
If you know you want to work with a thinner yarn, consider combining them, working them with two or more strands held together, to create your own form of a bulky yarn that works up quickly.
Be smart about your fiber choices
Smooth yarn textures tend to work up more quickly than textured yarns (such as thick-and-thin yarn, faux fur or eyelash yarn). Certain fibers — including superwash wool, cotton and some acrylics — are smoother to work with than fibers that tend to catch on themselves (such as mohair). You want yarn that's easy to work with and easy to rip back if you make a mistake.
User lighter yarn colors
If you're an experienced crocheter, yarn color isn't essential. But, if you're still learning and have to look carefully to see where a stitch goes, then choose a light color of yarn. The lighter the yarn color, the easier it easy to see the anatomy of each stitch.
Go with your favorite yarn!
If you have a yarn that you love and find easy to work with, then this might be the one you want to use, especially if it's a worsted weight or thicker yarn.
2. Choose a large hook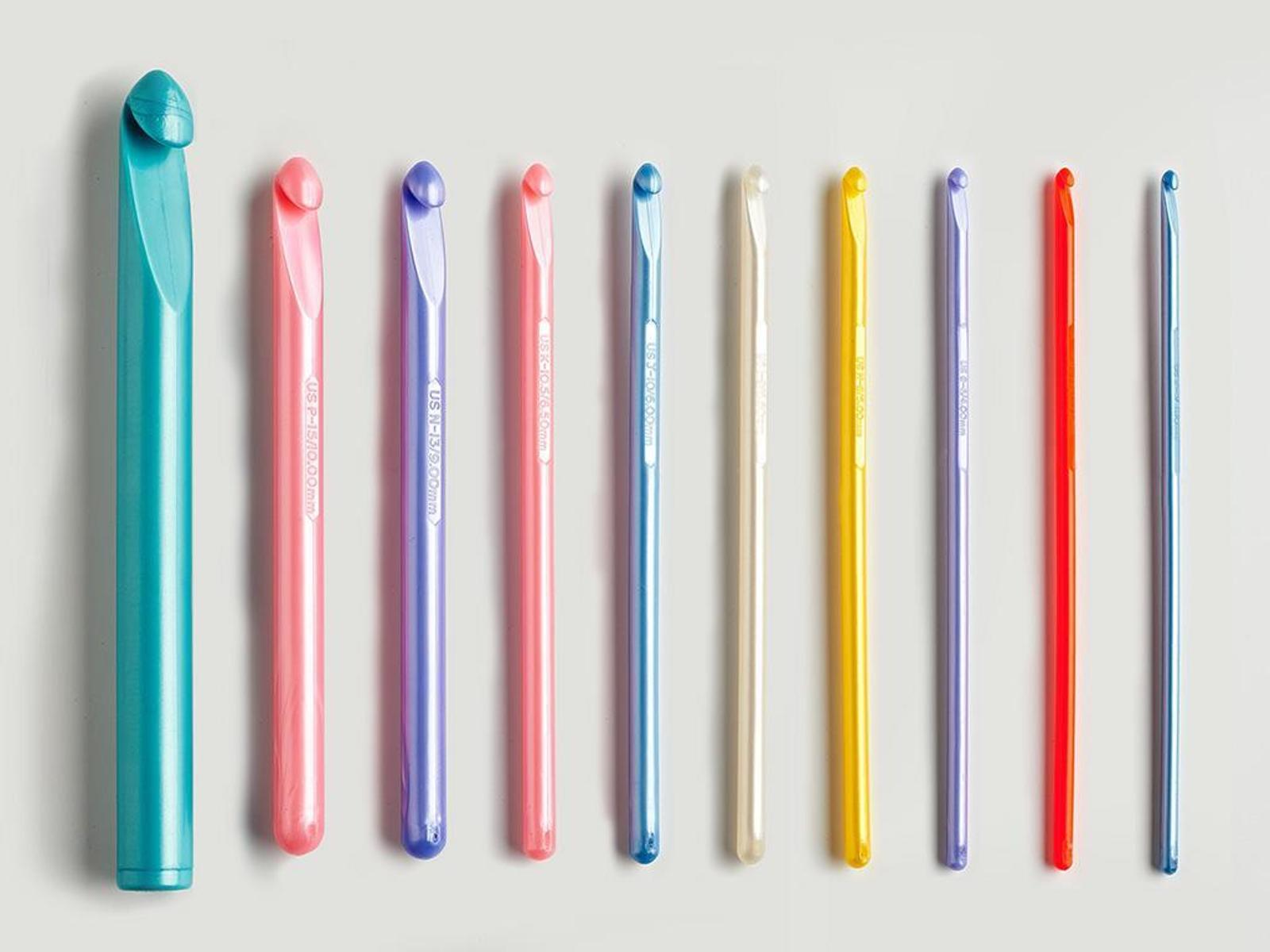 Lion Brand Crochet Hooks
The yarn you choose often dictates the crochet hook you use. If you select a bulky yarn, you'll need a larger crochet hook. But each yarn also suggests a range, so look for patterns that call for those hooks in the larger range.
For example, a worsted weight yarn commonly uses anything from F-J in hook size, so look for patterns that ask for the I or J. If you're comfortable working with large hooks, you may want to look for size Q crochet projects or even larger.
3. Look at the yarn yardage of a crochet project
The more yardage that a crochet project needs, the longer that project will take. For example, you might want to look at one-skein crochet projects, because you only need the one ball of yarn for these.
However, you need to be discerning: A one-skein project could require 400+ yards of yarn if it's a thin, lightweight yarn. You probably want projects that are significantly lower in yardage if you wish to work quickly. 
If you're choosing between similar patterns, use yardage as a tie breaker. Let's say you've narrowed it down to three or four cowl patterns. Look at the yardage to help you make your final decision.
4. Stick with the techniques you already know
If you already know how to crochet broomstick lace, Tunisian crochet or Solomon's Knot, then these advanced crochet techniques can be just as speedy as standard stitches.
But if these are new skills to you, save them for another time. The learning process can be time consuming, detracting from the time you can spend working up the project.
In general, you will want to choose crochet patterns that use the basic crochet stitches and avoid time-intensive techniques, unless you've perfected those techniques.
5. Search for projects made with tall stitches
The taller the stitches in a project, the faster the project works up, presuming that you're comfortable with those stitches.
For example, using double treble crochet stitches will let you speed through a project. Even if you're not familiar with that stitch, double crochet and treble crochet can make a difference.
This tip is especially helpful when comparing patterns. Choose a pattern that has more double crochet than single crochet, for example.
6. Consider the little things that take extra time
After you've looked at yarn weight, crochet hook size and stitches, remember to double-check for the "extras" that slow down a project.
Changing colors
More colors means more time. Not only do you have to switch between skeins, but you also have to weave in all those ends. Instead, choose crochet projects without many color changes. If you're dreaming of color, opt for a color-changing yarn (variegated or self-striping yarn) to save time.
Joining motifs
A one-piece project will be done long before one with multiple pieces that need to be seamed. Especially for crochet blankets, avoid patterns that are built with motifs. If you definitely want to use a motif-based crochet pattern, you can save a little bit of time by using join-as-you-go crochet.
Stuffing and embroidery
Amigurumi patterns can look quick at first glance — they're small, use very little yarn and use only single crochet stitches. However, you've got stuffing seaming and probably embroidery stitches to create a face. This isn't to say that amigurumi can't be quick, especially if it's a technique you know well, but be sure to factor in all of these extra steps to the total time you expect to spend.