Children are often enamored by farm life, especially with all the cute and lovable animals found there, making this a classically popular theme for parties and cake designs.
Join the barnyard bash with some sweet party animals found in these adorable farm cakes and cupcakes!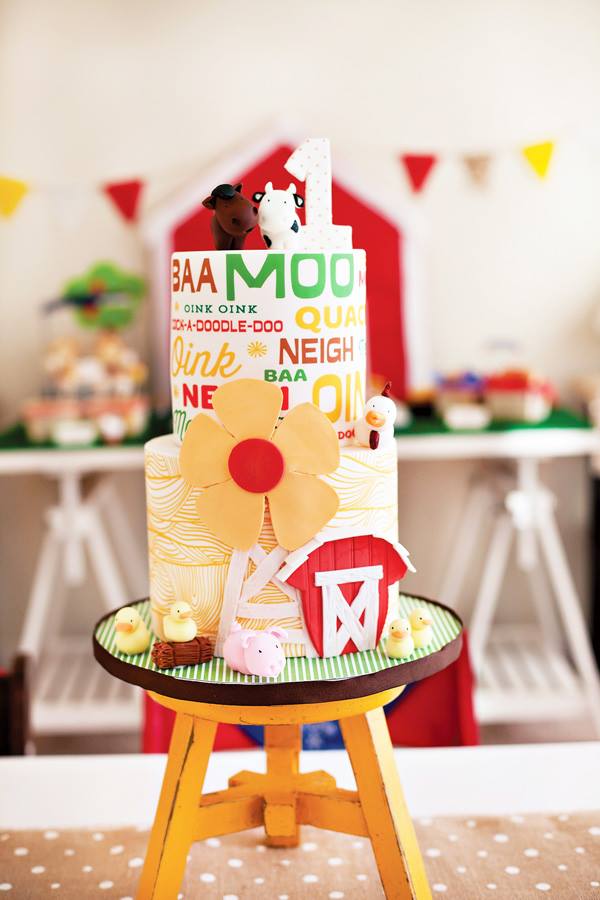 Photo via Bluprint instructor Stevi Auble
Clean & modern farm cake
Bluprint instructor Stevi Auble of Hey There, Cupcake created this clean, yet absolutely precious farm cake. Both tiers were covered using frosting sheets printed with edible images. A traditional woodgrain pattern is juxtaposed with a colorful and modern print.
Classic farm elements, including a barn and windmill, are represented with flat designs adhered to the front of the cake, while 3-D animals top the cake and the board. The presentation is finished off with a number topper, providing personalization for the guest of honor!
Learn additional contemporary cake decorating techniques from Stevi in her newest Bluprint course Bold & Beautiful Wafer-Paper Flowers, where you will learn how to wrap your cakes in wafer paper, along with creating gorgeous edible flowers.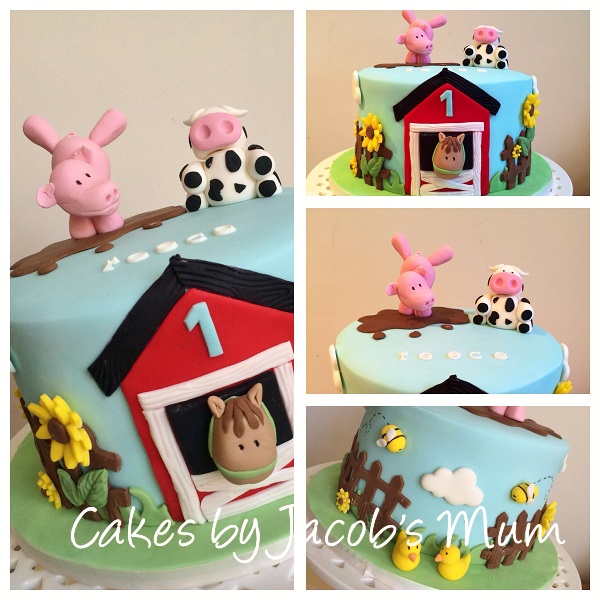 Photo via Bluprint member ChrissieYee
Farm cake
This super sweet farm cake was created by Bluprint member ChrissieYee, utilizing a variety of techniques learned in the course Cake Topper Techniques: Fondant Animals with Sharon Wee. The delightful three-dimensional farm animals, inclusive of the pig playing in mud, bees, ducks and more, were modeled out of fondant and displayed on and around the round cake.
The perimeter of the cake is decorated with an adorable landscape of flat fondant embellishments and personalized with the birthday girl's name, created with fondant letters, and age.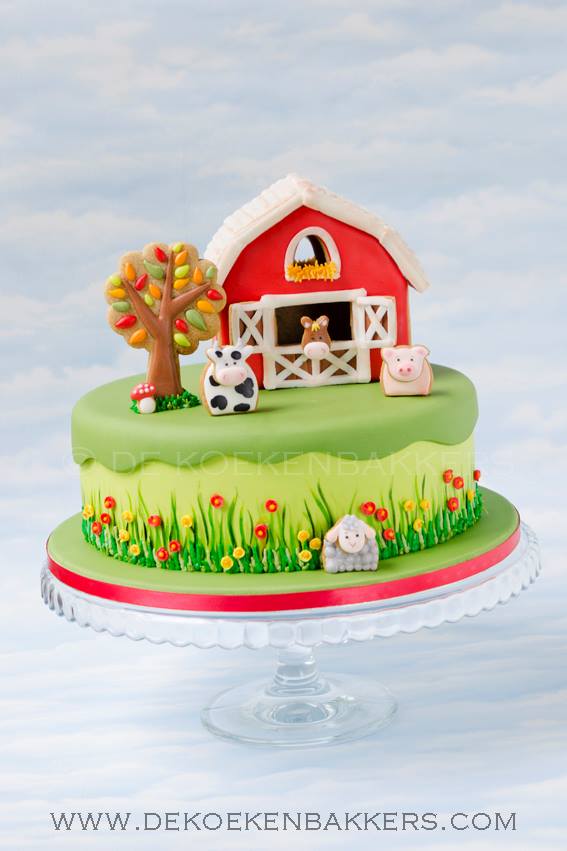 Photo via De Koekenbakkers
Farm cookie cake
This irresistible farm-themed cake by De Koekenbakkers displays the most darling barnyard display with the use of decorated cookies! Cookie cake toppers can serve as a great alternative to fondant embellishments. The 3D barn is constructed out of cookies and covered, much like a holiday gingerbread house, while the flat animals and tree cookie adornments are decorated with icing and made to stand upright, bringing the entire scene to life. The cake itself is covered in fondant, then dressed up with hand-painted, piped and fondant floral details.
Learn how to decorate cookies in a variety of techniques, perfect to stand on their own or to adorn your cakes, in the course Decorating Essentials: Designer Cookies with Autumn Carpenter, as well as the newest course Piping Cookies that Pop! with Mallory Mae.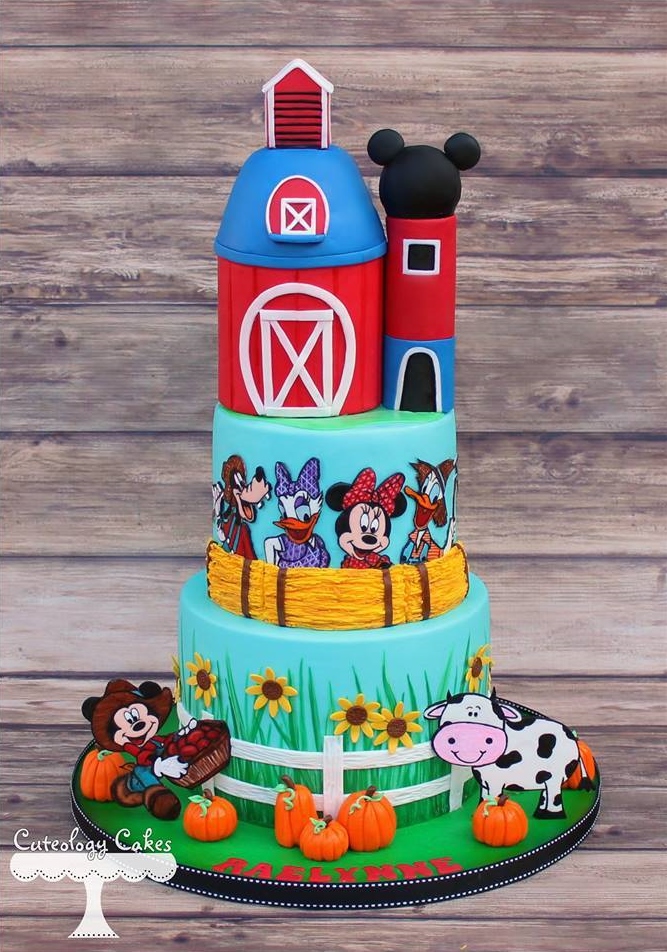 Photo via Cuteology Cakes
Disney farm cake
What's cuter than a farm cake?! A Disney farm cake, capturing the charm and magic that only Mickey Mouse and his friends can bring! This delightful cake by Cuteology Cakes depicts a traditional Fall-themed farm scene, brimming with hay bales, pumpkins, and apples, topped with a hand-carved barn and tower with the iconic Mickey ears.
Every single character, including the cow, are meticulously and beautifully hand-cut and painted onto fondant. And finally, the cake board is covered and incorporated into the design, completing the superb presentation.
Find the basic techniques to cake carving in the Bluprint course Cake-osaurus Rex with Catherine Ruehle and learn how to paint on fondant in Kate Sullivan's The Art of Painted Cakes.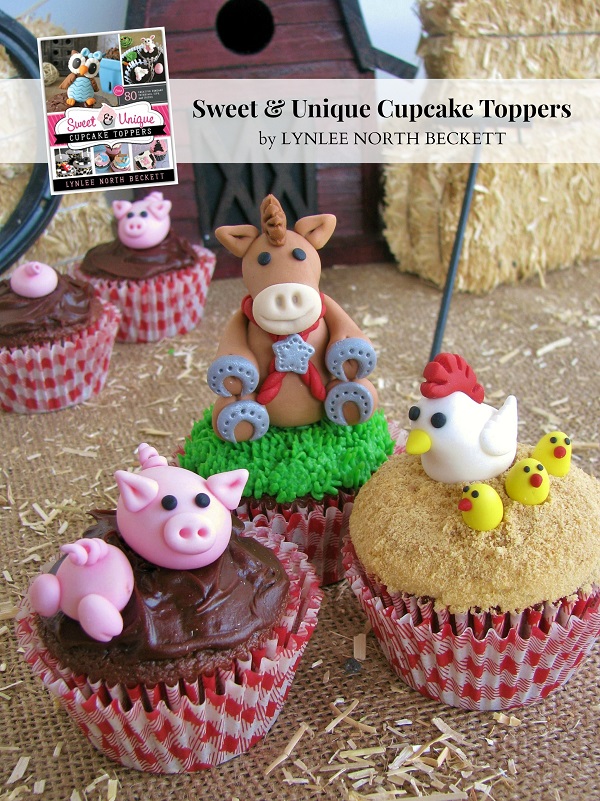 Photo via Lynlee's
Farm cupcake toppers
Three-dimensional fondant toppers aren't only perfect for cake decorating, but can be show stoppers on cupcakes, such as this Down on the Farm fondant topper set from the book Sweet & Unique Cupcake Toppers! Below the farm animals, the chocolate mud was spread on, the grass was piped on and the dirt was achieved with crushed graham crackers.
Creatively covering and embellishing the surface of the cupcakes can make a big impact on the overall design, as does the understanding that they don't always have to be uniform, but just have to work together thematically.
Make sure your cupcakes dazzle just as much on the inside as the outside with the Bluprint course The Perfect Cupcake with Jennifer Shea with delectable and scrumptious cupcake recipes!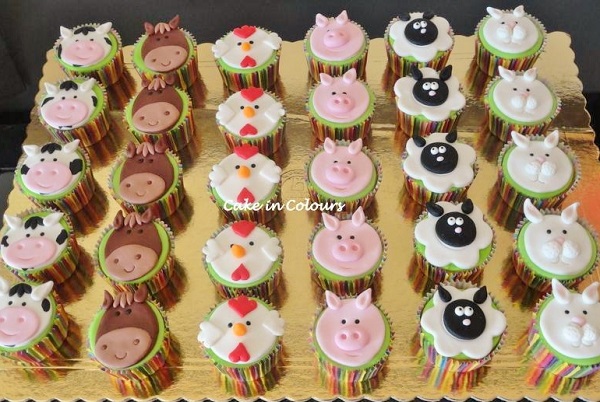 Photo via Crafty member Cake in Colours
Farm animal cupcakes
These precious farm animal cupcakes by Bluprint member Cake in Colours display a myriad of adorable creatures traditionally found in the barnyard! Each topper is created out of fondant, which can lay flat on the cupcake like these do, or cover its entire surface, like this cow cupcake! These party animals would be the perfect edible centerpiece for any farm-themed celebration!
Add a farmer character to these sweet animals with guidance from Sheryl Bito in her Bluprint course Global Cupcake Design.
What's your favorite farm animal cake design?