Fall is definitely our favorite time of the year! There's so many wonderful things about this season — from crisp golden leaves to the cosy yet chilly mornings, full of fresh air. Next time you go outside during the autumnal months, why not breathe in a little inspiration from the changing season around you? Then, go a step further with these beautiful autumn-worthy wedding cakes!
Here's our list of gorgeous fall-inspired wedding cake designs!
Fall wedding cake with burnt orange roses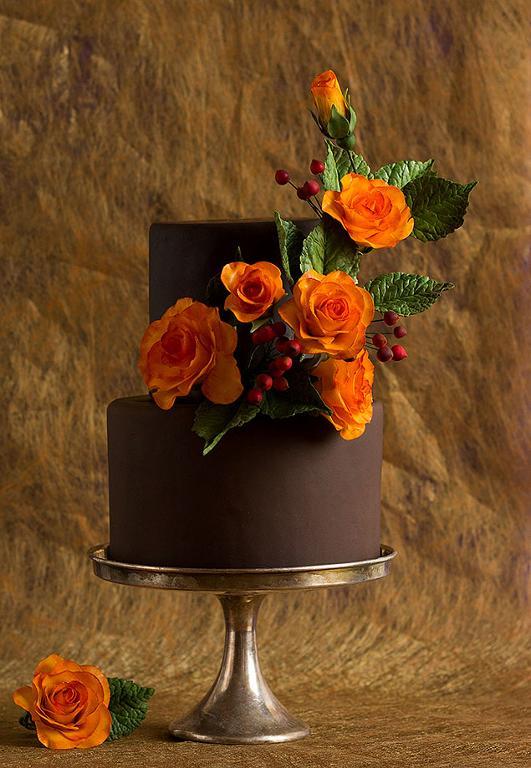 Photo via Craftsy member ModernLovers
This is such a sweet yet simple cake perfect for the fall season. More tummy warming flavors such as chocolate, coffee, caramel or maples are always popular at this time of the year so a lovely chocolate covered two tier cake would be the perfect finish to any autumnal party! We love the striking brunt orange sugar roses too.
To create stunning sugar roses just like the ones above why not sign up for Nicholas Lodge's The Ultimate Sugar Rose class today!
Fall celebrations cake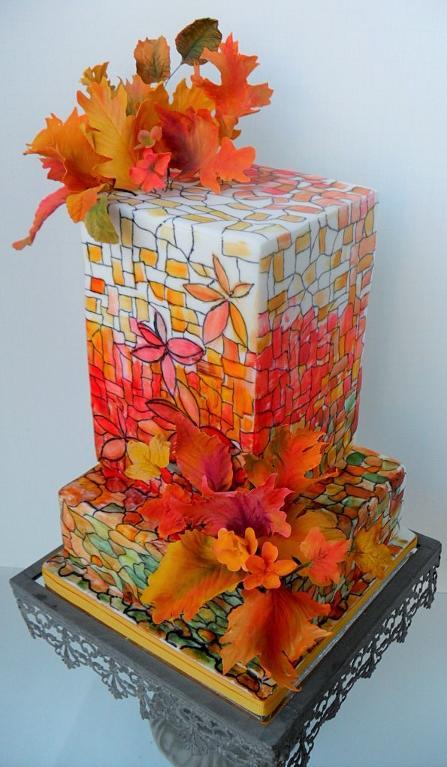 Photo via Craftsy member petrovaal1696638
The rich golden colors that come along with the fall months are simply perfect for creating "stained glass" effect cakes. Don't you just love the bright rustic hues that this cake incorporates? The added touches of sugar oak and maple leaves in vibrant reds, rusts and copper tones add a wonderful depth to the entire design too.
If you're inspired by the cake above and would love to design your own dimensional piece enroll in Maggie Austin's Decorating in Three Dimensions class now!
Peach ruffle wedding cake
Photo via Craftsy memberAngsaban
If you love the autumn months, but prefer a more softer color palette then why not opt for creamy peaches and champagne colors like the above romantic cake. The burnished gold combined with delicate fondant frills and Juliet-inspired roses are perfect for fall ceremonies!
Maggie Austin's Fondant Frills class is perfect for learning how to create those incredible paper thin ruffles that have been on-trend for so long now. Why not enroll today?
Fall lace cake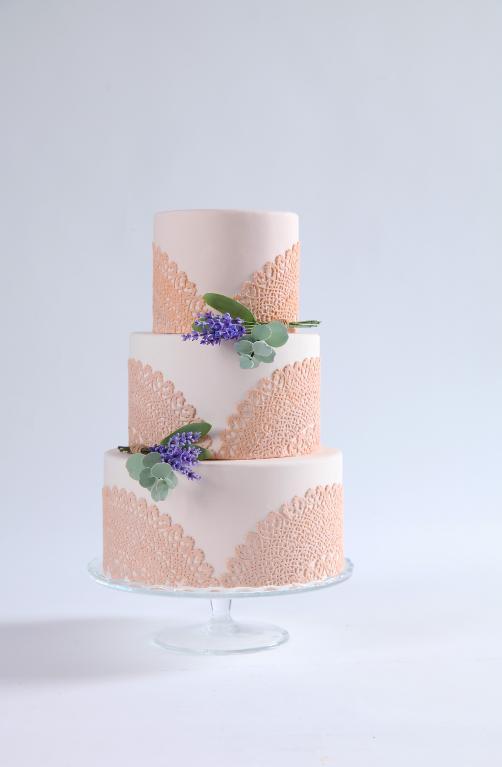 Photo via Craftsy instructor Erica O'Brien
Love the more subtle and fresh fall look? The above cake utilizes a wonderfully bright and clean color scheme of blush pink and peach with hints of sage green and purple. Sometimes incorporating a season in a cake design can be simple and still be effective. We love how the doily detailing reminds us of fallen autumn leaves that have slowly worn away into delicate 'skeletons' creating a fantastic lace.
Enroll in Erica O'Brien's A Cake for Every Season class now to create your own stunning seasonal masterpiece!
Silver leaf cake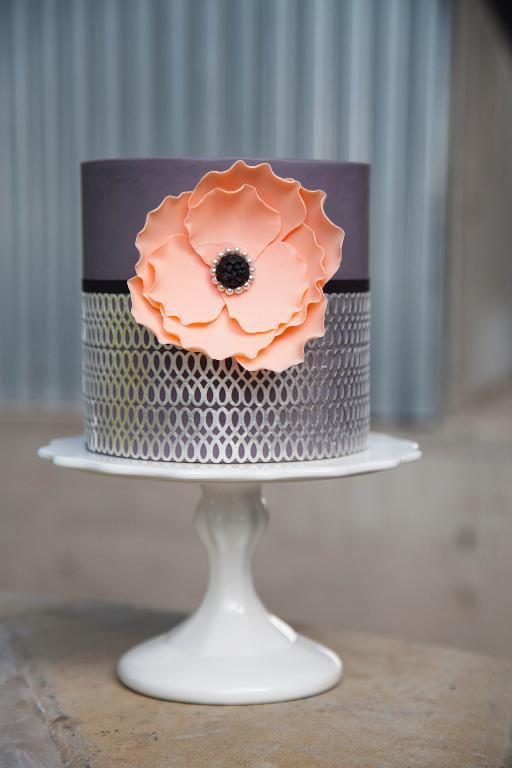 Photo via Craftsy instructor Jessica Harris
We love how the above modern style cake encompasses both fall and winter due to the cold color palette of silver and gray paired with the soft coral of the fantasy flower. The delicate ruffles of the petals work wonderfully next to the steel look of the lace pattern and the bold dark gray and black features!
Love the sleek and subtle modern look? Sign up for Jessica Harris' Simply Modern Cake Design class now!
With such a fabulous season like fall ahead of us we're sure that you're bound to be getting more and more exciting at the prospect for designing and creating some amazing autumnal cakes!
What season do you find the most inspiring for your cake designs?