The International Quilt Market is held twice yearly. The fall market hails from Houston, Texas, each year, and the spring version of the trade show rotates between different cities. Quilt Market features booths, classes, lectures, book signings, new pattern and fabric releases, products for quilting and sewing, and textile inspiration from leaders in the quilting world. With over 2,000 booth exhibits, shop owners are sure to find the latest and greatest in quilting to bring home to their customers.
Designers and business owners make important contacts during the conference, and magazine and book editors look for fresh new talent. An adjoining area of the conference center boasts special quilt exhibits in a variety of subjects from quilters and textile artists from all over the world. For quilters, learning about the new products, designs, patterns and trends can help determine project selection for the upcoming year.
Here's a recap of some of the hot quilting trends I spotted at this year's International Quilt Market: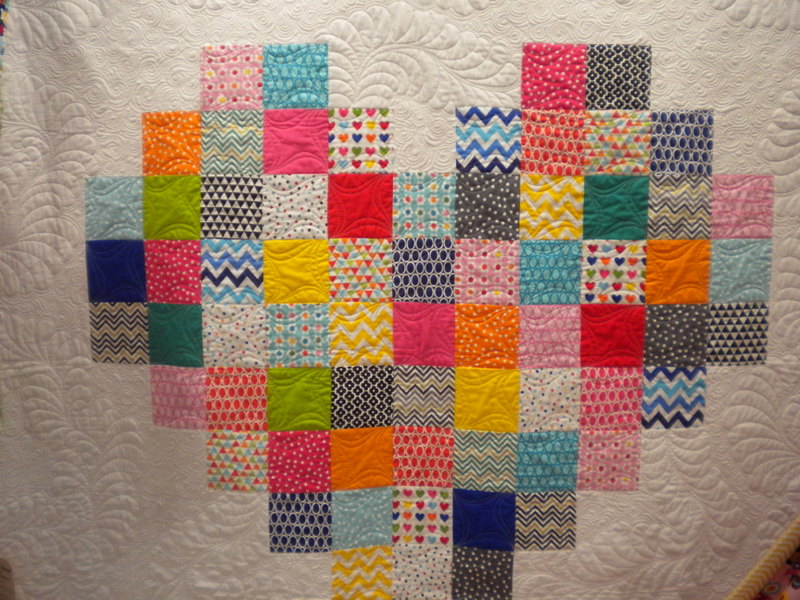 Photos via A Quilting Life
This beautiful quilt on display at the Ann Kelle fabrics booth showcases a quilted heart pieced with simple squares, which allows the focus to be on the fabrics. Many quilts at the market also used simple shapes in combination with bright colors. The Fall 2013 Market presented not only an inspiring blend of print and pattern but also focused on color and design. As has been the case for the last several markets, traditional designs and patterns presented in a colorful array of bright prints and hues was the trend.
Simple shapes
Simple shapes, such as circles, triangles, rectangles and squares, were seen all over the place at this year's Quilt Market. The simple quilt designs allowed the gorgeous new fabrics to truly shine.
These quilts on display in Denyse Schmidt's booth use simple designs –rectangles and triangles — to showcase her modern fabrics. Because the shapes in these and many other quilts are common, quilters naturally focused on the fabric collections.
This Bella Solids quilt design, Turkish Delight by Lisa Calle of Vintage Modern Quilts, utilizes bold, graphic shapes for impact. Here again, the use of bold colors and simple shapes succeeds as an effective way to bring the focus on the fabrics.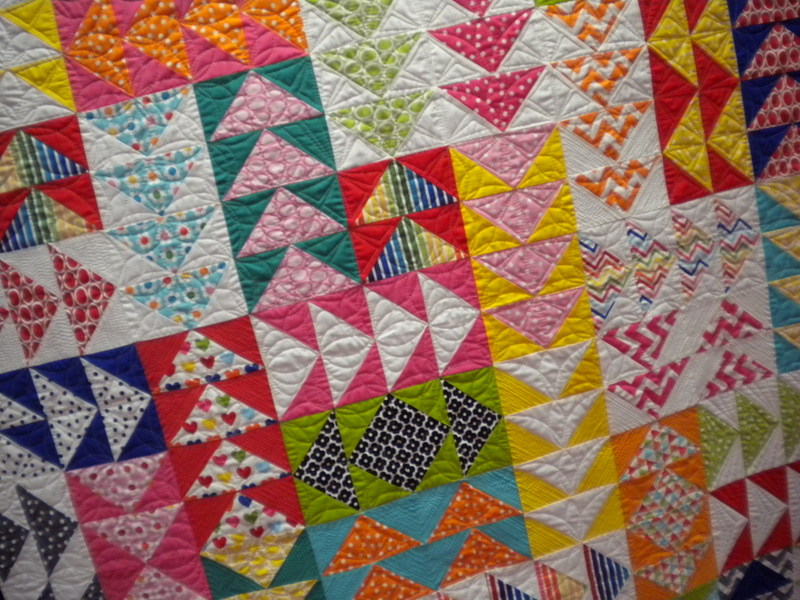 This quilt found in the Ann Kelle booth is pieced with traditional Flying Geese blocks and uses a mixture of solids and bold prints for high impact. Modern prints and patterns are showcased using a classic block. Even the machine quilting accentuates the new print and patterns in the fabric.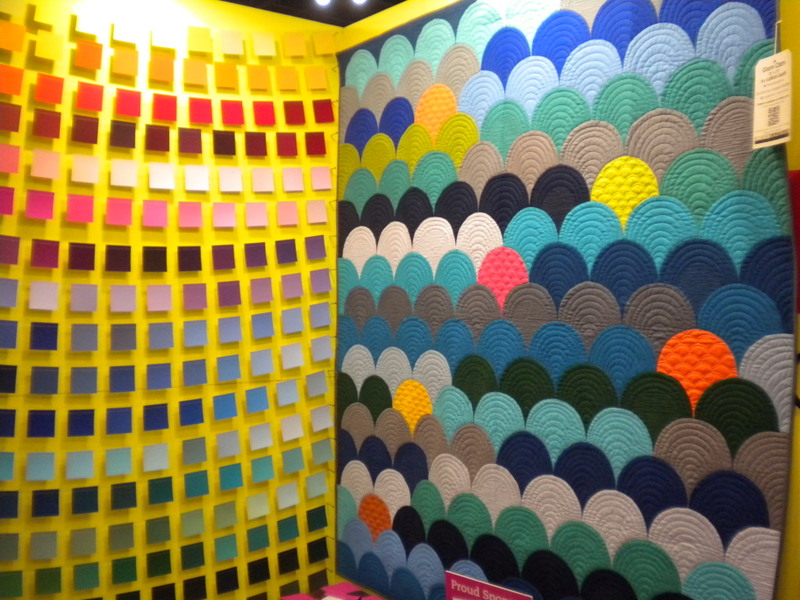 Scallops were another simple traditional shape prevalent in new quilt designs. This bold scallop quilt highlights the new Kona cotton solid fabrics by Robert Kaufman.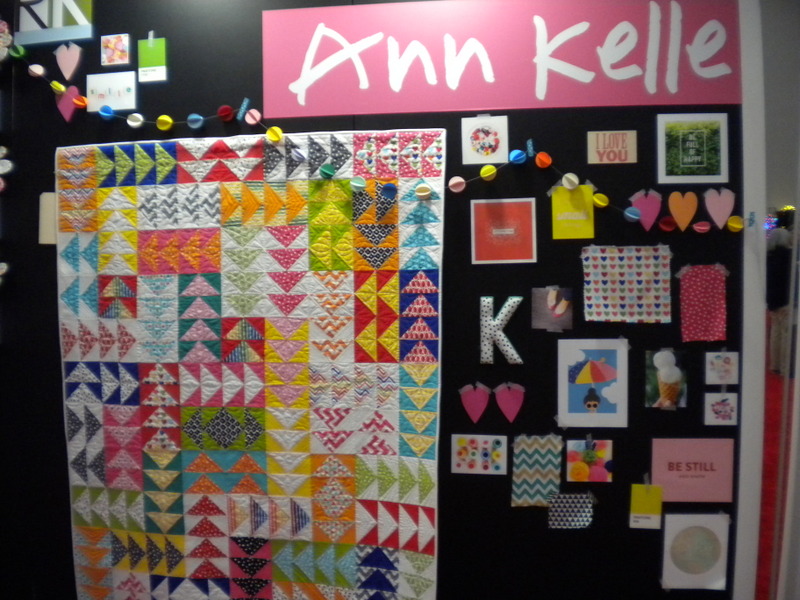 In this display from the Ann Kelle fabrics booth, an inspiration board display highlights prints and patterns found in the graphic quilt shown earlier.
Text
The use of text in quilts continued to trend at the fall market. Not only are text fabrics a basic staple found in many fabric collections, but also several quilts utilized pieced alphabet letter blocks. Again, the use of these simple shapes allowed the fabrics to be showcased in the designs.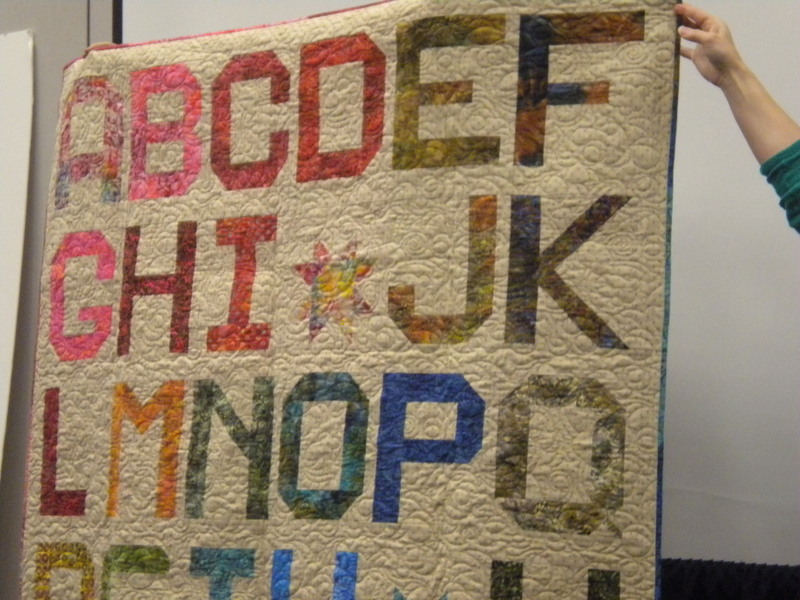 This alphabet quilt by Edyta Sitar of Laundry Basket Quilts uses her new batik collection Jelly Bean and highlights the impact factor of the fabrics with pieced text.
Big and bold patterns
Another trend in quilt pattern design at this year's Fall Quilt Market was the use of big and bold patterns and designs. Not only are large scale prints and patterns available in many fabric collections, but also large scale quilt designs were easy to find.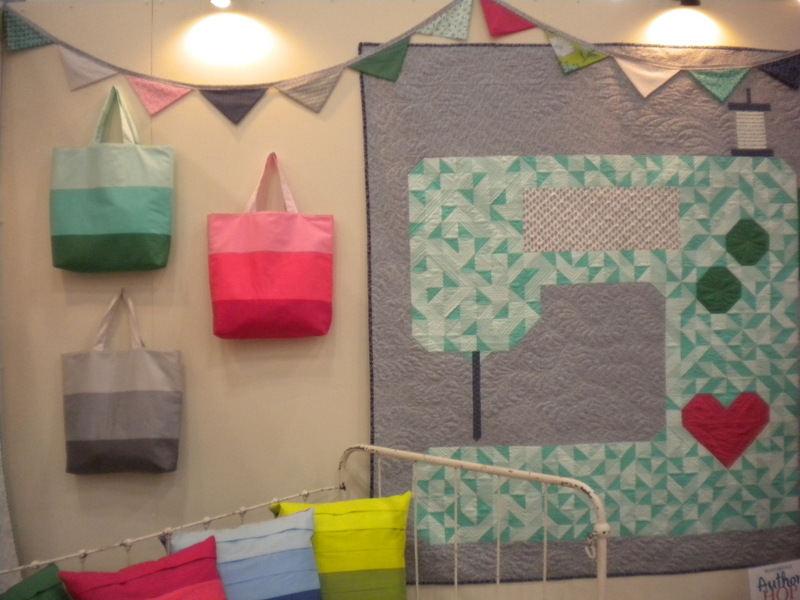 This super-sized sewing machine quilt pattern, Handmade, by Vanessa Christenson, instructor of the Bluprint class Sewing Texture, features ombré fabrics from her collection Color Me Happy for Moda fabrics.
What Quilt Market trends do you see yourself using in your upcoming projects?