As much as we try to deny it year after year, fall creeps up on us with its crunchy orange and yellowing leaves, deep hues of reds, darker skies and earlier nights. It's a time of harvest and chillier weather, back to school and new beginnings. Have you ever created a wedding cake for a fall wedding? Often brides want to go with the seasons and what's local to best reflect their wedding day.
Here is a collection of lovely fall-themed cakes to inspire you to burst out into the fresh autumn air in your new September scarf and go crunching through some piles of leaves. Then turn around and run home to bake a cake.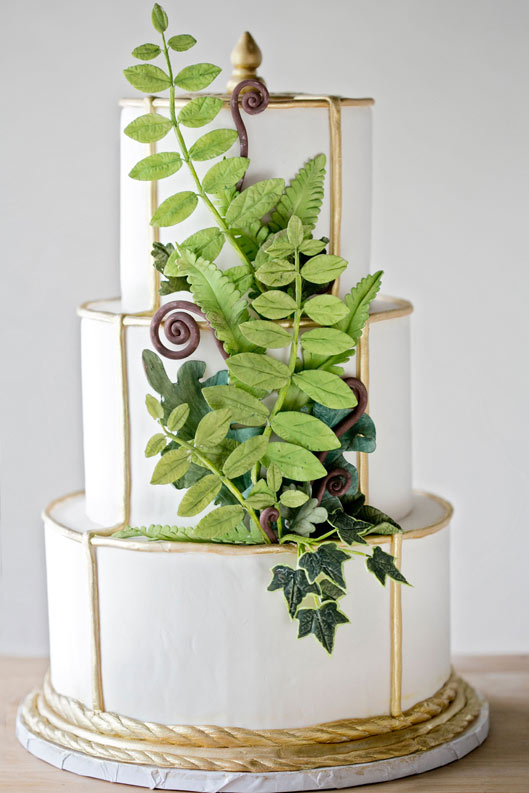 Photo via Wild Orchid Baking Company
Ferns and leaves fall wedding cake:
I love the sweet woodland forest feel to this tiered wedding cake. The sugar ferns and leaves curl and curve, all bunched together as though someone went for a cold morning walk and started foraging for local greenery to make a sweet bouquet.
You can learn how to re-create this edible foliage in the Craftsy class Sugar Berries, Leaves & Blossoms with Maggie Austin.
Photo by Erin Samuell/A Simple Photo. Cake by The Cake Museum
Birch bark cake and feathers cake:
This gorgeous wedding cake is not only beautiful but it is also clever. I adore the bird's nest vibe of the swirly chocolate piping on the bottom tier, and of course, the beyond fantastic  white birch, which is hand rolled fondant that is hand carved and hand painted – doesn't it look real? The cake flavours include spiced ginger cake with dark maple syrup infused buttercream – yum!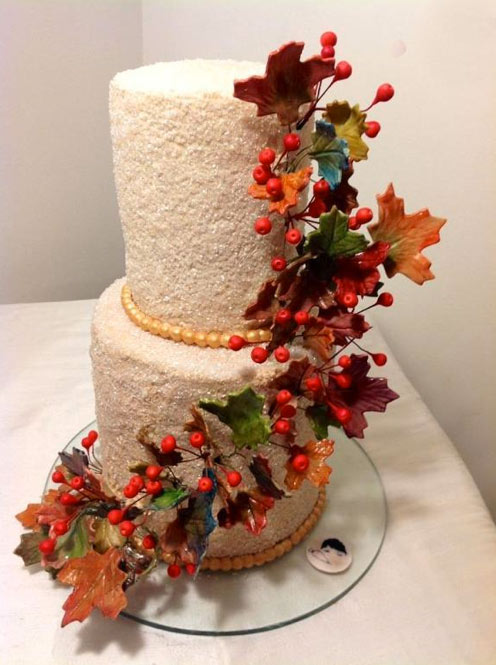 Photo via Craftsy member alex narramore
Fall leaves cake:
This Craftsy student produced this cake as part of the Handcrafted Sugar Flowers class with Jacqueline Butler. The gradation and texture on the leaves is fantastic. There's no mistaking which season this cake is meant to represent!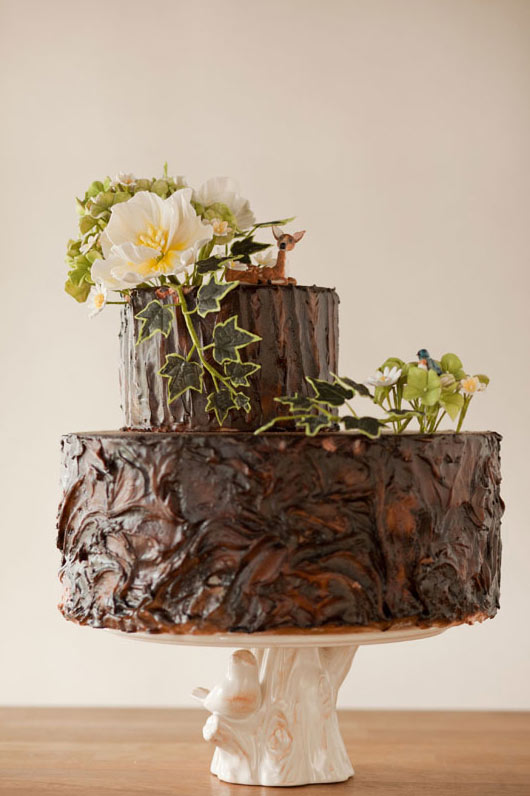 Photo via Wild Orchid Baking Company 
Chocolate buttercream bark treatment cake:
This fun cake takes on the woodland feel with its sliced tree log look, complete with sugar flowers, leaves and a little deer and birdie toppers. Wouldn't something like this be spectacular as a centerpiece for a woodland wedding, sharing a table with dark chocolate truffles, hand-painted macarons and little mushroom sugar cookies?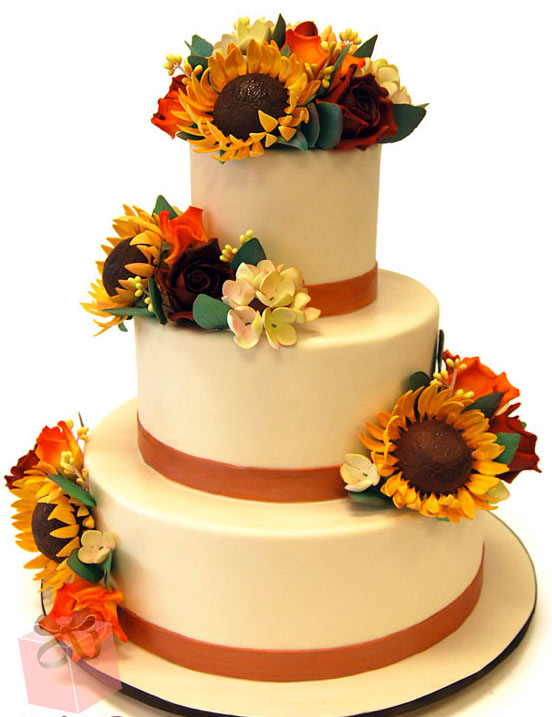 Photo via Pink Cake Box
Sunflowers harvest cake:
Orange, yellow gold and brown tones make up this fantastic cake that's splashed in gorgeous floral sprays of sugar beauties! The sunflowers with their curved petals and dark, lush red sugar roses are beautiful.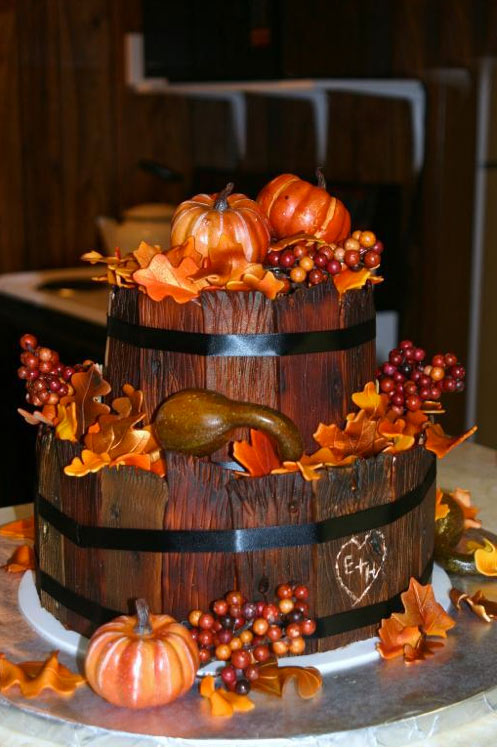 Photo via Craftsy member grammysha11583
Fall harvest wedding cake:
This labor of love was made by Craftsy member grammysha11583 for her daughter's wedding. While the pumpkins, berries and gourds are plastic add-ons, all the leaves and wood-grain boards are made from fondant.
From the cake decorator herself: "I hand cut and carved each piece of wood out of fondant and cut each leaf and pressed veins from a real leaf into each one, then painted each leaf." The cake was a made from scratch pumpkin cake with homemade cream-cheese frosting. Even the cake flavor was fall-themed. Yum!
Learn the tips and tricks of how to create wood-grain fondant in this simple tutorial.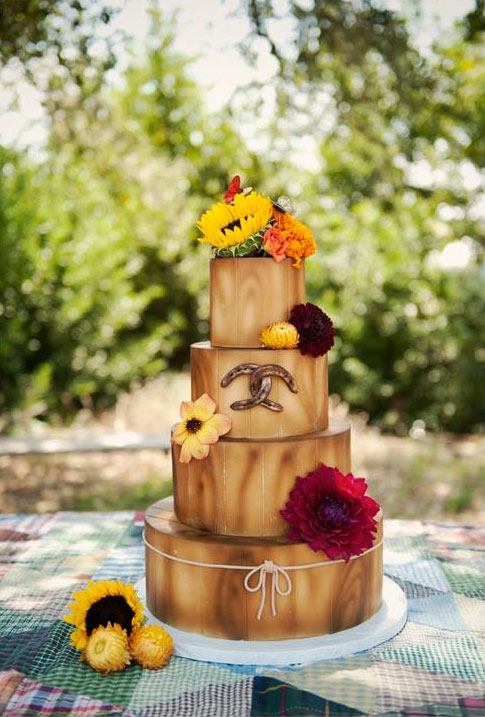 Photo via Studio 13 Designs; cake by Sweet on Cake

Wood-grain country fall wedding cake:
Airbrushed wood-grain fondant textured tiers and the cutest little linking horseshoes you ever did see are so sweet on this bloom-covered country fall picnic cake by Sweet on Cake's Amber McKenney.
Did you know Craftsy now offers a class in cake airbrushing? Check out The Art of Airbrushing with Lisa Berczel.
You may also enjoy our roundup of rustic chic wedding cakes.
Are you ready for fall? Which of these autumnal cakes inspires you most?