The days are shorter, the wind iss a bit stronger and there's definitely a nip in the air — it must be fall! 
During the spring and summer months, I love quilting projects that don't require hours of sitting under a full-sized quilt. (I prefer home decor — think quilted bags and placemats.) But let's be honest, during the fall and winter months, most of us probably want to be curled up under a stitch project.
Mix and match these classic fall quilt patterns with scraps from your stash.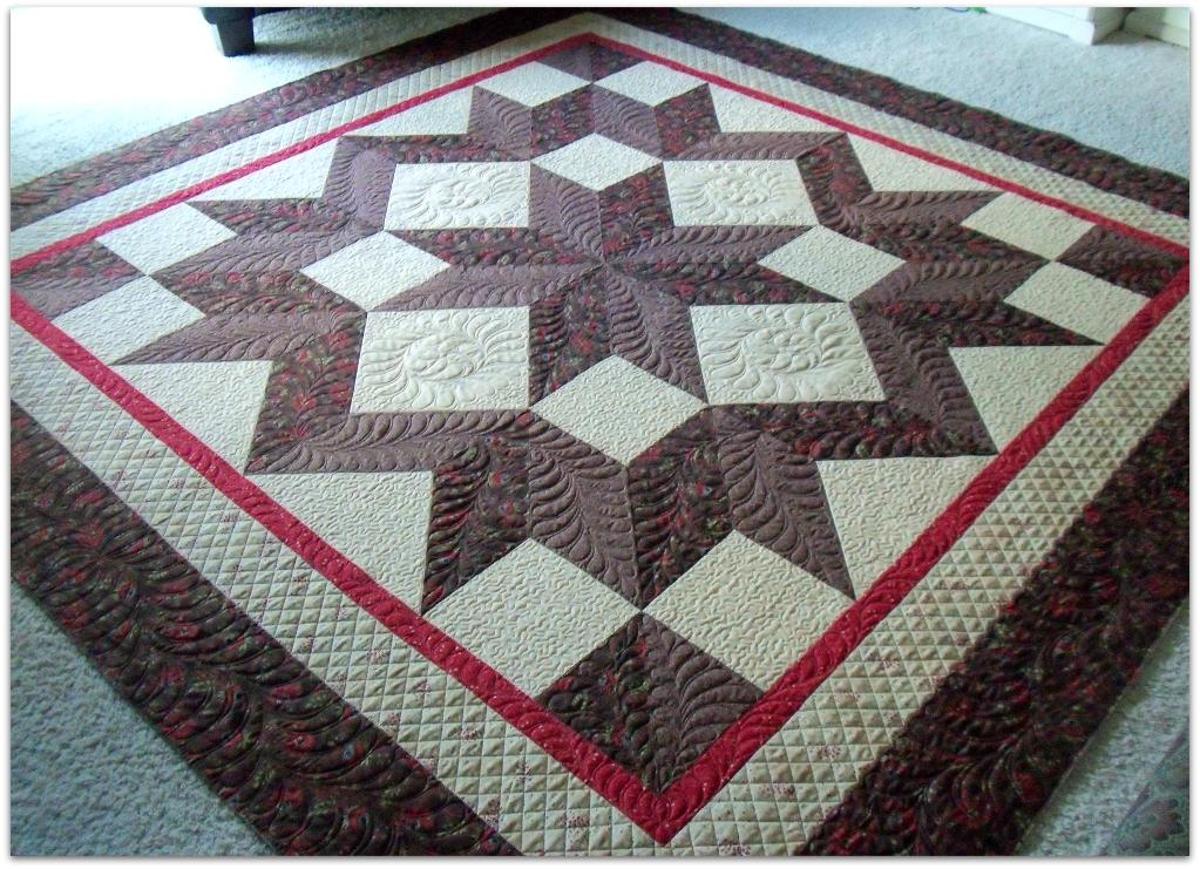 Photo via Craftsy member Quiltscapes
1. Carpenter's Star
Scaling up a quilt block to an entire quilt — a technique called big block quilting — is a fantastic way to modernize a traditional pattern. Instead of focusing on repetition, center your attention on other elements like color, fabric selection and the contrast between positive and negative space.
Quilting is added to the center block and borders, resulting in a classic quilt that's warm enough for crisp weather. For a scrappy look, use different fabrics for the star's points.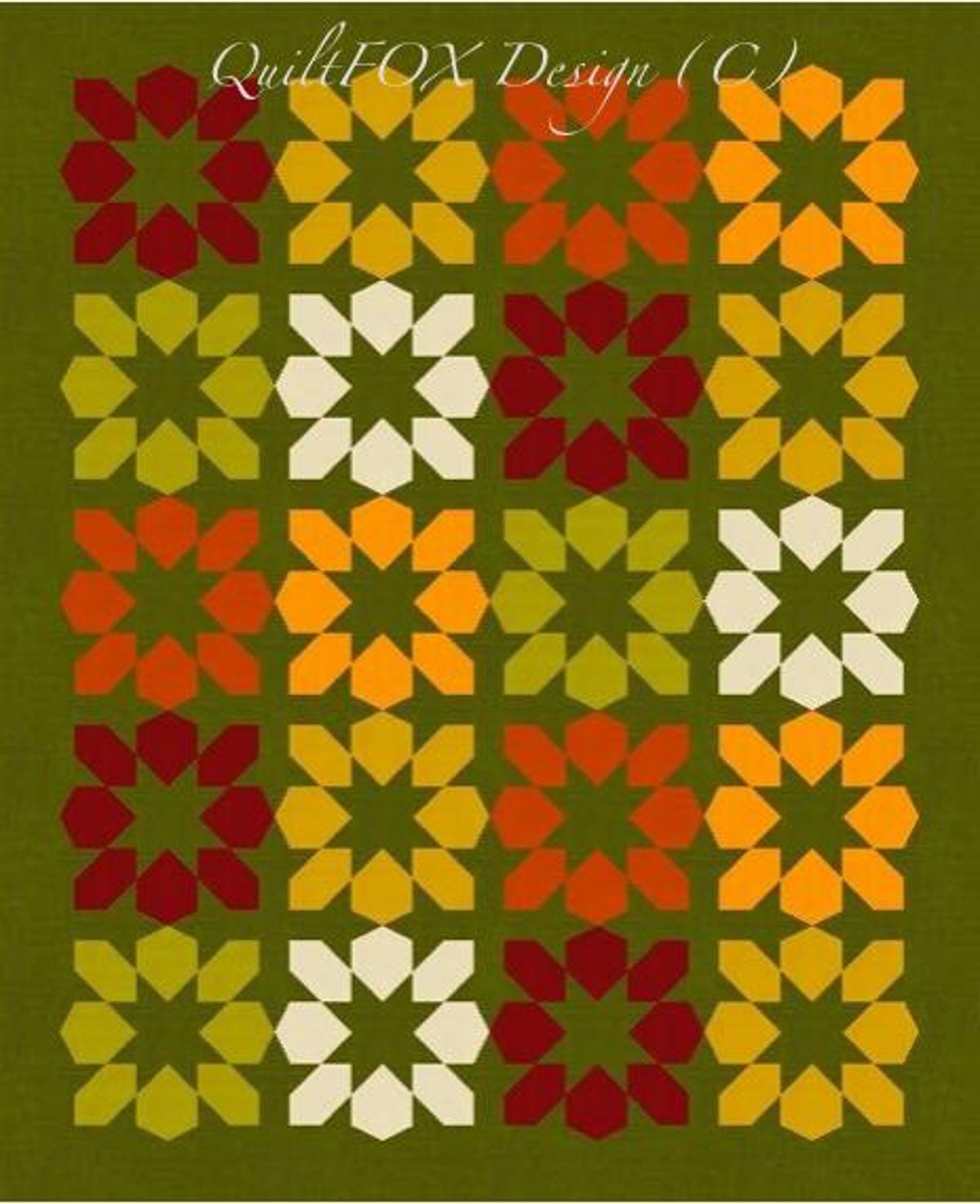 Photo via Craftsy member QuiltFOX
2. Autumn Blossoms
This throw-sized quilt features a beautiful blend of stars, flowers and warm and cool colors. For a scrappier look, you can sew each block in the same color scheme, change up the blossoms from block to block (as shown above) or make each petal a different color.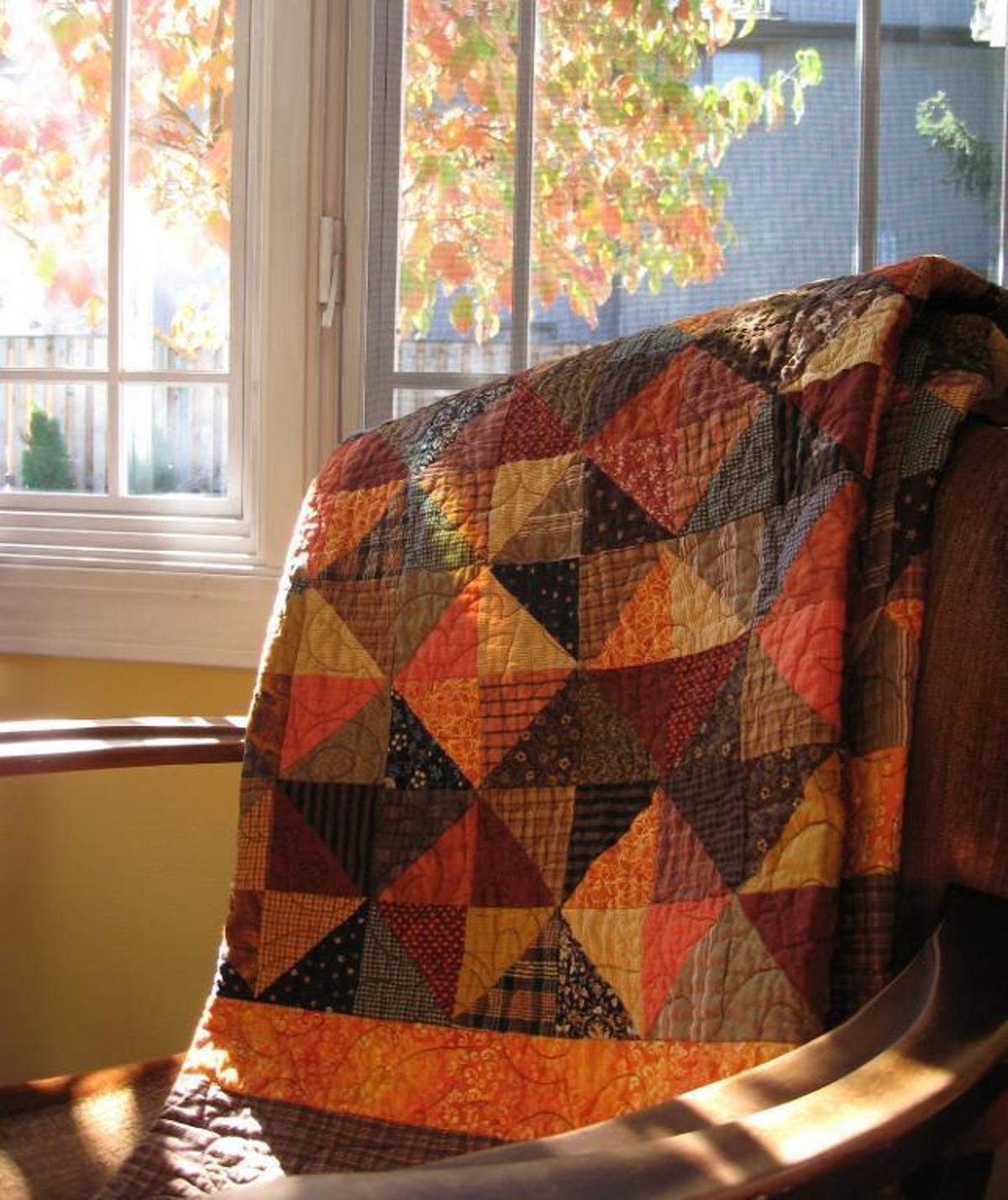 Photo via Craftsy member Laugh Yourself into Stitches
3. Pumpkin Spice
Turns out pumpkin spice isn't just for lattes! This charm pack pattern is stash-friendly with rustic colors and classic half-square-triangle blocks. It's equally as snuggly in quilting cottons or flannels, too! At a finished size of 52″ x 64″, this quilt is the perfect decoration for a sofa in front of a roaring fire.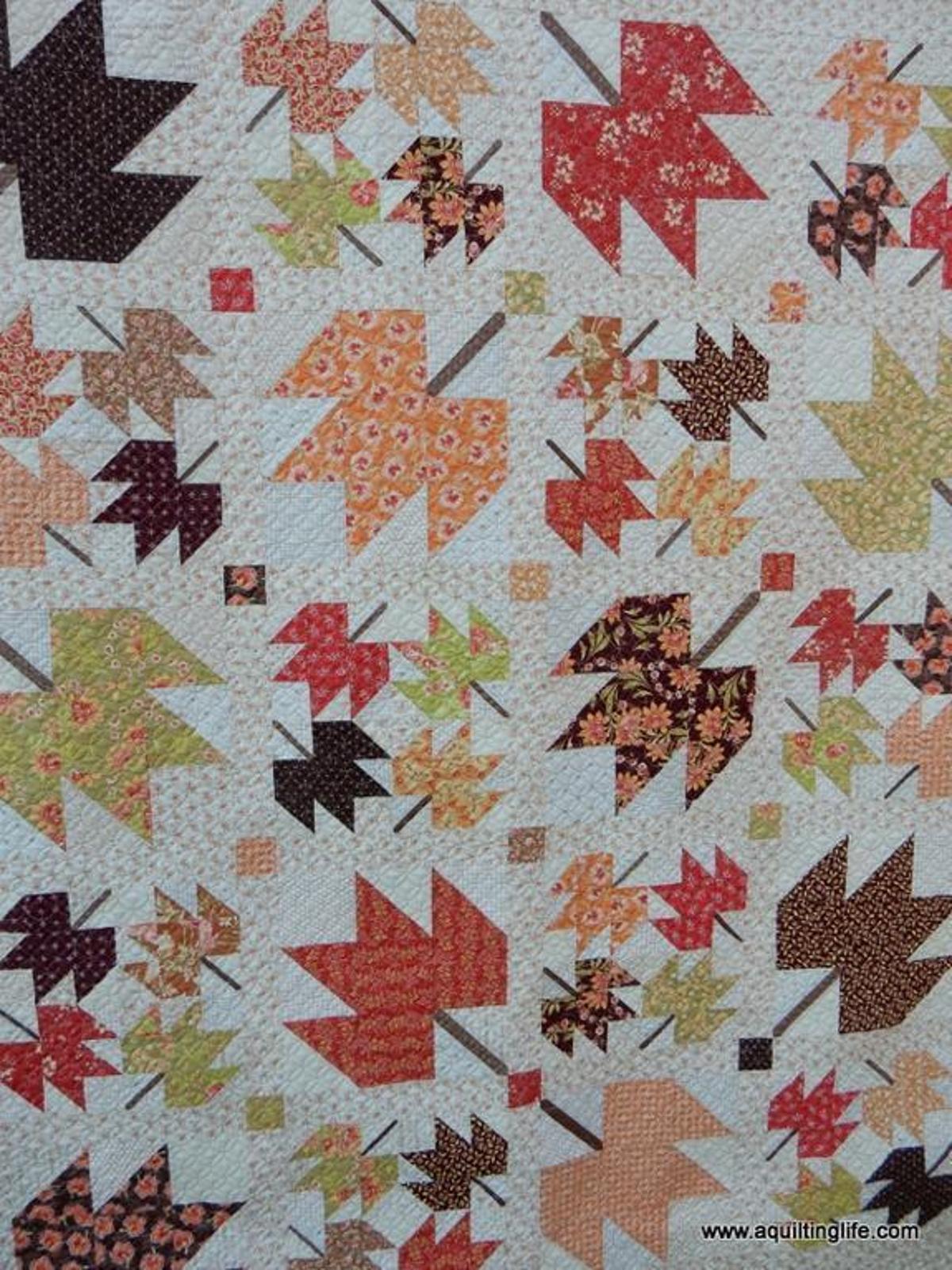 Photo via Craftsy member A Quilting Life
4. Maple Sky Fall Leaves
Looking to bust up your Fat Quarter stash? This throw-sized quilt features both large and small maple leaf blocks that intermingle with each other for a blustery autumn look. Use 15 Fat Quarters for the leaves, and either more FQs or yardage for the background — lots of options for lots of leaves!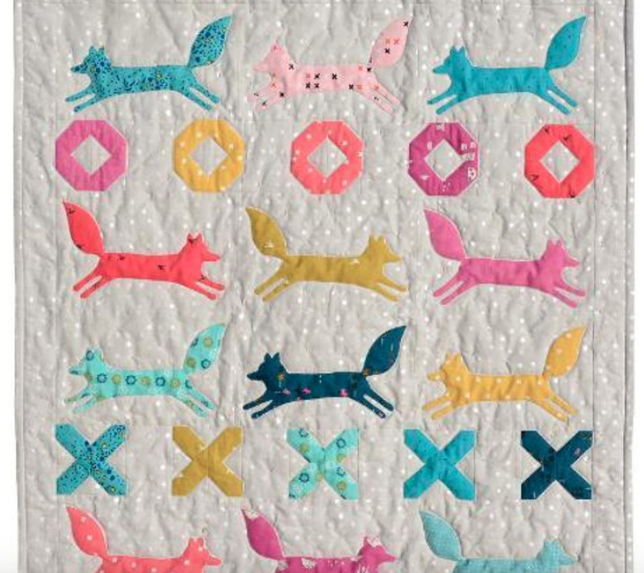 Photo via Craftsy member Barbara Brandeburg
5. Baby Fox
Who says adults are the only ones who love the changing seasons? Get the little ones into the fall spirit with this sweet celebration of woodland creatures. Kick up the seasonal aspect with warm reds, oranges and yellows. At 38″ x 41″, this small quilt is perfect for dragging around on cooler days.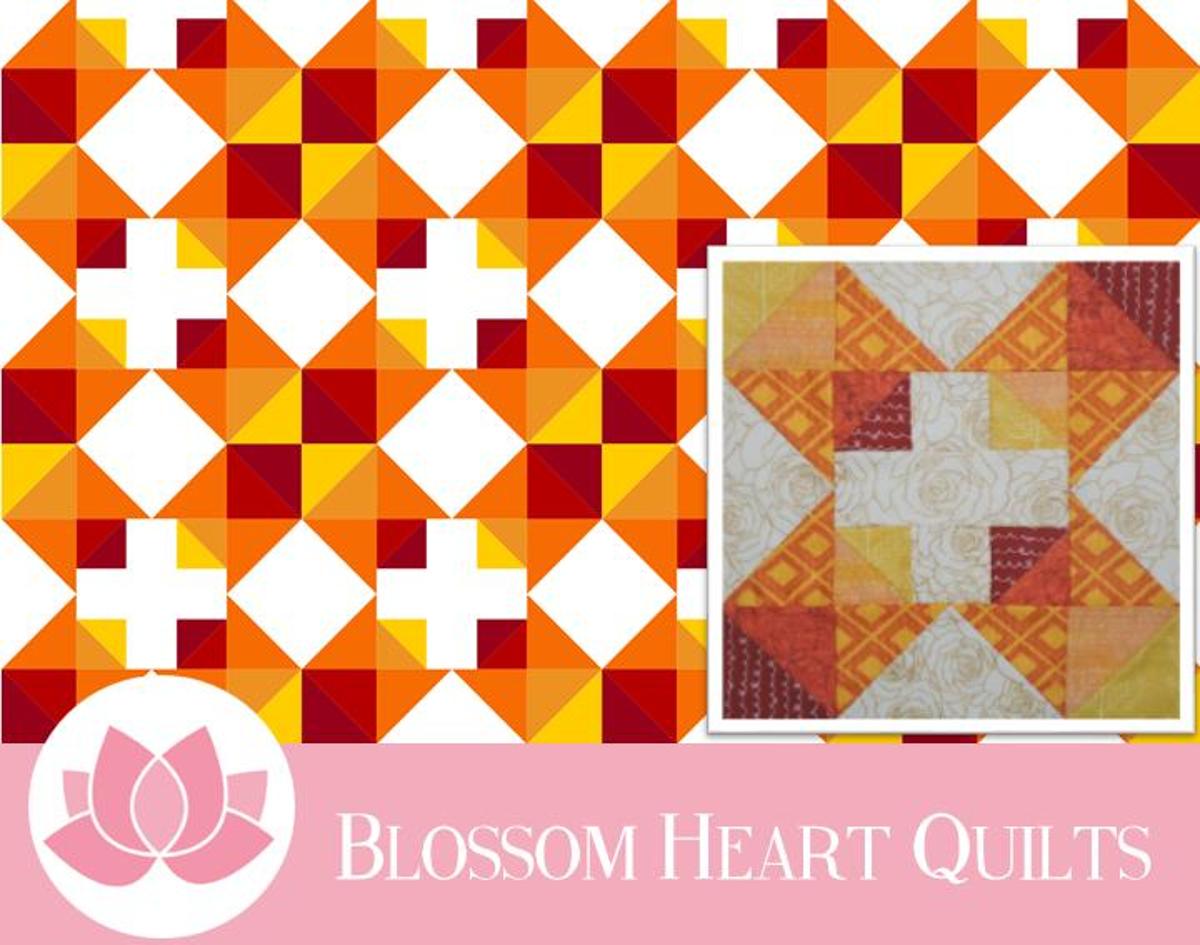 Pattern by Craftsy member Blossom Heart Quilts
6. Autumn Chain
Clean out your warm-colored solids and prints with this fantastic scrap-busting pattern. Various half-square triangles come together to form plus signs and diamonds for a modern look. Plus, it's available in five sizes — from baby to king — to cover all your fall quilt needs!
What kinds of quilt projects do you love to sew up in the fall?