When I think of fall, I think of mornings where there is a bit of a chill in the air. That chill makes me want heartier foods than I do during the summer, so my breakfast routine turns to lattes, oatmeal and this fall muffin recipe.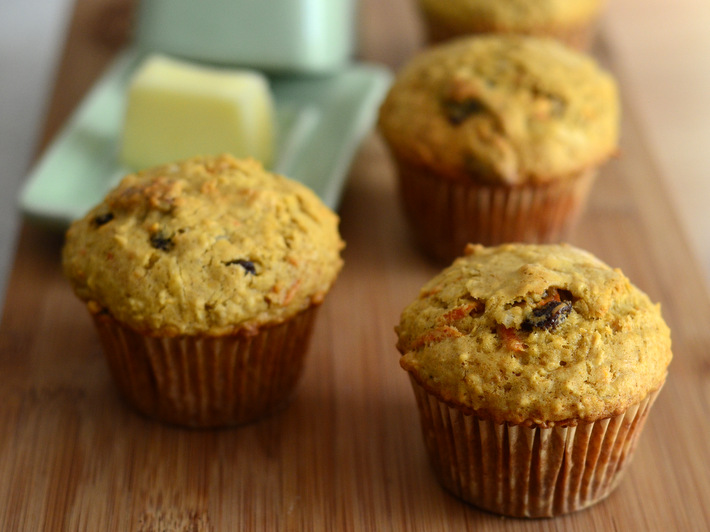 These autumn-inspired muffins are loaded with all kinds of goodies and are generously spiced, giving you the perfect on-the-go breakfast option to get your fall mornings started.
What's in these fall morning muffins?
The muffins include shredded carrots, shredded coconut and plenty of quick-cooking oatmeal. The oatmeal gives the muffins a nutty flavor and a great texture.
In addition to the carrots and coconut, the muffins are packed with toasted pecans, dried cranberries and raisins, so each bite of the muffin will treat your tastebuds to something different!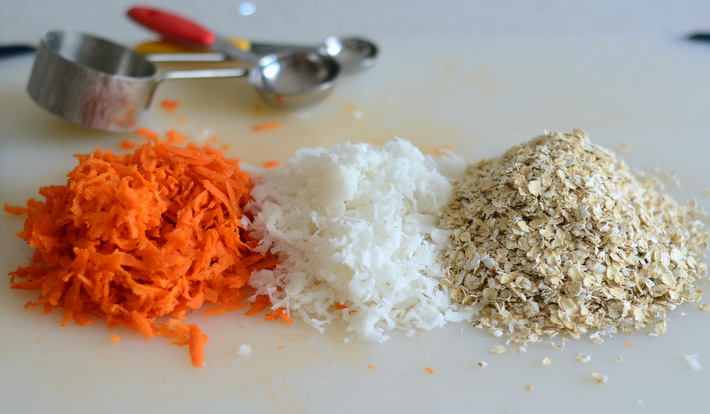 These muffins use pumpkin pie spice — a combination of cinnamon, ginger, cloves and nutmeg (some also include a hint of flavors like orange, mace or cardamom, along with the base spices)— as their primary seasoning.
But don't worry — just because it has "pumpkin pie" in the name doesn't mean that it will taste like pumpkin pie! There are enough flavors in these muffins that those spices will simply help to evoke the feeling of fall. You'll be able to smell it as soon as the muffins to into the oven.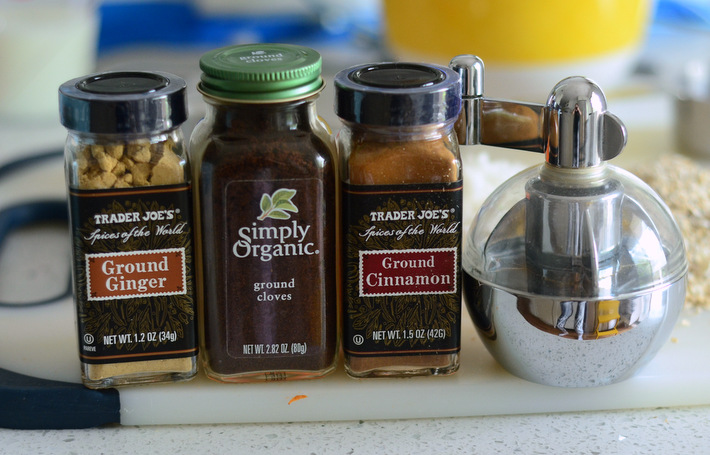 If you don't have a pumpkin pie spice mixture , you can make your own. My favorite recipe uses two parts cinnamon, one part ginger, one part cloves and ½ part nutmeg. It can be premixed and stored all season long in your pantry.
Baking the muffins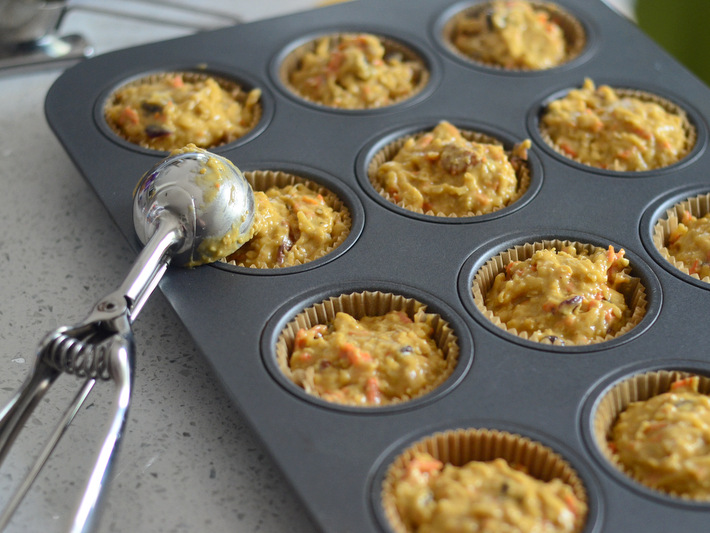 The batter for these muffins is quite thick and it will fill up each cavity of your muffin pan almost to the top. The thick batter allows the muffins to rise up with tall, domed tops as they bake, rather than spreading out, making these pastries pretty impressive.
The finished muffins are fluffy and tender, but very satisfying thanks to the combination of oatmeal, carrots and coconut.
Note: I prefer using quick-cooking oatmeal over regular rolled oats because it produces muffins with a more uniform crumb, though either option will work in the recipe.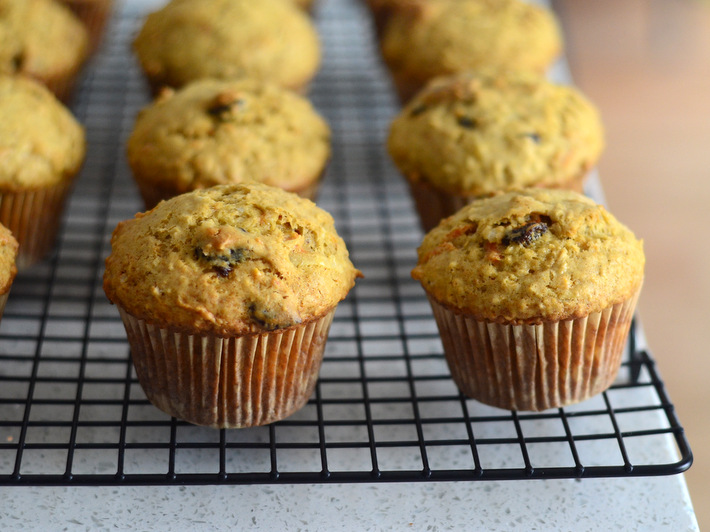 These muffins are very good on their own, but they are hearty enough to stand up to a variety of spreads. I often top mine with a smear of softened, salted butter, but whipped cream cheese, peanut butter and even honey are all good options, as well.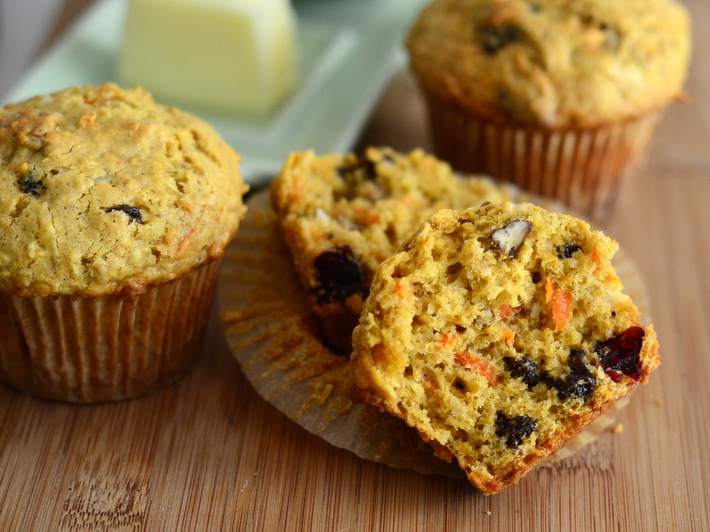 Hearty morning fall muffin recipe
Makes 12 muffins
Ingredients
2 cups all-purpose flour
1 teaspoon baking powder
½ teaspoon baking soda

½ teaspoon

salt
2

½

 teaspoons pumpkin pie spice

½

cup sugar

½

cup light brown sugar
1 large egg
¼ cup vegetable oil
1 teaspoon vanilla extract
1 cup quick-cooking oats
¾ cup shredded carrot

¾

cup shredded coconut

¾

cup buttermilk

½

cup chopped, toasted pecans
1/3 cup dried cranberries
1/3 cup raisins
Step 1:
Preheat oven to 375 F. Line a 12-cup muffin tin with paper liners. In a medium bowl, whisk together flour, baking powder, baking soda, salt and spices. 
Step 2:
In a large bowl, beat together sugars, egg, vegetable oil and vanilla. Stir oatmeal, carrot, coconut and buttermilk into the sugar mixture. Gradually stir in the dry ingredients, mixing until the batter comes together and no streaks of flour remain. Stir in nuts and dried fruit.
Step 3:
Divide batter evenly into prepared pan, filling each muffin cup to the top.
Bake for 18-20 minutes, or until a toothpick inserted into the center of the muffins comes out clean and the top springs back when lightly pressed. Turn muffins out to cool on a wire rack. 
Get more tips and recipes in your inbox!
Subscribe to the Craftsy Food & Cooking Blog to get tutorials, insider tips, free recipes and the best ideas delivered fresh to your inbox. Plus, enjoy exclusive subscriber perks!