The mornings are cool, the nights are crisp. The sky is bright blue, and the trees have begun their annual fiery show. Autumn has officially arrived, and it's time to take some artistic inspiration from the season with some awesome fall drawing ideas.
Fall is a season of transition that can provide plenty of inspiration for your drawing endeavors, regardless of your style or chosen medium. Here, we'll explore some of the most inspiring subject matter that fall has to offer.
FREE drawing prompts for more creative art
Enjoy 140 ideas that will jumpstart your imagination and help you create inspired drawings. Get my free prompts »
Falling leaves via Bluprint member cmoist
1. Leaves and foliage
When most people think "fall" they think "leaves." Drawing leaves and foliage is a fantastic way to capture fall's most dazzling visual delight. But how do you approach drawing them?
With leaves, it can be fun to focus on a few individual leaves. They often have unique shapes, and as the above piece proves, a realistic leaf shape will remain recognizable even when filled in with abstract mixed media technique, combining pen and ink designs and colored pencil.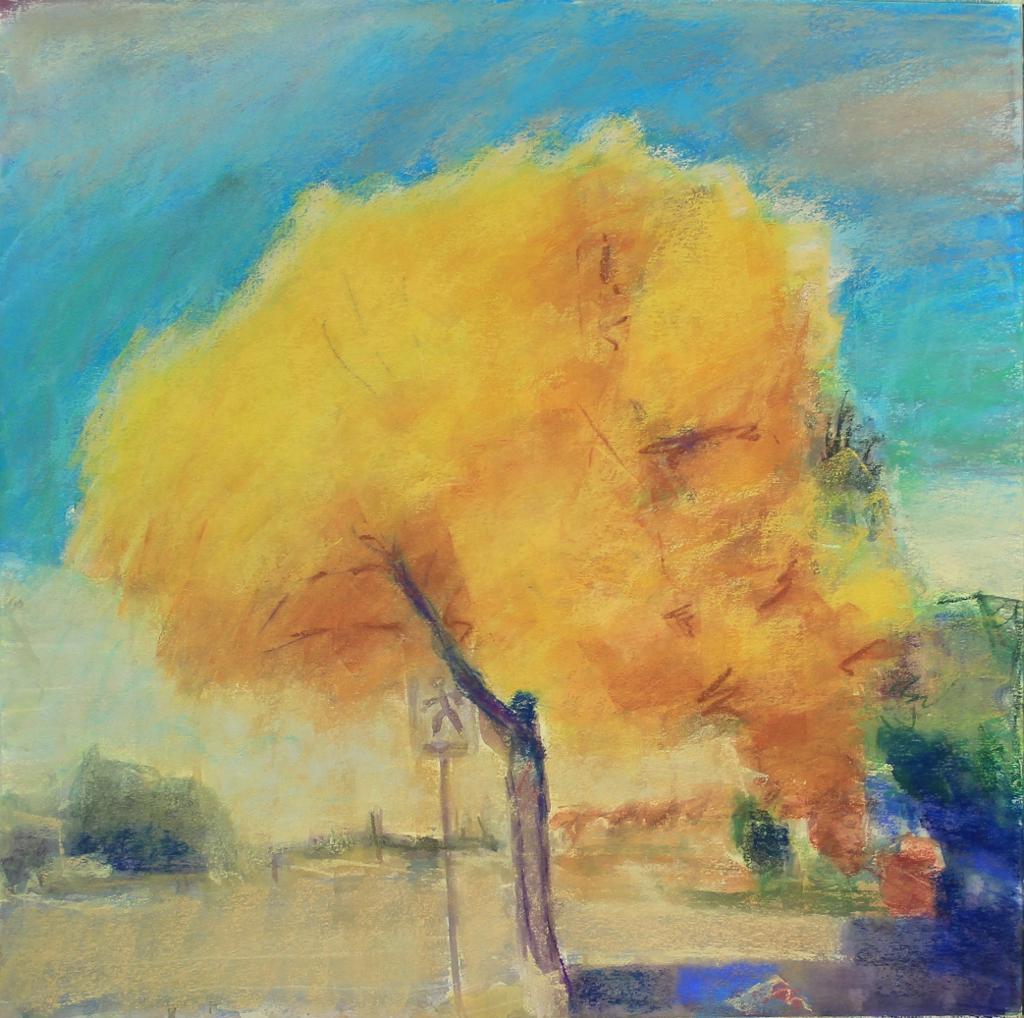 Fall tree via Bluprint member Olek B.
By drawing leaves, you've proven that you can see the trees — but can you see the entire forest? Drawing trees is a little different than drawing leaves and involves capturing the texture of many leaves on one tree. The above pastel drawing is a wonderful example of an expressive representation of fall foliage. Colored pencil would also be a great choice for drawing foliage.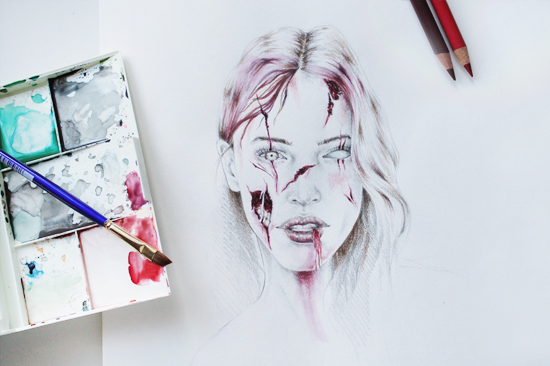 Photo via Bluprint blog
2. Spooky characters 
Fall means Halloween. Witches, ghosts, bats, black cats and the like are all very fun subject matter for drawing.
For those who "can't draw a straight line," drawing simple ghosts is accessible at any artistic level. Or if you feel like getting more complex, you can take some liberties with portraits and add zombie-like details for a spooky yet spectacular finished drawing.
Learn how to zombify your portraits here.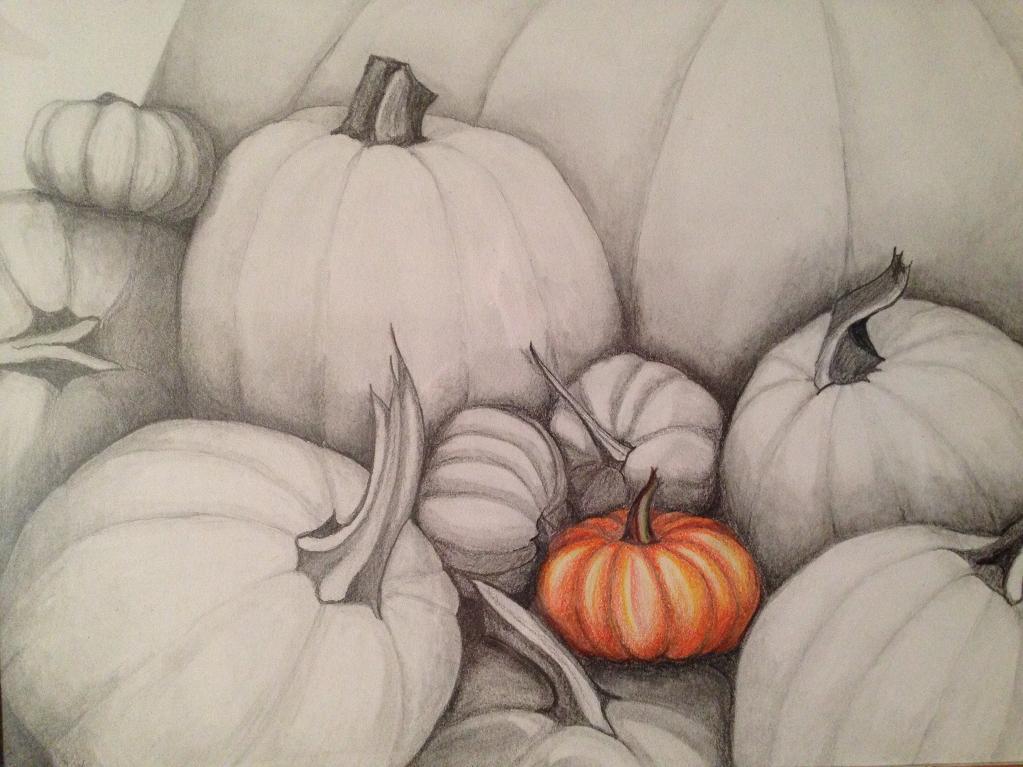 Pumpkins via Bluprint member Cau Rie
3. Pumpkins
Pumpkins deserve their own category because their role in the fall is so far-reaching. From Halloween decoration and pumpkin picking outings to being the key ingredient in pumpkin spice lattes and everyone's favorite fall pie, pumpkin is a fall essential. And it makes for gourd-geous drawing material!
Whether you want to create a jack-o'-lantern or showcase fall produce, drawing pumpkins is a valuable skill to master in the fall. The method employed in this tutorial for how to draw fruit (pumpkins are a fruit, after all) can easily be applied to learning how to draw pumpkins. Once you've mastered a basic pumpkin, you can begin to make your drawings more detailed or as complex as you'd like.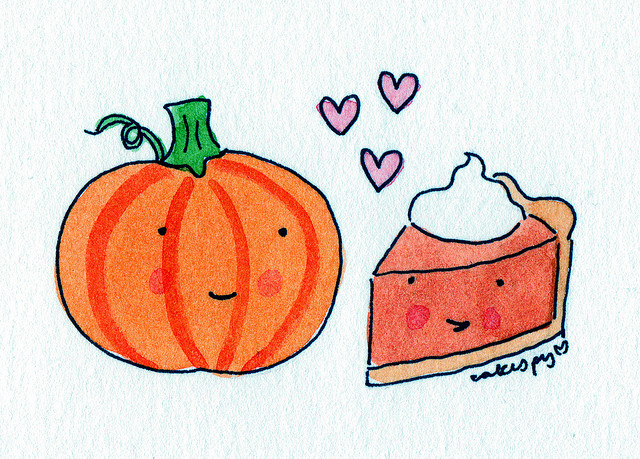 Pumpkin and pie via CakeSpy
4. Halloween candy and fall foods
Food, glorious food! Fall is, without a doubt, one of the most delicious times of year. Its bounty includes produce such as apples, pears and persimmons — but it also includes Halloween candy, pumpkin pie, hot chocolate, crisp apples (and of course pie and cider) and, later in the season, Thanksgiving turkey. Capture the spirit of fall by drawing your favorite fall foods. You can either focus on a fall food as your key subject matter, or you can include it in a larger composition.
Drawing foods can be quite simple when you break down any food into simple shapes. This tutorial on how to draw food will get you started on the right foot and work up an appetite!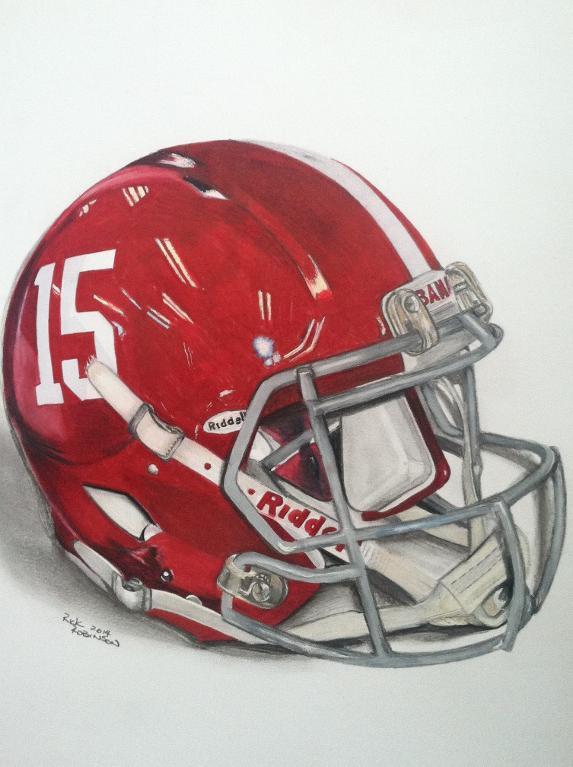 Football helmet via Bluprint member Rick Robinson
5. Sports
Fall is a huge sports season, with baseball season wrapping up and football season kicking off. Sports provide dynamic and interesting subject matter, and can be approached in a few different ways in your drawing.
For instance, creating drawings inspired by athletes can can teach you a ton about anatomy and movement. Our simple blog tutorial on how to capture movement in drawing can get you started with mastering showing figures engaged in activity.
You can also create a sports-inspired still life, such as in the above football helmet drawing. This realistic helmet is rendered in pencil and colored pencil, and it beautifully captures all of the interesting shapes and light patterns that make up the helmet, making it look dignified and elegant.
FREE drawing prompts for more creative art
Enjoy 140 ideas that will jumpstart your imagination and help you create inspired drawings. Get my free prompts »