September 23rd marked the first day of autumn in the Northern Hemisphere and with that, comes the infusion of rich orange and brown colors, crisp weather and the inevitable falling of the leaves. Last year, I rounded up some fall cupcakes and treats for your fondant toppers and miniature confections, so I thought I'd share some inspiring cake designs to celebrate the season on a grander scale.
Be inspired by these simple, yet delectable fall cake designs for upcoming seasonal celebrations!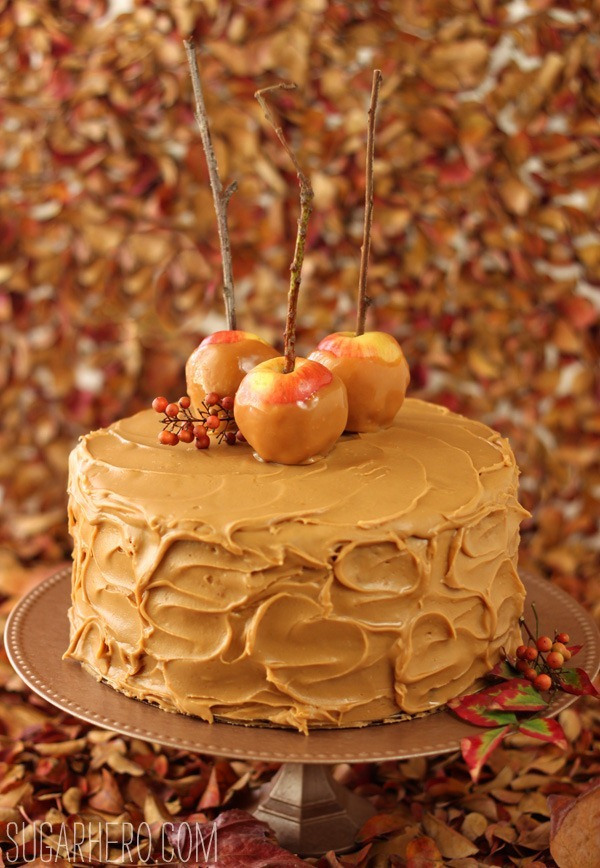 Photo via Sugarhero
Caramel Apple cake
How incredibly rich and scrumptious does this Caramel Apple cake look?! This delicious fall cake by Sugarhero is decorated with a salted caramel buttercream icing and topped with caramel dipped apples, perfectly reflecting the tastes of the season.
Get the caramel apple cake with salted buttercream recipe here!
Explore additional recipes in the course Creative Flavors for Cakes, Fillings & Frostings with Jenny McCoy, as you also learn to pair and balance flavors of your own!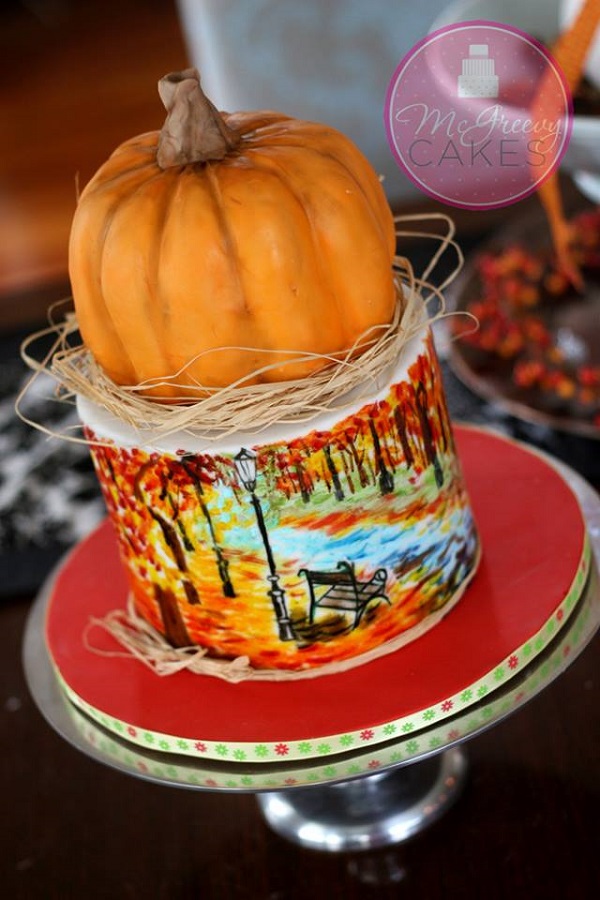 Photo via McGreevy Cakes
Fall Pumpkin cake
This wonderful Fall Pumpkin cake by McGreevy Cakes is so original and charming! The pumpkin was created from a ball cake, then enhanced with modeling chocolate to achieve the pumpkin's shape prior to be covered in fondant. The Fall scenery on the first layer was hand-painted with airbrush food colors, creating an exquisite work of art. Check out the images demonstrating how to cover a pumpkin cake, as well as more details hand-painted scene.
Learn the techniques and mediums available for creating designs on your cakes in The Art of Painted Cakes with Kate Sullivan.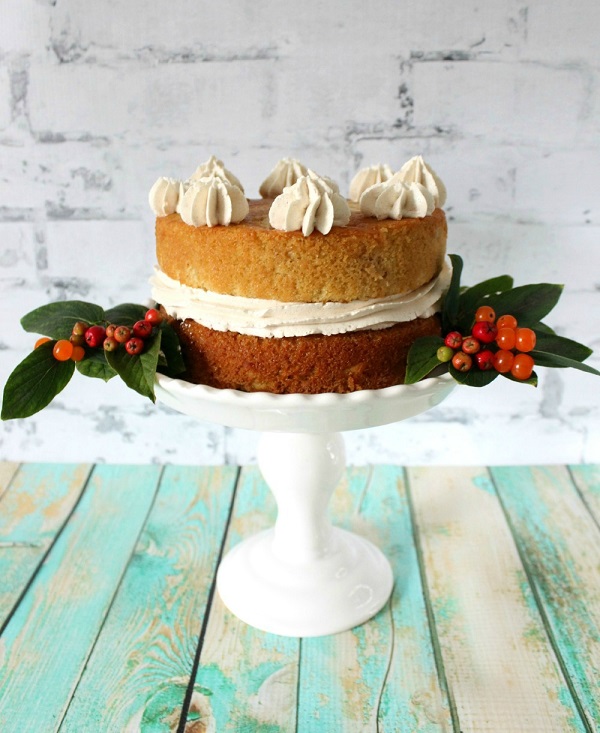 Photo via The Simple, Sweet Life
Double-decker apple cake
Naked cakes continue to be all the rage, so why not give it a Fall twist with this delicious double-decker apple cake from The Simple, Sweet Life?! The buttery and moist apple cake is joined together with a light and fluffy cinnamon buttercream icing, which is also utilized to strategically pipe star designs on the top, allowing the naked cake and the apple slices to shine through. Finish it off with fresh garnishes to give it that cool and crisp Autumn feel. Check out further details of this double-decker apple cake for the full recipe and tutorial.
Looking for similar ideas for your miniature confections? Check out the new Bluprint course The Perfect Cupcake with Jennifer Shea for additional creative flavors and fillings for your upcoming projects.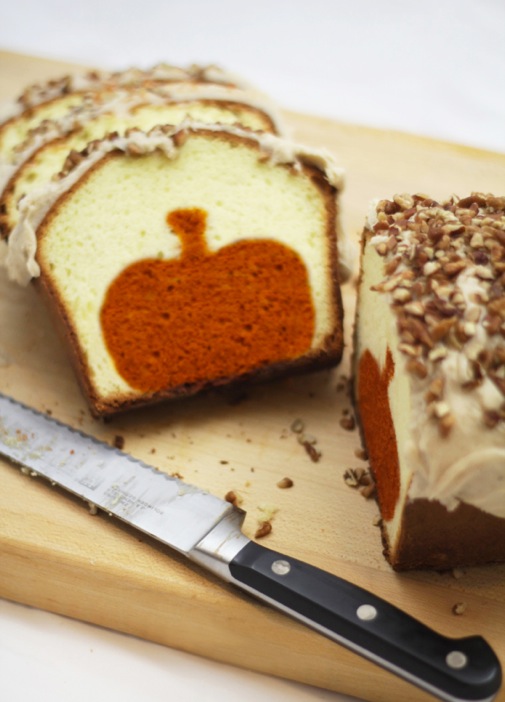 Photo via Project Denneler
Peekaboo pumpkin cake
Sandra at Project Denneler welcomes Fall with this adorable and delightful pumpkin pound cake with an actual pumpkin shaped baked inside. What an incredibly fun surprise for guests at your Autumn get-togethers! Topped with a mouth-watering brown butter pecan icing, you can find the full recipe and tutorial at She Knows.
For additional ideas and inspiration for baking surprises inside cakes, make sure to check out the Bluprint course Decorating From the Inside Out with Amanda Rettke.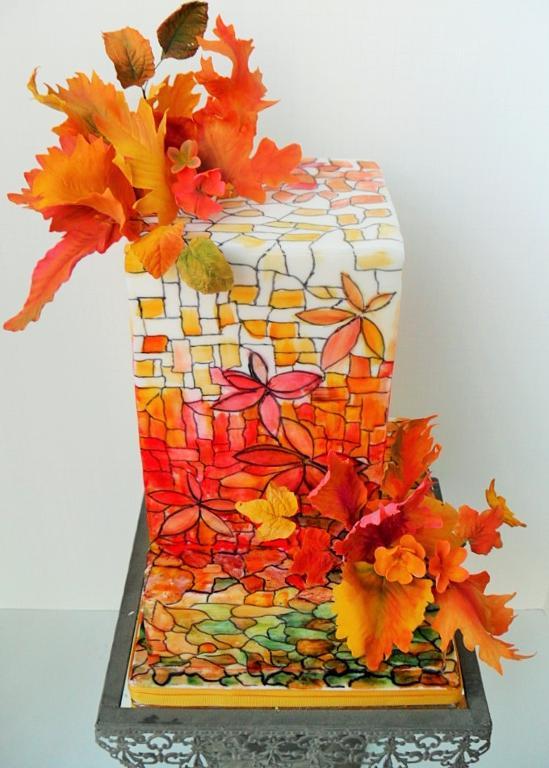 Photo via Bluprint member petrovaal1696638
Fall Celebrations cake
Bluprint member and cake artist petrovaal1696638 created this splendid Fall Celebrations cake in the course Decorating in Three Dimensions with Maggie Austin. The cake dons a beautifully painted stained glass effect, with a variety of colors that add dimension to the flat design, which is further accentuated with sugar leaves and flowers in coordinating hues, perfect for a Fall celebration!
For additional techniques in adding dimension to your cake decorating skills, check out The Wilton Method®: Stunning Small Cakes with Valerie Pradhan to create mosaic patterns, metallic accents and sugar flower pairings.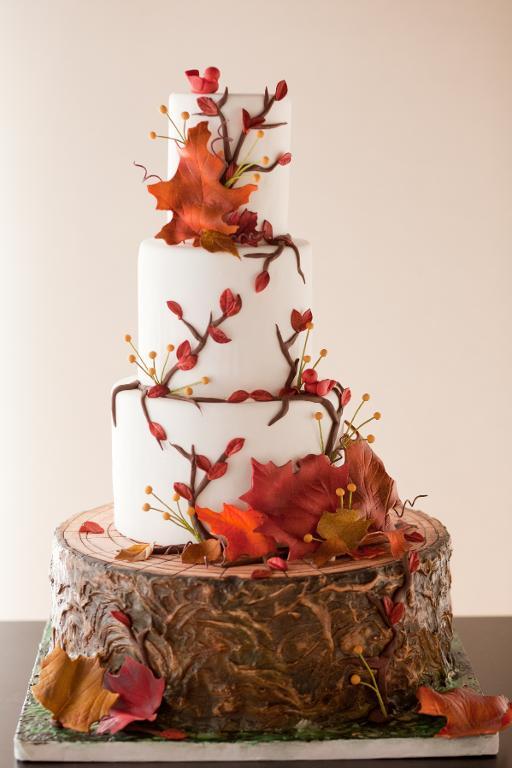 Photo via Bluprint instructor Erin Gardner
Autumn Leaves Cake
This stunning and rustic Autumn Leaves cake by Bluprint instructor Erin Gardner was inspired by a New England Fall. The bottom tier was decorated with a combination of fondant and royal icing, then airbrushed to achieve the incredibly realistic look of bark on a tree trunk. The remaining tiers were covered in white fondant, then embellished with fondant branch details, along with gum paste leaves, which were also airbrushed to add further dimension.
If you are interested in learning more about airbrushing, take a look at The Art of Airbrushing with Lisa Berczel, who helps with learning the basics and progressing to more advanced application levels. And take a peek at Erin Gardner's new course Delicious Decorations where she will demonstrate how to create flower decorations out of chocolate!
What is your favorite part and/or flavor of the fall season?