Have you ever studied Fair Isle knitting charts? I bet you felt a little dizzy the first time you saw one. Fair Isle knitting charts — and any other colorwork chart for that matter — can be intimidating, especially if you've never knitted with multiple colors of yarn.
So why do we need Fair Isle knitting charts? Because it's too messy to include written instructions for this colorwork (Knit 3 with Color A, knit 4 with Color B, knit 1 with Color C… can you imagine?), we have Fair Isle knitting charts! Here are six simple tips to make reading Fair Isle knitting charts, as well as other types of colorwork charts, a little easier.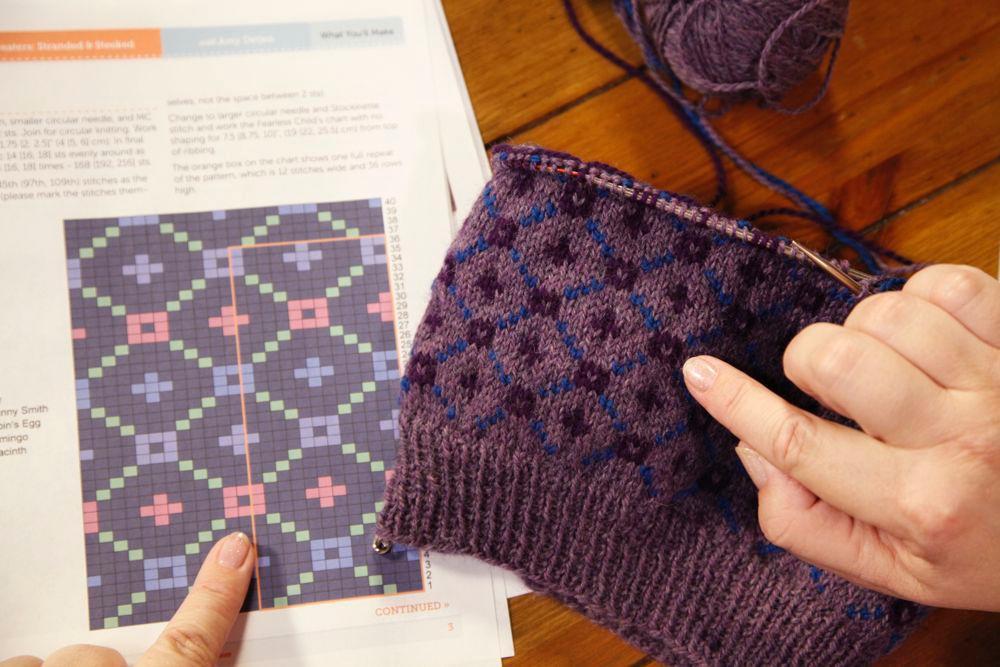 Photo via Craftsy instructor Amy Detjen
1. Start small
If you've never read a color chart before, I wouldn't recommend starting with anything complicated like a Fair Isle knitting chart, for example. Start with a simple intarsia chart first and work your way toward more complicated charts.
And speaking of starting small, take some advice from Amy Detjen, instructor of the Simple Sweaters: Stranded & Steeked class. Amy recommends starting small with something like a hat — that's Amy's pretty hat in the photo above — before moving on to a bigger project like a sweater. When you're ready to move from hats to sweaters, Amy's right there to show you the tricky business of how to read the colorwork chart while also shaping your sweater.
2. Read from the bottom up
Imagine how a knitted hat might look on your needles. You're knitting that hat from the brim to the crown, right? You'll read a color chart exactly the same way. Start at the bottom row and work your way up. Luckily, the charts are numbered on the side so that you'll always know which row you're reading.
3. Charts for knitting in the round vs. flat knitting
Before you begin reading a chart, ask yourself if the piece is knit flat or in the round. This will determine in which direction you work across the chart. For knitting in the round, every row on the chart is a right side row, so each row is read from right to left. However, for flat knitting, we have to consider that right side rows are only every other row. To read a chart for flat knitting, read right side rows right to left, and read wrong side rows left to right.
4. Use a placeholder
Looking at all those dots can make your eyes cross, and keeping up with where you are on the chart can make you feel crazy. I use a Post-It note and stick it just below the row I'm working on. As I move up on the chart, I move the Post-It note up, too. This way if I have to look at my knitting and then back down at the chart, I won't lose my place. You could use a piece of paper, too, but I like the Post-It note because it won't slide around.
5. Keep that row counter going
Don't stop counting rows just because you've reached a numbered chart. Even if you're using a placeholder, a row counter can help you keep track of your pattern progress, whether you're using it to count the rows in the colorwork knitting chart or using it to count repeats in a pattern.
6. Substituting colors
Are you using yarn colors that are different from the ones in the chart? Reading the original chart can become confusing, especially if it's a complex on like a Fair Isle colorwork knitting chart. To solve that problem, I make a gray-scale copy of the original chart, then color it in with markers to represent the colors I'm using. So for instance, if the original chart is showing a red heart and I'm using blue for my heart, I'd just color in the heart with a blue marker. This way I can move more quickly through the colorwork without stopping to think about the color.
Do you have any tips to share for reading color charts?