Since the inception of silky smooth, pliable and dough-like fondant coverings for cakes, designers have embraced this incredible edible sugar dough and experimented with it to no end. It's been painted on, been subject to artistic cake stamping, embossed, piped, extruded, rolled to ultra thin and delicate proportions and molded to form adorable cake toppers. Yet, some are still firmly in the anti-fondant camp, preferring the taste of buttercream over the often commercially created buckets of sweet fondant.
My opinion is that every cake technique has their place! You will have clients who adore the look of natural piped buttercream and others who desire the clean modern finish of fondant. Are you like me, working in both buttercream and fondant?
Here are some fun and fantastic examples of fondant cake work. As you can see, the options for working with fondant truly are endless!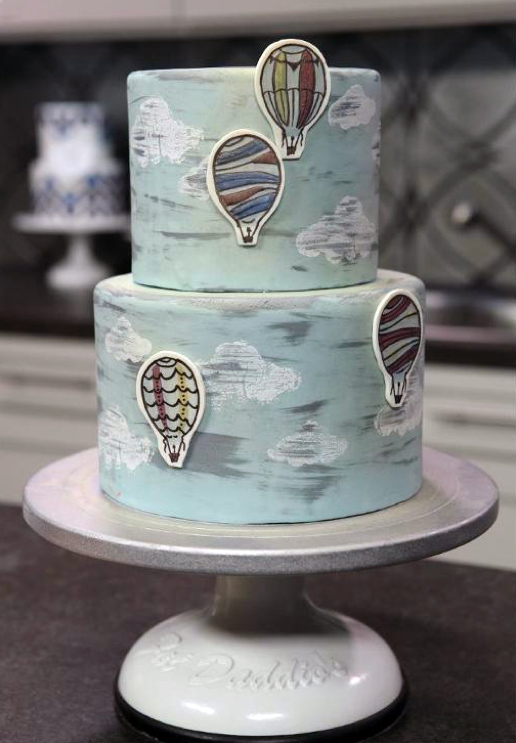 Photo via Erin Gardner
Hot air balloon hand-stamped fondant cake:
Sky blue fondant with streaks of wind and stamped clouds, not to mention the adorable vintage-looking hot air balloons — Erin Gardner's brand new Simply Stunning: Hand-Stamped Cakes class has won me over already and I haven't even taken it yet!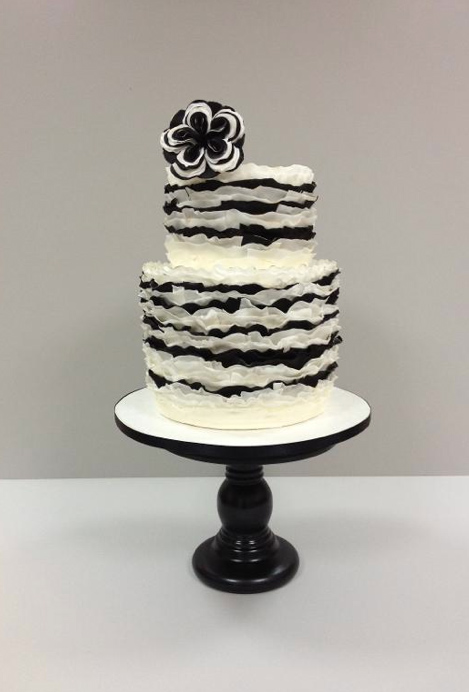 Photo via Manal
Sumptuous black and white fondant frill cake:
A strong black and white themed cake wins my heart every time. Nothing beats the stark bold contrast of black and white, especially when it's a Maggie Austin-inspired fondant frills cake topped with a matching sugar cabbage rose. I'd love to see a photo of a fondant frill cake slice, wouldn't you? This gorgeous cake trend continues to grow in popularity. Have you tried this technique yet?
Learn how to make a cake like this in Maggie Austin's Fondant Frills class.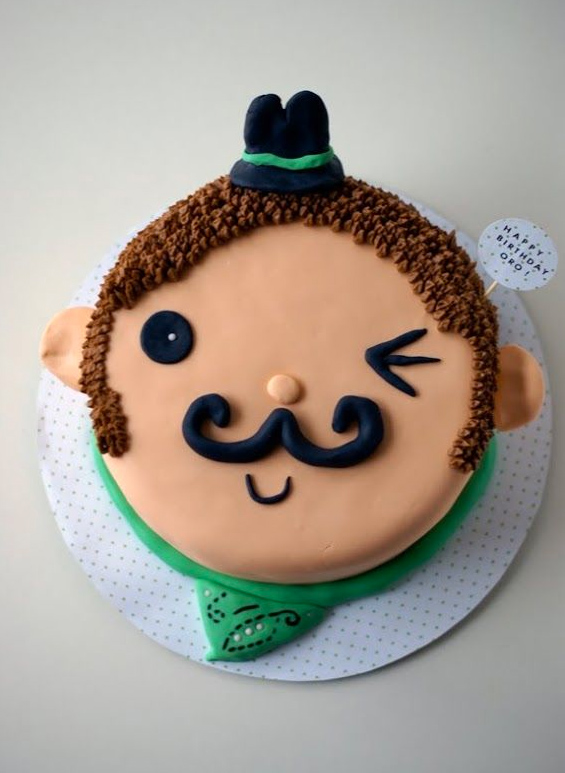 Photo via Coco Cake Land
Smiling cowboy face fondant cake:
This fondant cowboy is winking because he knows that fondant is a fun and ever-expanding cake designer application! Chocolate buttercream is piped on for his hair and fondant is used to make up his face. Edible marker and white drageé candies add design to his green bandana.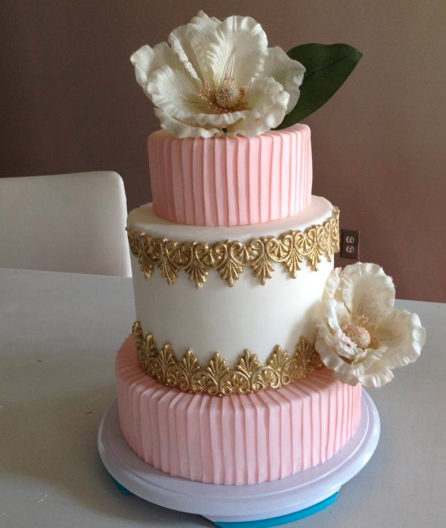 Photo via zaibii
Pink pleated fondant cake with gold accents:
Bluprint member zaibii tried the straight knife pleat technique with this cake — doesn't it look like a freshly ironed pleated skirt?  The flowers are created from gum paste and fondant, while the gold detailing is modelling chocolate created using molds.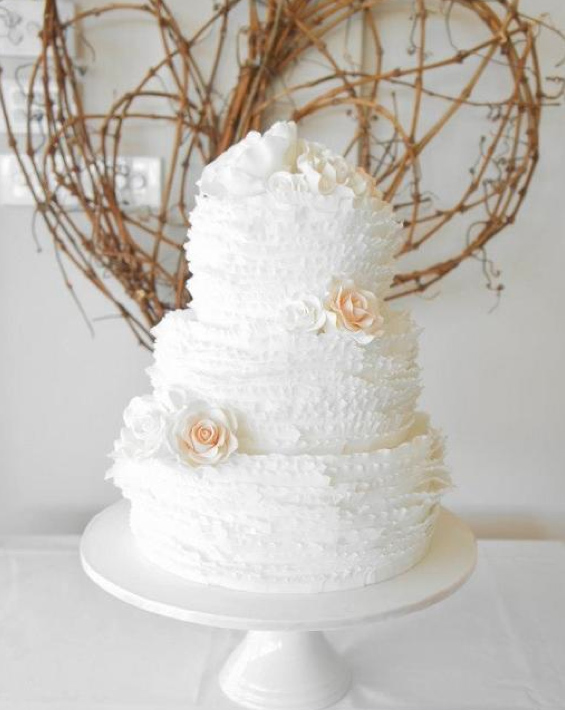 Photo via cyky809
Light as a feather white ruffle cake:
Another Maggie Austin-inspired beauty, the light, thin, ethereal couture ruffles and peach dusted sugar roses on this cake are downright dreamy.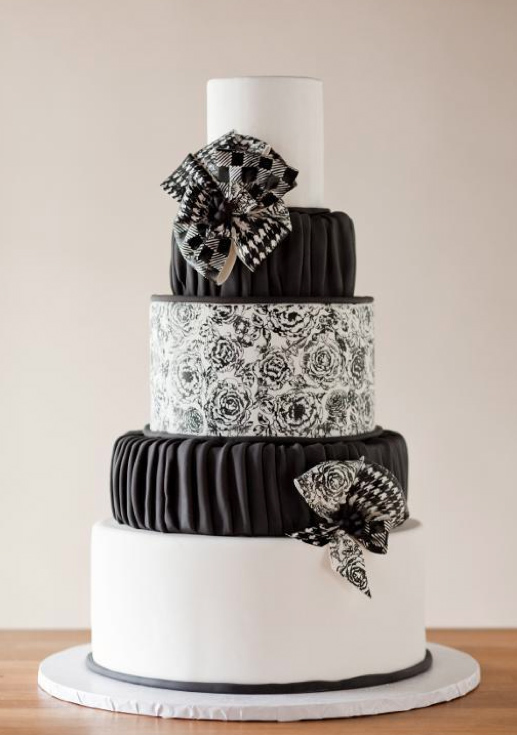 Photo via Erin Gardner
Black and white fabric-inspired fondant cake:
Here's another graphic black and white eye-catching cake, with black fondant pleating and awesome hand-stamped "ribbon" rosette sugar flowers! From the artist herself: "The black rose pattern was stamped on white fondant using gel food color. I used the same stamp to create a pattern on gum paste, which I used to create some of the bow loops. The other patterns were created with texture mats."
Want to learn how to re-create these techniques? Check out Erin Gardner's new Bluprint class Simply Stunning: Hand Stamped Cakes today!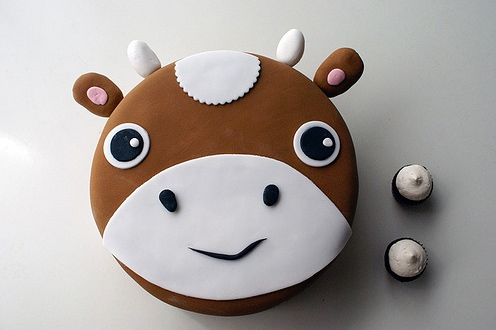 Photo via Coco Cake Land
Brown Jersey cow cartoon fondant cake:
This cake is covered in brown-tinted fondant (although chocolate fondant would work well, too, of course!) and decorated simply with fondant accents. The ears and horns are held in using wooden BBQ skewers.
Learn the fundamentals of working with fondant in the FREE mini-class Basic Fondant Techniques, taught by acclaimed cake artist Elisa Strauss.
Come back to the Bluprint blog tomorrow for cake delivery tips that will make getting your cake to its final destination a piece of cake!
So, I'm dying to know, are you a fondant or a buttercream lover? What was your favorite fondant cake you've made?