If you open a window, you let the air in! You can do this in weaving too. We're always after fabric weaving techniques that make cloth lighter and more drapeable. Who wants to wear a cardboard scarf? This technique is a really good one for both thick and fine weaving.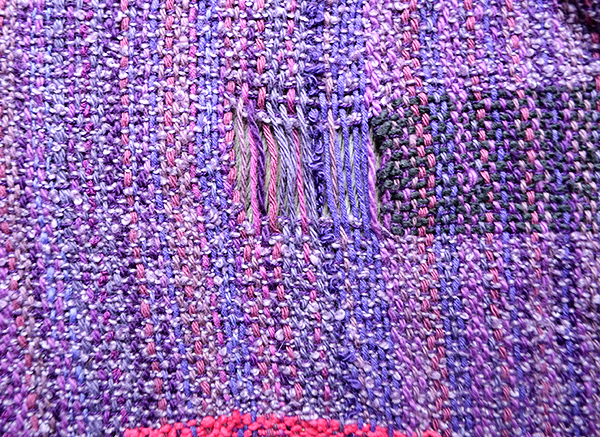 What is a woven window?
Adding a woven window in your weave is really not weaving it at all. You simply leave a window-like gap in your woven cloth, allowing the warp threads to show through completely.
Why try this fabric weaving technique?
Adding windows throughout a cloth will enhance its drapeability, especially when plain weave is used. It is fun and easy to do, and all sorts of shapes can be built. It is often used as weaving technique on woven shawls with thick yarn to be woven up quickly but enhance the drape of the fabric. However it can also be used as a free-styling technique in its own right too.
How to do it:
You'll need two shuttles of yarn for this fabric weaving technique.
Step 1:
Begin with a shuttle of yarn at each side of the weaving. Weave both shuttles through the same shed opening, but stop short of meeting each other to leave some warp threads unwoven.

Step 2:
Change the shed and weave both shuttles back to their edges. Continue weaving in this way, returning around the same warp thread on each side of the window shape every row. You will gradually build a nice little squared 'window' in the weaving.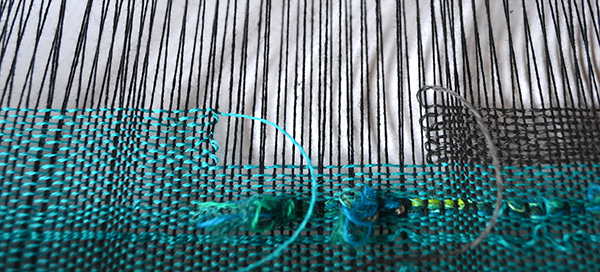 Step 3:
When you find that your window is to your liking, close the window by weaving across the whole row with one of the shuttles. Continue to weave in the normal way until you start another window.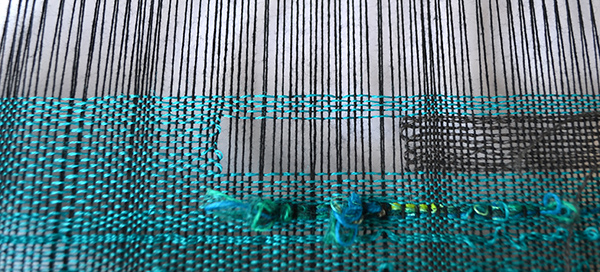 Placement and shaping
Depending on what you are weaving, placement of the windows can vary. To add drapeability to a thicker weave, they can be placed like a pattern throughout the fabric similar to this woven top. Or perhaps just a border with windows would look effective. Look at the windows as part of the overall design of your fabric.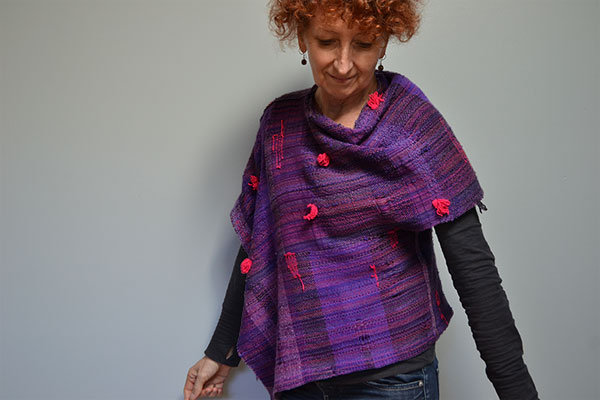 Although the windows are generally rectangular, another shape, like a triangle or polygon, could work well too. Just move where you turn the yarn around the warp threads to suit your design.
Smashing windows?
To vary the windows try smashing them! Figuratively of course. After closing off the top of the window and weaving a few rows, use a kitchen fork to force the top of the window down, thus changing its shape. Continue pressing each row down in the window area until it is even enough to go back to weaving normally. This is a free-styling technique that could have unexpected and exciting results after finishing the fabric.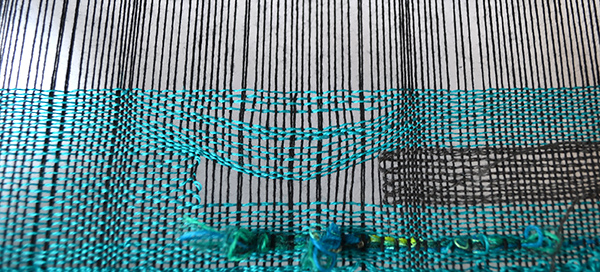 Do you think windows will lighten your woven creations?