Traditional batik fabrics get their unique patterns from a technique called wax resist. Essentially, the plain fabric is treated with wax, which acts as a mask to prevent fabric dye from reaching certain areas. These protected areas will remain a lighter color than the fabric dye, giving them a unique new fabric pattern.
Once you make your own batik fabrics with wax resist, you'll be ready to use the new prints in your next quilting project.
Here are some inspiring projects to show you some of the design possibilities you can create through fabric patterning with wax resist.
Susan at the C&T Publishing Blog was inspired by her trip to Bali. She visited a fabric factory and learned how the fabrics are meticulously painted and stamped with a hot-wax resist before being dyed several times to achieve a dark color. Susan made the fabric above to take home from her trip.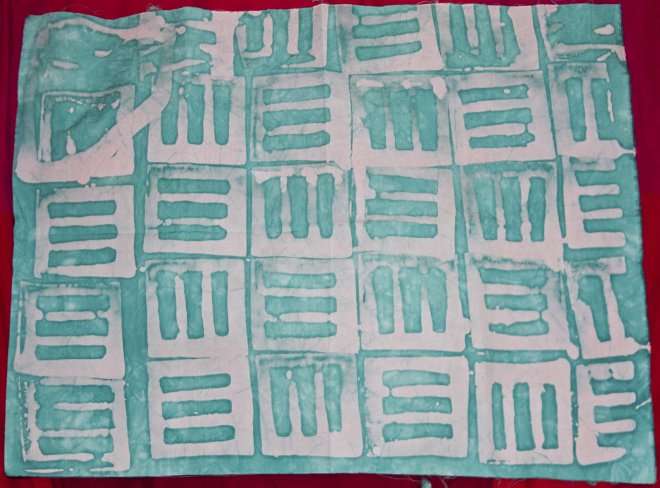 This fabric was printed with a hand-carved wooden stamp by Kathryn of The Vegan Kat. She also experimented with clay stamps, but says the clay stamps did not hold up as well as the wooden ones. Try painting wax directly onto fabric to create your own patterns.
Sometimes the best wax-resist stamps are everyday items from your kitchen! LuAnn Kessi shares her experiments with dyeing fabric patterned by soy wax. Instead of dip-dyeing the fabric, she painted directly on the textiles with a watered-down fabric paint before heat-setting it.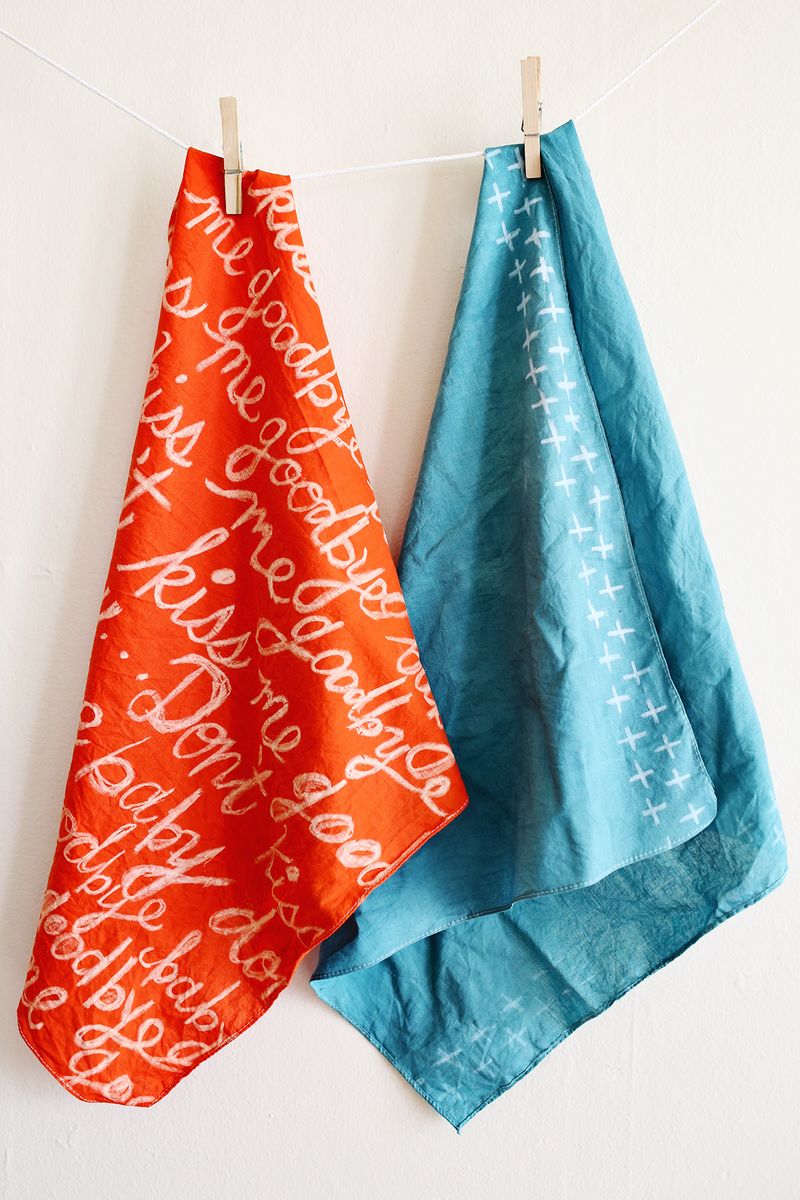 Elsie of A Beautiful Mess shares her wax-resist fabric patterning technique on a scarf. She suggests using wax-resist sticks to draw freehand designs onto the fabric before dyeing. This helps you to create detailed designs, like handwriting and hand-drawn lines.
Have you ever thought about using alternative materials other than wax resist when patterning fabrics? Jeni at In Color Order blogs about her experiments in alternative resist methods, including a hot glue, crayons and school glue. There are also some great tips on using RIT, one of the most widely available fabrics dyes.

Hand-dyed batik fabrics can pair well with traditional printed fabrics, as shown in this stunning finished quilt from Rossie Blog. She patterned the fabrics herself using wax resist on traditional quilting fabrics, and shares about the process on her blog. It's exciting to hear that you can dye fabrics, even if they aren't plain white to begin with.
Kathryn of The Vegan Kat made these two-colored wax-resist fabrics as part of her work in two Bluprint courses. She enrolled in Fabric Patterning with Wax Resist with Malka Dubrawsky, which covers single- and multicolor fabric dyeing, along with how to make stamps from everyday items and batik tools. Kathryn also enrolled in the course The Art of Cloth Dyeing with Jane Dunnewold. This class covers beginning and advanced resist methods, how to use fiber-reactive dyes, and troubleshooting issues like muddy colors.
Interested in learning more about how fabric is made? Come back to the blog on Tuesday for a virtual tour of a fabric factory!
Have you tried fabric patterning with wax resist or other techniques? What's your favorite way to use batik or hand-printed fabrics?