Are you fascinated and inspired by color? Color adorns our world, from the brights of your spring garden to the soft pastels of a sunset by the ocean, to the vibrant earthy tones of autumn's foliage.
The use of color is inseparable from the history of textile arts and knitting, most recently embraced and celebrated by the King of Color, Kaffe Fassett, through his signature contributions to colorwork in needle arts and quilting.
There are plenty of extraordinary patterns that can be found right here on Bluprint, and I'm sure they would make Kaffe proud.
Plan to practice a little intarsia, stranded or double-knitting soon with 5 extraordinary knitting patterns.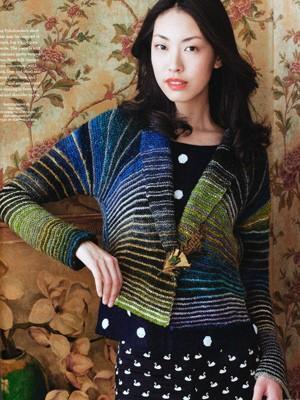 Cropped jacket via Bluprint member KnittingFever
From designer Irina Poludnenko, via Noro Magazine, comes this cropped jacket, that does magic with multicolored stripes, with a little assistance from short rows shaping. Simple to wear and quite flattering, it's a gorgeous item for your wardrobe, especially when done in the renown Noro. The jacket, as pictured, uses only six colors — black, lime, blue, gray, lime and brown — but it creates the illusion of a much more varied palette, doesn't it?
Get the Noro Magazine 1: #26 Cropped Jacket pattern here.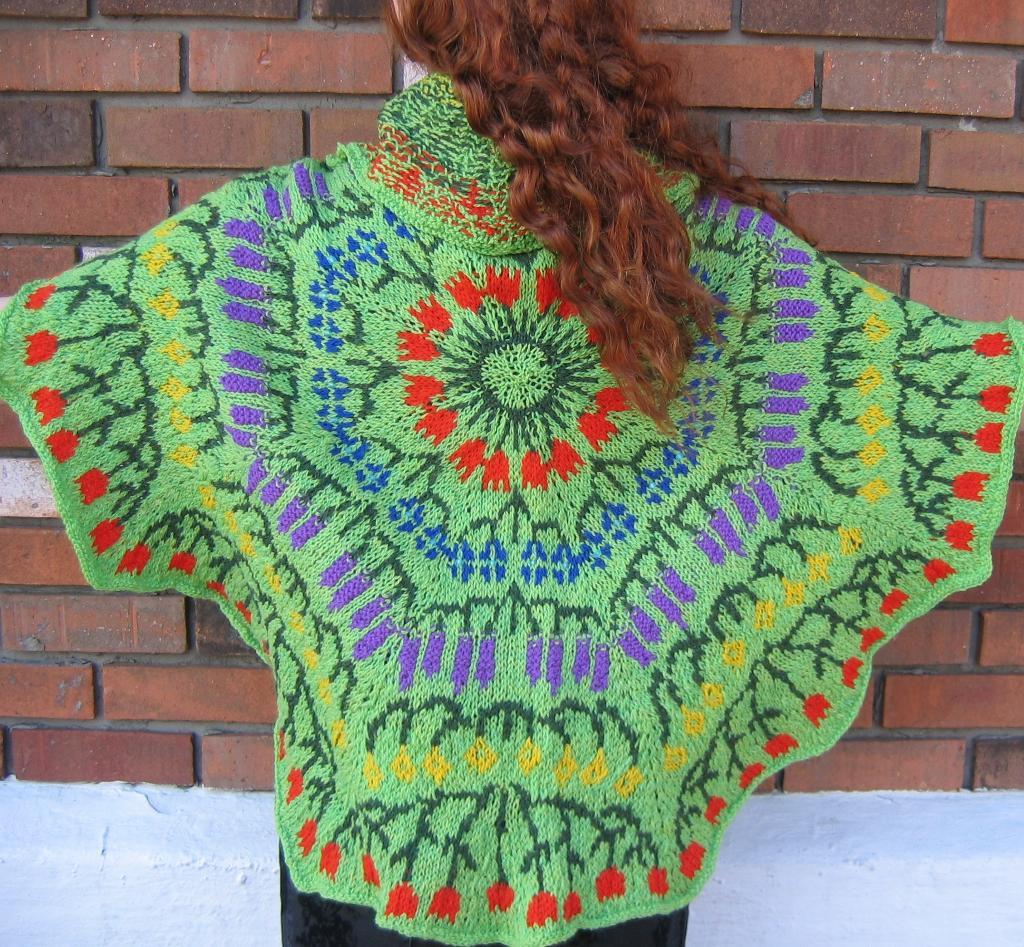 Floral shawl via Bluprint member Patchworks By D
Deborah Tomasello's Springtime Stranded Shawl is nothing short of exuberant. It's like wrapping a field of wildflowers around your shoulders. A shawl like this can easily become a cherished family heirloom. A little fearful of this much color? You could try the design in black and shades of grey. Think monochrome flower photography with its tonal range — Cy DeCosse's "The Midnight Garden", for example.
Get the Springtime Stranded Shawl pattern here.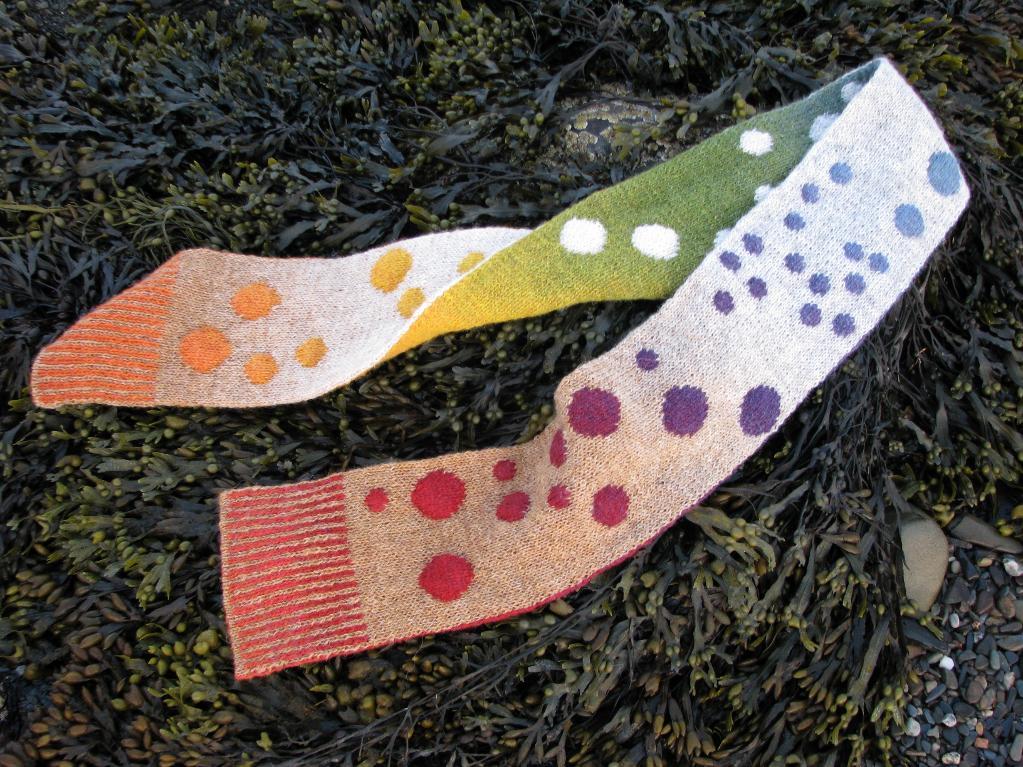 Colorful scarf via Bluprint instructor Lucy Neatby
Next up is the versatile, unisex Bubbles Scarf, whose double-layer design will please and amuse the most experienced and advanced beginner knitters alike. With its playful, asymmetrical, and rhythmical design, it's quite a sophisticated way to wear rainbow colors, don't you think?
Get the Bubbles Scarf pattern here.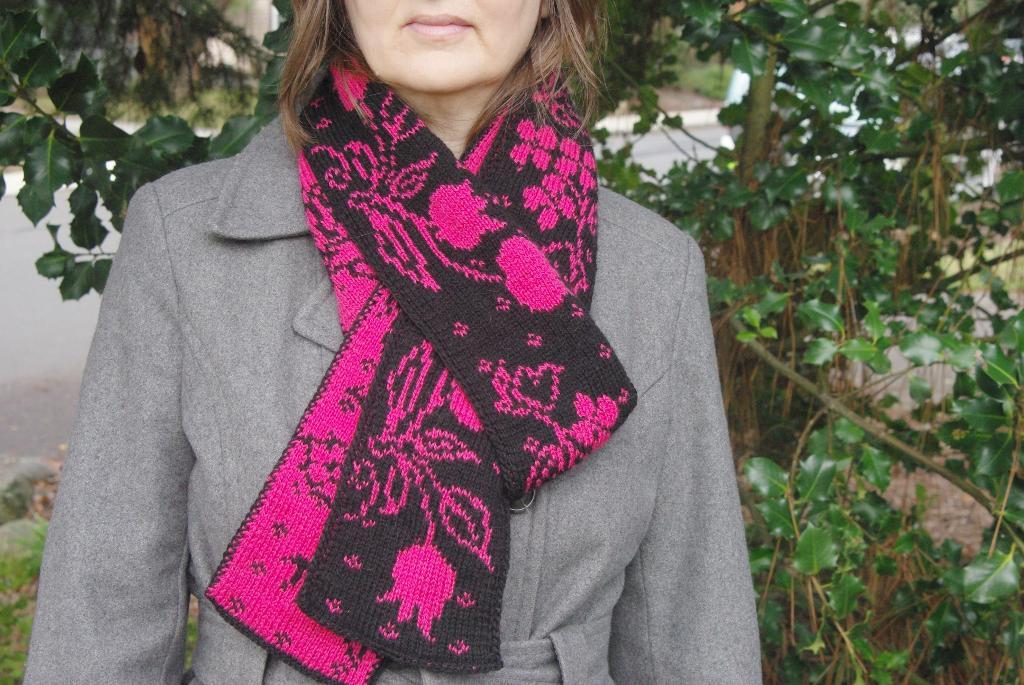 Posy patterned scarf via Bluprint member FrivoliteHandcrafts
Another attractive double-sided design is Regency Valentine Scarf, based on a Regency-era (1822) needlework pattern. The designer, FrivoliteHandcrafts, invites you to use either contrasting or soft coordinated colors, and says that the scarf has the powers to "warm the cockles of your heart, or a loved one's." A sweet sentiment! Start planning for next year's Valentine's Day now — there's time to whip up one or more of these scarves for those who are dear to your heart.
Get the Regency Valentine Scarf pattern here.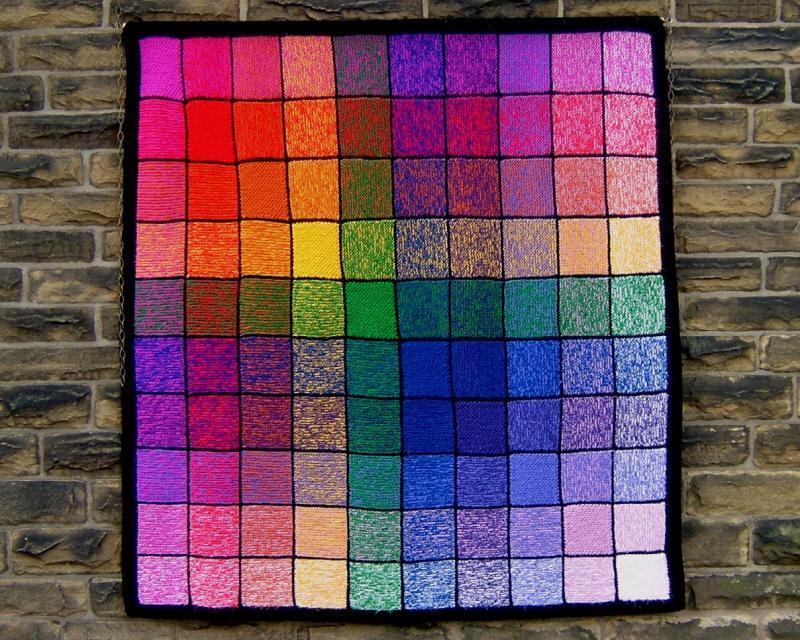 Multicolored afghan via Bluprint member Woolly Thoughts
The Double Vision afghan is stunning in every way. Would you believe that it uses only 10 colors, yet appears to have 55 different shades? It doesn't shy away from color, it makes color reverberate and sing, as though this knitted fabric came with sound effects. A true wonder, this design would make a pretty magnificent piece of wall art too.
Get the Double Vision pattern here.
[box type="shadow"]
Curious to start your adventures in colorwork or eager polish up your technique? Check out these Bluprint classes to acquire and perfect color knitting skills: Stranded Colorwork: Basics & Beyond, Adventures in Double-Knitting and Intarsia: Basics & Beyond.
And here are a couple of selections for your color-knitting bookshelf: Extreme Double-Knitting and The Best of Lopi.
[/box]
What are some of your favorite color combinations? What will your next colorwork project be?