The clock is ticking. You haven't finished any holiday gifts yet, and you still need to shop for groceries, clean the house, shop for non-handmade gifts, finish a big project at work — the stress is mounting.
The one thing you should look forward to around the holidays is gift knitting. It's so fun to knit and give gifts, and yet every year we let the stress get the best of us to turn it into a chore.
Take a breath and use these tips to get psyched for a month of busy yet enjoyable knitting. (We're all right there with you!)
1. Plan knitting nights with friends.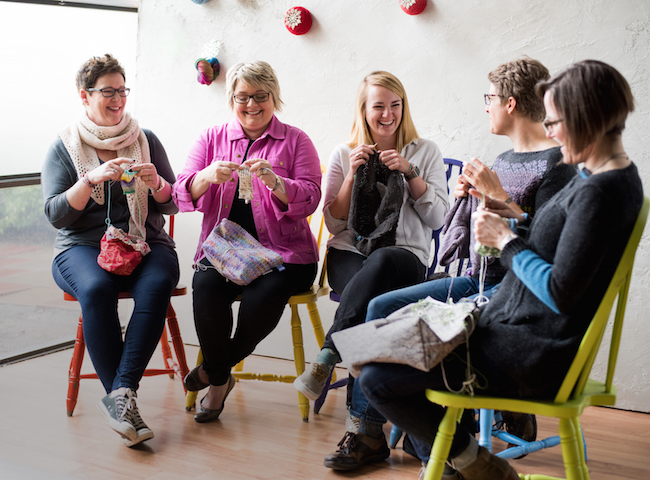 Knitting friends are the best cheerleaders to help you accomplish all your holiday knitting goals. Plan a few group knitting nights with friends before your calendar fills up. You'll get to enjoy the holiday season with your friends while also knitting for those you love! Plus, knitting friends are super helpful when you run into a problem with a pattern.
If you don't feel motivated, you can even ask a knitting friend to be your accountability partner. Keep each other updated and encouraged as you both move through this crazy knitting season.
2. Roll around in your new yarn.
Ok, we're kind of kidding about rolling around in it, but at least give it all a squeeze with your hands and admire it before you get started!
3. Use your stash.
One thing that always makes me excited for holiday knitting is the chance to de-stash a bit. Choose some projects for yarn that you already have, and watch that stash disappear. After the holidays, pat yourself on the back and use that as a reason to buy even more yarn!
4. Get organized.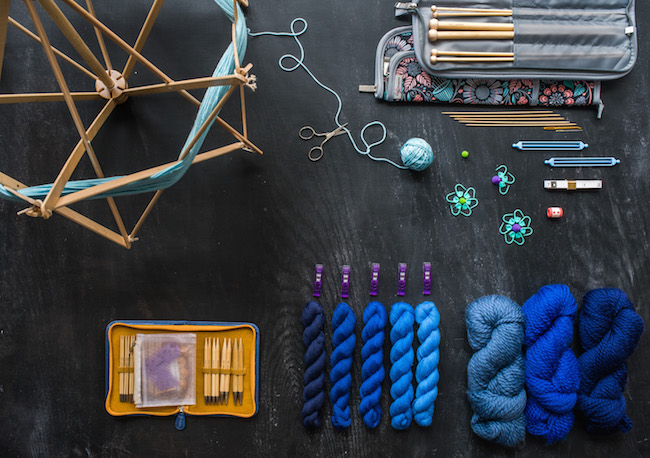 Even if you waited until the last minute, you can still get organized to make yourself feel less stressed. Make a list of the projects you need to complete, and give yourself some deadlines to stay on track. You can always change your mind and swap large projects for smaller ones as the holidays get closer.
5. Plan selfish post-holiday projects.
I always have a post-holiday project in the back of my mind (usually a sweater) as my reward for finishing all my gifts. It's so nice to sit down and do some selfish knitting after several months of rushing to finish gifts. It's also the perfect reward for surviving the holidays.
6. Think about the recipient.
If you're starting to feel down about holiday knitting, just think about the recipient and how it will feel to see them open the handmade gift. I always like to think about the look on my dad's face when he tried on the first pair of handmade socks I ever knitted for him. Thinking about that helps me power through this year's socks!
7. Pair your knitting with a holiday-themed movie.
We rarely have time to sit down and actually enjoy all the little things leading up to the holidays. I love watching holiday movies, both new and classic, so watching them as I work on gifts really gets me in the holiday spirit.
If you're not in the mood for a holiday movie, you can also check out our 9 Movies That Feature Knitting. That will certainly inspire you to keep on knitting!
8. Shake off those shoulda-woulda-coulda thoughts.
Every year we catch ourselves saying, "I should've started earlier" or "I could've finished this at the beginning of December if I had tried harder." Thoughts like these just make us feel worse. You're knitting a handmade gift for a loved one, and that is awesome! That person is (hopefully) going to appreciate all the effort you put in.
Instead of wallowing in regret, do the best you can. If you don't finish in time, that's OK! Just give the gift after the holidays. And next year, when you're in the same situation for the fifth year in a row, we promise not to judge you.
What do you do to get yourself psyched for the busy month of holiday knitting?
Share your tips with us and other knitters in the comments below! Happy holiday knitting, everyone!
Our Favorite Holiday Projects
Santa's got something for everyone.Explore More