The autumn equinox in the northern hemisphere (and the spring equinox in the southern hemisphere) arrive this year on September 23. To celebrate,  here are magnificent day- and night-inspired patterns for your knitting pleasure. Half sun-lit, half moon-lit, these patterns are 100 percent beautiful.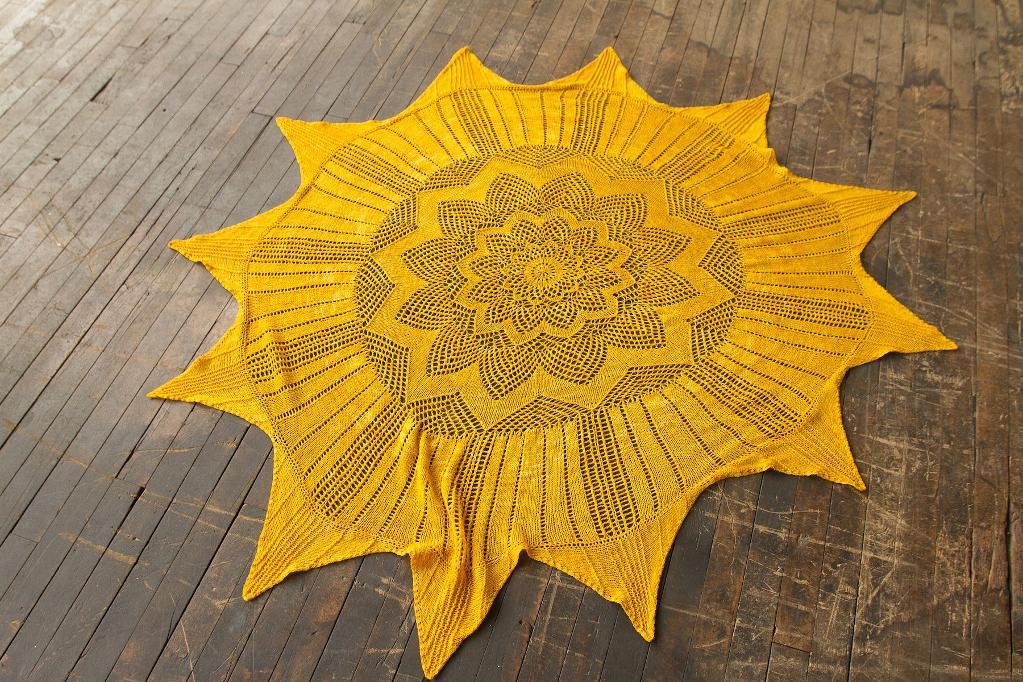 Photo via Bluprint member Cooperative Press
1. Ra and Apep Shawl
Named after the Egyptian sun god, the Ra and Apep Shawl pays spectacular tribute on a grand scale to the star at the center of our solar system. Generously sized, featuring concentric lace repeats, this shawl seems to radiate warmth and energy, especially when knitted in a rich golden color.
Get the pattern »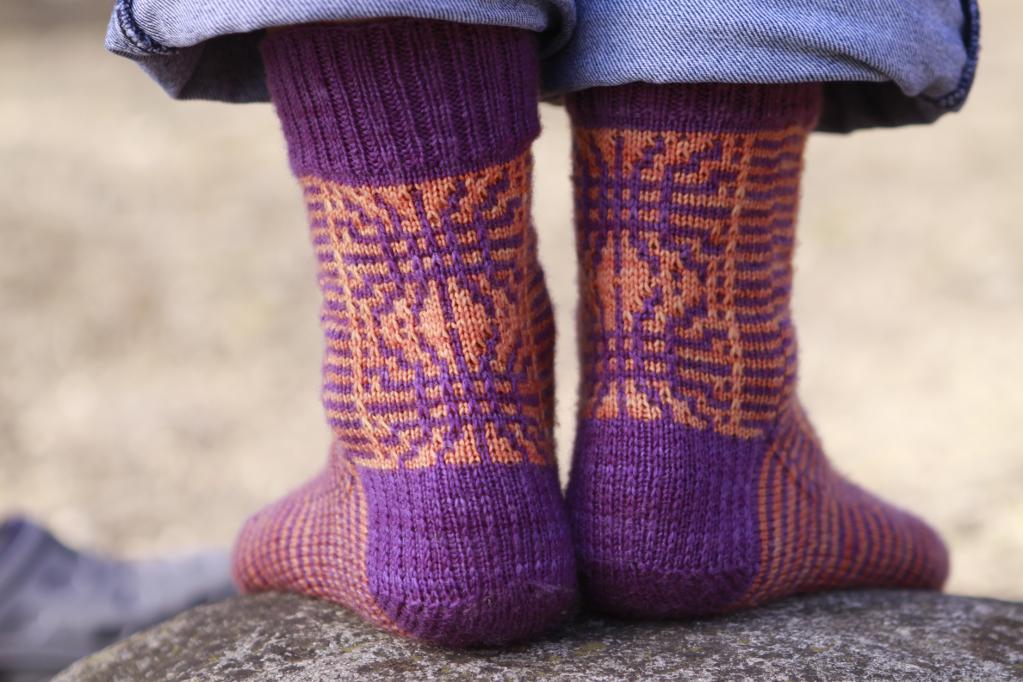 Photo via Bluprint member Kelly J Knits
2. Walking on Sunshine
The Walking on Sunshine socks are also inspired by the sun. This pair features an interesting mosaic effect that's akin to filtered light. They're lovely in purple and peach, or in a different color rendition. This pattern comes from Kelly J Knits, who says that socks are her favorite accessory to design, so you know that you are in for a treat with this dynamic pattern.
Get the pattern »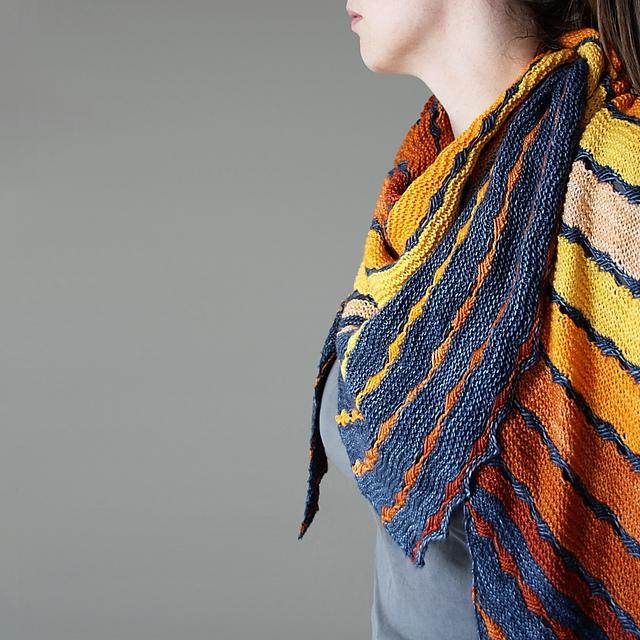 Photo via Bluprint member Mairlynd
3. The Joker and The Thief
The filtered light effect is also present in The Joker and the Thief shawl. The gradient color theme creates a striking effect reminiscent of the rapidly changing light at sunrise or sunset. Mairlynd, the designer, puts it eloquently: "Broad bands of gradient color dance with moody gray across this asymmetrical triangular shawl, creating soft transitions between mystery and mirth."
Get the pattern »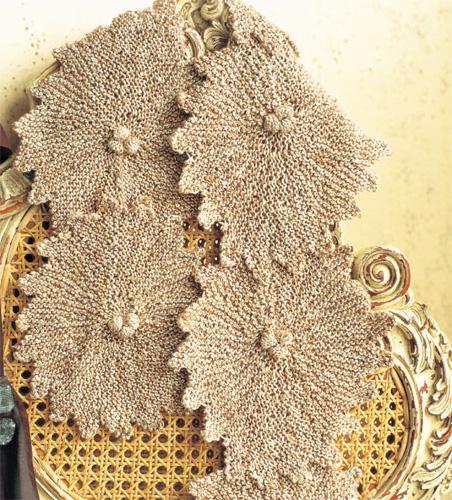 Photo via Bluprint member Vogue Knitting
4. Tuscan Scarf Sun
Sunny, warm, lighthearted and pretty, the Tuscan Scarf Sun, uses a radiant circle technique to create a striking effect. Really lovely as pictured, in a silk neutral-colored yarn with petite sequins.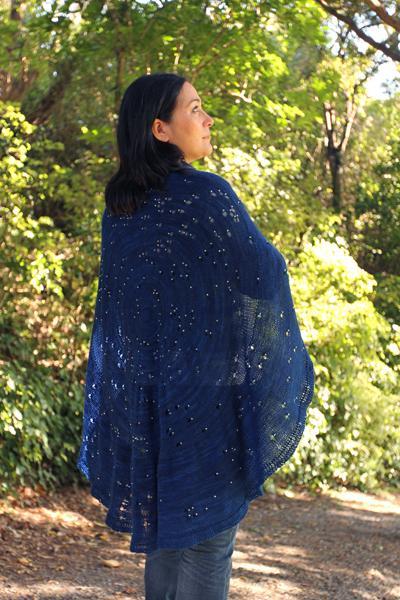 Photo via Bluprint member Bear Ears
5. Southern Skies
Moving from dawn to midday and from twilight to dusk, it's time to feast our eyes on night-time inspired knits. Not surprisingly, several of them give lace treatment to embellished deep blue yarns.
Behold the circular Southern Skies shawl. Its vastness holds a fascinating design concept — the shawl pattern is an accurate view of the night sky from the South Pole. Eyelets and beads are used to represent constellations. Don't you absolutely love it? I do!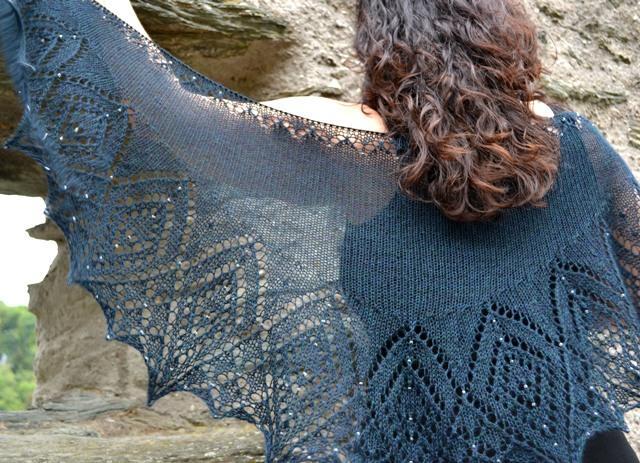 Photo via Bluprint member Susanna IC
6. Polaris
Giving those mesmerizing starry skies a nod on a smaller scale, is the Polaris triangular shawl. Designed with the beginner lace knitter in mind, Polaris features 15 large lace diamonds that form the central star motif. The motif is placed on a background of smaller shapes reminiscent of sparkling stars. Polaris is adorned with beads, which are an optional but marvelous touch. If you've never knit with beads before, Laura Nelkin's Bluprint class Knitting With Beads is a great primer.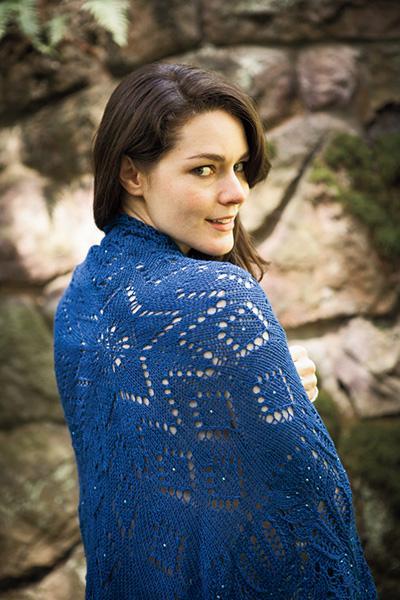 Photo via Bluprint member 80skeins
7. Reyes de España Shawl
The Reyes de España Shawl cleverly combines a circular and triangle shawl constructions. The designer of this travel- and adventure-inspired pattern references Alhambra tiles and Sevilla's flamenco in her elegant and enchanting evening shawl.
This and other similar shawls are often done in lace weight yarn. For extra toasty and more substantial starry night knits, you might consider something like the loftier Rowan Kidsilk Haze yarn.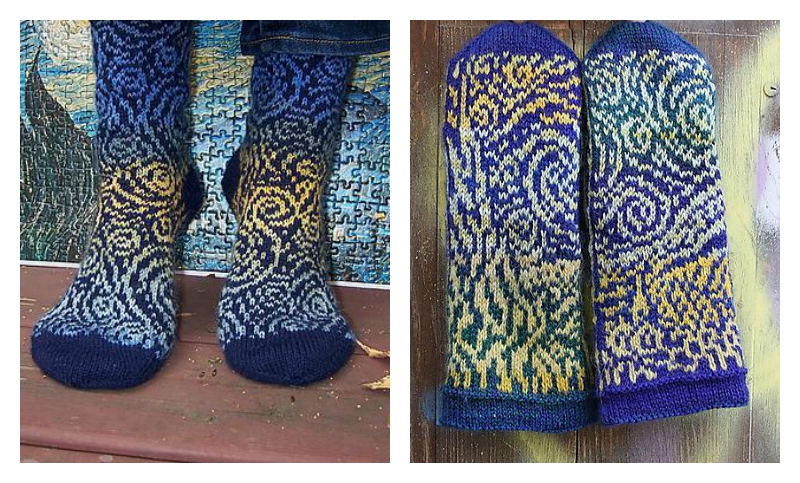 Photo via Bluprint member Kulabra Designs
8. Starry Night Socks
Finally, Kulabra Designs give you the choice of the very beautiful Starry Night pattern in either mitten or sock form. Whichever route you choose, you will be treated to some pretty spectacular stranded colorwork, and a finished object that has a lovely illuminated effect of a moonlit night.
Add sparkle and shine to your knitting projects!
Beads add color and flair to knitted garments, accessories and jewelry. This online video course shows you just how easy and rewarding it is to incorporate beads into any knitting project.Enroll Now »