Remember when sewing was a solitary activity? Nowadays, within minutes of second-guessing my binding color, I can text a couple of options to a friend and get instant feedback. At the push of a button, I can share my latest fabric acquisition with my Instagram family. It's just as easy to pop on my phone and find an online sew-along or quilt swap to join!
While basic emoticons such as this —>  ;- )  <— are often used among friends online and via text, the updated emoji, graphic emoticons showing emotions ranging from hysterical laughter to anger and even love make chatting online with others even more fun. I can use my iPhone's existing emoji to show others just how excited (or embarrassed!) I am to finally finish that quilt I started in 2008. But to express my deepest quilting emotions, I need a few more options.
Here are eight emoticons we wish Apple would release for quilters to help us communicate the most basic emotions associated with the sport of sewing.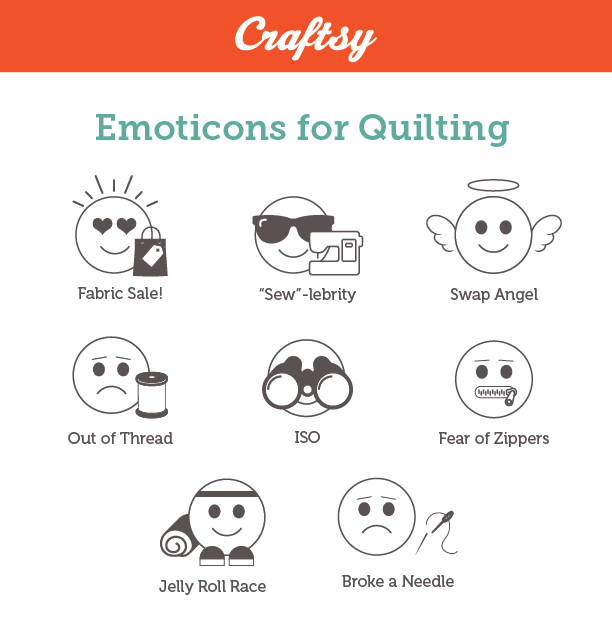 [Want to save or print these emojis to share with a friend or hang in your sewing room? Click here to download a PDF version!]
You won't need to waste words when there's a big fabric sale. Simply text your BQF (best quilting friend), and tell her you're on your way.
"SewSallySew" is the nicest quilter ever, but her swap partner flaked. How can you NOT volunteer to make her a custom mug rug. Let everyone know how generous you are with your time and fabric, and wear your swap angel emoji proudly!
Give a shout to your favorite "Sew"-lebrity on Instagram. It'll make her day!
Fear of zippers? Let's start a support group to get over it, together.
Uh oh. Sewing problems! Whether you are out of thread or you broke a needle, sewists always understand.
Whether you prefer to #SweatnSew (a.k.a. take a break from sewing to go for a run) or take part in an actual Jelly Roll Race with your quilt guild, this emoji comes in handy
In search of that favorite out-of-print fabric to complete your collection? Just flash your ISO emoji, and you'll be ready to hoard fabric like never before!
Share this with a quilting friend who needs a good laugh! What quilting emoji would you like to see added to this list?
Don't miss out on the perks of quilting with Bluprint!
Join millions of members and get instant access to: