There are so many tips and tricks I would like to share with everyone who owns an embroidery software program. To start, I'll share tips for creating repeats of the same design or of like designs. There are several occasions where I need to embroider multiples of the same designs. A perfect example is making embroidered button cover designs. Or, when I'm making gifts or items to sell at a craft show.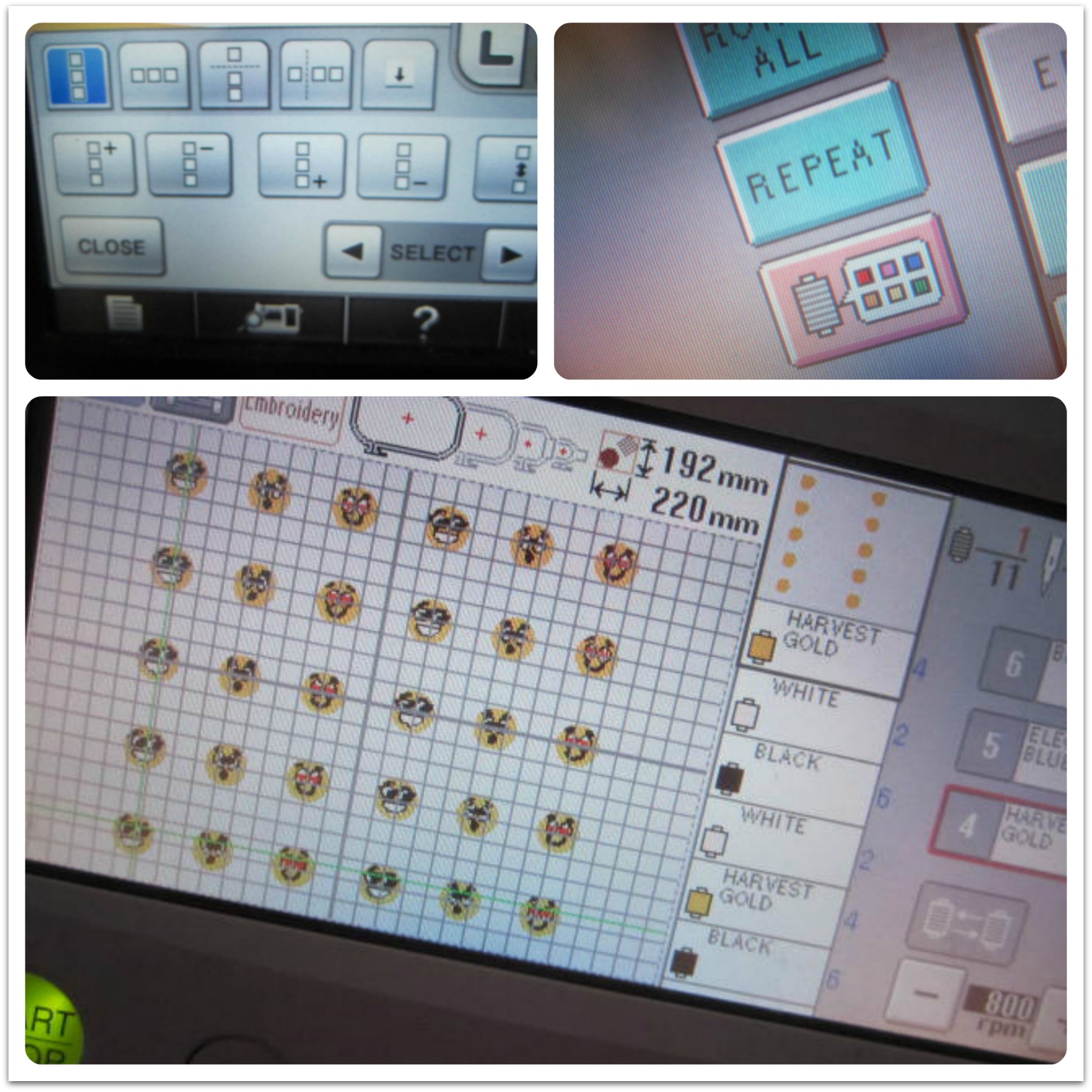 Some embroidery machines have a repeat function that works great, however, the drawback of doing this on the embroidery machine touch screen is that it doesn't reduce the amount of colors stops. Reducing the amount of color stops is much more efficient because it cuts down on the stitching time dramatically. Another benefit of creating repeats in an embroidery software program is that you won't have to sit in front of your machine as long waiting to change the thread colors.
Now, let's take a miniature embroidered quilt block design that's approximately 3/4" in size.
We are working from the Mini Quilt Block Embroidery Collection.
Note: There are so many different name brands of software on the market, it would be impossible for me to list them all without leaving one out. These are general tips that will work in just about any software program. The terminology may be a little different when going from brand to brand, but the concepts are generally the same. I am working with Floriani Total Control Professional software program, so all the icons and images were created using FTCP. Your icons or images may look slightly different.
Step 1:
Select File > Open> QB_1 design. Change each color stop to the desired colors, select all the elements > Group.
Step 2:
Select the Repeat icon.
Step 3:
When the Repeat properties box opens, take a look at all your options. You can select how many mini quilt blocks you want across horizontally (Number Across:) and vertically (Number Down:).
In most software programs, you have additional options, such as adjusting the space between each repeat, which is helpful if you want each design to touch or if you want to space them further apart.
The option I love is that I can select: Auto Resequence By Color. My original Mini Quilt block design had only three color stops. By applying the Auto Resequence By Color function, I still have three color stops and a stitching time of only 47 minutes. If I did not select the Auto Resequence By Color function, I would have 108 color stops with a stitching time of 1 hour. (Can you imaging changing threads 108 times? Ugh!)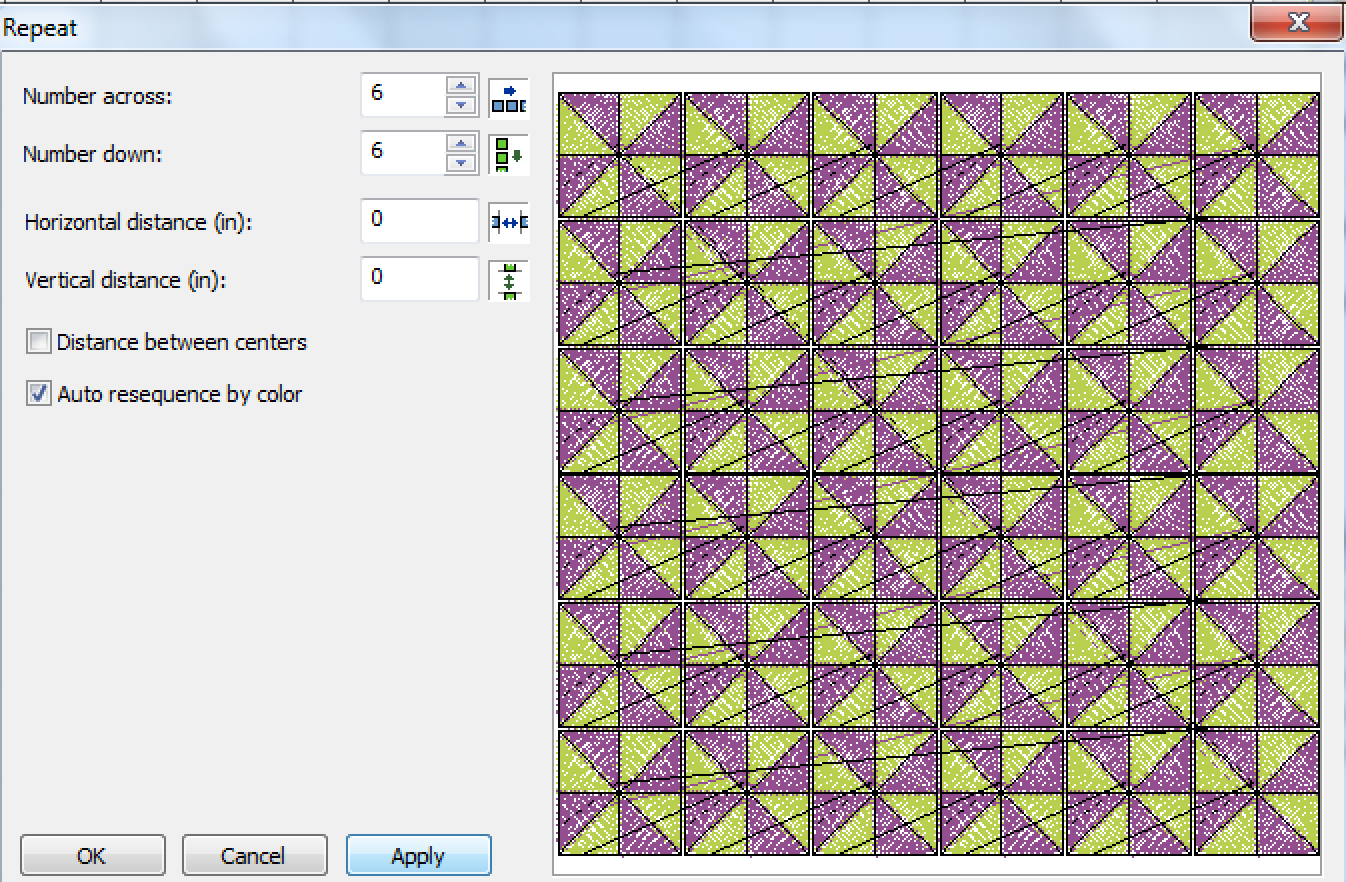 Step 4:
If you are happy with the arrangement, Select All > right-click on Group.
If you don't like the way things turned out and want to make some setting adjustments, select Undo and start over.
Here is another idea for combining multiple Mini Quilt Block embroidery designs.
This pretty little fan block was repeated 36 times, however, each block was grouped and then rotated to create this pretty embroidered quilt square.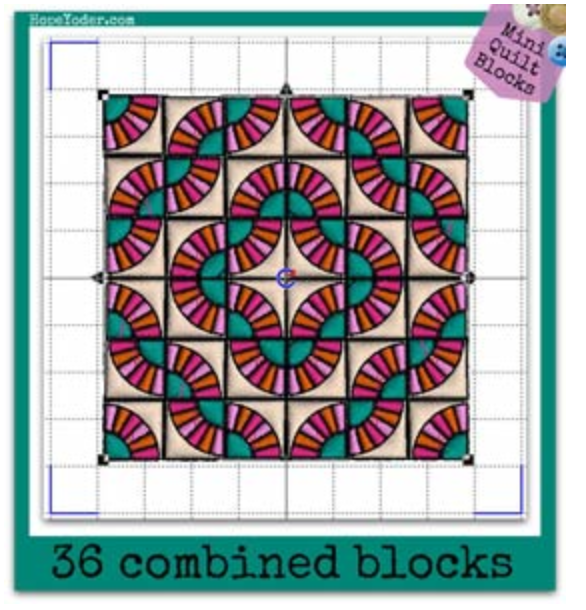 Below is an example of how we use multiple repeats of some pretty button cover designs. Need teacher gifts for Christmas or birthdays? Why not glue a covered button onto a magnetic clip as shown in the upper right corner? Looking for a cool tool to make perfect covered buttons? The lower left corner shows a new gadget used to make perfectly centered and stretched embroidered covered buttons. Click here to find out more about a Fabric Button Cover Machine.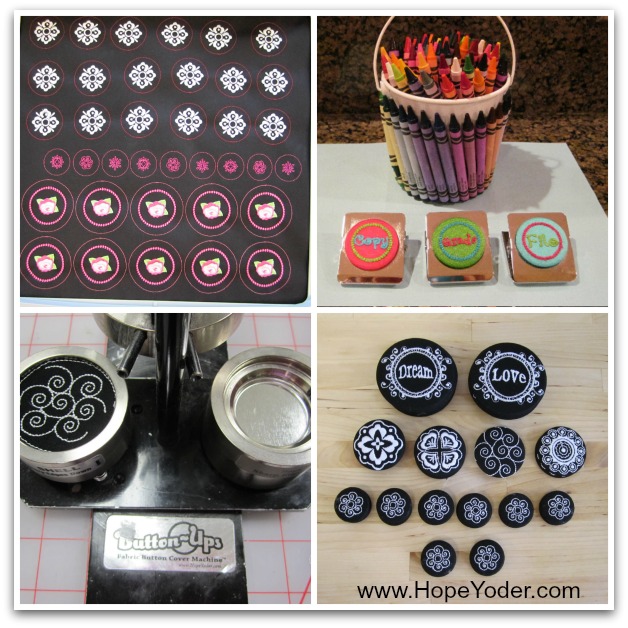 Looking for more clever ideas for using button cover embroidery designs in a unique way? Check out my Pretty Petals Tutorial.
Let me know in the comments if you have any questions!