[box type="shadow"] This special guest post is written by Mary Jo Hiney, instructor of the Bluprint class Embroidering With Ribbon. Sign up today to create stunning stitches and sophisticated ribbonwork with easy embroidery techniques!
[/box]
What an ample, abundant and outrageously lavish supply of fabric, threads, needles and ribbons we enjoy! When and where did these wonders originate? Their roots are found many, many millennia ago, my dears.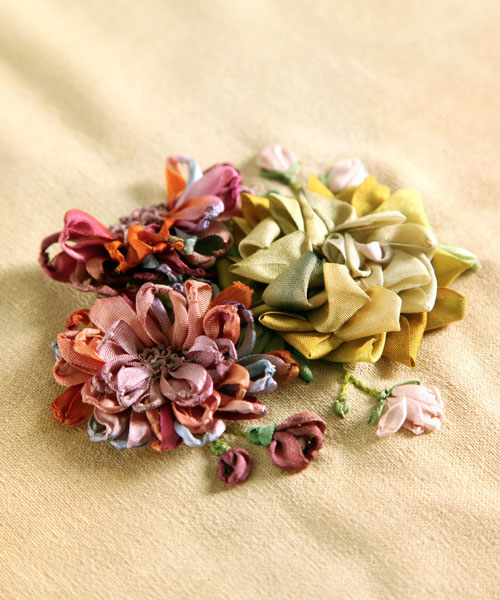 Photo via Embroidering with Ribbon
Why embroidery?
Let's pretend you've just finished a long day of Cro-Magnon hunting and gathering, some 30,000 years ago. Before it gets too dark, you feel the need to be creative, so you decide to heavily hand-stitch your clothing, boots and hat. How creative of you! History shows many images from ancient civilizations that depict people wearing clothing embellished with fiber, sinew, thread or bead embroidery. In the book of Exodus, Aaron is instructed to make pomegranates on the bottom hem of his garment. Now we have home-sewing machines that embroider while you go off and make dinner!
Don't you find it fascinating that one of the most vital aspects of being human is the need to personalize our lives, our clothing, our homes, our world? It's the true genius of the word "create." We need to be creative.
Which came first, the materials or the tools?
Photo via Pixabay
Materials first, right? But, wait a minute. You'd need the tools first in order to secure the materials, such as animal skins and vegetation. All manner of tools were first created in the Stone Age, which lasted about 3.4 million years, ending somewhere between 6000 and 2000 B.C.
Would you be shocked to discover that louse infestations from archeological digs dating back over 100 thousand years seem to suggest humans have been wearing clothing for at least that long?
How did stuff get sewn together?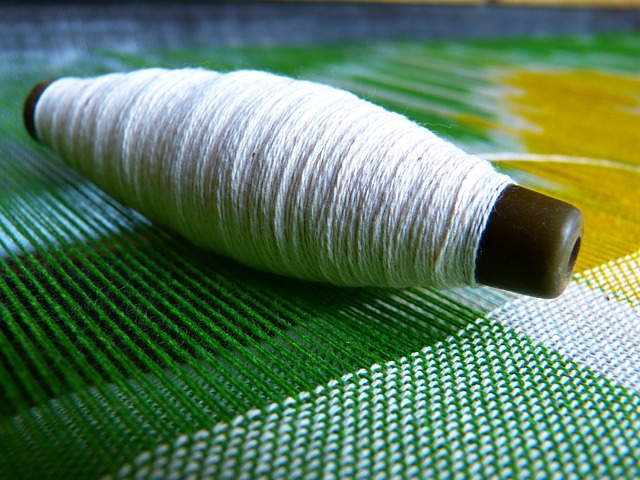 Photo via Pixabay
Here are some crazy facts about thread: Animal tendons, fibers from trees such as the honeysuckle, reed and cactus, even the vines of the Clematis, to name a few, were used as "thread." Flax is one of the oldest food and fiber crops in the world and from which we receive the lovely linen. Evidence dates back 30,000 years to the Republic of Georgia where flax fibers were found spun, dyed and knotted. And sometimes I can't even weave two thoughts together!
The ancient Egyptians made thread from plant fibers and animal hair, learning how to dye them colorfully. Of course, the Chinese discovered that a silkworm cocoon could be unspun, revealing a gossamer fiber with which to weave and stitch. Silk became the fiber for embroidery. In 1812, Patricia Clark and George A. Clark invented the method of twisting cotton threads together, when silk became ridiculously expensive. Later, George's son opened his Coats factory. By the 1890s, Coats merged with Clark!
Now we need a needle!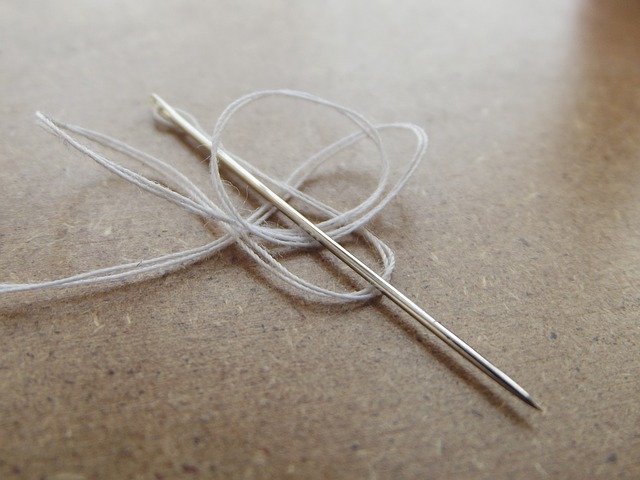 Photo via Pixabay
Needles can be traced back 28,000 years to when the first were made out of bone with a split head, rather than an eye. Another 10,000 years later and the first needles with eyes emerged. Copper needles weren't produced until 7000 B.C. and Bronze needles by 2500 B.C. The fine, pure steel needle didn't develop until 1615 A.D.
Machines to produce needles predate the invention of the sewing machine, but being a worker during the early industrial revolution in the needle manufacturing industry was often fatal, especially in the final stages of production when 100 needles at a time could be held up against a grindstone and upwards of 10,000 were produced in an hour. Not good if that grindstone broke, let alone having to deal with the constant inhalation of stone and metal particles from the production process.
Just in case you want to feel kind of ridiculously, abundantly blessed, look at this list of needles we now choose from, thanks to the hard work of those who have gone before us:Sharps, Applique, Embroidery needles, Crewels, Quilting and Betweens, Milliners and Beading needles, Bodkins, Chenilles and Tapestry needles, Darning, Soft Sculpting, Leather and Sailmaker needles, Tatting, Upholstery, Machine, Machine-Embroidery and Self-Threading needles. Collect them all!
Where does ribbon fit in all this creative history?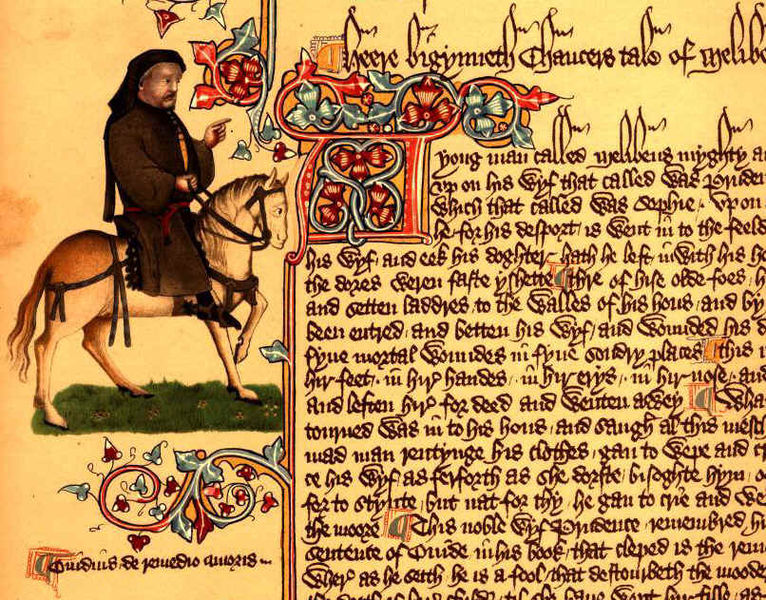 Photo via Wikimedia Commons

The word ribbon is Middle English and has its source in the word ribban or riban. It's an item with the sole purpose of embellishing, known to have been first woven near St. Etienne, France, as early as the 11th century. The Canterbury Tales, written by Geoffrey Chaucer in the late 14th century, references "ribbands." The English Parliament, during the 16th century, attempted to regulate ribbon as a luxury only for nobility and the elite. Well, push me over with a feather, that's shocking!

Ribbon is one item that enjoys a rich history of producing over-the-topness in men's and women's clothing, accessories, linens and furnishings. Yards and yards of ribbon have never been enough!

Which brings us to ribbon embroidery, a technique with a spotty lineage that is truly a toddler in the history of fibers, needles, threads and embellishments. In the late 1700's, Moravians in the U.S. were known for many outstanding skills and artistry in embroidery, which included ribbon embroidery. It has been popular during the Edwardian and Art Nouveau periods, in the 1950s, in the 1990s and has recently begun a fresh reinvention. Shall we help this toddler enter elementary school?

[box type="shadow"]
Add your mark to the history of creativity and learn ribbon embroidery in Mary Jo's class Embroidering with Ribbon on Bluprint!

Sign me up!

[/box]
About Mary Jo Hiney

Mary Jo Hiney learned to sew and embroider when she was young, and has been combining these skills ever since. She graduated from the Fashion Institute of Design and Merchandising in Los Angeles, and has written more than a dozen craft books, such as Romantic Silk Ribbon Keepsakes and Making Decorative Fabric-Covered Boxes. Mary Jo hand-dyes her own line of silk ribbons, and teaches ribbon embroidery workshops.