Feathers make an awesome subject for hand embroidery, whether they are realistically interpreted in stitches or worked into stylized designs.
A few weeks ago, Debbie Henry wrote about the natural elegance of feathers and how they adapt well to embroidery, including information on the symbolism of feathers and highlighting a number of ways that individual feathers can work as embroidery design elements.
Following up on Debbie's article, let's look at various ways that feathers can be depicted in hand embroidery. Along the way, we'll discuss some stitches that work well for creating feathery elements with needle and thread.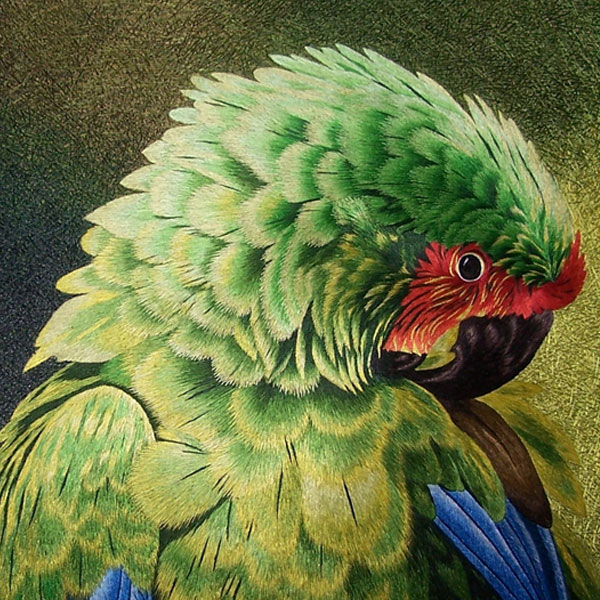 Image via Needle 'n Thread
Realistically embroidered feathers in needlepainting
By far, the most realistic feathery embroidery you'll probably ever see can be found in Chinese needlepainting, specifically embroidery from Suzhou, where their regional embroidery is commonly called Su Embroidery.
In Su embroidery, masters of the art stitch various subjects, but their birds are particularly striking, thanks to the incredible detail in their feathers.
Using needlepainting techniques, especially shading with a variation of long and short stitch, the embroiderer practically paints the image with very fine silk thread. The detail on these embroidery masterpieces is stunning — so amazing, in fact, that it's difficult to image that the picture is embroidery at all. It looks like a very fine, detailed painting.
Whether fluffy feathers or sleek, each feather is a perfect specimen, meticulously wrought in Chinese needlepainting techniques.
When looking at such perfect examples of silk embroidery, beginner and intermediate embroiderers may think that such realism in embroidery is far beyond their reach.
Not so, not so!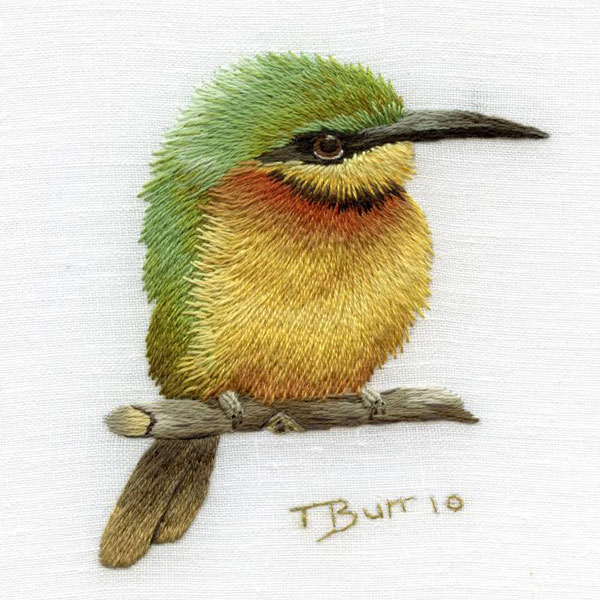 Image via Trish Burr Embroidery
Trish Burr, an embroidery designer from South Africa who has written a number of books on needlepainting techniques, incorporates these techniques to embroider birds as well, but her interpretation is much more accessible to the hobby embroiderer.
Trish's embroidery captures the detail and coloring of the feathers on her birds, using easy-to-learn long and short stitch, layered to create feathered chests, wings, tails, and heads.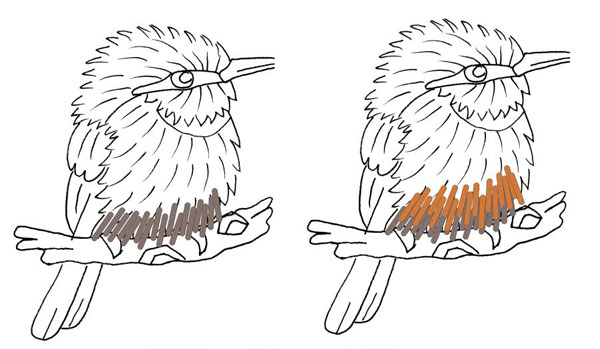 Image via Trish Burr Embroidery
The photo above demonstrates how each layer of stitching is worked on top of the previous layer. Trish uses long and short stitch and a technique called, in Chinese, "the hairy stitch" to create the feathered effect.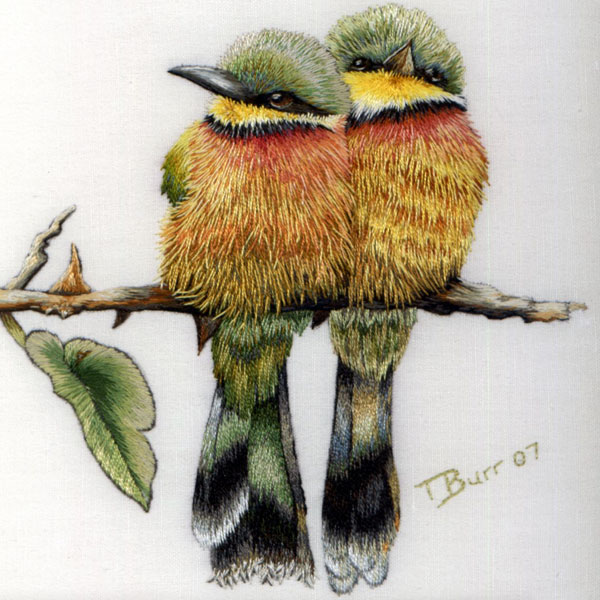 Image via Trish Burr Embroidery
From the fluffy feathers on the breasts of birds to the sleek tail feathers in multiple shades, Trish's birds and their feathers are a delight!
Stylized embroidered feathers in crewel and surface embroidery
But not all feathers in hand embroidery need to be so realistically depicted.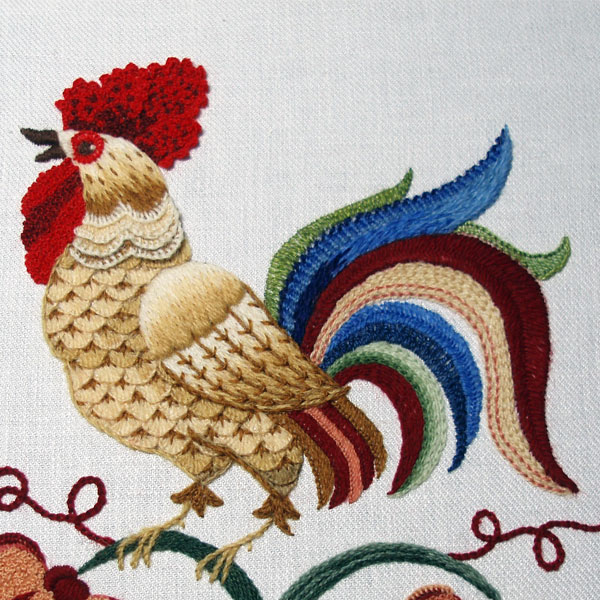 Image via Needle 'n Thread
In hand embroidery, birds and their feathers are perhaps more commonly depicted in a stylized manner. That is, the embroidered element is obviously meant to be a feather, but it doesn't necessarily look like a real feather that you'd find in nature.
In crewel embroidery, practically any stitch goes for creating feathers!
On the rooster above, worked in wool threads, the stylized feathers on the chest are embroidered with a combination of buttonhole stitch scallops and straight stitch. Individually, they might not necessarily look like real feathers, but taken as a whole, the chest comes across as feathered.
The wing is worked in long and short stitch shading, with lines of fern stitch flowing down the wing on top of the long and short stitch.
The tail feathers incorporate a whole variety of stitches, including chain stitch, back stitch, a ribbed stitch line, cretan stitch, fishbone stitch, stem stitch, buttonhole stitch, satin stitch and long and short stitch.
Image via Needle 'n Thread
Worked in regular surface embroidery with one strand of DMC floss, this bird's wing and tail feathers are embroidered in fishbone stitch, alternating shades from dark to light down the length of feather to produce a shaded effect.
Embroidering individual feathers with a variety of stitches
Individual feather motifs, where the embroidery design is made up of just a feather (or several feathers), can be embroidered in too many ways to list!
Interestingly enough, one of the least common stitched used in hand embroidery to embroider feathers is the feather stitch.
But there are plenty of other stitches that can be used to to work individual, solid feathers: fishbone stitch, fly stitch worked vertically, basket stitch, Van Dyke stitch, loop stitch and closed cretan stitch are just a few examples of stitches that can be used to effectively embroider an individual, solidly filled feather that has a spine of sorts down the center.
For feathers that are not solidly filled, where instead the individual barbs of the feather can be distinctly seen, the embroiderer can employ any stitches that create fine lines: stem stitch, back stitch, straight stitch and couching, for example, can all be used effectively in the interpretation of an individual, open, feather.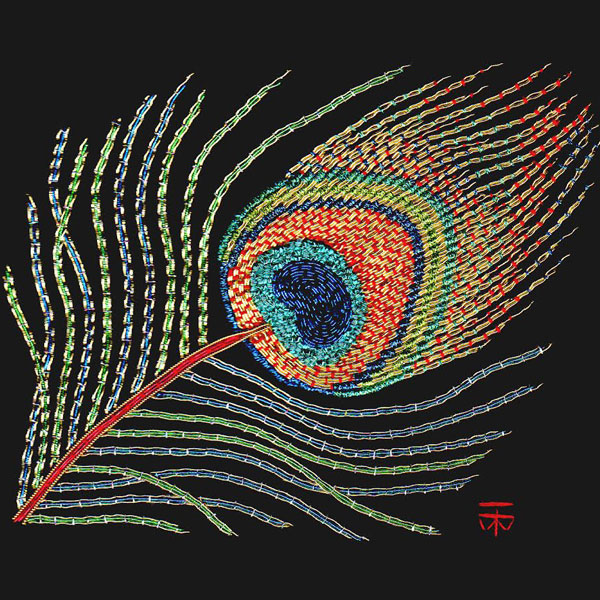 Image via Berlin Embroidery
One of my favorite individual feather designs for embroidery is the magnificent peacock feather above, designed by Tanja Berlin and worked in silk and real metal threads. She uses a combination of couching techniques to stitch the metal threads to the fabric, and the result is a gloriously colorful, sparkling embroidered peacock feather! It's just fantastic!
Further resources for feathers in hand embroidery
You can find kits for embroidered birds in needle painting, including Trish Burr's birds featured above, through Trish Burr Embroidery.
The goldwork peacock feather by Tanja Berlin is available as a kit through Berlin Embroidery Designs.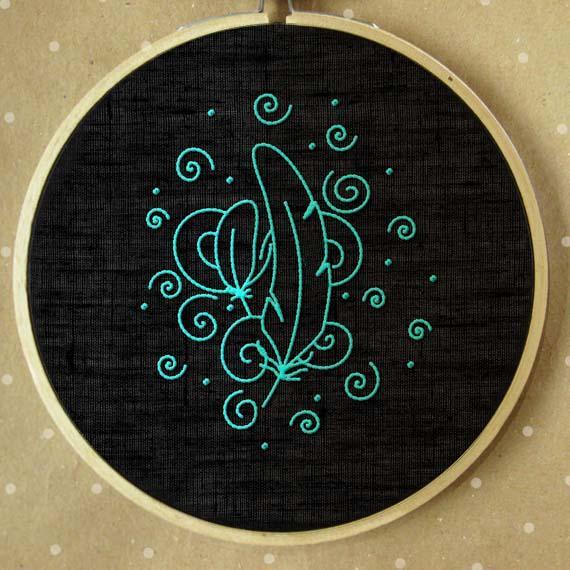 Here on Craftsy, this feather motif shown above by NaiveNeedle would make a fun surface embroidery pattern to work.
Additionally, a quick image search online for "coloring book pages feathers" will bring up all kinds of possibilities for line drawings that can be interpreted in embroidery.
Have you ever embroidered feathers?
What about you? Have you ever embroidered feathers? Do you have a favorite technique that you've used? Do you like realistic looking feathers or do you go more for stylized feathers? If you have any tips to share, questions to ask, or suggestions to make, leave a comment below and let's chat about embroidered feathers!