Beautiful embroidery and quilting can be found combined in quilts that are hundreds of years old; however using these two art forms together is still popular with quilters today. If you'd like to incorporate embroidered blocks into your quilt, there are a lot of available options. You'll find many patterns that combine embroidered blocks with the setting directions for a quilt, so you can put the blocks together after the embroidery is complete. You can also embroider your own blocks and arrange them in your chosen setting.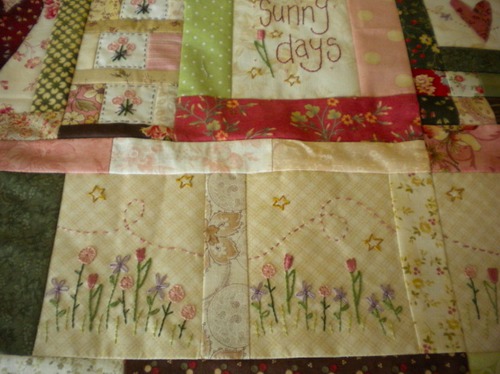 Before beginning an embroidered quilt you'll need to select a fabric for the embroidery blocks. Generally a solid white or cream fabric is best; although a fabric with a light design in it may also be used. The fabric for your embroidered block should be cut at least 1″ larger on all sides than the size you'll need for your quilt. This is so you will have extra room to put your fabric into a hoop for stitching. This also helps give you room to trim your block to the exact size if any stretching of the fabric has occurred.
Trace your design onto the fabric using a fabric pencil or water soluble fabric pen. A light table is especially helpful for this part of the process; however, if you don't have a light table you can tape your pattern to a window with bright light and place your fabric over the pattern for tracing. A glass top table can also be used?just place a bright light under the table while tracing.
After you've recorded your design on the fabric you'll want to apply a light stabilizer so the stitches you embroider won't show through the fabric. This is a very important step and helps give your finished embroidered quilt blocks a beautiful finish. A light fusible interfacing works best for this. You don't want your embroidered block to be stiff; you just want to lightly line it. When fusing interfacing to your fabric it's best to use a pressing cloth between the interfacing and your iron. Check your instruction sheet included with your interfacing, for directions regarding using steam and whether or not your pressing cloth should be wet or dry.
After stabilizing your fabric, begin to stitch your design according to the directions included with the embroidery pattern. Stitch encyclopedias and embroidery books can help if you need more complete directions to work the stitches included in the blocks. Two recently released embroidery books which contain designs that can be used in embroidered quilts are Little Stitches: 100+ Embroidery Designs 12 Projects by Aneela Hoey and S is for Stitch: 52 Embroidered Alphabet Designs + Charming Projects for Little Ones by Kristyne Czepuryk.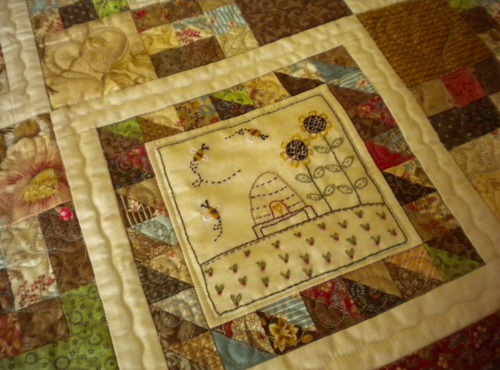 When your embroidery is complete, press your design, and then trim it to the exact size you need for your quilt. Next put your quilt together according to the pattern directions. You'll want to take your embroidery designs into consideration when choosing your quilting method. If you are hand quilting you need to take special care to do minimal quilting in the embroidered blocks so as not to cover or visually compete with the embroidered stitches. When sending your embroidered quilt to a machine quilter you should request custom quilting, so that the quilter stitches around your embroidered blocks without covering them with an all over quilting design.
For additional embroidery instruction and ideas, you'll enjoy the Bluprint online class The Machine Embroidered Quilt with Eileen Roche. So go ahead and have fun making an embroidered quilt!