Embroidery designs, whether added by machine embroidery or by hand, add that special touch of elegance to quilted projects. And spring is the perfect time to put together some quilts and accessories with embroidered blocks and embellishments. Ready to give it a try? Here are some inspiring embroidered quilt patterns and projects that say "SPRING," along with some tips for adding embroidery to quilts.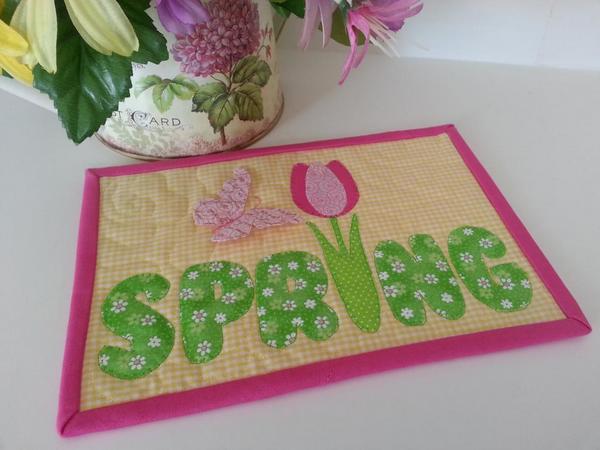 Photo via Bluprint member Lisa_Marie
Spring Has Sprung Mug Rug
Small amounts of embroidery can make a big impact. This delightful spring mug rug pattern measuring 6 ½" x 9 ½" uses just a bit of embroidery for embellishment. Hand-stitch the buttonhole appliqué stitch around the letters for an extra special touch. Simple hand-stitching can also be used to embellish the tulip.
Get the Spring Has Sprung Mug Rug pattern.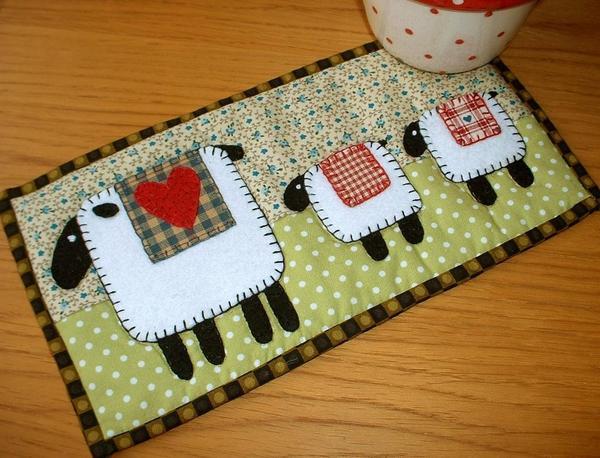 Photo via Bluprint member The Patchsmith
Spring Lambs mug rug
The Spring Lambs Mug Rug pattern is another simple mug rug design that also features just a small amount of hand embroidery. Again the buttonhole stitch with embroidery floss is the perfect addition to this simple quilted project.
Get the Spring Lambs Mug Rug pattern.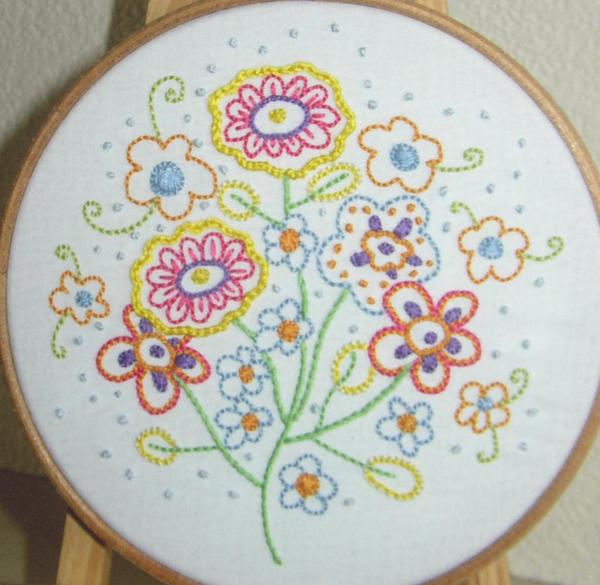 Photo via Bluprint member Julie Bull
Fresh Florals hand embroidery
Most hand embroidery patterns can be adapted for use in quilt blocks. The Fresh Florals pattern actually contains three different floral designs that are perfect for small quilt blocks.
Tip: When using hand embroidery designs for quilts, cut a background square 1″ larger all around than required for the quilt. Prepare the background fabric by ironing it and then transfer the embroidery design using a light table to trace the pattern directly on the fabric. Finally, fuse interfacing to the back of the quilt block so the threads and stitches on the back won't show through to the quilt front. After your embroidery is completed, the quilt block can be trimmed to the exact size needed for your project.
Get the Fresh Florals Hand Embroidery pattern.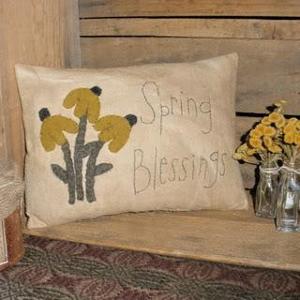 Photo via Bluprint member teresamil0
Spring Blessings appliquéd pillow
Another perfect embroidered project for spring is this simple appliquéd pillow, which uses a simple backstitch embroidery to add the words "Spring Blessings" to the pillow. The backstitch is a useful embroidery stitch perfect for adding simple embellishments to quilt blocks and is especially useful in combination with simple appliqué.
Get the Appliquéd Pillow Spring Blessings pattern.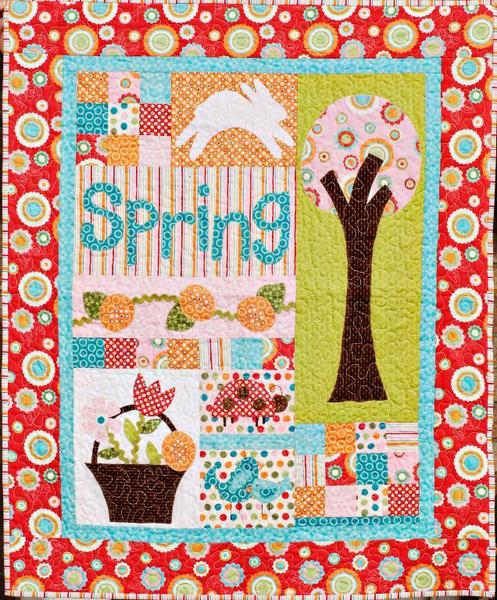 Photo via Bluprint member Tricia Mathis
Spring Delight wall hanging
The Spring Delight wall hanging combines simple piecing and appliqué to create a delightful project to welcome spring. Simple appliqué stitches and hand embroidery can be used to embellish this small quilt. Use hand or machine embroidery stitches to go around the raw edges of the appliqué pieces.
Get the Spring Delight pattern.
[box type="shadow"]Learn all about using hand embroidery to add decorative flair to your quilts in the new Bluprint class Design It, Stitch it: Hand Embroidery with Jessica Marquez. Or, if you prefer embellishing quilts with machine embroidery, check out Elegant Embroidered Quilts with Amanda Murphy![/box]
What are your favorite ways to use embroidery for embellishing quilts and quilted projects?