I find there is nothing more enjoyable than stitching embroidered flowers. They lend themselves so perfectly to needle and thread and the incredible array of embroidery stitches available to us. We have seen flowers used in embroidery throughout history and they live with us in and throughout our childhoods in the samplers and table linens that we had, and the memories we hold of sitting round at mealtimes studying these beautifully colorful and joyful simplicities.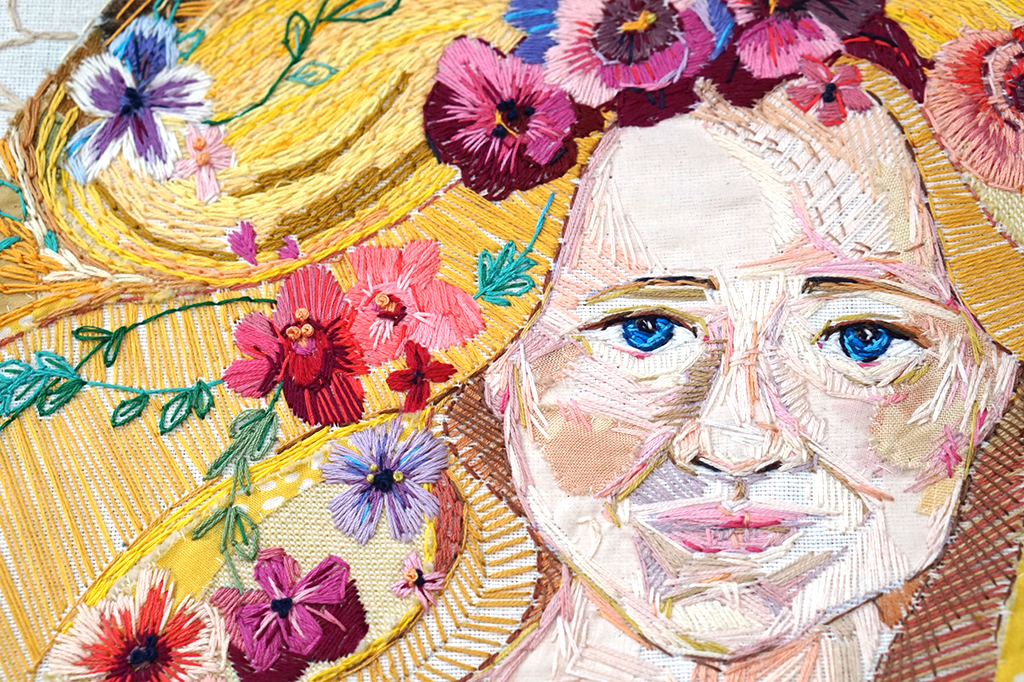 Hand embroidered flowers in a girl's hair by Marna Lunt
I thought a lovely roundup of all the fantastic projects and patterns featuring embroidered flowers would be a wonderful way to celebrate these beautiful, colorful and cheerful subjects.
Check out these stunning embroidered flowers for some major inspiration!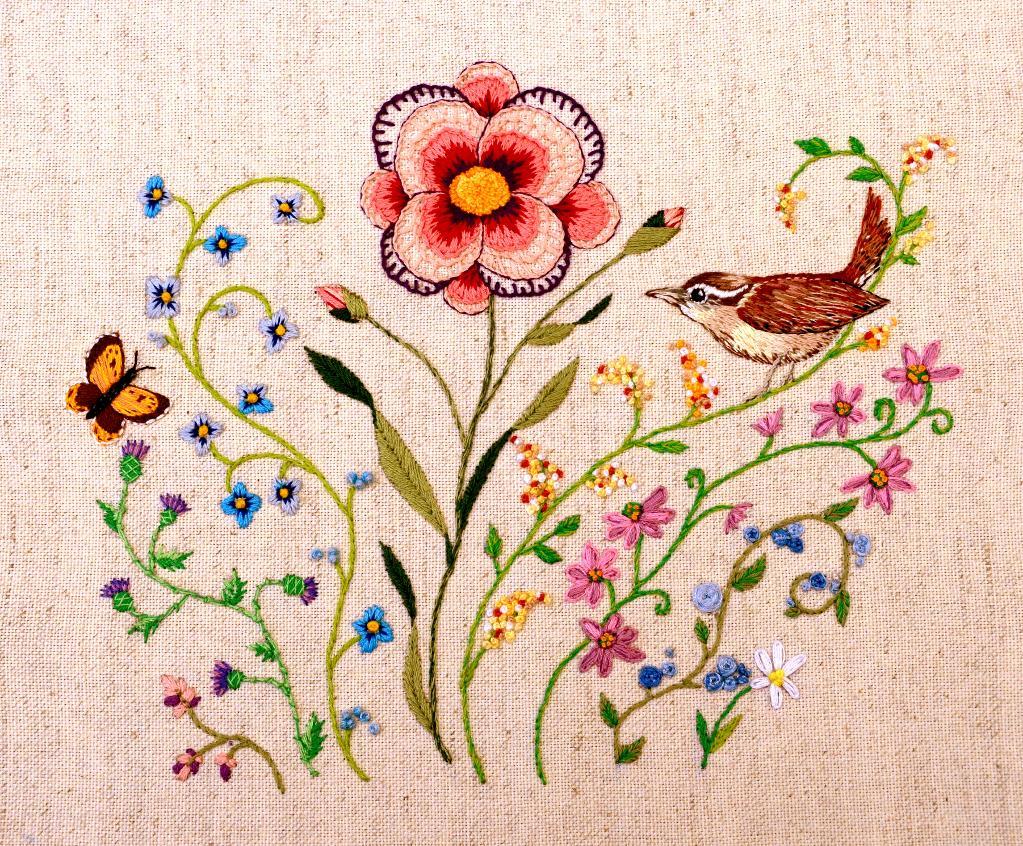 Floral embroidery by Bluprint member Beadseller
Happy wren
I was quite taken aback by this fabulous piece of work, the beautiful central flower really catches your attention and draws the eye into the picture. The simple stitches just show how you don't have to be an expert with 70 stitches under your belt to be able to produce something so eye-catching and cheerful.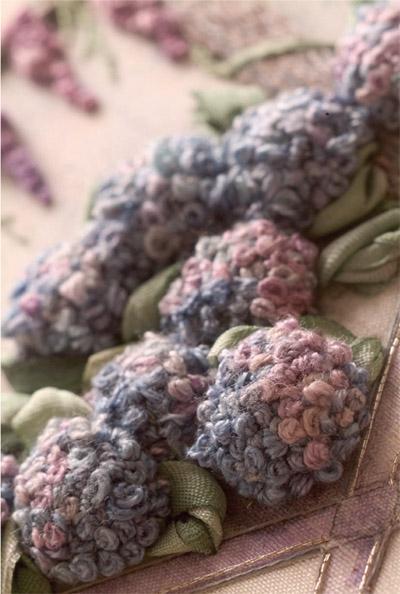 Stumpwork hydrangeas by Di van Niekerk
Hydrangea stumpwork
In this piece of beautiful stumpwork, I wanted to show you how wonderful raised embroidery looks when dealing with flowers. Plus, with the use of some satin ribbon, these hydrangeas really come to life. I imagine the mix of flat shaded flowers and texture of the stumpwork along with the ribbon embroidery would make for a lovely piece if you feel like giving it a go.
Learn how to achieve this look in the online Bluprint class Stumpwork: Raised Embroidery Essentials.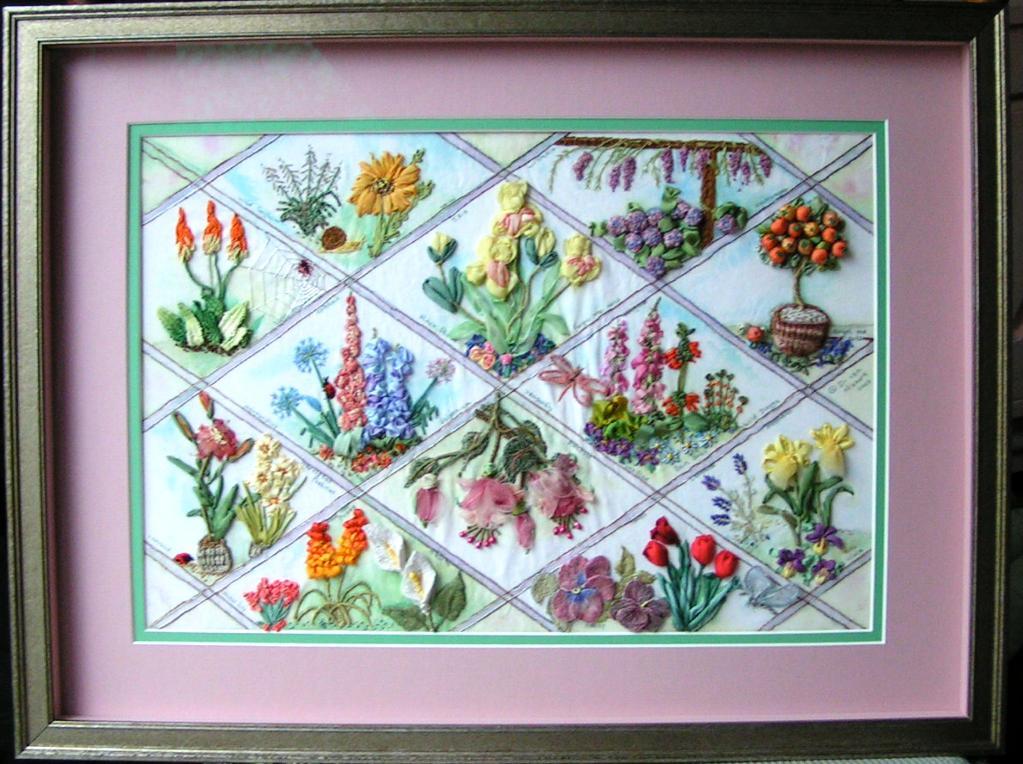 Beautiful examples of ribbon embroidered flowers from Bluprint member Sewphiamia
Hungarian folk art
While looking into the different styles of floral embroidery, I discovered Hungarian folk art embroidery, which has a very distinctive, bright and punchy style. It is quite different from the work above and I do like the contrast and individuality of each artists' style. 
Hungarian floral embroidery via of Macaristanbul
This form of Hungarian folk art took its present style and form in the eighteenth century and incorporated assorts of elements from the Renaissance & Baroque to Persian depending on which area we are looking at in the country. The main decorative features are always flowers with sometimes a bird or maybe a spiral decorative feature.
My favorite style is the Kalocsa decorative style. The styles differ depending on the area it is made, Kalocsa comes from a town in Southern Hungry on the Danube, the woman draw their designs on white or pastel colored fabrics and concentrate on daisies, marigolds, cornflowers, poppies, lilies, tulips and roses in the brightest of colors, which really pop strongly against the white background. The reason why this embroidery has become so widespread in folk art lies in the ancient custom of dowry. It would be expected that any marriageable daughter from a home of wealth should be able to provide a dozen or so embowered sheets and decorative pillows, as well as ore embroidered table clothes and feather beds.
Hungarian floral embroidery. Photo courtesy of Macaristanbul
It is safe to say I have fallen in love with these bright and cheerful blooms. Kalocsa embroidery is based on stem stitch, satin stitch and sometimes French knots, which would indicate stamens. I haven't seen a piece of this type of embroidery with a straight or hemstitched edge, and one of the biggest reasons I love this style of embroidery is because of its beautiful edges which are always worked with some degree of Broderie Anglaise cutwork.
Modern Kalocsa embroidery uses 27 colors, and has a set use and amount of motifs, which is one of the reasons Hungarian embroidery is such a recognizable style. Having these 'rules' help create their stunning style but also it leaves room for a limitless rearrangement of motifs to make into new and fresh compositions. 
The traditional colors are used on the costume, and because central parts of the motifs are based on red, orange and pink, they are called "happy colors," and are considered to be appropriate for girls and young women. There are also "sad colors' for older ladies and appropriate occasions, which are of a more muted and bluer color palette.
The art of Kalocsa embroidery became quite fashionable and at the end of the 19th century, this embroidery work went through some developments in style. The holes of the pattern designs were filled but there were also many artists who liked to combine the two needlework styles.
Hungarian floral embroidery. Photo courtesy of Macaristanbul
Contemporary floral embroidery artists
Vicky Trainor is another textile artist who uses florals all over her work, but she cuts them from fabric and arranges them to create her pieces.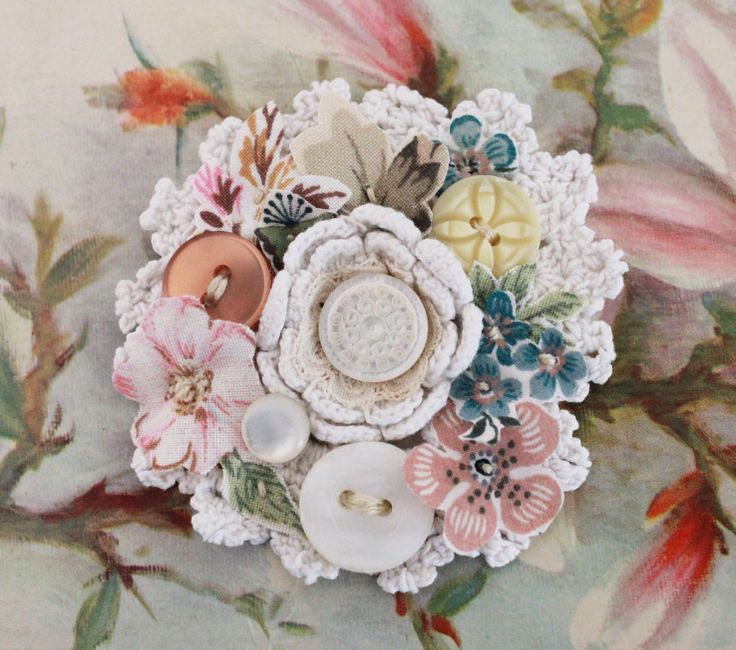 A beautiful brooch by Vicky Trainor, using delicate floral cutouts and buttons.
Another beautiful example of bight and cheerful embroidered flowers is this beautiful needle case by Jill O'Leary.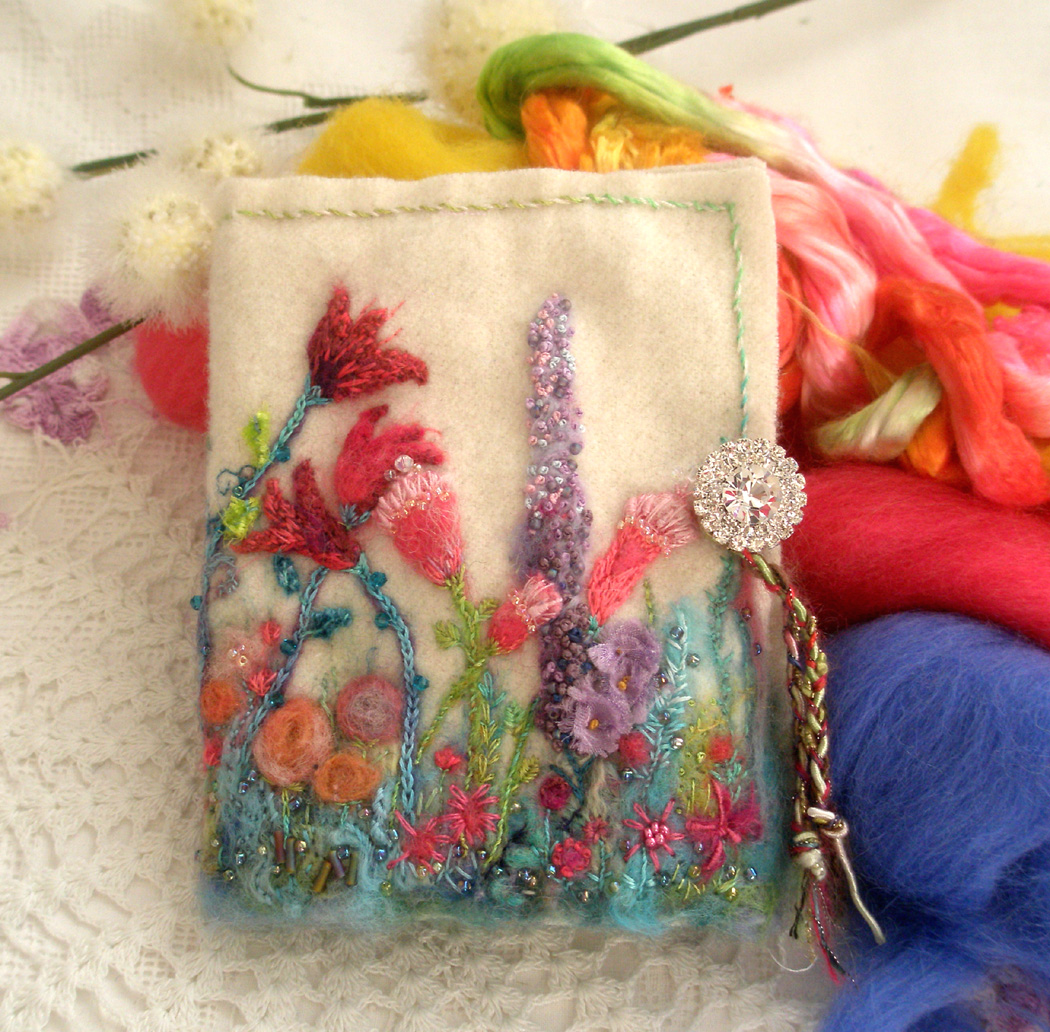 Stunning needle case by Jill O'Leary from Fiberliscious
The example of stitched flowers below shows another twist on the satin stitched flowers, adding more shading and less uniformed stitches. Just another example of how versatile flowers are to embroider, they can be details and bold or delicate and simple, using a French knot and a straight stitch with a single chain leaf. The possibilities are endless and exciting to explore.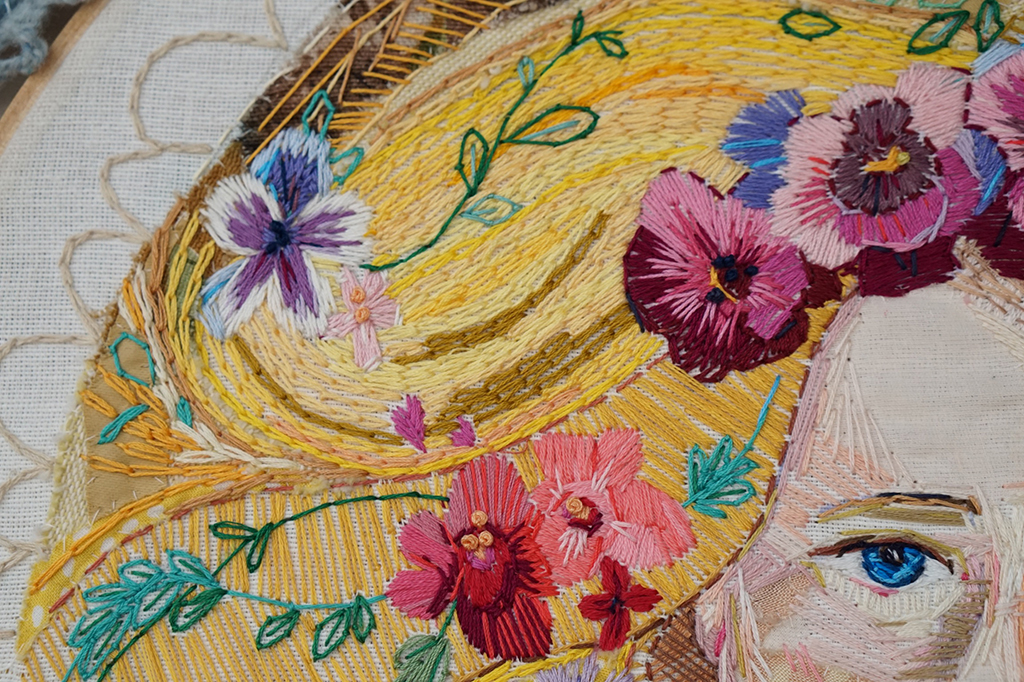 Beginner's Guide to Beautiful Hand Embroidery
From supplies to popular stitches, get the essentials you need to know for beautiful hand embroidery!Get My FREE Guide »