I don't know about you, but I love to create crafts of all kinds. There is something really rewarding about taking an idea and turning it into something you have made, especially when the end results make people ask, "You made that?!"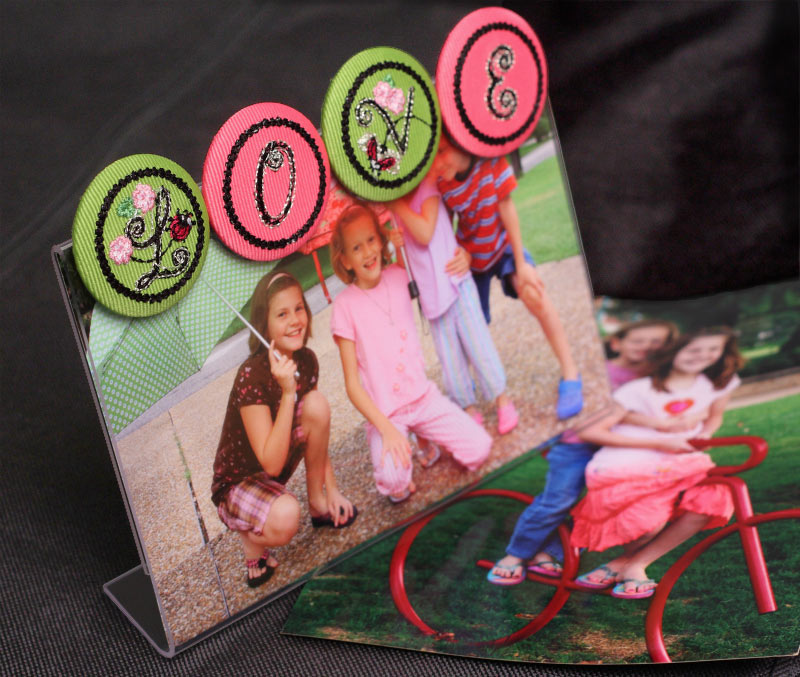 I have a confession. I do not love to shop! I know I am probably in the minority, but if I can order it online, I'm in. Over the past several years, I have found myself thinking that I would just make a quick machine embroidered gift instead of leaving the comfort of my home and going shopping in search of that perfect gift. One of my favorite quick gifts to whip up is this embroidered button photo frame. With the holidays approaching, this is a wonderful gift to make for friends, family or coworkers.
Machine embroidered button photo frame tutorial
Materials Needed
3" grosgrain ribbon (I used kiwi and hot pink)
Heat n Sta tearaway stabilizer
Acrylic frame from discount store
Permanent adhesive scrapbooking dots
Poly embroidery thread
Silver metallic embroidery thread
Notes:
The Ladybug Button~Ups have cute little flowers and a ladybug in each letter but I wanted to jazz each letter up a bit with some silver metallic thread.
The Frames & Borders have a nice round candlewicking border that looks like French knots, which looks great combined with a monogram. To make this work, the designs must be re-sized a little bit since the monograms are just a little too big to fit inside of the other design.
Directions:
Step 1:
Open the "L" design in your software program and select all the design elements > right-click > Group. (This prevents small portions of the design from being accidentally pulled out of registration or skewed.)
Select Merge and open design Candelweicking_150 file > right-click > Group.
Select all elements > Center. (This will center the letter with the candlewicking border.) Look at the combined design as sometimes the exact center is not visually center. Move the design as you like and save as a new file. Re-size the L to fit inside of the candlewicking border.
Continue with the same steps to combine the letters O, V and E for "LOVE."

Step 2:
Try using 3" grosgrain ribbon to embroider on instead of fabric. Embroidering on ribbon adds dimension and allows the embroidery stitches to sit on top of the ribbon for a classier look. Ribbon also resists finger oils from soiling the fabric.
To prevent the ribbon from drawing up and severely distorting during machine embroidery, iron Heat N Sta iron-on tearaway stabilizer to the wrong side of the ribbon. Hoop tearaway or sticky tearaway stabilizer. If you have an automatic basting feature on your embroidery machine, use it to baste the stabilized ribbon to the hooped tearaway. If you do not have an automatic basting function, try using a sticky tearaway stabilizer.
Embroider all the L O V E designs on different colored ribbon.

Step 3:
Create covered buttons using your favorite button cover kit. If you want to try something super easy and fun, check out the Button~Ups Fabric Button Cover Machine. The machine comes with a handy circular cutter that centers and cuts your embroidery while the machine perfectly crimps the edges of grosgrain ribbon or fabric.

Step 4:
Once you have made all your buttons, it's time to attach them to the acrylic frame.
My first few frames didn't hold up very well. I used an epoxy glue that said it bonded metal to plastic. It worked well for a few weeks, but then the buttons came off. This left us to try another medium of attachment. E6000 glue worked OK, but still didn't hold up as well as I had hoped. Our final choice, and the best, are permanent adhesive scrapbooking dots. Apply three in the shape of a triangle to the back of each button.
[box type="shadow"]For more machine embroidered gift ideas, check out the Bluprint classes Elegant Machine Embroidered Bags with Amanda Murphy and Machine Embroidery With Terrycloth and More, taught by Deborah Jones.
You might also enjoy our tennis shoe makeover tutorial.[/box]