Jumpsuits (and their form-fitting cousin, the catsuit) are one of those garments that seem to bring about strong feelings: you either love 'em or you hate 'em.
Jumpsuits certainly have a lot going for them, since it's a complete outfit all by itself (much like a dress, but certainly more difficult to go to the bathroom in!) and the long lines can be extremely flattering on some body types. (I've never tried a jumpsuit, but I'm certain it's not something I'm capable of pulling off).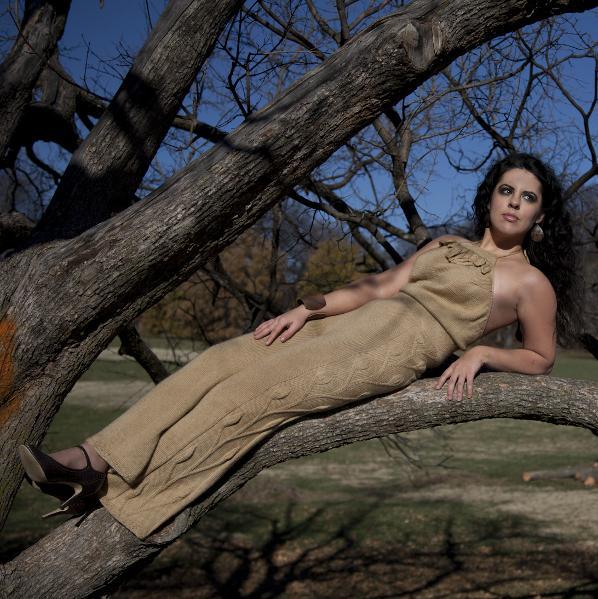 Photo via Bluprint instructor and member Sarah Wilson (aka The Sexy Knitter)
Whatever your personal feelings are, jumpsuits are currently enjoying time in the fashion spotlight. Let's take a closer look!
History of the jumpsuit
Jumpsuits originated from humble beginnings. The name originally referred to the one-piece garment worn by parachuters and skydivers, but the garment style has been adopted by many different industries, from pilots and race car drivers to astronauts and motorcyclists. Auto mechanics and plumbers also like the practicality of a jumpsuit, and jumpsuits are favored as prison garb throughout the United States and Canada.
Jumpsuits in pop culture
Rosie the Riveter famously donned a jumpsuit while urging women to work in factories during World War II. From there, jumpsuits appeared on the runway in the 1960s (with looks from designers like Yves Saint-Laurent and Norma Kamali), and then enjoyed a well-received return in the 1980s.
Jumpsuits have been popular stage attire for a variety of musicians throughout the decades, from Elvis Presley to the Spice Girls to Britney Spears.
They've also graced the big and small screen: Bruce Lee wore a yellow and black number in Game of Death, and the character April O'Neil from the original Teenage Mutant Ninja Turtles cartoon was always seen wearing a yellow jumpsuit.
My favorite appearance by a jumpsuit, however, was on the short-lived (but brilliant) television show Freaks and Geeks. In the episode "Looks and Books," Sam Weir's character purchases a baby blue "Parisian night suit," which he gamely wears to school (hoping for "super-stud" status).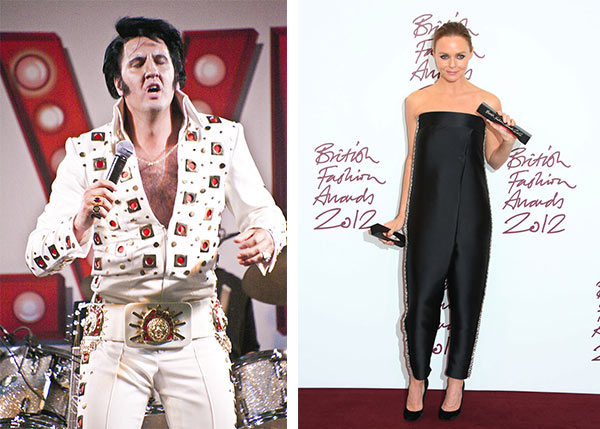 Jumpsuits today
Jumpsuits intrinsically evoke futuristic connotations, so you can be sure they'll never completely fade away from the fashion world. This year, jumpsuits showed up on the runways Donna Karan, Marc Jacobs, Reem Acra and Emilio Pucci, among others.
You can jump on the jumpsuit trend by sewing a jumpsuit. (I think it would look great in a soft, drapey fabric.)
When fitting your jumpsuit, make sure it defines your waist, and don't be afraid to accessorize with a belt. Vary your look by rolling up the legs to capri-length, and choose your footwear wisely (you'll probably want a heel or a wedge) so you don't end up looking like a plumber.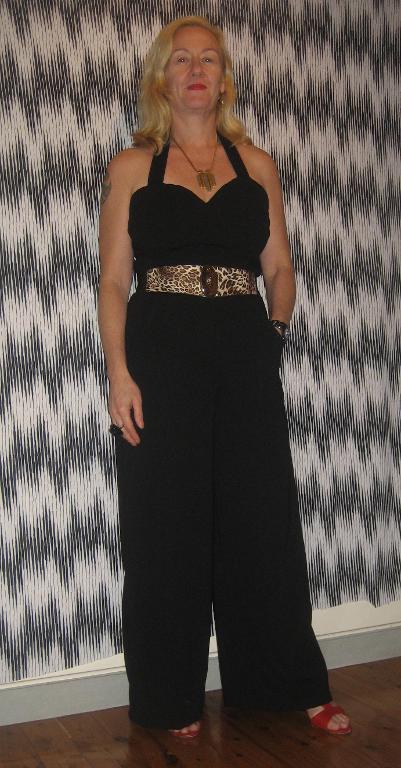 Photo via Bluprint member Rhonda Flemming
Check out this great jumpsuit from Bluprint member Ronda Fleming. I think Rosie the Riveter would approve!
Would you wear a jumpsuit? Let me know in the comments!