Use the emboss resist technique to create beautifully inked layers of images. We'll walk you through the process, step by step, in this quick card making tutorial.
With the emboss resist technique, the goal is to emboss images onto a white or light colored card stock then apply darker ink around the embossed image to make it stand out against the darker inks.
In the sample I created for this tutorial, I clear embossed flowers on white card stock, blended inks over and then stamped additional flowers on top. The embossed images resist the ink, leaving a multi-layered appearance.
Images can be stamped over text or other background or patterned paper for a different look. Or larger open background stamps can be embossed, with the openings colored in with watercolor, inks or distress markers. There are endless ways to customize your cards once you get the basics of the emboss resist technique down!
When embossing, I normally use a powder tool on my card stock before stamping. This helps to avoid specks of embossing powder from appearing where they are not wanted. On my sample, I did not do this as I wanted a few random spots to be left white. If you prefer a more crisp, clean appearance, I recommend using a powder tool before stamping.
How to achieve the emboss resist technique
Supplies you'll need:
Card stock
Stamps/acrylic block (I used Botanicals 1 and Salutations by Paper Smooches)
VersaMark ink
Dye inks (I used Berrylicious, Grapesicle and Grape Jelly by My Favorite Things)
Clear embossing powder
Heat tool
Blending tool
Paper towel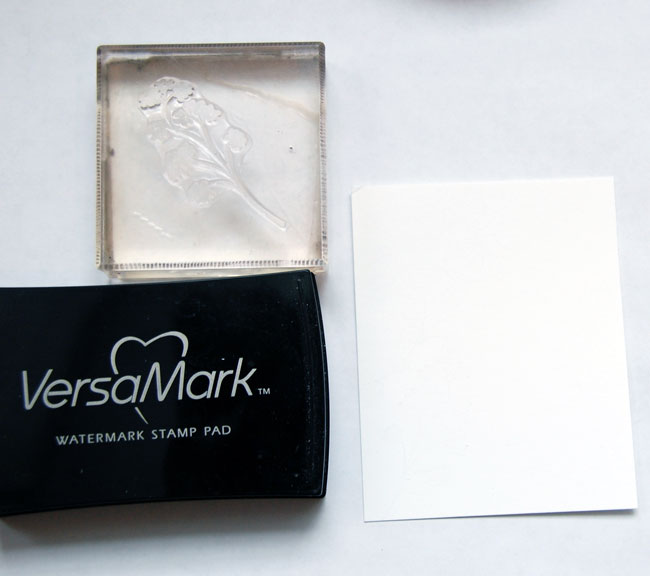 Step 1:
Cut card stock to size. My sample piece measures 3″ x 3 3/4″. Stamp floral image using VersaMark along the left side. I began at the bottom, stamping the entire image first from the bottom left corner. For subsequent impressions, I omitted inking the bottom portion of the stem to avoid the look of floating branches.
VersaMark has no color so it is difficult to see after stamping (and while photographing). A small, close overhead light helps when stamping multiple impressions.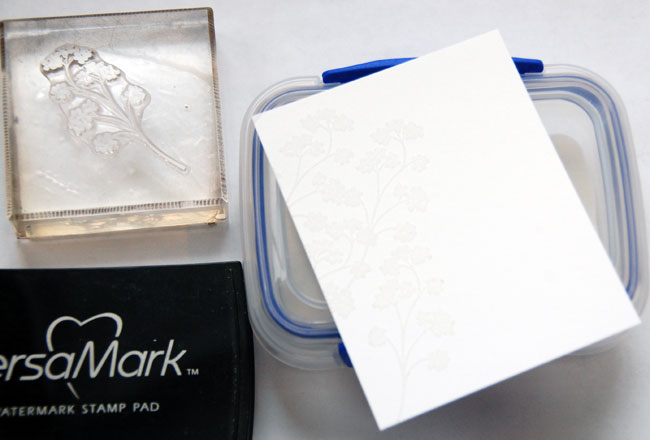 Step 2:
Pour clear embossing powder over stamped images, being certain all areas are well covered. Tap off excess powder.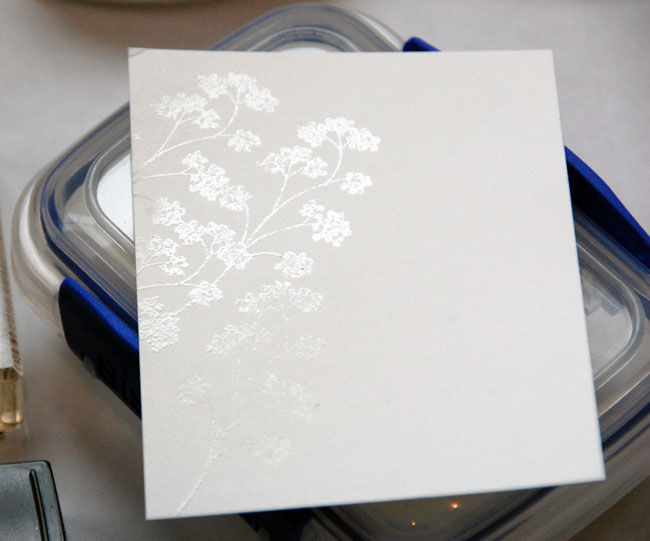 Step 3:
Heat emboss* and allow to cool.
*See also our step-by-step tutorial on how to heat emboss for more information.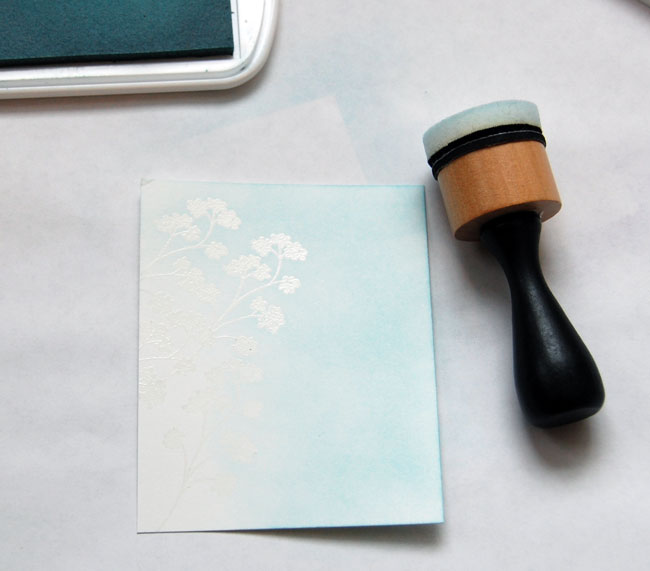 Step 4:
Using light blue ink, begin blending color onto card stock. I use small circular motions, beginning on the scrap paper and slowly moving onto the card stock. If the inked blending tool is placed directly onto the card stock before beginning the blending motions, lines of color can appear, which may be difficult to blend out.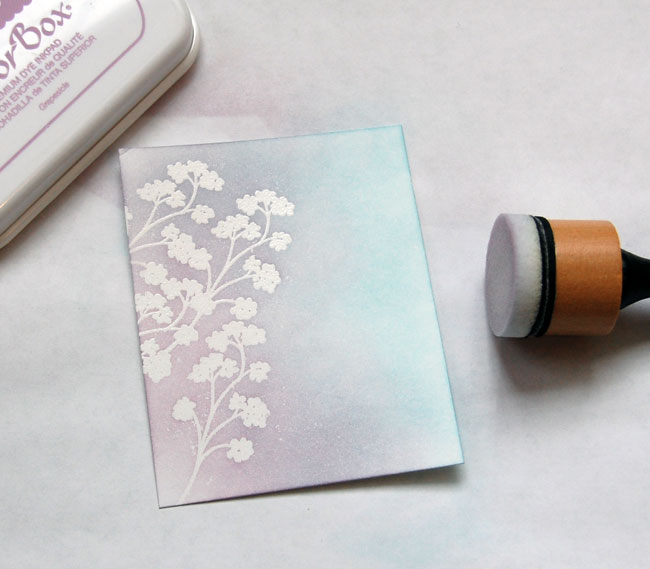 Step 5:
Begin to blend the lightest purple ink onto the card stock, blending over the embossed flowers and into the blue.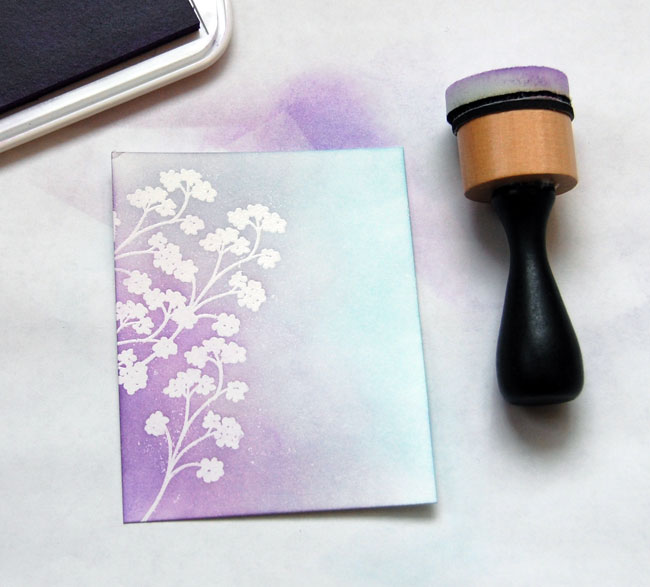 Step 6:
Using darkest purple ink, blend from lower left corner up and into the lighter purple and blue.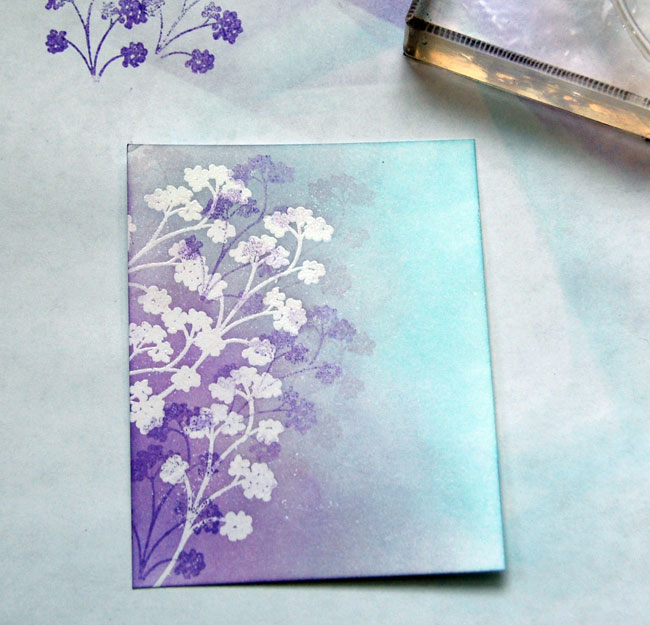 Step 7:
Apply lightest purple ink to floral portion of stamp (omitting stem). Stamp several impressions, overlapping white/embossed flowers. Repeat using darker purple ink. I used the full color on the bottom corner impression but for all others (using the darker purple ink), I stamped off once onto scrap paper for a softer but still darker impression.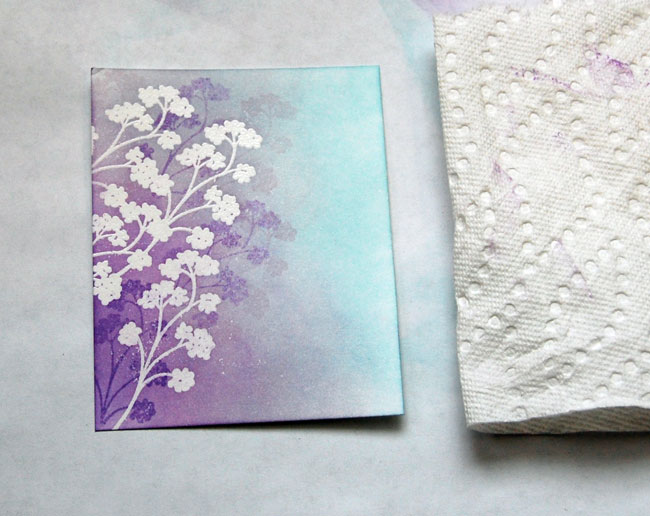 Step 8:
Using a paper towel, wipe excess ink from embossed flowers.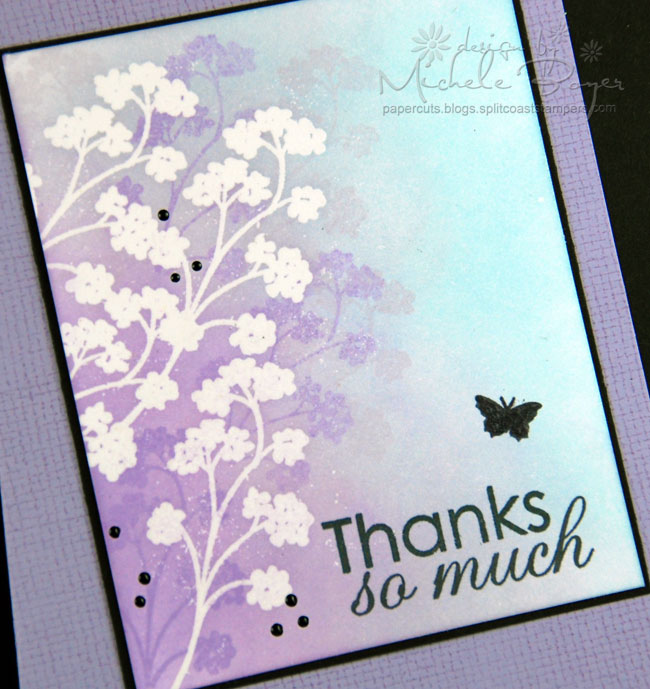 Step 9:
Finish as desired. I stamped a sentiment and butterfly and added a few glossy dots of Black Enamel Accents.