What's the deal with embroidery embellishment? Well, embellishments are to embroidery what scrapbooking is to paper crafts. Whether you embroider by hand or by machine, embellishing with simple accents elevates your projects to an artisan level.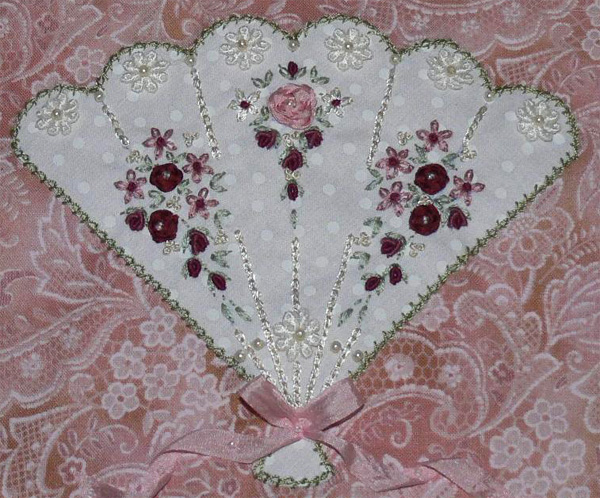 Fanciful via Bluprint member Val Laird Designs
Let's explore ways take your embroidery skills to the next level using five beautiful embellishments!
Embroidery embellishments come in many forms. Obvious choices are beads, buttons and charms. Other options are zippers and reflective surfaces like vinyl. Anything and everything is game. Here are a few ideas to help you get started. Be careful—it can be addicting!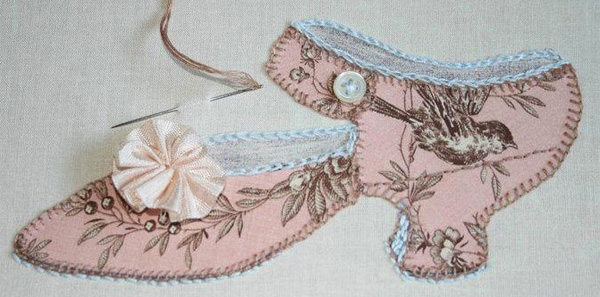 Photo via Bluprint member flowerz
Buttons
With these buttons, no buttonholes are required. A button stitched on as a fastener, as well as a ruffled topper, adds some dimension to the pretty slipper appliqué featured above.
Get the French Slipper Embroidery Pattern here.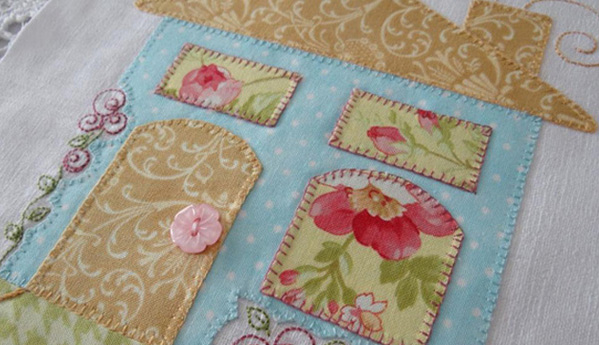 Photo via Bluprint member Elefantz
Another button makes a floral handle on the front door of the Shabby Roses Home Pattern, a block of the month series by Bluprint member Elefantz. You could just as easily satin stitch a circle in their places, but the buttons add even more character to an already beautiful embroidery.
Get the Shabby Roses Home pattern here.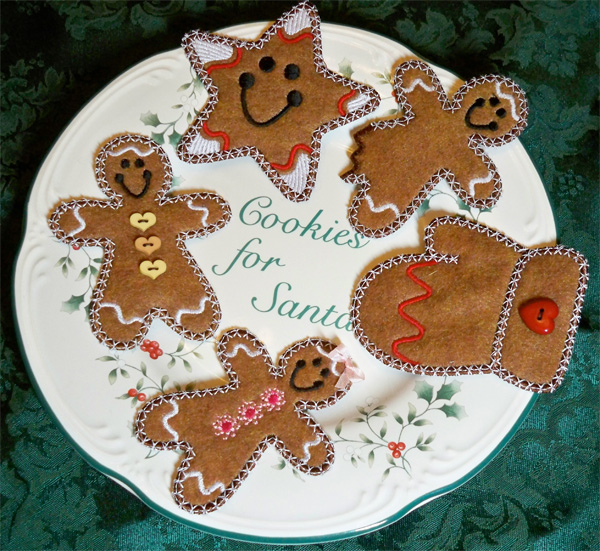 Photo via Debbie Henry
These freestanding appliqué gingerbread cookies, one of many great machine appliqué ideas featured on Bluprint, used buttons as…buttons! Some thread changes were skipped and replaced by buttons on the gingerbread boys and mitten cuff. The gingerbread girl has a real bow where a stitched bow would otherwise be located.
Get the Christmas Cookie gingerbread designs here.
Beads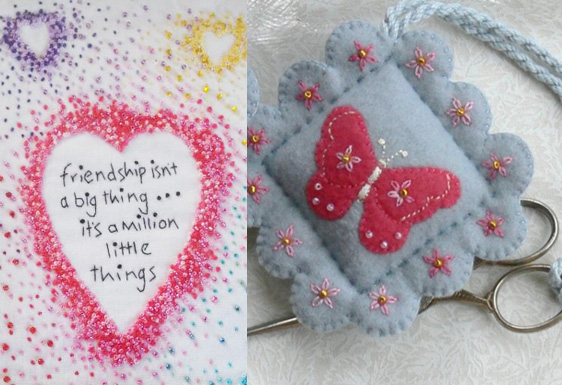 Left to right: Friendship via Bluprint member Little_Annie; 
Flitting Free Pincushion & Scissor Keep via Bluprint member Val Laird Designs
Seed beads are extremely versatile for accenting embroidery designs. Bluprint member Little Annie used seed beads to frame her heart-shaped friendship design. While there may not be a million little beads the quantity is symbolic to the saying. By using several shades of each color, the gradient effect produced is quite lovely.
Bluprint member Val Laird uses seed beads as delicate accents to the butterfly and flower centers of the butterfly pincushion and scissors keeper.
Get the Friendship pattern here.
Get the Flitting Free Pincushion & Scissor Keeper pattern here.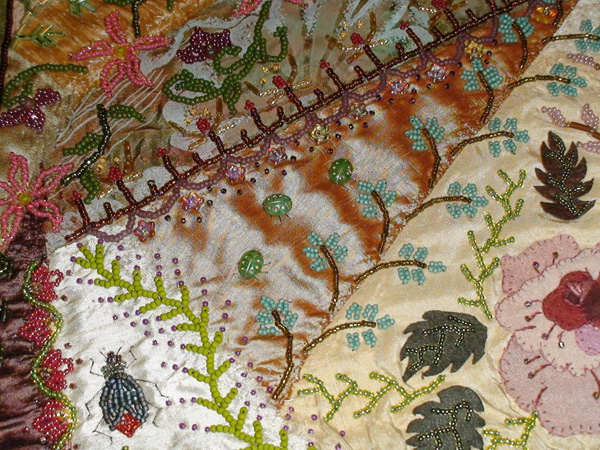 Photo via Bluprint member Amy Munson
Crazy quilting begs to be embellished and Bluprint member Amy Munson uses intricate beadwork as decorative embroidery on her crazy quilt project Crazy for Beads from her Bead Embroidery Stitches Pattern.
Get the Bead Embroidery Stitches Pattern.
Crystals: sparkle from within
Embroidery designs can be personalized by adding crystals. That is particularly beneficial when customizing pieces according to birth month or a special event such as a wedding.
Photo via Debbie Henry
Crystals do not need to be of the hot fix variety. I usually glue mine whether they are heat applicable or not. For most decorative purposes, the inexpensive rhinestones (left) work just as well as the higher end hot fix crystals (right).
Let it shine and light it up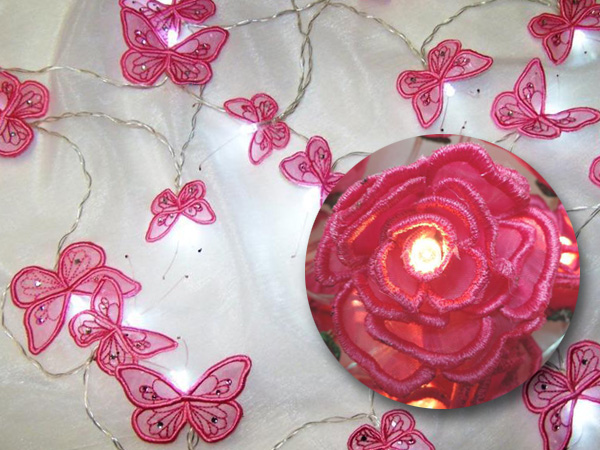 3-D Butterfly Fairy String Lights and 3D Rose String Lights (inset) via Bluprint member Embroidershoppe
Lighting probably does not come to mind when you think about ways to enhance your embroidery, but these creations by Bluprint member Embroidershoppe will change that perception. String fairy lights, combined with three-dimensional organza butterflies and roses (inset), are exquisite.
Get the 3-D Butterfly Fairy String Lights Pattern
Get the 3-D Rose String Lights Pattern
The functional duo: vinyl and zippers
Two ways to make embroidery projects functional while still looking good are adding vinyl and zippers.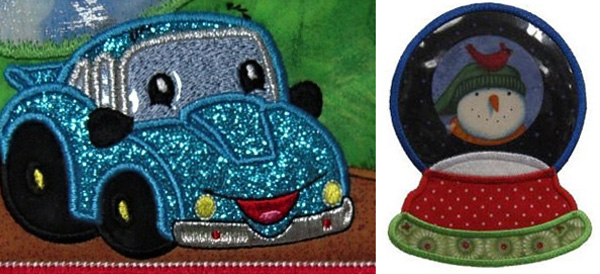 Car Buddies via Sew Inspired by Bonnie and Snow Globe Christmas Appliqué by Designs by JuJu
Vinyl can be used traditionally, as in zippered pouches or luggage tags, or more decoratively as in appliqué. Glitter flake vinyl is ideal for the car appliqué. A recent post on easter egg appliqué explored this new embroidery trend which adds a tremendous amount of dimension to machine embroidery. On the other hand,  clear vinyl is the perfect touch for the snow globe.
Get the Car Buddies Book design.
Get the Snow Globe Christmas Appliqué design.
Flamingo Patch Appliqué and Korker Sock Monkey by Just Peachy
Just Peachy takes embellishments three-dimensional, not only using glitter vinyl (and a flamingo feather) but also have a unique korker appliqué ribbon technique.
Get the Flamingo Patch Appliqué design.
Get the Korker Sock Monkey design.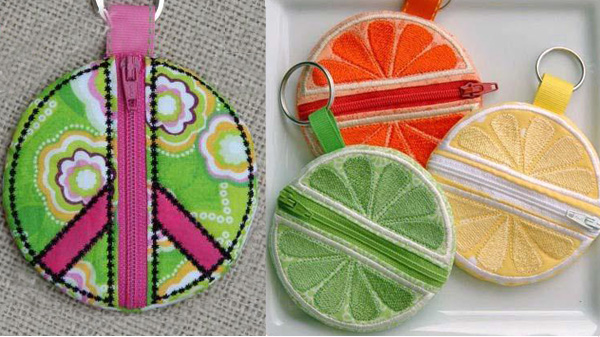 In the Hoop Peace Sign Coin Purse and In the Hoop Citrus Coin Pouch via Bluprint member EmbGarden
In the hoop projects make including zippers in embroidery designs virtually effortless. It is a value added feature in that you have a beautifully stitched piece that is also functional. When the zipper becomes part of the actual design, so much the better.
Get the In the Hoop Peace Sign Coin Purse pattern.
Get the In the Hoop Citrus Coin Pouch pattern.
[box type="shadow"]
Ready to add another dimension of style to gifts and apparel? Conquer knits and learn raw edge, reverse, split and pocket appliqué in the online Bluprint class Appliqué Your Knits With Machine Embroidery!
[/box]
What is your favorite way to embellish embroidery?