We've found that some of the most elegant wedding cakes have an element of fashion involved in their design; be it intricate lace, romantic ruffles, structured pleats or glistening sequin detail.
Become inspired to create your own fashion-forward creation with this roundup of our favorite elegant wedding cakes!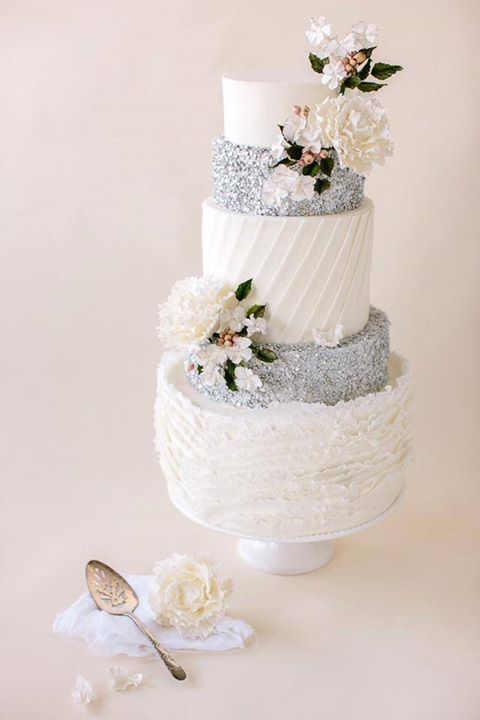 Photo via Jenna Rae Cakes
Silver sequin and ruffled cake
This gorgeous creation by Jenna Rae Cakes perfectly illustrates how fashion can influence cake design well! We simply adore the textured sequins, soft ruffles and angled fondant pleats. Of course, this cake is so glamorous we weep at the very thought of cutting into it!
[box type="shadow"]Learn how to create sumptuous ruffles like these in Maggie Austin's Fondant Frills Bluprint class.[/box]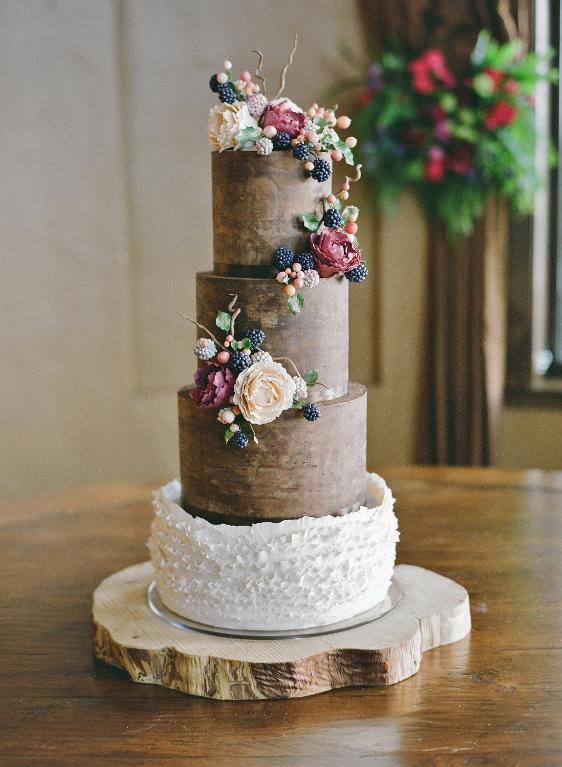 Photo via Bluprint member SweetandSwanky
Ganache cake with berries and peonies
The delicate ruffled tier on this cake adds such a romantic feel to a wonderfully rustic design. There is so much to admire about this cake made by Bluprint member SweetandSwanky as a class project for Maggie Austin's Sugar Berries, Leaves & Blossoms class. We love the elegant balance of nature, texture, sweetness and the simplicity of color. Also, the quirky mix of blackberries and peonies is such a beautiful touch.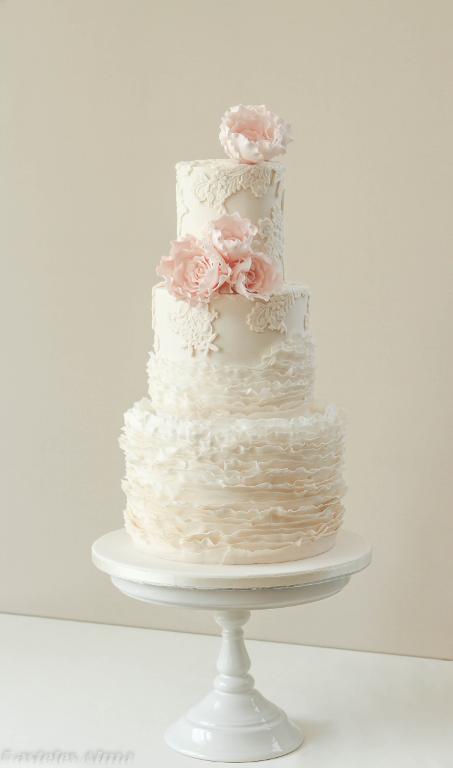 Photo via Bluprint member uta.seile1270115
Frills and roses cake
Combine the classic wedding palette of cream and pink with fondant ruffles, blush roses and lace detail and the result is this fantastically sweet cake! The pale ruffles that edge the bottom tier fade away to reveal the lace appliqué work underneath. Every element of this cake helps create a very pretty wedding centerpiece indeed.
[box type="shadow"]Zoe Clark's Elegant Lace Cakes Bluprint class is perfect for learning how to create your own lace adorned masterpiece![/box]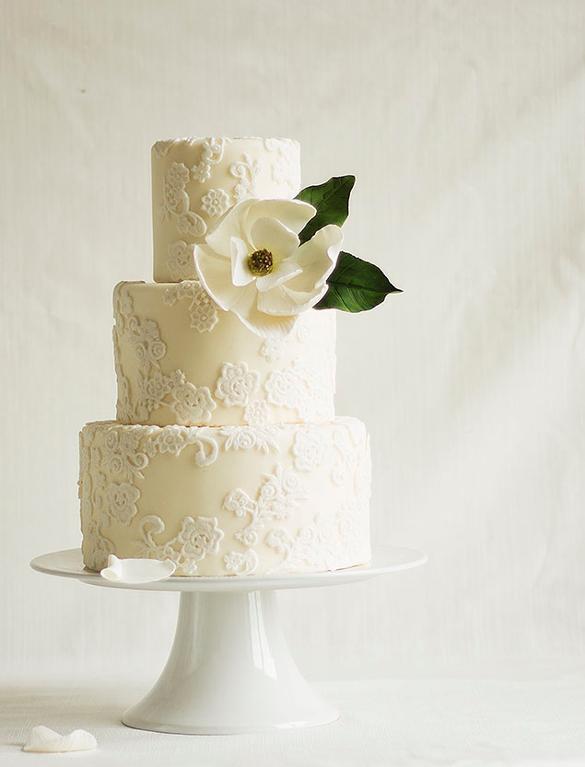 Photo via Bluprint member ModernLovers
Magnolia cake
Sometimes less is more. Here is a classic three-tier cream wedding cake decorated with floral lace appliqué and a single sugar magnolia flower. What makes this cake so elegant is its simplicity, careful execution and balance.
[box type="shadow"]Maggie Austin reveals the secret to making beautiful and realistic magnolia and dogwood flowers in her Bluprint class Southern Sugar Flowers.[/box]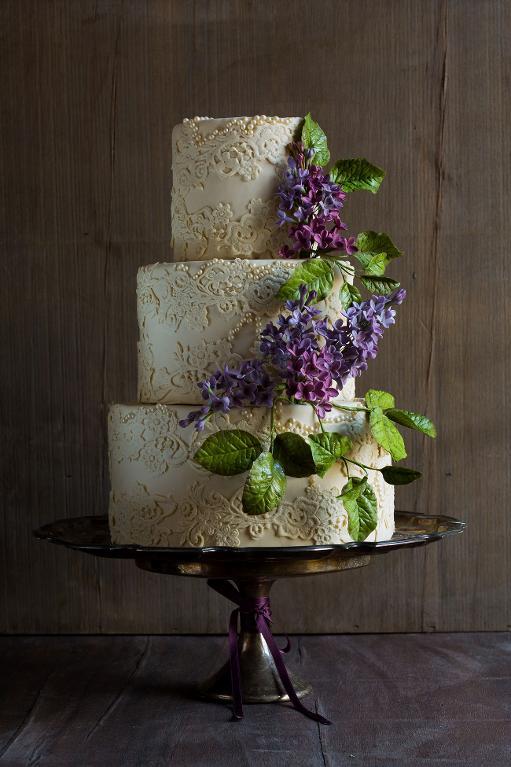 Photo via Bluprint member ModernLovers
Lilac cake
We love the intricate cream lace partially edged with edible pearlescent "beading." The addition of the sugar pearls embellishing the lace segments at the top of each tier help add a lovely balance of textural interest as well a subtle jeweled effect throughout!
[box type="shadow"]Try adding some wonderful jeweled elements to your next project with Marina Sousa's Jeweled Wedding Cake class![/box]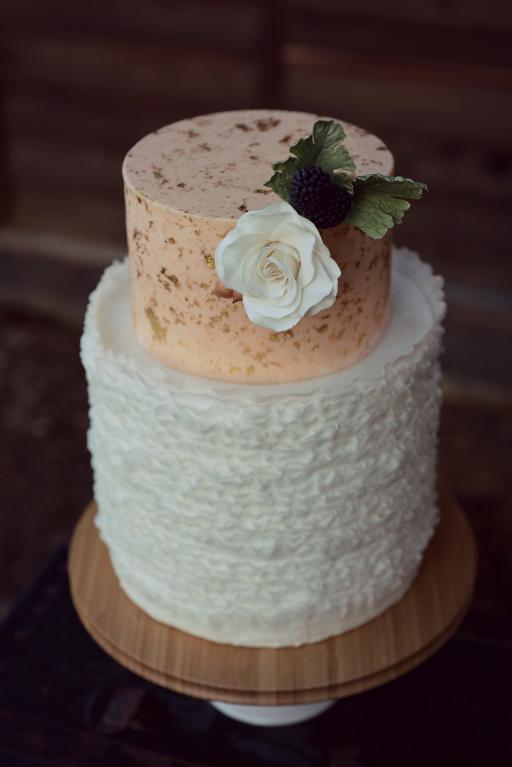 Photo via Bluprint member SaraJean
Gold speckles and frills cake
Here's a sweet and simple ruffled cake in a soft white, peach and gold palette. The gold leaf flecks featured on its top tier really reminds of us a lovely Chantilly lace and tulle gown by Monique Lhuillier that featured gold embroidered strips throughout.
[box type="shadow"]For help and inspiration on how to translate a beautiful gown into a showstopping cake, sign up for Rachael Tuefel's Cake Design Made Simple: The Wedding Dress class.[/box]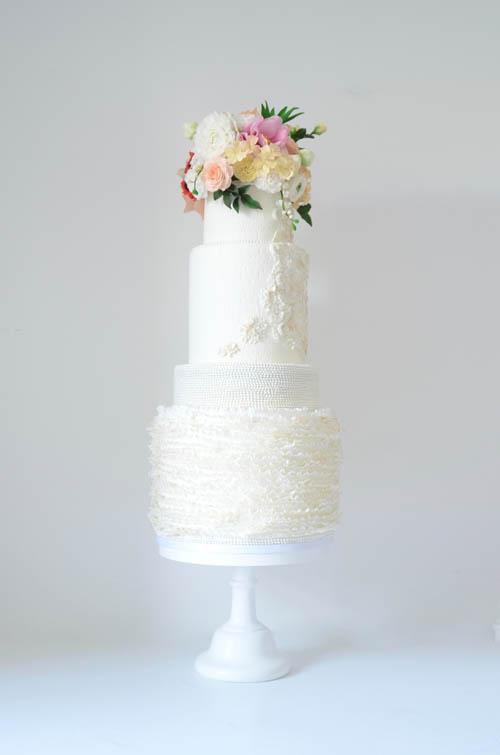 Photo via Tânia Sérgio at T Bakes
Frilled lace wedding cake
We love the white-on-white detail of this lovely creation, which helps emphasize the use of texture from the tiny ruffles, pearl adorned tier and lace appliqué.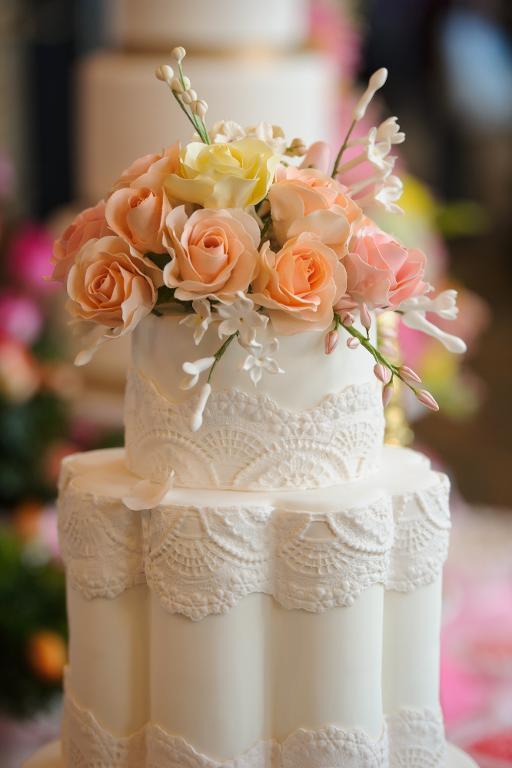 Photo via Bluprint member Alex Narramore
Romantic sugar flower wedding cake
The unusual shape of this cake creates a lovely gathered effect reminiscent of antique-styled wedding gowns. We love the detailed lace border that edges each layer of this gorgeous gateaux!
[box type="shadow"]Learn more about creating fashion inspired cakes with Joshua John Russell's Fashion-Inspired Fondant class![/box]
Sadly, we've reached the end of our quick rundown of elegant wedding cakes with a fashionable twist. We've loved looking at how different cake decorators interpret fashion techniques and looks in their cakes. Adding embellishments such as lace appliqué, ruffles, pleats and sequins help create texture and interest!
How do you feel about creating (and seeing) cakes with a influence from the fashion world?